CSIRO – the Commonwealth Scientific and Industrial Research Organisation – is one of the largest and most diverse scientific organisations in the world. It has over 6,400 staff located across 54 sites throughout Australia and one overseas.
Our purpose
CSIRO's purpose is defined through the functions we undertake for the benefit of Australia, which are set down in the Science and Industry Research Act 1949. These primarily include:
to carry out scientific research for the following purposes:

assisting Australian industry
furthering the interests of the Australian community
contributing to the achievement of Australian national objectives or the performance of the national and international responsibilities of the Commonwealth
any other purpose determined by the Minister

to encourage or facilitate the application or utilisation of the results of such research.
Our mission
We deliver innovative solutions for industry, society and the environment through great science.
Our vision
Our science is used to make a profound and positive impact for the future of Australia and humanity.
CSIRO's Values Compass
Our values guide our decisions and interactions with our colleagues and with our external partners and stakeholders.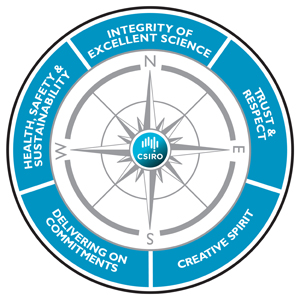 Our values are symbolised through the CSIRO Values Compass:
Embracing scientific excellence and working together ethically and with integrity in everything we do.
Building trust and respect each day with our communities, partners and colleagues, knowing that with trust comes accountability.
Igniting our creative spirit, exploring new horizons and creating an environment where innovation thrives.
Consistently delivering on our commitments. 'Do what we say we will do'.
Striving towards a healthy, safe and sustainable future.