Here are just a few examples of the impact CSIRO has on our lives, our industries and our environment.
Equivac® HeV vaccine
On 1 November 2012, Australian horse owners and the equine industry received an important boost in their fight against the deadly Hendra virus with the introduction of Equivac® HeV vaccine.
Scientists at CSIRO's Australian Animal Health Laboratory (AAHL), working in close partnership with Zoetis Australia (formerly Pfizer Animal Health) and two organisations from the USA (the Uniformed Service University of the Health Sciences and the Henry M Jackson Foundation for the Advancement of Military Medicine) played a critical role in developing the Equivac® HeV vaccine.
This vaccine is the first commercial vaccine for a Bio-Safety Level-4 disease agent, the most dangerous disease agents in the world. AAHL is the only laboratory in the world equipped for this type of large-animal research (more on Biosecurity Flagship).
Early detection of Alzheimer's disease
CSIRO and partners are developing a blood-based screening test for the early detection of Alzheimer's disease.
One quarter of a million Australians currently suffer from dementia and given our ageing population, it is predicted that this will increase to one million by 2050, with Alzheimer's accounting for 50–70 per cent of dementia cases.
If Alzheimer's can be detected early, new treatments could be developed and prescribed to slow the progression of the disease before irreversible brain damage has occurred (more on Preventative Health Flagship).
Managing the risk of extreme weather events
Storm surge inundation caused by extreme weather conditions varies greatly both within and between coastal communities. It is a significant risk in south-east Queensland where 200,000 people would be at risk from a one-in-100-year storm tide.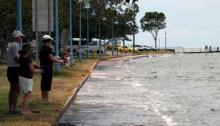 This risk increases as the population grows and sea levels rise. If coastal communities are to protect themselves against these current and future risks they need to adapt and make decisions about how to manage coastal inundation.
To address these challenges, CSIRO researchers produced a model of the costs and potential benefits of a range of adaptation options that could improve some or all of the effects of coastal inundation events (more on Climate Adaptation Flagship).
Solar thermal power research
The Energy Transformed Flagship has invested in the largest solar thermal power research capability in the southern hemisphere and is currently delivering more than $150 million worth of solar thermal projects for industry and government, in collaboration with some of the leading companies, universities and research agencies in the world (more on Energy Transformed Flagship).
Smart technology to improve efficiency improve manufacturing processes
Textor Technologies is a Victorian, family-owned company producing an array of products used in healthcare, personal hygiene and industrial products.
The hygiene product market is a highly competitive, multi-billion dollar consumer-focused industry.
Every year in Australia 300,000 babies enter the $500 million nappy market with over 40 per cent born to first-time mums.
Working with Textor Technologies and multinational Kimberly-Clark, CSIRO helped develop a new three dimensional (3D) material that increases nappy absorbency.
CSIRO's involvement with Textor has helped to improve their manufacturing processes by applying smart technology to improve efficiency, which has contributed to a significant increase in their annual gross turn over (more on Future Manufacturing Flagship).
Patient Admission Prediction Tool (PAPT)
Hospital emergency departments are often critically overcrowded and struggle to respond to day-to-day arrivals in a timely manner.
To assist hospitals with this challenging issue, researchers from CSIRO's Digital Productivity and Services Flagship developed the Patient Admission Prediction Tool (PAPT), a software tool that uses historical data to predict, with around 90 per cent accuracy, how many patients will arrive at emergency departments and when.
PAPT also predicts a patient's medical needs and urgency of care and how many patients will be admitted or discharged. It has the potential to save $23 million per annum in improved service efficiency for the Australian health system (more on Digital Productivity and Services Flagship).
Financial performance 2012–13
CSIRO's financial result for 2012–13 was a deficit of $21.5 million. Total revenue for the year was $1,246 million and total expenses were $1,267.5 million. CSIRO's financial performance for 2012–13 is summarised in Table 2.1 in Part two: Financial performance.
Sources of CSIRO revenue in 2012–13
Australian private sector: 18%
Australian Governments: 48%
Rural industry R&D
corporations: 10%
Cooperative Research
Centres: 4%
Overseas entities and international: 20%
Sources of research and services revenue in 2012–13
Total co-investment: 34%
Intellectual property: 3%
Other: 4%
Revenue from Government: 59%