The last financial year saw significant growth in network sizes and content generation across our social media platforms.
Our News@CSIRO blog reached 200 000 total views and our CSIRO Facebook page more than doubled in network size.
Our @CSIROnews Twitter account became the second most followed government account in Australia.
Our CSIRO YouTube channel reached 1 000 000 total views.
We held our first live-streamed events; a lecture on shark tagging and two live Q&As on marine debris and biodiversity.
Content distribution - number of posts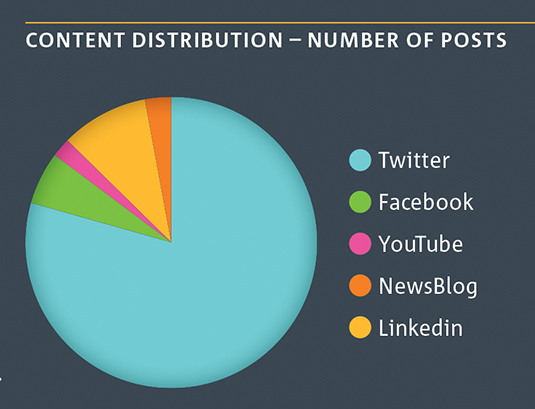 Facebook
27 000 total page likes
100 000 weekly reach
Most liked: 4 320 likes, a quirky chemistry cartoon
Most shared: 718 shares, an infographic of a partial solar eclipse
Most viewed media: 5 042 views, a photo of our prototype $7 bank note
Twitter
@CSIROnews:
18 000 total followers
7 631 tweets
4 000 clicks/month
Top clicked: 1 082 clicks, Dr Who is joining our team (on April Fool's Day)
Klout: 65
News@CSIRO blog
212 015 total views
542 posts
640 subscribers
Top post: 19 281 views, Insect of the week: the Plague Soldier Beetle
Linkedin
11 826 followers
20 500 career page views
80 000 monthly reach for news updates
YouTube