Overview of our National Research Flagship performance including their challenges, responses and impacts.
Objectives and deliverables
We embrace our distinct role as a large-scale mission-directed, multidisciplinary science and technology organisation and as a trusted science advisor on the big issues facing the nation.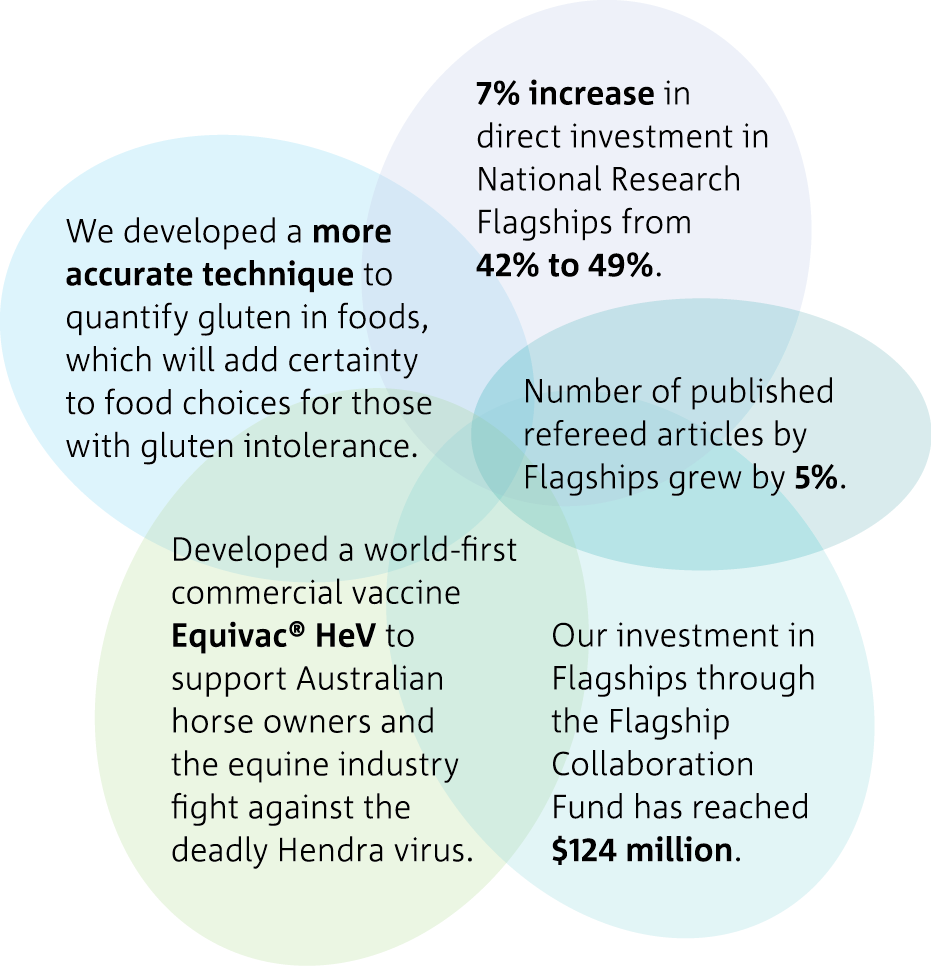 This diagram list some of the highlights of the National Research Flagship Program, such as:
developing a more accurate technique to quantify gluten in foods, which will add certainty to food choices for those with gluten intolerance
seven per cent increase in direct investment in National Research Flagships from 42 per cent to 49 per cent
number of published refereed articles by Flagships grew by five per cent
our investment in Flagships through the Flagship Collaboration Fund has reached $124 million
developed a world-first commercial vaccine Equivac® Hev to support Australian horse owners and the equine industry fight against the deadly Hendra virus.
A key objective of the 2011–15 Strategic Plan is to grow our National Research Flagships as a key mechanism for achieving outcomes relevant to the Strategic Research Priorities identified in the National Research Investment Plan.
Since the launch of its first three National Research Flagships in 2003, CSIRO has committed an increasing proportion of its resources to addressing major national challenges and opportunities through the National Research Flagships Program.
The Flagships address complex challenges by forming large-scale multidisciplinary research partnerships with Australian universities and publicly-funded research institutions, the private sector and selected international organisations.
In 2012–13, CSIRO devoted 49 per cent of its resources to its 11 National Research Flagships:
Through the National Research Flagships Program we intend to concentrate on strategic research, knowledge and technology transfer with the potential to deliver major long-term social, economic and environmental benefits to Australia.
The Flagships target clearly defined goals, framed from a careful analysis of the needs of people and enterprises and have a strong focus on the adoption of research outputs to deliver positive impact for the nation.
Our ability to deliver profound impact through our National Research Flagships is underpinned by investment in core research capabilities (see Program 2 Core Research and Services).
Program performance
This year, the National Research Flagships Program continues to perform well. Based on an assessment of the five key performance indicators (KPIs) identified in the PBS, CSIRO has met expectations and targets.
Table 2.3 provides an overview of the evidence for each KPI with a more detailed analysis following the Table.
Table 2.3: Performance indicators for Program 1 – National Research Flagships

| Key performance indicator | Target (and performance assessment) | Performance |
| --- | --- | --- |
| The number of refereed Flagship publications | Maintain or increase | In 2012, CSIRO increased the number of refereed publications by Flagships by five per cent (2,007 in 2012 compared with 1,903 in 2011). This included 569 conference papers, 1,119 journal articles, 106 books/chapters and 213 technical reports (more on page 17). |
| Financial support by Flagship partners | Maintain or increase | In 2012–13, $270 million was received in revenue for the National Research Flagships Program from external partners (see Figure 2.9). Although this is a $58 million increase from last year, external revenue only equates to 40 per cent of the total investment in Flagships. |
| Customer satisfaction | Maintain | This year is the first year of results for our client satisfaction survey (baseline year). Our client satisfaction survey returned an average 'willingness to recommend' of 8.5 out of 10. |
| Investment of the Flagship Collaboration Fund | As per plan | As at 30 June 2013, over $124 million has been committed for the life of the Flagship Collaboration Fund. This includes $17 million in grants committed in 2012–13 (more on page 19). |
| Demonstrated adoption and impact of Flagship outputs | Growing economic, social, environmental and intangible benefits | Two external Flagship reviews were undertaken during the year which included the Future Manufacturing Flagship (FMF) and the Energy Transformed Flagship (ETF). The panel observed that the FMF scientific output was of a very high standard and world-class. The ETF review concluded that it is operating as best practice within CSIRO. The Sustainable Agricultural Flagship (SAF) review was conducted in May 2012. SAF review report was released during 2012–13 and the panel concluded SAF had delivered significant outcomes. See page 20 for details on review outcomes and pages 22–43 for Flagship achievements. |
Green shading: indicates positive progress for the year and the target has been achieved. Yellow shading: indicates some challenges have occurred during the year, but they were managed. Red shading: indicates challenges have affected progress and resulted in the target not being achieved. White/no colour: indicates that this is the first year results have been recorded for this indicator therefore no trend can be observed.
Flagship publications
Indicator: The number of refereed Flagship publications.
The total number of refereed publications produced by Flagships increased slightly by five per cent between 2011 and 2012, see Figure 2.81,2.
Comparison of Flagship publications between 2011 and 2012.
| Publication type | 2011 | 2012 |
| --- | --- | --- |
| Conference papers | 512 | 569 |
| Journal articles | 1012 | 1119 |
| Books | 102 | 106 |
| Technical reports | 217 | 213 |
| Total | 1903 | 2007 |
Explanatory note: Flagship publication numbers reported for 2011 were reviewed in July 2012 and, as a result, there has been an overall increase in the number recorded from 1,618 (as recorded in the 2011–12 Annual Report) to 1,903 (as reported in Figure 2.8). This can be attributed to the implementation of CSIRO's 'ePublish' database. This internal data electronic publications repository was created in 2009 and, as a result, revisions to reported numbers are expected to continue for a couple more years, until the program is completely installed and utilised across the Organisation.
Financial support for Flagships
Indicator: Financial support by Flagship partners.
In 2012–13, $270 million was received in revenue for the National Research Flagships Program from external partners (see Figure 2.9). Although this is a $58 million increase from last year, external revenue only equates to 40 per cent of the total investment in Flagships.
Total and average financial support for Flagships.
Year
Total support
($M)

Average support per Flagship
($M)
2008-09
124.3
13.8
2009-10
171.7
17.2
2010-11
201.7
20.2
2011-12
212
23.6
20012-13
270
24.5
Customer satisfaction and engagement
Indicator: Maintain customer satisfaction.
CSIRO will continue to be a trusted advisor to its partners and will continue to engage with industry, government and the community to deliver profound impact.
CSIRO works with approximately 3,000 clients per annum, including more than 20 per cent of Australian Stock Exchange (ASX) 200 companies; and approximately 20 per cent of Australia's research and development active companies.
CSIRO and its key partners continue to develop and maintain relationships with government departments and agencies to assist with the delivery of large-scale national projects.
CSIRO is the single largest participant in the CRCs' program and is involved in 20 of the current centres in all six sectors of the program.
CSIRO is our broadest and deepest R&D partnership, together we are delivering impact on a regular basis.

Jez Smith, Technical Advisor, Orica Limited
To create long-term, large-scale research programs, CSIRO has identified a series of initiatives to improve relationships with its clients. This includes a newly implemented client satisfaction survey (CSS) and regular interviews with strategic clients. Feedback from these programs provides CSIRO with valuable insights into clients' needs enabling more productive relationships and improvements to services offered.
For 2012–13, our client satisfaction survey returned an average 'willingness to recommend' of 8.5 out of 103. The CSS is now embedded as business as usual and client satisfaction will continue to be tracked, benchmarked and reported on in future years.
The survey also asks respondents to identify their primary reasons for the score given, with the top five primary reasons being; Science Excellence, Client Service, Quality of Work, Professionalism and Timeliness.
CSIRO's CSS is a simple two question online survey that is conducted on a random sample of our projects. The CSS captures feedback from clients and provides a reliable measure of client satisfaction for CSIRO.
This measure will serve as a baseline for comparison in future years. The CSS asks our client to rate their 'willingness to recommend' our services to colleagues or associates. This is based on a CSS methodology called the 'Net Promoter System', developed by Bain & Co. For more information on client's 'willingness to recommend' see ESM 3 and information about CSIRO's agreements refer to the KEAs.
Flagship Collaboration Fund
The Flagship Collaboration Fund has continued to perform its role as a key mechanism for supporting impact partnerships across our 11 Flagships to assist delivery against their goals.
This year it contributed a total of $17 million investment in the Flagships. This supported the funding of three new research clusters to commence three-year work programs, that leveraged funds from partners for a total value of $34 million.
These clusters will:
deliver engineering options and adaptation strategies for extreme weather events in line with internationally agreed climate modelling scenarios
reduce gaps in knowledge to underpin the future of Australia's clean energy system
develop key data to accelerate the development of national assessments of carbon in our marine and coastal environments and how these systems can help Australia move to a low carbon economy.
The Fund also supported cross-Flagship opportunities for the following three Flagships:
the Minerals Down Under Flagship and Future Manufacturing Flagship, to establish a 'Wealth from Waste' Cluster with universities to systematically evaluate options for unlocking and recycling the resources contained in manufactured products
the Digital Productivity and Services Flagship for a three-year cluster for a new Superannuation Program partnership with Monash University valued at more than $3 million. The program will commence in the 2013–14 financial year.
This year also saw the conclusion of a three-year Mineral Futures Flagship Collaboration Fund Cluster which highlighted the need for a national conversation on the future of Australia's resources.
The Cluster was led by the University of Queensland's Sustainable Minerals Institute and also included the University of Technology Sydney, Curtin University, CQ University Australia and the Australian National University.
One example of the Cluster's impact is its Vision 2040 report which outlined a range of potential futures for Australia. Another illustration of the influence of the Cluster is its work into the impact of mining operations on communities and where effort is now being progressed through the company Ninti One with support from the Cooperative Research Centre for Remote Economic Participation.
A Food Futures Flagship Collaboration Fund Cluster on Sex Ratio and Sterility, led by University of Queensland and with Australian and international universities including Simon Fraser University in Vancouver, Canada, have been investigating how to better manage sex and sterility in farmed animals to improve productivity, profitability and animal welfare.
Producing only female salmon is critical to the success of the $408 million Atlantic salmon aquaculture industry in Australia and to date researchers have found, using genetic markers and gene sequencing technology, a way to determine the sex of a fish from a particular family.
In addition to these clusters, over 60 smaller projects, visiting fellowships and student scholarships provided specific expertise and talent development opportunities for the Flagships and their partners including US, European and Asian counterparts.
Investment of the Flagship Collaboration Fund
Indicator: Investment of the Flagship Collaboration Fund as per agreed guidelines.
Investment in the Flagship Collaboration Fund continued on a similar growth trajectory as previous years. This growth pattern has resulted in almost $124 million to date being committed to assisting Flagships and their partners deliver their goals (see Figure 2.10).
Of the $17 million dispersed to external partners in 2012–13, over 75 per cent of available funding supported the research clusters, with the remaining proportion allocated to smaller research projects, visiting fellowships and student scholarships.
| Financial year | Funds disbursed ($m) | Funds committed ($m) |
| --- | --- | --- |
| 2008-09 | 14.0 | 88 |
| 2009-10 | 16.7 | 96 |
| 2010-11 | 17.2 | 108 |
| 2011-12 | 17.1 | 121 |
| 2012-13 | 17.0 | 124 |
Flagship economic, social, environmental and intangible benefits
Indicator: Evidence of growing economic, environment, social and intangible benefits through demonstrated adoption of Flagship outputs.
To maximise achievement of Flagship goals, CSIRO conducts independent reviews of each Flagship on a three-to-four-year cycle. Each review is conducted by a panel of scientific and industry experts from Australia and overseas. Two reviews were undertaken in 2012–13 and a report completed for the Sustainable Agriculture Flagship review in 2011–12. The Panels rate each research theme within the Flagship for the probable impact on end-users. The results of these assessments demonstrated that over 80 per cent of the research themes reviewed for these three Flagships at the very least, enabled commercial, environmental, community or policy development that distinguishes user organisations from peers or competitors4.
Results of Flagship science reviews
Below lists include a summary of the key outcomes from these reviews by Flagship.
Sustainable Agriculture Flagship
Date of review: May 2012 (Report released in 2012–13)
The review panel was extremely impressed with the work of the Flagship which concluded that:
in the three years of its existence it had delivered significant outcomes desired by many stakeholders
the Flagship had added significant value to the integration of agriculture expertise across many Divisions of CSIRO
going forward, the Flagship should consider expanding its impact and communication strategies to include the integration of the broader Australian community and the international agencies tasked with measuring and innovating to improve the sustainability of terrestrial production systems
the Flagship should consider facilitating a dialogue with Australian universities and other agencies leading research, development and extension in agriculture and natural resource management, with the aim of developing an integrated national effort underpinning the understanding of sustainable agricultural production systems.
Future Manufacturing Flagship
Date of review: September 2012
The panel was impressed by the range of strategies developed by the Flagship to engage with industry and assessed that:
the scientific output of the Flagship to be of a very high standard with much of the science at the world forefront and was greatly impressed with the quality and breadth of its achievements
the placement of researchers for an extended period with industry partners is seen to be an outstanding initiative and should be pursued more aggressively, as it has the potential to be the most important single initiative the Flagship can make to meet its stated goal
the Flagship has a highly quantified and transparent system for measuring research excellence
there is an opportunity for the Flagship to more effectively articulate the positive impacts arising from its projects and to measure the magnitude of these impacts relative to the investments being made
the Flagship should be encouraged to link investment decisions to impact targets set on the basis of a comprehensive portfolio analysis.
Energy Transformed Flagship
Date of review: November 2012
The review panel reported that they considered the Flagship as demonstrating 'best practice' within CSIRO. CSIRO's strategy was seen to be at its core.
People were highly regarded and had good working relationships with external partners. They undertook innovative collaborations to deliver positive impact for Australia and internationally.
Specifically, the panel assessed that the Flagship's:
projects were well-chosen and should continue
holistic efforts to blend economic modelling, social sciences and technology be commended
investment in solar thermal power is appropriate as a major investment focus and commended it for its other focus areas which are of national importance, including the National Outlook project, for which the panel applauded the Flagship for undertaking such a high-risk reward project and rated the project as an outstanding development.
More information about all 11 Flagships' growing economic, social and environmental benefits through the adoption of their research outputs can be found in Biosecurity Flagship.
We aim to leave a positive and lasting impact for future generations
Our science and technology touches every part of Australia and the lives of all Australians
Agriculture
Over 95 per cent of Australia's cotton crop based on CSIRO varieties; using 85 per cent less insecticide and 52 per cent less herbicide.
'Perfect prawns' could increase the value of the aquaculture industry by $120 million.
Mining and minerals
Longwall mining technology improving productivity and worker safety in coalmines.
TiRO technology building a new titanium industry worth $275 million.
Energy
Ultrabattery commercialised and on Australia's largest renewable energy storage system trial.
CSIRO HVAC technology reduces total air conditioning electricity consumption by up to 30 per cent in commercial buildings.
Extreme events
CSIRO-BoM Access model every day delivers a 10x improvement in weather forecasts.
$200 million in costs avoided for coastal communities through better planning and zoning underpinned by CSIRO science.
Water
Murray-Darling Sustainable Yields saved an estimated $2.8 billion in better risk management.
Pipeline Asset and Risk Management System maximises efficiency and minimises supply disruption in our big cities.
Services
Four billion devices worldwide use the CSIRO technology that underpins current high-speed wireless local area networks (WLANs).
Ngara technologies bring wireless broadband communications to rural and regional Australia.
Manufacturing
Focus Night and Day™ and O2OPTIX™ extended wear contact lenses developed in collaboration with Vision CRC and CIBA Vision Corporation.
Assisting a family-owned manufacturing company, Textor Technologies, to consolidate its position as a key supplier of specialised fluid transfer fabrics to the global market.
Health
Hendra virus vaccine developed and brought to market.
Early detection of Alzheimer's could improve quality of life for thousands of Australians.
Biosecurity Flagship
Analysis of performance
The Challenges
In 2012–13 CSIRO established the Biosecurity Flagship to focus its effort on protecting Australia from pest and disease threats resulting from the increase in global trade and the movement of animals, plants and people.
Combined with a changing climate, which can alter the magnitude or range of impacts from pests and diseases, and declining levels of expertise and resources in biosecurity research, these pressures will only continue to increase in the future.
Our response
The Flagship's multidisciplinary research spans animal, plant and environmental domains to more rapidly develop solutions to address Australia's major biosecurity challenges.
It involves the detailed study of invasive organisms, exotic, emerging and established pests and diseases, risk analysis, predictive modelling and new tools and treatment strategies. Seventy per cent of emerging infectious diseases in humans originate in animals.
To address this, the Flagship is applying a One Health approach to better characterise animal/human interactions and infectious disease management solutions.
The Flagship and CSIRO's Australian Animal Health Laboratory (AAHL), together with Duke-NUS (an alliance between Duke University in North Carolina, USA and the National University of Singapore), have formed the International Collaborative Centre for One Health.
This partnership will bring a better understanding of how viruses emerge and the development of new preventative and diagnostic tools, as well as new therapeutics and vaccines.
Our pathway to impact
The provision of new technologies in the form of sensors, sensor networks and autonomous platforms for more cost-effective surveillance of both terrestrial and marine environments will provide early warning of new incursions.
New genetic technologies and precision genome engineering will be deployed to develop disease resistant livestock, while diagnostics, vaccines and novel therapeutics add to the range of options to protect animal and human health.
Additionally, the Flagship will provide highly effective options to manage invasive species through biological control.
The Biosecurity Flagship builds on past successes, bringing scale and connectivity to help prepare for and prevent the spread and impacts of pests and diseases.
Biosecurity Flagship roadmap5

| THEME | 1–3 YEARS | 4–9 YEARS | 10+ YEARS |
| --- | --- | --- | --- |
| Animal biosecurity | Innovations to combat emerging and infectious diseases, for example vaccines and therapeutics. | Precision genome engineering used to develop broader options for disease resistant livestock. | Predictive virology gives enhanced capacity to pre-empt emerging infectious disease. |
| Biosecurity and invasive species | Characterise risks, pathways, potential impacts, cost-effective response options and policy adjustments for high priority invasive pests and diseases. | Deployment of enhanced surveillance systems for terrestrial and marine ecosystems, new treatments to ensure market access and greater integration of human behaviour in biosecurity planning and delivery. | A responsive, resilient biosecurity system based on coordinated policy, new technologies for surveillance and pre-emptive response. |
| One Health | Focus on a One Health approach for emerging infectious diseases and establish partnerships with key international collaborators. | Outcomes for national and international threats of emerging diseases delivered through multidisciplinary skills in advanced animal and human health technologies. | An improved and established global network of coordinated research to support Australia and the world to reduce the risk of pandemics and enhance preparedness. |
FLAGSHIP GOAL: To support Australia's social, environmental and economic wellbeing by reducing the risk of pest and diseases and improving the effectiveness of mitigation and eradication responses.
Vaccine to boost the frontline fight against Hendra virus
On 1 November 2012, Australian horse owners and the equine industry received an important boost in their fight against the deadly Hendra virus with the introduction of Equivac® HeV vaccine.
Scientists at CSIRO's AAHL, working in close partnership with Zoetis Australia (formerly Pfizer Animal Health) and two organisations from the USA, the Uniformed Service University of the Health Sciences and the Henry M Jackson Foundation for the Advancement of Military Medicine, played a critical role in developing the Equivac® HeV vaccine.
This vaccine is the first commercial vaccine for a Bio-Safety Level-4 disease agent, the most dangerous disease agents in the world. AAHL is the only laboratory in the world equipped for this type of large-animal research.
A recent Biosecurity Flagship study has shown that the Equivac® HeV vaccine protects horses for at least six months. In March 2013 CSIRO scientists confirmed that horses were immune to a lethal exposure of the Hendra virus six months post-vaccination.
Stopping the virus in horses will help prevent transmission of the virus from horses to people. Our researchers believe protection is likely to persist for longer than six months, and studies are continuing to confirm this and other key indicators of the vaccine's performance.
The Hendra virus, like 70 per cent of all emerging infectious diseases over the past two decades, is an infection transmitted from animals to people. With no known cure, the Equivac® HeV vaccine is set to become the most effective defence against this disease.
Effective prevention of the Hendra virus will save lives and reduce significant expense for the government, the equine industry and the community.
Reducing or eliminating outbreaks reduces the chances of the Hendra virus mutating into a form that more readily spreads from human to human. This should serve to minimise the future impact of the Hendra virus in Australia.
Ongoing research into the diagnosis, prevention, exclusion, eradication, and control of infectious diseases will deliver significant benefits to the health, safety and financial wellbeing of the Australian community.
Climate Adaptation Flagship
Analysis of performance
The Challenges
Over the last two years, extreme climate events across Australia have highlighted the need to be better prepared to manage escalating climate risks into the future. In 2012–13, the Flagship worked in partnership with governments, industry and the community to deliver practical options and solutions to these extreme events.
Our response
This year the Flagship released two major reports, one for the Australian Government and one for the Queensland Government on the impacts of climate change on biodiversity, which highlighted the need for new strategies to address biodiversity conservation.
The second Marine Report Card for Australia was released for use by government departments, which provided information about the current and predicted-future state of Australia's marine climate.
In 2013 CSIRO also initiated a major collaboration with universities across Australia, focusing on innovative design and construction processes of buildings and infrastructure.
Engineering solutions to better protect infrastructure against extreme weather events due to climate change will be important for the resilience of our cities and coasts.
Our pathway to impact
The Flagship also completed major projects for the Department of Agriculture, Fisheries and Forestry on how primary industries can adapt to climate change.
In various farming systems around Australia, changing the enterprise mix and deploying new farming practices can, and are, being used to manage the early impacts of climate change.
For example, 'climate ready crops' have demonstrated the potential for breeding heat and drought tolerant crops such as wheat and sorghum.
Our research findings from projects such as the Indian Ocean Climate Initiative, a partnership between CSIRO and the Bureau of Meteorology, are being used by local governments in water management infrastructure and planning, management of landscapes and in emergency management. This work was funded by the Western Australian Government.
Climate Adaptation Flagship roadmap
THEME
1–3 YEARS
4–9 YEARS
10+ YEARS
Pathways to adaptation
Define new approaches to vulnerability and adaptation assessments.
Adaptive capacity of communities and industries assessed; innovative approaches to climate projections.
Identify social and economic adaptation outcome within different sectors and regions.
Biophysical social and institutional dimensions of adaptive capacity more effective for Australia.
Sustainable cities and coasts
Develop methods to assess climate risk and vulnerability in cities and coasts and community adaptive capacity and governance.
Flexible models of utilities, social sciences and governance for climate adapted urban planning and management.
Planning, design infrastructure, management and governance solutions for Australia's cities and coasts responding to climate change.
Managing species and natural ecosystems
Studies of regions, single species and simple species interactions.
Greater model realism. Focus on threats and tools to assist natural resource managers.
Complex studies of biotic interactions and community ecology. Refine tools for ecosystems managers.
Deliver adaptation options to protect Australia's marine and terrestrial species and ecosystems from the impacts of climate change.
Adaptive primary industries, enterprises and communities
Improve analysis of interaction between climate drivers and managers' responses on farms.
Develop technologies and practices for local industry adaptation.
Shifts in vulnerability to climate change understood. Identify when transformational options may be needed.
Adaptation strategies provide economic benefits and improve livelihoods from primary industries, enterprises and communities.
FLAGSHIP GOAL: To equip policy makers, industries and communities with practical and effective adaptation options to climate change and variability and in doing so create in the national interest $3 billion per annum in net benefits by 20306.
Benefits of effective coastal planning
Storm surge inundation caused by extreme weather conditions varies greatly both within and between coastal communities.
It is a significant risk in south-east Queensland, where 200,000 people would be at risk from a one-in-100-year storm tide. This risk increases as the population grows and sea levels rise.
If coastal communities are to protect themselves against these current and future risks they need to adapt and make decisions about how to manage coastal inundation.
To address these challenges, CSIRO researchers produced a model of the costs and potential benefits of a range of adaptation options that could improve some or all of the effects of coastal inundation events.
These options ranged from constructing sea walls, redesigning infrastructure, such as raising floor heights of buildings or restricting development of areas likely to be affected by storm surges.
Although risk of storm inundation is generally widespread, costs and benefits will vary from place to place within the community, and some people will benefit more than others from different adaptation options. This has an impact on community support for these options.
CSIRO's model allowed researchers to identify different types of communities and the options that best suited them in terms of affordability, fairness and potential return on investment.
Making informed decisions about whether adaptation options should be considered for the community, individual properties, or not at all, means that local councils can plan their infrastructure accordingly.
Enhanced local government planning and zoning using CSIRO research is forecast to save at least $200 million for coastal communities in south-east Queensland by 2030.
Digital Productivity and Services Flagship
Analysis of performance
The Challenges
Officially opened in July 2012, this Flagship builds on existing relationships with the Australian eHealth Research Centre, the Australian Centre for Broadband Innovation and the Human Services Delivery Research Alliance.
Through the application of ubiquitous broadband-supported services and technology, our contribution to the Nation's Research Priorities include a more effective health sector, an increase in economic productivity and enhancements in information security.
Our response
The Flagship takes advantage of increasingly widespread availability of broadband connectivity to enable significant increases in productivity, social inclusion and personalisation. This ultimately leads to changes in the way people engage with technology, experience the world and make evidence-based decisions.
Our pathway to impact
The Patient Admission Prediction Tool (PAPT) is creating an economic and social impact in Queensland hospitals by reducing waiting times for patients and making use of available beds more efficient.
New telehealth projects utilising high-speed broadband are also enabling CSIRO and its partners to deliver tele-opthalmology services to more than 900 patients living in remote regions, and home-based health services to over 150 chronically-ill patients around Australia (more under Digital Productivity and Services Flagship).
Our Early Adopters Group for social media monitoring (SMM) creates a means to crowd source information in a meaningful and reliable manner.
These tools help governments in many ways, from understanding the impact of policy changes to enhancing awareness in emergency situations.
The Flagship is also helping to add digital technology to educational tools with our new museum tele-presence robots. The tele-presence system trial currently allows school students to take a virtual tour of the National Museum of Australia in Canberra.
CSIRO's own high-speed wireless backhaul system (called Ngara) has successfully been commercialised via a license to Queensland company EM-Solutions, while our 3D laser mapping technology (licensed to UK company 3D Laser Mapping) now creates super-accurate 3D models of mines to significantly improve planning and increase efficiencies in these mines.
Digital Productivity and Services Flagship roadmap7

| THEME | 1–3 YEARS | 4–9 YEARS | 10+ YEARS |
| --- | --- | --- | --- |
| Government and commercial services | Superannuation Cluster established. SMM in 30 agencies. The Department of Human Services saves $200 million per annum. | SMM across government. UN adopts Gazetteer. Government interactions online reach 80 per cent. Government staff tele-work rate is 12 per cent. | Human Services productivity increased 20 per cent and 10 per cent reduction in cost of natural disasters. Up to 25 per cent of Australian superannuation invested in infrastructure. |
| Health services | Patient flow tools trialled. Clinical record computing tools in use. Telehealth platform in use. | Patient flow saving $100 million per annum. Clinical terminology service and systemic hospital model developed. Reporting delays reduced by 25 per cent. Telehealth system implemented. | Electronic health records leveraged. Telehealth addresses rural hospitalisation. Systemic modelling for health policy. Digital technologies reduce forecast healthcare by $1 billion per annum. |
| Smart secure infrastructure | Ngara backhaul technology transfer and Ngara access technology multi-year trials started. Museum robot installed at three sites. Simultaneous localisation and mapping technology transfer. | Ngara deployed in rural areas. Tele-immersion tools adopted for online education and commerce. Cyber security policies and tools adopted. | Economic contribution of digital infrastructure reaches $600 million per annum. Service platforms increase online industry by $400 million per annum. Cyber tools reduce losses by $600 million per annum. |
FLAGSHIP GOAL: By 2025 we aim to create $4 billion per annum in added value for the Australian economy by developing and delivering more efficient and innovative services that improve people's wellbeing and prosperity.
Improving patient care and reducing waiting times
Hospital emergency departments are often critically overcrowded and struggle to respond to day-to-day arrivals in a timely manner.
To assist hospitals with this challenging issue, researchers from CSIRO's Digital Productivity and Services Flagship developed the Patient Admission Prediction Tool (PAPT), a software tool that uses historical data to predict,with around 90 per cent accuracy, how many patients will arrive at emergency departments and when.
PAPT also predicts a patient's medical needs and urgency of care and how many patients will be admitted or discharged. The system is being used by the Queensland Government and is available in all 27 major hospitals across the state.
It has the potential to save $23 million per annum in improved service efficiency for the Australian health system. Currently, public hospitals across Australia have been set targets to reduce emergency waiting times to four hours by 2015.
PAPT is allowing hospital staff in Queensland hospitals to cut patient waiting times by accurately forecasting the demand on hospital resources, while ensuring patients receive timely access to emergency care and a hospital bed.
Flagship researchers developed PAPT at the Australian eHealth Research Centre in Brisbane in a partnership between CSIRO, Queensland Health, Griffith University and the Queensland University of Technology.
Throughout its trial, PAPT has shown vastly improved prediction rates of patient arrivals and admission in both large and smaller hospitals.
Hospitals have benefited from using this technology via improved availability of beds, better staff resourcing and more efficient scheduling of elective surgery.
For patients, the system has delivered improved personal health outcomes via the timely delivery of emergency care, improved quality of care and reduced time spent in hospital.
By expanding the PAPT system to other state health departments, the Flagship will help deliver improved patient care and greater access to emergency services, elective surgery and other healthcare services through more accurate forecasting of demand on hospital resources.
The potential value of improved patient outcomes (e.g. reduced mortality) once fully implemented is $97 million per annum across Queensland and well over $248 million per annum Australia-wide.
Energy Transformed Flagship
Analysis of performance
The Challenges
The Energy Transformed Flagship responds to the global challenge of climate change and seeks to enable the transformation of the energy and transport sectors to provide secure, affordable energy to Australia while reducing emissions.
Our response
To meet these challenges, the Flagship focuses on large-scale, applied, multidisciplinary research and development.
Our projects include concentrated solar thermal technologies for power and fuel production, energy storage to support renewable energy use, solar forecasting to improve industrial scale predictions of solar energy outputs, aviation biofuels and social science focused on community adoption of energy efficiency technologies and future technology acceptance.
In July 2012, the most comprehensive assessment to date of Australia's ocean energy resources was released. Together with the Wealth from Oceans Flagship, the Flagship found that energy captured from the motion of waves could supply around ten per cent of Australia's electricity by 2050. This could power a city the size of Melbourne.
Coinciding with the Australian Government's Energy White Paper in November 2012, the Flagship launched 'efuture', an interactive website that explores energy scenarios presented in the paper and what those energy pathways for Australia could mean for technology development, the economy and the environment.
Our pathway to impact
During November 2012, the Flagship was reviewed by a committee of international leaders from the science and business community.
In all areas the Flagship was considered to be internationally competitive amongst the global research community, with some areas such as our industry-focused future forums and our licensed energy management system (OptiCool), recognised as world-leading.
Energy Transformed Flagship roadmap

| THEME | 1–3 YEARS | 4–9 YEARS | 10+ YEARS |
| --- | --- | --- | --- |
| Carbon futures | Develop models and reports to inform policy, industry and research. Undertake social attitude mapping. Hold stakeholder energy forum. | Hold transport sector stakeholder forums. Undertake longitudinal and larger population social analysis studies; commercialise software. Initiate integrated carbon assessment service. | Deploy an integrated energy, water, food and carbon assessment service to help Australia identify the least cost and risk transition pathways to a prosperous and secure low carbon future. |
| Sustainable stationary energy and transport | Develop technologies for low-cost solar power production and energy storage. Prioritise potential fuel crops for large-scale, sustainable biofuels production. | Demonstrate significant technologies at pilot-scale, with industry and government support. | Drive the cost-effective take-up of renewable electricity and transport fuels in Australia to 2020 and beyond and maximise the long-term renewables uptake to 2050. |
| Local energy systems | Develop low-emission distributed energy technologies. Identify and begin engagement with partners. | Develop distributed generation and efficient options model to inform government and industry. Commercialise technologies. | Reduce greenhouse gas emissions by driving the uptake of distributed energy solutions, demand reduction and energy efficiency measures to 2020. |
FLAGSHIP GOAL: To develop, demonstrate and ensure deployment by 2020 of integrated low-carbon pathways for Australia and alternative stationary and transport energy solutions that realise a reduction of Australia's carbon dioxide equivalent emissions greater than 20 million tonnes per annum by 2030, and greater than 50 million tonnes per annum by 2050
Harnessing Australia's most abundant energy source: the sun
The Energy Transformed Flagship has invested in the largest solar thermal power research capability in the southern hemisphere and is currently delivering more than $150 million worth of solar thermal projects for industry and government, in collaboration with some of the best companies, universities and research agencies in the world.
Solar thermal technology uses mirrors or lenses to concentrate sunlight. This sunlight is converted into heat to drive a turbine connected to an electrical power generator or for integration into industrial processes such as fuel production.
The resulting solar power has low-to-zero carbon emissions and the research team aims to make the price competitive with fossil fuels in the future.
In December 2012, a joint collaboration with the Australian Government's Australian Renewable Energy Agency was announced, with the Flagship leading the $87 million Australian Solar Thermal Research Initiative (ASTRI).
The collaboration includes eight national and international research partners and is the largest Australian solar thermal, or concentrating solar thermal power collaboration and investment to date.
ASTRI aims to reduce the cost of solar power by half (down to 12 cents a kilowatt-hour) and, by developing storage, allow solar power to supply the grid with electricity on demand.
During the reporting year, the Flagship collaborated with General Electric to further develop the Flagship's SolarGas™ technology and its transition to commercialisation. SolarGas™ combines natural gas with solar power to create a fuel that is 25 per cent more powerful than natural gas.
This fuel can be burnt to produce electricity with lower carbon emissions than natural gas or can be turned into a transport fuel.
In the first half of 2013, the Flagship commissioned the world's first solar-powered high temperature steam receiver, which may assist coal-fired power stations transition to an increasing share of solar energy.
Coal-fired power stations across Australia currently use steam to power turbines to generate electricity and the introduction of a solar receiver could one day be a retrofit option that will use a free energy source (the sun), reduce carbon emissions and decrease our reliance on fossil fuels.
Food Futures Flagship
Analysis of performance
The Challenges
The Australian agrifood sector is facing the challenge of meeting a globally increasing demand for food with limited land and resource use, and an additional need for optimal nutrition of food products.
Our response
In 2012–13 the Flagship worked on new grains that provide nutritional benefits for bowel and heart health, and diabetes prevention. Flagship scientists also developed a more accurate technique to quantify gluten in foods, which will add certainty to food choices for those with gluten intolerance.
To support Australia's Atlantic salmon industry, researchers identified a gene marker for determining the sex of immature Atlantic salmon, which is vital in warm Tasmanian waters where only female salmon produce high-quality meat.
In livestock breeding, the Flagship has partnered with the cattle industry and the Queensland Alliance for Agriculture and Food Innovation to apply genomic technology to breed cows that have more offspring, making tropical beef farming more productive.
To preserve food quality and contribute to food security, Flagship researchers have used our biosensor technology to achieve early positive results in detection of a fungal toxin that affects maize stores globally.
Our pathway to impact
CSIRO-developed BARLEYmax™ grain, which has been proven to be beneficial for bowel health and maintenance of healthy blood sugar levels, is now more accessible to consumers as it is available in 11 food products, including a rice blend and loaf bread.
Research to understand genes in wheat has given researchers around the world a new tool to use to identify and test for genes related to desirable traits like adaptation to climate conditions or disease resistance, helping to develop better wheat to increase productivity for farmers.
The aquaculture industry was supported through industry partnerships for selective breeding of Pacific oysters, abalone, black tiger prawns and Atlantic salmon (more under Food Futures Flagship). The programs have all achieved greater than ten per cent gains in growth per generation, which has increased aquaculture farm productivity for our industry partners, and product quality for consumers.
Food futures flagship roadmap.

| THEME | 1–3 YEARS | 4–9 YEARS | 10+ YEARS |
| --- | --- | --- | --- |
| Future grains | Optimise carbohydrate in grains, optimise omega-3 oils in plants and investigate genetic traits for improved quality and nutrition. | Combine beneficial traits for farmers and consumers, breed and commercialise long chain omega-3 oils in plants and commercialise quality and nutrition traits. | Increase returns to Australia by $550 million per annum through enhanced grain quality attributes and human health benefits. |
| Breed engineering8 | Animal management systems adopted and breeding technology developed with commercial partners. | Livestock industry adoption of genomic technology, success of aquatic breeds and novel feeds and optimal genetics in livestock and aquaculture. | Boost the value of Australia's animal-based food industries by $350 million per annum for beef and $550 million for seafood. |
| Quality biosensors | Development of test technology, odours predicting grape and wine quality identified. | Biosensor developed and adoption commenced in defence domain. Benchtop prototype completed and field prototype commenced. Applications for food safety and quality in development. | Apply technology to food safety and process control, clinical diagnosis, biosecurity and security/law enforcement, delivering value in excess of $750 million per annum. |
FLAGSHIP GOAL: To transform the international competitiveness of the Australian agrifood sector, adding $3 billion in annual value, by applying frontier technologies to high potential industries.
Super salmon
CSIRO's selective breeding program for Atlantic salmon now supports 70 per cent of commercially-produced Atlantic salmon in Australia. The Flagship achieved this through a successful seven-year partnership with Salmon Enterprises Tasmania (SALTAS), Australia's leading Atlantic salmon hatchery.
The objective of this science-industry partnership was to support the sustainable growth of the $400 million local industry by developing an elite pool of Atlantic salmon bloodlines that resulted in faster-growing, healthier fish.
Throughout the partnership, the Food Futures Flagship screened the DNA of tens of thousands of salmon to identify high-performing bloodlines, resulting in a selective breeding program that has successfully bred for increased growth rates and disease resistance.
Salmon from the breeding program demonstrated greater than ten per cent gains in growth in every generation. This increase in growth is expected to continue with the industry on a trajectory to double production by 2030.
A ten per cent improvement in growth equates to production efficiencies worth in excess of $50 million a year, increasing the global competitiveness of the industry. In 2013, the partnership was extended for a further seven years, providing even greater opportunity to deliver significant gains to the industry.
This selective breeding program has provided the farming companies with the ongoing capacity to select salmon bloodlines to meet changing environmental or market conditions, underpinning the long-term success of the industry.
While other salmon breeding programs exist elsewhere in the world, the Tasmanian program is the first to use resistance to amoebic gill disease (AGD) as a selection criterion. AGD results from a species of amoeba that attaches to the gills of salmon.
While these salmon are safe to eat, managing AGD is estimated to cost the industry $40 million a year in treatment and lost productivity.
CSIRO's research has the potential to help global salmon production as AGD is now emerging as a significant health issue in commercial salmon populations in Scotland, Ireland and Norway as water temperatures increase.
Future Manufacturing Flagship
Analysis of performance
The Challenges
Australian manufacturers are facing significant challenges to remain globally competitive. Companies need to improve productivity, produce more from less and build competitive sustainability. Consumers are demanding new products and services that are more environmentally friendly while reducing our carbon footprint.
Our response
The Future Manufacturing Flagship (FMF) partners with manufacturing firms to develop technologies that help them enhance productivity, build sustainability and respond more rapidly to the demands of emerging markets.
In 2012 the FMF grew its investment in agile manufacturing technologies to assist companies develop the agility and speed with which they can bring new products to market.
The Flagship also commissioned a new additive manufacturing machine – the first of its kind in the southern hemisphere. It will be used to develop advanced titanium parts for aerospace, medical and automotive applications.
Our pathway to impact
The Flagship's topcoat reactivation technology (Paintbond) is being used across multiple civil and military aircraft, winning the prestigious '2012 Boeing Technology Replication Award'.
Paintbond has been successfully transferred to Boeing and used across Boeing's entire commercial aircraft line – over 1,000 aircraft recoated using Paintbond, resulting in multi-million dollar savings.
Additionally, our work with Textor Technologies and Kimberly-Clark helped bring an advanced ultra-absorbent material to market in their new range of newborn nappies (more under Future Manufacturing Flagship).
In May 2013, the Flagship, in partnership with The University of Melbourne, Monash University and industry, launched a new solar cell printing facility.
This facility is a significant step towards growing new industry capability in large-scale production of printed solar cells and flexible electronics with potential applications in consumer electronics, signage and construction.
Future Manufacturing Flagship roadmap.

| THEME | 1–3 YEARS | 4–9 YEARS | 10+ YEARS |
| --- | --- | --- | --- |
| Manufacturing technologies for transport and mining9 | Further development of background intellectual property and scoping studies for key technologies for application in transport and mining. | Feasibility studies and first steps toward large-scale commercialisation of key technologies for application in transport and mining. | Large-scale commercialisation of key technologies for application in transport and mining. |
| Flexible electronics | New materials discovery, device prototype optimisation and ruggedisation and scale up. | Translate discoveries to create vibrant manufacturing industries based on flexible electronics. | Creation and growth of world-leading Australian companies in flexible electronics. |
| Titanium technologies | With industrial partners, advance technology readiness for new titanium production and manufacturing processes. | Commercialise new processes and guide technologies to production levels, manage and strengthen industry relationships; build direct manufacturing capability for domestic industry. | Creation of a world-scale titanium industry for Australia. |
| Sustainable high performance materials10 | Develop sustainable and high performance materials for the aerospace, defence, civil infrastructure and technical textile sectors. | Materials with improved performance being used in manufacturing operations to produce new products. | Growth in world-class manufacturing based on new, more sustainable higher performing materials. |
| Agile manufacturing11 | Develop and demonstrate the applicability of Information and communication technology (ICT) enabled, and sustainable process technologies to improve firm productivity, safety and sustainability. | Grow partnerships that integrate, validate and extend ICT enabled and sustainable process technologies as a mechanism of improving firm profitability. | Recognised leader in the development and integration of leading edge ICT enabled and sustainable process technologies that improve firm agility and competitiveness. |
FLAGSHIP GOAL: To create $2 billion of additional annual value for Australia's manufacturing industry by 2025 through the development and application of resource efficient, clean and transformational technologies.
Australian innovation revolutionises nappy market
Textor Technologies is a Victorian, family-owned company producing an array of products used in healthcare, personal hygiene and industrial products. The hygiene product market is a highly competitive, multi-billion dollar consumer-focused industry.
Every year in Australia 300,000 babies enter the $500 million nappy market with over 40 per cent born to first-time mums. Working with Textor Technologies and multinational Kimberly-Clark, CSIRO helped develop a new three dimensional (3D) material that increases nappy absorbency.
Launched in March 2013, Huggies Newborn Infant Nappies featured this new material, known as the 3D UltraAbsorb layer. The material absorbs and contains babies' runny bowel movements, minimising spread within the nappy.
CSIRO worked with Textor Technologies through the Researchers in Business (RIB) Program which places scientists into businesses to help accelerate product development and innovation. As part of the RIB Program a CSIRO scientist helped Textor Technologies and Kimberly-Clark develop this next-generation nappy.
Kimberly-Clark experienced excellent results in consumer research with parents of newborn babies consistently impressed with the difference the new UltraAbsorb layer makes, with seven out of ten mums saying they prefer the new nappy. Aligned with an ongoing strategy of open innovation and working hand-in-hand with industry in Australia, the material is a first-of-a-kind super-absorbent soft material.
The development of this product is an example of how the innovation process works by linking researchers, such as CSIRO through the RIB Program, to small-to-medium enterprises. Concepts are developed which are then linked to multinational enterprises so they can be taken to market via the multi-nationals' supply chains.
CSIRO's involvement with Textor has helped to improve their manufacturing processes by applying smart technology to improve efficiency, which has contributed to a significant increase in their annual gross turn over.
Minerals Down Under Flagship
Analysis of performance
The Challenges
Globally, the minerals industry is operating in an increasingly challenging environment. In 2012–13, lower and more volatile metal prices, declining ore grades, increasing production costs, environmental pressures and mounting competition affected the industry.
Our response
The Flagship continued its focus on productivity and environmentally friendly technologies that will maintain Australia's competitiveness.
With partners Direct Nickel, a pilot plant was launched to test a new processing method for nickel laterites that has lower capital costs, energy consumption and operating costs than traditional methods. It could unlock two-thirds of Australia's nickel resource.
In mining, a trial of our large-scale ore sorting sensor commenced at a Newcrest mine in New South Wales. It could improve the mine's efficiency by 20 per cent, decrease its annual carbon dioxide emissions by 33,000 tonnes and reduce water consumption by 15 per cent.
The Mineral Futures Flagship Collaboration Fund Cluster, a partnership with five Australian universities, provided recommendations for the sustainability of the minerals sector and the Australian economy, which included the need for a national strategy for management of Australia's resources.
Our pathway to impact
The Flagship is deploying a suite of sensing technologies that optimise process performance. The Acoustic Emission Analyser was deployed at a plant in Queensland.
By monitoring machine noise it allows operators to rapidly respond to changes in machine conditions, maximising efficiency, minimising downtime and saving money.
The Flagship and partners released the world's first continental-scale suite of maps that reveal the mineralogy of the Earth's surface. Mining companies use the maps to increase the efficiency and viability of exploration efforts, and Kentor Gold has used them to define drill targets in an area of high potential for gold and copper.
Minerals Down Under Flagship roadmap12.

| THEME | 1–3 YEARS | 4–9 YEARS | 10+ YEARS |
| --- | --- | --- | --- |
| Sustainable metal production | Develop concepts to reduce greenhouse gas and water use. Develop infrastructure for precision iron ore and coke characterisation. Large laboratory testing of new light metal processes. | Proof of concept for new eco-efficient technologies. Beneficiation and agglomeration process improvements resulting in efficiency gains. Pilot plants for new metallurgical processes. | Adoption of new metal production processes. Low-grade iron ores gaining traction in the Australian export market. Australia's light metal industries are global leaders in efficiency. |
| Discovering Australia's mineral resources | Identify new exploration tools. Enable data interoperability. Build multi-party collaborations. | New 3D exploration tools developed and applied to buried deposits and new Greenfield sites. | 3D visualisation, modelling and targeting embedded as an industry standard leading to new discoveries. |
| Intelligent mining and online analysis | Engagement with industry to develop innovative mining concepts. Collaborative projects for concept development in online analysis. Technology trials with industry. | Field trials of novel automated continuous selective mining systems and integrated light weight drill systems. Industry partnerships for platform development. Spin-offs and commercialisation. | Adoption of new drilling, rock extraction and sorting systems. A vibrant mining technology and services sector. Online analysis embedded in Australian operations with significant efficiency gains and reduced cut-off grades. |
| Advanced processing technologies | Laboratory testing of new ore characterisation, ore concentration and mineral/metal extraction techniques. | Continuous improvements of existing plant. Pilot plant and field trials of new techniques. | New ore reserves on-stream. In-situ leaching viable. Australian mineral processing technology preferred. |
| Australia's mineral futures | Assess the implications of plausible futures for the industry to 2040. | New planning tools to support social licence to operate. | Social negotiation tools embedded in technology and project development. |
FLAGSHIP GOAL: Delivering science and technology options for the discovery and efficient development of Australia's mineral resource endowment that will lead to $1 trillion in-situ value by 2030 and enable flow-on benefits to the wider national economy.
Setting the standard for open pit mines
Following years of ongoing research into the stability of rock slopes, the Minerals Down Under Flagship has helped redefine large open pit mine design, ensuring mine slopes are reliable. This research is minimising loss of life, equipment damage and sustained production losses in the event of mine slope failure.
The Flagship has addressed an industry-wide need for improved knowledge and understanding of the relationship between the strength and deformability of rock and the likely mechanisms of failure in large open pit mines.
Sponsored by 13 mining companies representing the majority of the world's diamond and base metals producers, this work has changed the way the mining industry approaches open pit design.
By bringing together engineers from mining houses around the world, the Flagship was able to build a common ground in critical design and implementation issues at minesites. CSIRO's Guidelines for Open Pit Slope Design handbook provides best practice guidance around how to maximise safety, ore recovery and financial return for the required life of the mine.
The book links innovative geomechanics research with best practice in open pit data collection and management, slope design, mining, slope management and monitoring, and risk management. It arms mining companies with a high-quality baseline for the geotechnical programs at their mines.
This work has made mines safer, more productive and cost-effective.
Preventative Health Flagship
Analysis of performance
The Challenges
During the reporting year, the Preventative Health Flagship focused on validating blood-based biological markers for the early detection of Alzheimer's disease and colorectal cancer.
Alzheimer's disease progresses slowly before clinical symptoms are apparent making it difficult to diagnose, and Australia's incidence rates for colorectal cancer, inflammatory bowel diseases and being overweight or obese are amongst the highest in the world.
Our response
The Flagship is continuing to advance the development of two blood-based tests for the early detection of colorectal cancer. Detecting colorectal cancer early is critical, as surgery is a highly effective cure.
This year our gene-based colorectal cancer diagnostic blood test is closer to being available on the market, with licensing arrangements currently under negotiation with commercial partners.
Additionally, Flagship scientists are examining microbes in the gut to build a better understanding of Crohn's disease, an inflammatory gut condition that is highly debilitating and has no reliable cure.
CSIRO and partners are also investigating the nutrition and lifestyle of mothers during pregnancy, to understand how epigenetic13 changes and environmental factors may influence the risk of obesity later in life.
Our pathway to impact
CSIRO and its Australian Imaging, Biomarkers and Lifestyle (AIBL) partners are developing diagnostic tests for the early detection of Alzheimer's, and are exploring clinically-validated dietary approaches to delay the progression of the disease.
Working with our partners, Flagship scientists discovered that the earliest signs of Alzheimer's are apparent more than 17 years prior to the onset of dementia. This window provides an opportunity for lifestyle and pharmaceutical companies to intervene early, before irreversible brain damage has occurred.
The Flagship is also working with commercial and research partners to translate our clinical studies into the broader community, to achieve healthier body weights and improved health.
Preventative Health Flagship roadmap.

| THEME | 1–3 YEARS | 4–9 YEARS | 10+ YEARS |
| --- | --- | --- | --- |
| Colorectal cancer and gut health | New knowledge, early detection and prevention of colon and rectal cancer and inflammatory bowel disease. | Translation into marketable diagnostics and protective foods. | Reduced morbidity and mortality from colon and rectal cancer and inflammatory bowel disease in Australia. |
| Brain health | New knowledge about the aetiology and early detection of neurodegenerative disease. | Develop and commercialise neuro protective agents and biomarkers for early detection and prevention. | Delay the onset of Alzheimer's and other neurodegenerative diseases in Australia by five years. |
| Obesity and metabolic health14 | New evidence-based strategies for healthy weight – determinants to translation. | Identify determinants of obesity, and develop, substantiate and implement diet and lifestyle programs for metabolic health. | Healthy lifestyles and eating behaviours, reduced impact of obesity and its complications. |
FLAGSHIP GOAL: To improve the health and wellbeing of Australians and save $2 billion in annual direct health costs by 2020 through the prevention and early detection of chronic diseases.
One step closer to a blood test for Alzheimer's
One quarter of a million Australians currently suffer from dementia and, given our ageing population, it is predicted that this will increase to one million by 2050, with Alzheimer's accounting for 50–70 per cent of dementia cases.
If Alzheimer's can be detected early, new treatments could be developed and prescribed to slow the progression of the disease before irreversible brain damage has occurred.
CSIRO and partners are much closer to developing a blood-based screening test for the early detection of Alzheimer's disease. Scientists used sophisticated mathematical models to analyse data from participants in the AIBL study of the ageing.
They identified nine biological markers that correlate with brain imaging measures of a toxic protein, amyloid beta, which deposits itself in the brain as plaques early in disease development. Recent studies from the AIBL team have shown that amyloid beta levels become abnormal about 17 years before symptoms appear.
Current screening methods for amyloid beta levels are expensive or require invasive procedures to collect biological samples. With continued research in this area, scientists hope to develop a low-cost population level screening test for Alzheimer's disease.
A blood test would be an ideal tool, identifying people at risk before diagnosis is confirmed through more specialised testing.
The AIBL study is a collaboration between Austin Health, CSIRO, Edith Cowan University, the Florey Institute of Neurosciences and Mental Health and the National Ageing Research Institute.
The study was supported by the Science and Industry Endowment Fund (SIEF).
Sustainable Agriculture Flagship
Analysis of performance
The Challenges
Throughout 2012–13, a key national challenge for the Sustainable Agriculture Flagship has been to further develop rural land use systems, practices and technologies that will deliver the greatest benefits to the Australian economy and society and contribute to major global issues of food security and greenhouse gas abatement.
Our response
During the reporting year, the Flagship established deep collaborations with external organisations and institutions, and developed multidisciplinary internal teams to address both the productivity and greenhouse gas challenges.
Examples of this can be seen through recent research on improving yields for farmers through improved water use efficiency.
The Flagship also completed a national analysis of soil carbon through the federal government's Soil Carbon Research Program to help increase the nation's understanding of the role soil can play in removing and storing carbon from the atmosphere.
Additionally, a new collaboration with Google Earth is allowing land managers to access decades worth of images and information captured via satellite at the push of a button.
Our pathway to impact
Eighty-four countries around the world are now using CSIRO's co-developed Agricultural Production Systems Simulator known as APSIM, a tool that helps farmers make management decisions to help increase the amount of food and fibre they produce.
The Flagship also developed CSIRO's first iPad application (app), SoilMapp, which has an average of 700 downloads per month (more under Sustainable Agriculture Flagship).
Sustainable Agriculture Flagship roadmap.

| THEME | 1–3 YEARS | 4–9 YEARS | 10+ YEARS |
| --- | --- | --- | --- |
| Reducing net greenhouse gas emissions while increasing storage of new carbon in our lands. | Develop greenhouse gas mitigation practices and technologies, measurement, accounting and bio-sequestration options. | Total system greenhouse gas outcomes for different management, history, climate and soil combinations quantified with defined uncertainty and co-benefit assessment. | New carbon sinks and mitigation practices created within profitable and sustainable agricultural system. |
| | Support national policy decisions on land use management for carbon storage and greenhouse gas mitigation. | Conduit for science and integration for industry and government. | National dialogue, policy and action are informed by robust science. |
| Advancing agricultural productivity and environmental health. | Identify challenges and prospects for food and fibre productivity increases in key industries, regions and systems. | Direct links between genetics, breeding and farming systems research underpin accelerated improvements in food and fibre productivity. | Step-change in productivity achieved via industry adoption of agro-ecological innovations for 'smart' food and fibre production systems. |
| | Characterise resource and labour-use, soil and water constraints to sustained productivity. | Integrated whole-farm analyses support diverse sustainable enterprise options for efficient resource management. | More sustainable production practices adopted with enhanced resources-use efficiency. |
| | Evaluate agro-ecological tradeoffs in farming systems to improve productivity and natural resource management outcomes. | Assess environmental impacts of emerging productivity and mitigation practices, technologies and policies. | New markets developed and in use for effective on-farm environmental and biodiversity stewardship schemes. |
| Informing land use planning, policy and natural resource management. | Observation of current status and historic change in key land management drivers. | Develop life cycle based sustainability assessments for agri-food value chains. | Multi-scale temporal assessment of land use change. |
| | Enhance national soil and terrain data systems. | Triple-bottom-line modelling framework for land use systems. | International system for forest and carbon tracking. |
| Addressing global food and fibre security challenges through partnerships at home and abroad. | Deliver enhanced science and impact via an integrated approach to international project portfolio. | Deepen partnerships with international R&D institutions leading to enhanced capacity building. | Monitoring and evaluation confirm realised sustainable livelihood benefits in target regions. |
FLAGSHIP GOAL: To secure Australian agriculture and forest industries by increasing productivity by 50 per cent and reducing carbon emission intensity by at least 50 per cent between 2010 and 2030.
SoilMapp for iPad: soil information at your fingertips
Helping farm and land managers make the best decisions possible was at the forefront of the minds of the developers of CSIRO's first mobile application (app).
The new app for iPad, called SoilMapp, was released in January 2013 and is helping farm advisors, researchers, land managers and others interested in soil to access the best information Australian scientists have to offer.
SoilMapp is the first app developed by CSIRO researchers, information and communication specialists and was developed with an active group of agricultural consultants to ensure it delivers the kind of information particularly needed by farmers and land managers.
With more than 2,600 downloads to 30 June 2013, SoilMapp allows users to see what kind of soil is most likely under their feet. They can access information on soil depth, acidity, salinity, carbon and water holding capacity.
Users can also explore data and photos from soil sampling done nearby and save soil water information to their own online database. SoilMapp taps into the Australian Soil Resource Information System and ApSoil, the database behind the farming systems model known as the Agricultural Production Systems Simulator, which is used in 84 countries worldwide.
The databases contain information from approximately 85,000 samples in 15,000 locations, some dating back to the 1950s. Contributions have been gathered from thousands of individuals, soil research groups, industry groups and the Australian Government, state and territory agencies.
As soil is essential for sustaining healthy, natural environments and productive agricultural landscapes, by making this information available and accessible, CSIRO is contributing to national and global efforts to produce more food with less environmental impacts.
The app was developed under the Australian Collaborative Land Evaluation Program and CSIRO Sustainable Agriculture Flagship, with funding from the Grains Research and Development Corporation.
While currently only available in Australia, CSIRO is exploring possibilities to release SoilMapp globally.
Water for a Healthy Country Flagship
Analysis of performance
The Challenges
Water security is a global issue, affecting both the developed and the developing world; it is fundamental to human development and international security. In Australia, population growth, a drying climate in southern Australia and land use change have pushed many river systems and water storages beyond their limits, threatening water security and creating major challenges for water managers, industry, policy makers and for the Australian community.
Our response
CSIRO is addressing these challenges through an integrated and multidisciplinary research approach and the establishment of strategic partnerships with government, industry and communities. The Flagship is delivering science-based knowledge to improve water management in regional and urban environments and to enable improved water security – at both national and international scales.
Our pathway to impact
In September 2012, the South Eastern Australian Climate Initiative, led by the Flagship and the Bureau of Meteorology, delivered its findings on the causes and predictability of climate variability and change and the impacts on water availability across south-eastern Australia, with adoption at both federal and state levels.
In 2012, the Water Information Research and Development Alliance (WIRADA), a partnership between CSIRO and the Bureau of Meteorology, delivered improved water accounting and forecasting information for use by the Bureau.
WIRADA's Water ML2 international information exchange standard has been adopted by several national and international organisations, making it possible for governments to manage water resources that cross country borders.
The first fully-integrated assessment of south-east Queensland's water resources was completed through the South East Queensland Water Security Research Alliance. Results from this assessment are now informing infrastructure investment decisions in several Australian states and in the United States.
The Flagship's expertise in integrated river basin assessments is being extended to India, Pakistan and Bangladesh, where our research aims to strengthen water resources management, and support poverty alleviation and sustainable development.
Much of this research is undertaken in partnership with the Australian Agency for International Development, AusAID.
Water for a Healthy Country Flagship roadmap.

| THEME | 1–3 YEARS | 4–9 YEARS | | 10+ YEARS |
| --- | --- | --- | --- | --- |
| Urban water | Develop new approaches for sustainable integrated urban water management. | Inform state and national urban water policies. | New decision support systems, and technologies to deliver sustainable integrated urban water services. | Provide acceptable, affordable, environmen- tally beneficial solutions for urban water systems. |
| Integrated water resource management 15 | With the Bureau of Meteorology, develop water reporting and forecasting tools to improve real-time monitoring. | Enable water information interoperability through research. | Widely accessible and used national water information tools and network based on open standards. | Combine forecasting information with integrated models to support whole-of basin water management. |
| Ecosystems and contaminants 16 | Develop and embed integrated models and evaluation tools in adaptive management of priority water ecosystems. | Inland and coastal water ecosystems managed through the use of integrated knowledge platforms. | Significantly reduced long-term impacts of pollutants and changed flow regimes in priority water ecosystems. | Provide the knowledge to protect or restore major water ecosystems while enabling sustainable use of water resources. |
| Water resource assessment 17 | Improve water efficiency and sustainability through advanced surface and ground water management options. | Enable improved institutional water use arrangements and evaluate their economic, social and environmental impacts. | Improve water security and productivity through integrated management of river basins and aquifers. | Provide systems knowledge and tools for river basins and aquifers to ensure water security for all users. |
FLAGSHIP GOAL: Consistent with Australia's national interest, develop science and technologies that improve the social, economic and environmental outcomes from water, and deliver $3 billion per year in net benefits for Australia by 2030.
Filling the water knowledge gaps of the Great Artesian Basin
The Great Artesian Basin (GAB) is a 1.7 million square kilometres groundwater system and has been providing the only reliable source of fresh water for rural communities in Queensland, New South Wales, South Australia and the Northern Territory since the first bore holes were sunk in the 19th century.
But there are many questions about how the GAB works, and how new interactions between agriculture, mining and the water will impact long-term resource availability. To address these issues, the GAB Water Resource Assessment, led by CSIRO and Geoscience Australia, was completed in 2013.
The assessment delivered the most comprehensive investigation to date of the Basin's water flows, physical structure, potential impacts of climate change and groundwater development to 2070.
The research revealed a surprising complexity of geological structures and their role in governing groundwater conditions; for example, the GAB and adjacent geological basins are separate reservoirs with different levels of connections to each other.
This knowledge helps to paint a picture of how the resource is being used, and how much water is likely to be available in the future.
Extraction of groundwater (such as for mining and agriculture) requires continued observation to enable a better understanding of how the GAB will respond to future conditions. The assessment will be an enduring asset to better inform government, community and industry decision-making.
This research was funded by the Australian Government Department of Sustainability, Environment, Water, Population and Communities, and the National Water Commission.
Wealth from Oceans Flagship
Analysis of performance
The Challenges
Australia's ocean is vast and largely unknown, but understanding our oceans and coasts is critical to Australia's future. Ocean-based industries contribute more than $42 billion annually to the economy.
Oceans also drive the climate system; provide food, transport, and minerals, oil and gas resources; sustain biodiversity and regional economies; and offer recreational and lifestyle opportunities.
Throughout the past year, the Flagship focused on building diverse and long-term partnerships with industry, government, research agencies and the community to deliver practical science for informed decisions about the sustainable management of Australia's marine and coastal resources.
Our response
In 2012–13, the Flagship, in collaboration with research agencies and industry, worked on a new Marine Water Quality Dashboard as part of the eReefs project. eReefs was formed in 2012 as the first step in building comprehensive coastal information systems for Australia.
The new dashboard provides access to more than ten years of water quality information to identify changes over time. It also provides up-to-date assessments of the likelihood of coral bleaching events or the impact of sediment plumes from large rainfall events, and will be made available online once complete.
2013 also saw the maiden voyage for the Future Reef MAP project, a collaboration with Rio Tinto Alcan and the Great Barrier Reef Foundation, take place with a specially-built science laboratory installed on a Rio Tinto bauxite ship.
The project enables a consistent, sustained approach to measuring vital signs of reef health along the same route in the Great Barrier Reef, and will help scientists determine how processes such as seasonal temperature change and major flood and storm events interact with longer-term changes in ocean acidification.
The information and tools to be delivered by eReefs will benefit a range of stakeholders from reef managers, catchment management groups, and government policy makers to community groups undertaking citizen science on the Great Barrier Reef.
Our pathway to impact
With the Atlas of Living Australia, the Flagship also launched FishMap, a tool to assist management and sustainability of marine biodiversity.
The tool enables users to discover which fish species live at any location or depth throughout the marine waters of Australia's continental shelf and slope.
FishMap is the only resource of its kind in the world that covers virtually all species of fish found in the marine waters of an entire continent, pulling together over a century of research and making this major source of information available to managers, fishers, scientists and the broader public for the first time.
Wealth from Oceans Flagship roadmap.

| THEME | 1–3 YEARS | 4–9 YEARS | 10+ YEARS |
| --- | --- | --- | --- |
| The dynamic ocean | Synoptic forecasting system for major marine industries delivered (BLUElink 3). | Deliver littoral zone forecasting system for defence and industry applications. | National, seamless near-real ocean prediction and forecasting system operationalised. |
| Our resilient coastal Australia | Coastal management strategy evaluation system implemented and operational in three regions nationally. | Integrated observation modelling and visualisation system (eReefs) guiding management of the Great Barrier Reef Marine Park. | National shelf-scale hydrodynamic model (BROWNlink) nationally implemented and used for oceanographic services. |
| Sustainable ocean ecosystems and living resources18 | CSIRO R&D underpinning marine bioregional plans and National Representative System of Marine Protected Areas. | Adoption of CSIRO marine incident emergency response system. | Operationalisation of a National Ocean and Coastal Information System, as part of Australia's National Environmental Information System. |
FLAGSHIP GOAL: To provide Australia with the knowledge and tools to protect coastal and ocean environments, increase their value to society and create a net economic benefit of $3 billion per annum.
Science to inform offshore energy development and safety
Working with both industry and government, CSIRO is providing scientific knowledge, advice and services that are critical for the safe, efficient and sustainable use of Australia's marine wealth.
As part of a Collaborative Research Science Program with BP and Marine Innovation Southern Australia, CSIRO has begun early-stage exploration to look at depths largely unexplored in the Great Australian Bight.
The Science Program is one of only a few whole-of-ecosystem studies undertaken in Australia, and will improve understanding of the environmental, economic and social value of the Great Australian Bight. It will provide vital knowledge to inform future decisions for sustainable development in the region.
CSIRO is also joining forces under a formal agreement, with the Australian Maritime Safety Authority (AMSA) to provide scientific knowledge and technical support for maritime environmental incidents, such as oil spills and shipping accidents.
CSIRO's expertise and experience in maritime and marine science will serve AMSA's need for immediate advice during an incident response. This will ensure timely decisions can be made that help minimise impact, and monitor Australia's marine environment against oil spills, pollution or damage from a vessel collision or grounding.
Following up on work to help BP monitor the Deepwater Horizon oil spill in the Gulf of Mexico in 2010, CSIRO has been active in identifying naturally occurring hydrocarbon seeps in the same area.
As part of a collaborative team, CSIRO was part of a three-vessel multidisciplinary survey attempting to map the hydrocarbon 'baseline' profile in the Gulf of Mexico.
This same approach and technology has now been applied, in collaboration with Geoscience Australia, as an exploratory tool, to identify and locate natural hydrocarbon seeps in under-developed basins off Western Australia, which may eventually lead to a reassessment of the petroleum prospectivity for this area.
See glossary page 193 for definition of publication types.
The 'willingness to recommend' rating of 8.5 out of 10 is based on a nine per cent margin of error at a 95 per cent confidence interval.
Refer to the glossary on page 193 for Flagship Review criteria for the Panel's assessment.
The Biosecurity Flagship was formed on 1 July 2012, a comparison to previous year, therefore, is not possible.
The Flagship goal was modified in 2012 in response to the strategic review undertaken
The Digital Productivity and Services Flagship was formed on 1 July 2012, a comparison to the previous year, therefore, is not possible.
The Breed Engineering Theme roadmap has changed to reflect the broader applicability of the technology.
The Advanced Engineered Components Theme has been realigned to form the Manufacturing Technologies for Transport and Mining Theme.
The Advanced Fibrous and Protective Materials and Sustainable Materials Themes were merged to form the Sustainable High Performance Materials Theme.
The Agile Manufacturing Technologies Theme was formed on 1 July 2012.
As of July 2013, the MDU Flagship Roadmap changed in structure to reflect the Flagship's strategy, bringing together a number of activities in fewer themes.
See glossary page 193.
The obesity and metabolic health theme re-joined the Flagship from the Animal, Food and Health Sciences Division, previously known as the Food and Nutritional Sciences Division before the merger with Livestock Industries. The neurodegenerative diseases theme changed to brain health on 1 July 2012.
In July 2012 this new theme name changed in focus from data services only, to providing integrated basin-wide assessments.
From July 2012 this new theme name reflects a broader focus from purely ecosystem understanding to incorporating contaminants in ecosystems.
From July 2012 this new theme name reflects a move away from regional water management activities for rivers and aquifers to a more water assessment focus.
This theme has two current positions – the 'R&D underpinning marine bioregional plans and National Representative System of Marine Protected Areas' work is currently positioned at the three-year mark, progressing simultaneously with the 'Adoption of CSIRO marine incident emergency response system' work.