Overview the highlights, objectives and performance of our Core Research and Services.
Objectives and deliverables
CSIRO's core research and services improve industry, environment and community wellbeing across the breadth and depth of the National Innovation System through the provision of advice, information and solutions.
This includes the delivery of new and improved technologies, managements systems, intermediate and finals products, catalyst services for business, advice relevant to policy development and new knowledge and skills.
Highlights of our core research and services include:
15 research fields ranked in the top 1 per cent of global institutions
48 per cent of out scientific publications were co-authored with an international author
we have 3454 live patents cases in over 80 countries
33 per cent of out patent families were the product of collaborative activity with external parties
we have grown the overall number of published refereed articles by 2.3 per cent.
Our ability to deliver profound impact through our National Research Flagships is underpinned by investment in core research capabilities that build strength in areas of national need, ensuring that Australia has the knowledge and skills to respond to national and international challenges. See Program 1 National Research Flagships.
Each core research group is led by a Group Executive and all groups are committed to pursuing their objectives through partnerships in private and public sectors both within Australia and internationally.
Program performance
This year, the Core Research and Services Program continues to perform well.
Based on an assessment of the five Program key performance indicators (KPIs) identified in the Portfolio Budget Statements, CSIRO has met expectations and targets.
Table 2.5: Performance indicators

| Key performance indicator | Target (and performance assessment) | Performance |
| --- | --- | --- |
| The number of refereed Core Research publications | Maintain or increase | In 2012, CSIRO increased its high output of refereed publications from 2,768 in 2011 to 2,842 in 2012. CSIRO ranks in the top 0.1 per cent of global institutions in Plant and Animal Sciences; Agricultural Sciences; Environment and Ecology; and Geosciences (based on total citations). |
| Customer satisfaction | Maintained | See Program 1 |
| Science excellence in CSIRO research capabilities as assessed through a rolling program of rigorous peer review | Maintain or increase | The third round of science excellence reviews commenced in October 2012 with the review of CSIRO Process Science and Engineering. |
| Demonstrated adoption and impact of core research outputs | Growing economic, social, environmental and intangible benefits | Evidence of adoption and impact of core research outputs for each of the Groups are reported on pages 54–63. |
Green shading: indicates positive progress for the year and the target has been achieved. Yellow shading: indicates some challenges have occurred during the year, but they were managed. Red shading: indicates challenges have affected progress and resulted in the target not being achieved. White/no colour: indicates that this is the first year results have been recorded for this indicator therefore no trend can be observed.
Science excellence and health
Core Research journal publications
Indicator: The number of refereed Core Research publications.
The number of refereed journal articles produced by CSIRO, has been trending upwards over the last five years, with a three per cent annual increase between 2011 and 2012. While this increase is slightly below the previous years, it is still a satisfactory result.
Research publication performance is often measured in the science community by counting citations, that is, the references from one article to another. When one piece of work cites another, this is taken as a recognition of value and academic impact; the more citations an article has received, the more impact it has had on its field.
Approximately 55 per cent of all CSIRO's publications are produced in its four strongest fields, ranked globally by total citation count (see Figure 2.11). The remaining fields in which CSIRO ranks in the top one per cent globally are shown in this Figure.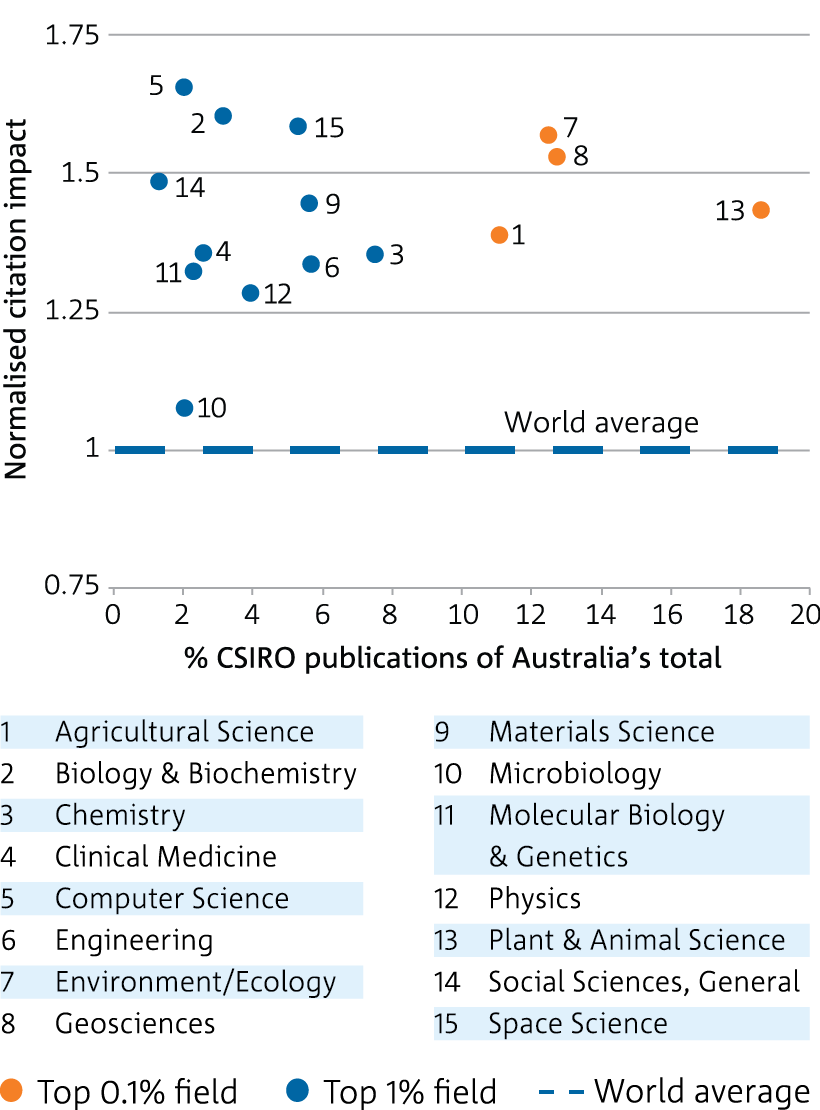 This scatter plot displays the percentage of CSIRO publications by research field against the normalised citation impact, referenced against the world average.
The plot shows CSIRO publications are above the world average, and 11 of the 15 research areas are in the top one percent of the field. These research areas include:
computer science
biology and biochemistry
space science
social sciences, general
materials science
clinical medicine
chemistry
engineering
physics
molecular biology and genetics
microbiology.
The remaining CSIRO publications for research topics are still above the world average, occurring in the top 0.1 per cent of the field. These research topics include:
agricultural sciences
environment/ecology
geosciences
plant and animal science.
The number of fields in which CSIRO is ranked has increased from 14 last year to 15 this year, with the addition of Physics.
Citations can also be expressed relative to the world average performance, accounting for the age and subject of publications. A result of 1.0 is equal to the global average, 1.2 is 20 per cent more cited, and 0.75, 25 per cent less cited1 (see Figure 2.12).
Overall our citation impact has remained relatively steady over recent years with CSIRO cited articles performing 56 per cent better than the global average for the period 2008–12. Thus, demonstrating that CSIRO is performing competitively and positioned well against its global peers in terms of science excellence.
Another way of using citation counts is to rank them based on percentile performance, compared to all other articles of the same type and in the same subject.
CSIRO had 2.6 per cent of its publications in the top one per cent of articles globally, ten per cent of publications in the top five per cent and 17 per cent in the top ten per cent.
These results demonstrate that CSIRO's share of the very best research output is substantially ahead of the curve.
CSIRO publication output and citation impact by year for 2008–12, normalised against the world average.
| Year | Number of publications | Normalised citation impact |
| --- | --- | --- |
| 2008 | 2057 | 1.49 |
| 2009 | 2155 | 1.60 |
| 2010 | 2586 | 1.46 |
| 2011 | 2768 | 1.58 |
| 2012 | 2842 | 1.62 |
University collaboration
CSIRO partners with universities to complement our science capability and accelerate impact delivery.
In 2012 CSIRO undertook various collaborations with the 39 universities across Australia to conduct research projects, co-author research publications; undertake joint supervision of students and/or support adjunct appointments. Specifically in 2012–13 a number of major projects with Australian universities were commenced.
These projects included:
The launch of the Centre for Food Innovation at the University of Tasmania's Launceston campus (UTas). This partnership with the Defence Science and Technology Organisation and UTas aims to help diversify Tasmania's economic base by growing exports of high-quality, nutritious and value-added food products.
A $3 million, five-year jointly funded collaboration between CSIRO's Information Communication Technology Centre, New South Wales Department of Primary Industries and the University of New England for the Development and Application of Real-Time Sensors for Enhancing Feed Efficiency and Productivity at Pasture.
A $13 million collaboration between CSIRO and four leading Australian universities – University of Sydney, University of Newcastle, University of Queensland and University of New South Wales – that will provide specialist knowledge and skills to develop a new suite of tools to understand, develop and optimise energy grids of the future.
CSIRO also continues to work with university, government and industry partners to develop precincts of global scale and standing.
In September 2012 Monash University and CSIRO signed a strategic relationship agreement to develop their shared vision for the Australian Manufacturing and Materials Innovation Precinct at Clayton, Victoria.
The agreement builds upon the shared strengths of CSIRO and Monash with an agreement to develop a world-class innovation precinct that will underpin the future of Australian manufacturing.
For more information about precincts see ESM 6 and KEA 4.
Joint research publications with Australian universities
CSIRO's number of collaborative publications has nearly tripled since 2003. In 2012, CSIRO produced 83 per cent of its publications in collaboration with authors from other institutions. Fifty-six per cent were produced with authors from other Australian institutions.
Figure 2.13 shows that CSIRO's collaboration with Australian universities has increased substantially since 2002 (as measured by joint publications). CSIRO continues to collaborate with the Group of Eight universities, with universities in the Australian Technology Network of Universities and with those in the Innovative Research Universities2.
This bar graph shows a comparison of CSIRO joint research publications with key Australian universities between 2002 and 2012.
Joint publications for each university for the years 2002 and 2012 are summarised in Table 1.
Table 1. Summary of Figure 2.10: from CSIRO's 2013-14 annual report.

| University | 2002 | 2012 |
| --- | --- | --- |
| University of New South Wales | 50 | 92 |
| University of Tasmania | 49 | 98 |
| University of Adelaide | 40 | 108 |
| Australian National University | 57 | 119 |
| University of Sydney | 60 | 124 |
| University of Melbourne | 61 | 162 |
| Monash University | 37 | 172 |
| Australian Technology Network total | 43 | 182 |
| University of Western Australia | 26 | 191 |
| University of Queensland | 47 | 202 |
| Innovative Research Universities total | 79 | 238 |
International collaboration
This year CSIRO continued to support the Australian Government international development priorities through strong engagement with international peers to access capabilities and deliver impact in new markets that progress Australia's national interests.
Without access to the capabilities created by these partnerships with our global peers, we would not be able to achieve the same level of impact with the same cost efficiency.
In 2012–13 we signed a number of agreements with our international peers including collaboration agreements with the Indonesian Agency for Assessment and Application of Technology and the Vietnam Academy of Science and Technology.
These agreements have helped to establish a firm strategic footing in Indonesia and Vietnam and more broadly south-east Asia, a region of significant importance to Australia.
In addition to these agreements, CSIRO continued to build relationships with a number of other global peers. In August 2012, Dr Megan Clark led a CSIRO Group Mission to China to strengthen partnerships with our industry and research peers.
The Group Mission was supported by the Department of Industry, Innovation, Climate Change, Research and Tertiary Education's Australia-China Science and Research Fund and resulted in commitments to deepen several key relationships.
In January 2013, CSIRO and the Huaneng Clean Energy Research Institute were awarded the Excellent International Partner Award by the Beijing Municipal Science and Technology Commission for our work in clean coal.
In India, CSIRO is also creating impact partnerships in a number of areas, with new collaborations underway in concentrated solar power, coal, dimethyl ether gas and medical diagnostics with partners including the Council for Scientific and Industrial Research, The Energy and Resources Institute and Thermax.
In September 2012, CSIRO signed a Memorandum of Understanding with the Chilean Ministry of Mining during Chilean President Piñera's visit to Australia. The two governments are exploring collaboration in water resource management, agriculture, fisheries, energy and environment.
New and reinvigorated partnerships with leading scientific organisations in Europe are supporting CSIRO's global positioning.
In particular, CSIRO signed a Letter of Intent with the European Union's Joint Research Centre, and Australia joined the International Institute of Applied Systems Analysis, with CSIRO as the national member organisation.
For more information about CSIRO's collaborations, alliances and partnerships with its global peers see the Operational Plan implementation.
Joint research publications with other countries
Internationally, CSIRO has also significantly increased the rate of collaboration with overseas organisations, as measured by joint publications. In 2012, 48 per cent of CSIRO's scientific publications were co-authored with an international author.
Figures 2.14 and 2.15 show the potential impact of our science capability through collaboration with international authors. The top ten countries with which CSIRO co-publishes are, in descending order, the USA, China, England, Germany, Canada, France, New Zealand, the Netherlands, Italy and Japan (Figure 2.14).
Joint publications with institutes in China have increased eight-fold between 2002 and 2012. Over the same period joint publications with USA institutions have almost doubled. Figure 2.15 shows the full coverage of CSIRO's collaborations globally.3,4
This world map shows CSIRO's collaborative papers across a variety of countries, ranging from greater than 2000 down to 124.
In summary, the most collaborative papers occur within Australia and the United States of America with over 2000. Followed by China, the United Kingdom and Germany with 1000 to 1999.
Collaborative publications with New Zealand Japan, Canada and France are between 500 and 999; and with India, South Africa, Brazil, Italy, Spain, Finland and Sweden between 250 and 499.
Collaborative papers with most other countries fall between 249 and none.
Science excellence and core research economic, social, environmental and intangible benefits
Indicators: Evidence of growing economic, environment, social and intangible benefits through demonstrated adoption of core research outputs and science excellence in CSIRO research capabilities as assessed through a rolling program of rigorous peer review.5
A key element in CSIRO's success has been its development and continued maintenance of high-quality scientific capability including world-class researchers, research infrastructure and collaborative relationships.
A key mechanism that has assisted to maintain this high standard in research capability has been independent, robust and rigorous Divisional reviews every three to five years.
As with our Flagship reviews, the assessments are led by a panel of independent scientific experts (typically two from overseas and two from Australia) whose knowledge and skills provide an appraisal of the capability performance of a Division, as well as suggestions as to how the performance of research teams can be increased. The panels are encouraged to be forthright in their advice to CSIRO.
In the reporting year one Divisional review was completed. In October 2012, the CSIRO Process Science and Engineering (CPSE) Division, including its nine research themes was reviewed.
Overall the panel was impressed with both the quality of the science undertaken by CPSE and the current and potential application base of the science.
In particular, it determined that 50 per cent of the research undertaken was recognised as either setting a new scientific direction or sustaining the position of a scientific leader (quality) and 70 per cent were delivering research that enables or sets the standard for commercial, environmental, community or policy development that has real-world application compared with its peers (impact).
These results recognised that CPSE was in a transition phase, where it was shifting focus from traditional minerals to the broader application of process science and systems engineering.
As a result, the panel encouraged CPSE to focus its strategic objectives around the context of the future of process science and systems engineering and to work with the Flagships to develop 'over the horizon' industry scenarios in order to plan a set of science capability needs for the next 10 years or more.
Intellectual property management and licensing
Intellectual Property (IP) is a key tool for CSIRO to capture the benefits of its research for Australia, by protecting the results of our activity and thereby ensuring that our technologies are not inappropriately copied by competitors.
CSIRO's Intellectual Property Management framework is provided by the Statement of Intellectual Property Principles for Australian Government Agencies and provides guidance and ensures effective identification, protection, ongoing management and exploitation of IP.
Strong portfolios of IP also provide key positioning in various marketplaces, underpinning the focus and strategy of the Organisation and providing external reputation benefits with clients and potential collaborators and competitors.
Intellectual Property portfolio
This year there has been significant activity across the IP portfolio, including a number of patent applications for new inventions currently being processed but are not yet filed. This explains the seeming decline in new applications from 95 last year to 87 this year (see Table 2.6).
Table 2.6: CSIRO intellectual property by type
IP category
6
Sub category
2008–09
2009–10
2010–11
2011–12
2012–13
Patents
Current PCT7 applications
97
90
101
98
83
Granted
1,625
1,630
1,631
1,649
1,647
Live cases
3,710
3,379
3,370
3,582
3,454
Inventions
Patent families
743
712
709
728
718
New
80
99
92
95
87
Trade marks
Australian
265
263
259
275
281
Foreign
130
114
109
81
88
Plant breeder's rights
Australian
122
122
122
83
87
Foreign
25
21
21
39
24
Registered designs
Australian
2
2
2
3
3
Foreign
10
10
10
8
8
The value of CSIRO's IP portfolio is partly revealed by its licensing revenue. In the last financial year approximately a third of the licence agreements were executed with small-to-medium enterprises (SMEs). Over half of the licensing revenue was generated by plant varieties, and the remainder by patent licences, software licences and technology transfer arrangements.
Significant value is gained from the depth and breadth of CSIRO's IP Portfolio. This attracts collaborators who recognise CSIRO's capability to develop innovative technologies.
It was found that 33 per cent of CSIRO's patent families were the result of collaborative activity with external parties (see Figure 2.16).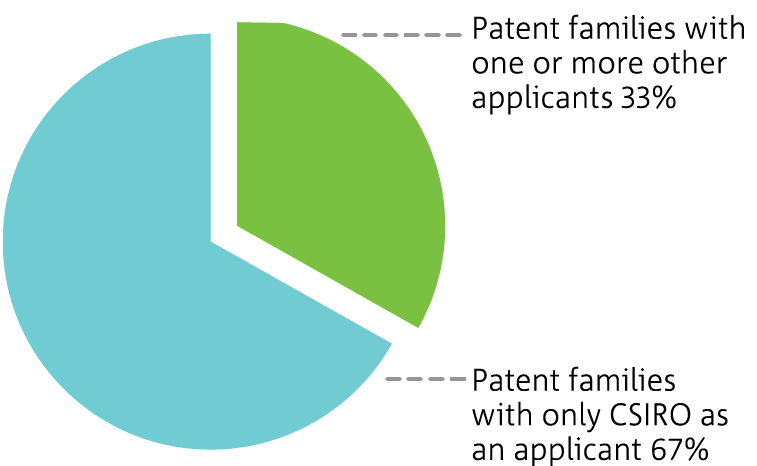 The percentage of collaborations resulting in patents in 2012-13 indicates 33 per cent were for patent families with one or more other applicants and 67 per cent were for patent families with only CSIRO as the applicant.
Those patent families resulting from such a partnering arrangement were found to involve over 108 distinct partners.
The majority of partners can be characterised as industry (55 per cent), with the other partners being universities (17 per cent), government bodies (13 per cent) and research institutes (15 per cent).
Almost half of CSIRO's activity with industry relates to collaboration with industry overseas (see Figure 2.17).
Distribution of CSIRO distinct partners for 2012-13 is summarised as:
32 per cent Industry (Australia)
23 per cent Industry (Foreign)
17 per cent Universities
13 per cent Government bodies
15 per cent Research institutes.
CSIRO has collaborated and generated IP with industrial partners such as Bayer CropScience, Boeing Company, PolyActiva and Clinical Genomics, as well as research institutes such as the Mental Health Research Institute and the National Ageing Research Institute.
In 2012–13, CSIRO continued to hold its strong global position with 3,454 live patents cases in over 80 countries (see Figure 2.18).
The total number of live patent cases in Asia has grown by an average of five per cent each year over the last two years. CSIRO has a large proportion of its live patent cases in Asia.
Percentages of CSIRO's live patent cases are summarised by geographic region and include:
Africa
North America
Russian Federation and Eurasia
Central America and the Caribbean
Asia
Australia, NZ and the Pacific
Europe
South America
The Middle East.
A summary is also provided for regional patent offices and includes:
World Intellectual Property Org.
European Patent Office
Eurasian Patent Org.
African Intellectual Property Org.
African Regional Intellectual Property Org.
A total of 748 live patent cases are in the Asian region, with cases in countries such as Japan, China, India, South Korea, Hong Kong, Malaysia, Indonesia, Singapore, Vietnam, Taiwan, Thailand and the Philippines. These countries combined represent approximately 22 per cent of the live patent cases in CSIRO's patent portfolio (see Figure 2.19).
There has also been an increase in the number of filings in the South American and African regions. These regions have had an average annual growth rate of nine per cent and five per cent respectively over the last two years.
However, these areas only represent a relatively small portion of CSIRO's patent portfolio, with live patent cases in South America and Africa together making up less than seven per cent of the portfolio.
Number of patent cases are summarised by country and ranges from 500+ cases in countries such as Australia and the United States of America; down to zero to 24 cases in various countries across the African continent.
The number of live patent cases by regional patent office include:
African Regional Intellectual Property Organisation: four cases
African Intellectual Property Organisation: two cases
Eurasian Patent Organisation: 18 cases
European Patent Office: 229 cases
World Intellectual Property Organisation: 83 cases.
Australian Growth Partnerships Program
To support the growth of the IP Portfolio, CSIRO places significant focus on strategic engagements and collaboration with industry partners. In 2007, CSIRO established the Australian Growth Partnership (AGP) program to increase engagement with Australian SMEs.
The AGP program provides funds to high potential, technology-receptive SMEs so they can access CSIRO research and development capability and IP. It is designed to be mutually beneficial by assisting SMEs to overcome existing technical issues, while contributing to CSIRO's National Research Flagships Program.
As at 30 June 2013, six SMEs were engaged in the AGP program. This year $1.2 million was invested in two SME companies, including follow-on investments.
In addition to this, there was one completion and exit from the program providing a positive return to CSIRO, and another company was added to the program.
Direct Nickel-CSIRO partnership to deliver huge benefits to the global nickel industry

CSIRO continues to engage with industry to develop collaborations that progress its various technologies into the global marketplace. One success story that demonstrates this is CSIRO's engagement with Direct Nickel (DNi). Approximately five years ago CSIRO started to provide DNi with technical assistance in exploiting patented nitric acid recycle technology for hydrometallurgical processes. CSIRO has made a financial contribution to the project and received in return equity in the company. This partnership, resulted in a hydrometallurgy process that could potentially unlock 70 per cent of the world's nickel supply found in laterites and secure DNi's global competitive advantage. Building on this development, DNi began full-scale testing of the process at a $5 million pilot plant at CSIRO's Australian Minerals Research Centre in Perth. The plant was officially opened by the Western Australian Minister for Mines and Petroleum, the Hon Bill Marmion, on 24 May 2013.
Equity Portfolio
The total value of CSIRO's equity portfolio at 30 June 2013 was $10.5 million across listed and unlisted companies. CSIRO's overall total equity portfolio decreased slightly from 30 June 2012.
Major contributing factors were the decrease in value of listed companies due to ongoing unfavourable market conditions and the declining shareholding value of a number of unlisted portfolio companies.
There have been no new spin-out companies formed during 2012–13. However, as Table 2.7 indicates, seven of the portfolio companies have raised over $24 million from capital markets during the year to help fund ongoing commercialisation activities.
CSIRO licences technology to existing companies where that is deemed the most likely route of maximising the value of the IP.
However, it also directly creates new high technology SMEs through spinning out IP when that is deemed to be the best available pathway to commercialisation. CSIRO currently has interests in 34 companies.
Table 2.7: Portfolio movements and activity during 2012–13

| Activity | No of companies | Value ($m) |
| --- | --- | --- |
| Companies created | 0 | 0 |
| New capital raised8 | 7 | 24,262 |
| New CSIRO equity contributions | 2 | 1.2 |
| Wound-up | 1 | 0 |
Energy9
Analysis of Performance
The challenges
Powering the future is arguably the greatest environmental, economic and social challenge we have to resolve in the early decades of the 21st century.
Australia has a number of choices for its energy future; no single solution will solve the energy puzzle. In shaping this future, Australia will need to take into account uncertainties associated with multiple, interacting variables including increased demand, environmental sustainability, greenhouse gas policy compliance, economic viability, energy security, water availability, land use choices and social acceptability.
Australia's vast ocean domain also presents challenges and opportunities for wise use, conservation and management.
As part of our efforts to help solve the energy puzzle, the Group is delivering science and technology to inform and support development of Australia's substantial gas resources, both onshore and offshore.
Our response
CSIRO is tackling these challenges with an integrated energy research portfolio that aims to reduce greenhouse gas emissions, ensure energy supply and maximise the country's social, economic and environmental wealth from our rich endowment of energy resources and ocean territory.
Our focus is to develop options to accelerate large-scale emissions cuts while ensuring a smooth transition to a new energy future.
We are working with industry, governments, the community and our research partners to maximise the number of prospective energy options for Australia, and to enable informed decisions about Australia's coasts and oceans.
On 27 September 2012, Senator the Hon Chris Evans (the then Science Minister) officially launched the government-funded National Geosequestration Laboratory in Perth.
This collaborative facility incorporates CSIRO, The University of Western Australia and Curtin University, and will help provide government and industry certainty regarding the viability and safety of commercial-scale storage of carbon dioxide.
CSIRO's Geothermal Project is proving the viability of using groundwater and solar power to cool the Pawsey Centre Supercomputer with zero emissions.
On 1 July 2013 CSIRO merged its Energy Transformed Flagship and Advanced Coal Technology and Petroleum and Geothermal Research portfolios to create the new Energy Flagship, an integrated $120 million vehicle to help Australia create a prosperous and sustainable energy future across the entire energy value chain.
Our pathway to impact
During the financial year, the $4.5 million Shale Research Centre (SHARC) Consortium was completed and has delivered valuable data and models of shale behaviour to its six industry sponsors.
This will help reduce billions of dollars of annual losses associated with these rocks. Two new consortia – one a continuation of shale property studies and the other focusing on gas shales – are being launched in response to the success of SHARC.
A $10 million joint project with China United Coalbed Methane Corporation Limited (CUCBM) has successfully demonstrated that storing carbon dioxide underground increases the extraction of methane that can be used as an energy source.
The project was undertaken in the Shanxi Province, China. CSIRO's work with CUCBM addresses the critical issues of low-emission energy supply, climate change and emissions reduction on a global scale.
The project allowed CSIRO to increase its capabilities in pilot-scale demonstrations for carbon capture and storage technologies and has advanced the development of a low-emissions coal technology that could be deployed in Australia.
Improving safety and productivity in longwall mining operations
CSIRO has secured the first international sale of its innovative longwall automation technology, which increases coal mine productivity and improves safety. The technology will be operational in 2014 at an underground coal mine in the United States.
Longwall mining accounts for about 90 per cent of Australia's underground coal production. In the longwall process a shearer, a machine with large rotating cutting drums, is driven back and forth across the coal seam.
With each pass a massive 'slice' of coal is extracted. Keeping the system aligned with the seam is crucial, not just for efficiency, but more importantly for safety.
Previously, longwall guidance systems had to stop mining to correct the shearer position and required miners to work near the machine. This interrupted production and placed personnel in the direct vicinity of hazardous, noisy equipment and a dusty environment.
CSIRO's world-leading longwall automation technology uses specialised remote guidance to continuously steer the longwall shearer by plotting its position in three dimensions.
This removes personnel directly from hazards, resulting in increased safety and productivity. The real-time progress of the longwall can be monitored across the Internet to anywhere in the world, leading to further gains in efficiency.
This innovation has emerged as an essential component of modern automated longwall mining operations with more than half of Australia's longwall underground operations already using it.
It realises the coal industry vision of improved safety, productivity and reliability at the lowest cost per tonne, and is delivering an economic benefit of up to ten per cent a year.
CSIRO has licensed its longwall automation technology to five major global longwall equipment suppliers and these companies are now offering it to the Australian and United States coal mining sectors.
CSIRO's technology is the commercial outcome of a Landmark longwall automation project funded by the Australian Coal Association Research Program.
Research group aim: To develop and apply leading-edge energy research that reduces greenhouse gas emissions; ensures energy supply; maximises Australia's wealth from its energy resources; and derives increased, sustainable benefits from Australia's marine resources while ensuring conservation of our marine biodiversity and coastal habitats and settlements.
Environment10
Analysis of Performance
The challenges
Australians have stewardship of a beautiful, diverse and unique environment. The cumulative consequences of the last 200 years of development of natural resources in Australia leave us with a legacy of economic opportunity as well as environmental challenges.
The future of Australia, the Asia-Pacific region, and indeed the whole world, is also being re-shaped by the forces of climate variability and change, natural resource quality and security, technological revolution, trade reform, poverty alleviation and national security concerns.
The Environment Group seeks to position CSIRO as the research and development organisation of choice for trusted advice for Australian governments, industry, and society, and in doing so help meet these challenges and ensure the ongoing prosperity of the Nation.
Our response
CSIRO's response to these challenges and opportunities involves the application of enhanced systems understanding, as well as the development and deployment of new technologies, processes and services.
The CSIRO Environment Group is doing this by boosting our understanding of the operation and interaction of entire ecosystems, regional economies, and societies.
Our pathway to impact
The reporting year saw significant achievements such as our continued development of the Australian Community Climate and Earth System Simulator (ACCESS) system that is improving weather and climate forecasts (more on page 57).
Australia's first large-scale rainforest research plot was opened in the World Heritage Wet Tropics region in partnership with the Terrestrial Ecosystem Research Network.
This will enable long-term monitoring of key Australian ecosystems and provide answers about species distribution, potential carbon storage and exchange, and the impacts of climate change.
The Group is also working with GhostNets Australia and Indigenous rangers to identify hotspots where lost fishing nets are threatening
our marine biodiversity.
Internationally, CSIRO and the National Oceanic and Atmospheric Administration are implementing a Memorandum of Understanding to improve global weather, ocean and climate forecasting.
Collaborations deepened through the Intergovernmental Platform on Biodiversity and Ecosystem Services and CSIRO joined the International Institute for Applied Systems Analysis and the Belmont Forum on Global Change. Partnerships in Asia also grew.
Industry collaboration remains strong. The Gas Industry Social and Environmental Research Alliance, through which CSIRO delivers 100 per cent publicly available independent research, is delivering 16 research projects across the social, economic and environmental dimension of the coal seam gas industry to inform resource development.
CSIRO and its partners are developing a molecular technique to survey insect biodiversity – 'ecogenomics' – potentially revolutionising new species discovery and conservation management.
CSIRO and the Australian National University also launched the Centre for Biodiversity Analysis which will harness new and emerging technologies to improve our knowledge of Australia's biodiversity and inform managers.
CSIRO and Ziltek Pty Ltd commercialised a new hand-held device for the rapid and highly cost-effective in-field analysis of petroleum contamination in soil. An average mid-size remediation firm in Australia spends around $250,000 on soil petroleum analysis each year, and RemScan™ can reduce this cost by 50 per cent.
New models to improve weather and seasonal climate forecasts
Australia is not just a land of droughts and flooding rains, but of bushfires, tropical cyclones, severe thunderstorms and treacherous seas. Such high-impact weather within a highly variable climate imposes significant social and financial costs on the community.
To address these challenges, the Bureau of Meteorology and CSIRO formed a significant partnership – the Centre for Australian Weather and Climate Research (CAWCR).
The Centre pursues earth system science, a multidisciplinary approach to deliver timely, policy-relevant science and knowledge to meet immediate and long-term environmental, social and economic challenges of the nation.
A core component of CAWCR's earth system science is ACCESS. ACCESS models not only weather and climate but hydrological and terrestrial processes, atmospheric chemistry, and the complex interactions between the physical components of the earth system.
Over the last five years, the development of ACCESS has led to a world-class weather and climate prediction system for Australia.
ACCESS was used to great effect during the major Victorian flood events between September 2010 and February 2011 which affected one-third of the state and cost the community in excess of $1.3 billion.
ACCESS enabled a more accurate prediction of the extreme rainfall that led to flooding in western New South Wales in early March 2012.
The ACCESS model gave many days of advance warning of a band of heavy rain across Australia with predicted and observed five-day accumulations over 200 millimetres in many places.
ACCESS simulations of climate and climate change have been used in more than 60 published climate studies in the past year. The ACCESS model delivers a ten-fold improvement in our nation's every day weather forecasts.
New ACCESS-based models are meeting more specific needs of various sectors, such as emergency management in fire situations. Black Saturday alone cost 173 lives and almost $4.3 billion.
To enable firefighters access to more detailed weather information, a high-resolution version of ACCESS has been developed.
ACCESS was developed in collaboration with the UK Meteorological Office, by CSIRO and the Bureau of Meteorology as part of the CAWCR, with input from Australian universities.
Research group aim: A sustainable Australia addressing global challenges, in which CSIRO's environmental research and development role is pivotal and acclaimed.
Food, Health and Life Science Industries11
Analysis of Performance
The challenges
Global food security remains a fundamental challenge as the world population grows to an estimated nine billion by 2050. This population-driven food demand will need to be met through practices that are less carbon-intensive and with limited land and natural resource use.
Equally important is the requirement for food and nutritional quality, and the role of this in human wellness and productivity, the prevention of chronic disease and subsequent costs on the Australian health system.
Additionally, increases in global trade and in the movement of plants, animals and people, along with climate change, are placing growing pressure on Australia's biosecurity, which is critical to protecting our people, environment and economy.
Our response
During 2012–13, our researchers worked with international colleagues to identify a set of genetic fingerprints to help Australian farmers understand the pedigree of their sheep stock, which could result in high-quality food and fibre products from sheep.
In April 2013, the Centre for Food Innovation was opened in Tasmania. This Centre was realised through strong partnerships with the University of Tasmania and the Defence Science and Technology Organisation, and will add value to Tasmanian produce and provide better food to Australian soldiers, through improvements in food processing.
This financial year, the group collaborated with international researchers to contribute to the global understanding of agriculturally important crops, sequencing the cotton and chickpea genomes.
Better understanding of the cotton genome will help breeders to develop new cotton varieties that have increased disease resistance, or adaptation to environmental conditions, supporting the industry.
Chickpea is the second most widely grown legume globally, and plays a crucial role in food security in developing countries. Sequencing the chickpea genome will help researchers and breeders to develop chickpea varieties with greater yield or disease resistance to support food supply in these countries.
CSIRO's contribution to Australia's biosecurity system has been enhanced in 2013 through the launch of our new National Research Flagship for Biosecurity, which will support Australia's social, environmental and economic wellbeing by reducing the risk of pest and diseases and improve the effectiveness of mitigation and eradication responses (more in Program 1).
Our pathway to impact
The reporting year saw significant milestones in the uptake of our innovation in the food and agricultural industries. Selective breeding programs for Australian stocks of Atlantic salmon, Pacific oysters, abalone, black tiger prawns have all achieved greater than ten per cent gains in growth per generation, increasing the productivity for our industry partners (more in Program 1).
Our innovations to support agricultural management are helping farmers, with 84 countries around the world now using our Agricultural Production Systems Simulator (APSIM) tool.
2013 also saw the launch of CSIRO's first iPad application, SoilMapp (more in Program 1), providing information relevant to agricultural productivity and land management decisions.
On 1 November 2012, the fight against the deadly Hendra virus received a boost with the introduction of Equivac® HeV vaccine, a result of our collaboration with industry and international organisations.
Our Australian Animal Health Laboratory (AAHL) facility played a critical role in developing this vaccine as AAHL is the only laboratory in the world equipped for this type of high-containment, large-animal research (more in Program 1).
In 2013 we celebrated 40 years of CSIRO cotton research, supporting an industry that has grown to be one of Australia's biggest agricultural industries, valued at up to $2 billion a year (more in Food, Health and Life Science Industries).
Transforming the cotton industry for competitive results
The cotton industry is one of Australia's most significant agricultural industries. As one of the top four cotton exporters globally, Australia competes in a heavily subsidised international market.
To survive and thrive Australian cotton farmers need higher yields and lower production costs. Cotton crops are regularly threatened by weather extremes and disease and can be devastated by insect pests.
CSIRO cotton breeders introduced insect resistant cotton into varieties bred especially for Australian conditions. Widespread adoption reduced the insecticide sprayed on Australian cotton by 85 per cent, compared with conventional varieties, improving environmental sustainability and profitability.
Since then, new genetic traits have cut residual herbicide usage by 52 per cent, improving soil health and reducing waterway contamination.
CSIRO cotton scientists applied their expertise to plant breeding, biotechnology, farming systems, assessment for disease resistance, and postharvest processing to optimise yield and quality.
CSIRO worked closely and co-invested with the cotton industry and its peak industry bodies to achieve this outcome. To market CSIRO cotton varieties in Australia and internationally, CSIRO works in a joint venture called Cotton Breeding Australia.
Agreements between CSIRO and key global companies with interests in agricultural biotechnology ensure access by Australian farmers to the valuable new traits which are delivered through CSIRO cotton varieties.
It is highly likely that the Australian cotton industry, as we know it today, would not have existed without this combination of investment, expertise and engagement.
CSIRO's major impact for Australia's cotton industry was possible because of its specialised breeding skills coupled with widespread deployment of new cotton varieties by its partners.
Cotton production has grown into one of Australia's biggest agricultural industries; an average season is valued at more than $1.3 billion a year.
Economic assessments of CSIRO's cotton breeding program show an estimated 80:1 return on investment and more than $5 billion net present value from increased yield and regional adaptation in Australia.
Today, more than 95 per cent of Australian cotton, as well as half the dryland cotton grown in the US and about one-third of the cotton in Brazil, Turkey and Greece can be linked to CSIRO-bred varieties.
These varieties also have far reaching environmental benefits with increased water efficiency, while delivering a higher yield per litre of water input.
Research group aim: To deliver sustainable productivity growth and value to food and fibre production in support of the economy, the environment and the health of Australians. We will do this through scientific excellence in the biological and food sciences and their application to creating profound impact across the agricultural value chain, health, biosecurity and industry.
Information Sciences Group12
Analysis of Performance
The challenges
One of the biggest challenges facing modern science is the ability to collect, communicate and interpret the massive amounts of data generated in all areas of research ranging from astronomy and astrophysics to materials, environmental, energy, information and life sciences.
It is predicted that by 2020 there will be 37 billion 'things', from our car to our fridge door, connected to the Internet13 and the average person will own six different smart devices14.
This increasing connectivity is creating an explosion in the volume, velocity and variety of data and information available at our fingertips.
The Information Sciences Group is focusing on two key challenges: developing better ways to capture, manage and analyse these growing streams of 'big data' so scientists can turn complex systems and information overload into knowledge, and growing CSIRO research productivity through an increasing range of e-Research initiatives.
Our response
To address these challenges, the Group has formed close ties with industry, government, the community and world-class research partners at home and abroad to develop world-leading computational and simulation science capability platforms.
We are developing and delivering strategic scientific capability and discovery in mathematics, statistics, robotics, autonomous systems, advanced telecommunications, wireless, antennae and sensor network research.
In addition, the Group is enabling 'big science' across all CSIRO research disciplines through the e-Research program involving ongoing capability growth in supercomputing, research data management and advanced collaboration, simulation and visualisation.
To keep CSIRO globally competitive and responsive in key research areas of information sciences a new Division, Computational Informatics, was formed during the course of the year and officially launched on 1 July 2013.
The new Division will work on a range of national challenges such as declining productivity and emerging health issues in our ageing population.
Internationally, the Group is developing research alliances with partners such as General Electric, Boeing, Lockheed Martin, Orica and AusAID.
Our international business connections and collaborations with China and the US are increasing, and we work with the United Nations on spatial information access.
Our biggest international alliance involves developing and delivering world-leading technologies and research in astronomy, astrophysics and space tracking via the Australia Square Kilometre Array Pathfinder and international Square Kilometre Array (SKA) projects (more on page 61).
The SKA is Australia's biggest strategic international science opportunity. While driving Australia's engagement in this project, CSIRO is also helping develop Perth as a global centre for radio astronomy and building our relationship with NASA in the US, CSIRO's largest commercial partner.
Our pathway to impact
During 2012–13, the Group focused on critical issues relating to healthcare delivery.
Working with the Australian Centre for Broadband Innovation, CSIRO is reducing healthcare costs by helping older Australians live in their own homes longer, more safely and independently, using next-generation broadband networks to gather health and medical information remotely from the patient at home.
Other industries are also reaping the benefit from this explosion of data. For example, the Group and its partners developed innovative modelling programs to minimise transport costs and increase productivity and efficiency for the Hunter Valley Coal Chain Coordinator.
This organisation is the largest and most complex coal export operation in the world, exporting more than 90 million tonnes per annum and generating around $15 billion in annual export revenue. Our ongoing strategic partnership has helped increase Hunter coal exports and improved operating efficiency.
The Group also produced Zebedee – the world's first mobile hand-held laser mapping system, in collaboration with global partners.
Zebedee is a fast and accurate 3D mapping device that overcomes the cost, slow speed and technical constraints of existing systems.
Zebedee enables a user to generate a 3D laser map simply by walking through a desired location and can be used for applications ranging from street mapping and mining surveys to searching disaster sites and recording details of a crime scene.
Zebedee will soon be available on the international market.
New technology transforms our understanding of the Universe.
CSIRO's newest radio telescope, the Australian Square Kilometre Array Pathfinder (ASKAP), will be one of the most powerful survey radio astronomy instruments on the planet.
Currently in its commissioning phase, the ASKAP's combination of increased survey speed and sensitivity will enable breakthroughs in the way we understand the Universe.
New receiver technology, based on digital processing solutions and phased array theory, developed especially for ASKAP, will capture radio images with unprecedented sensitivity over large areas of sky.
This technology will offer a 20-fold increase in survey speed and increase the field-of-view by a factor of 30 compared with any other radio telescope in the world today.
Recent testing captured the world's first ever multi-beam image produced with the new receiver technology on separate ASKAP antennas, an important milestone in commissioning the full ASKAP telescope.
In addition to being a world-leading telescope in its own right, ASKAP is also an important facility for testing new technologies, and will itself be incorporated into phase one of the future international SKA project.
The SKA is a global science and engineering project, involving more than ten countries, to build the world's largest radio telescope.
It will provide insight into the formation and evolution of the first stars and galaxies after the Big Bang, the role of cosmic magnetism, the nature of gravity and possibly even life beyond Earth.
Research group aim: To work with partners to solve national challenges, drive the productivity of Australian industries, and deliver public good outcomes through the innovative application of mathematical, statistical, information and communication sciences and technologies, and to build Australia's role in developing the next generation of space sciences.
Manufacturing, Materials and Minerals Group15
Analysis of Performance
The challenges
Australia's manufacturing and minerals sectors are operating in an increasingly challenging environment.
Innovation is one solution to this problem and the Manufacturing, Materials and Minerals (MMM) Group works in partnership with local and multinational organisations to deliver innovative technologies, products and processes which help to improve competitiveness and enhance sustainability.
Our response
In 2012–13, the Group continued to foster and strengthen relationships with industry, research providers and governments.
CSIRO provided expert advice to policy makers and industry groups through forums such as the Prime Minister's Taskforce on Manufacturing.
The Group continued to work on some of Australia's toughest challenges with major companies such as Boeing, General Electric and Orica.
2013 will mark the twenty-fifth year of our relationship with Boeing. This year CSIRO also engaged with more than 1,200 Australian small-to-medium enterprises, with many of these interactions led by the MMM Group.
In partnership with Monash University, the Group launched the Australian Manufacturing and Materials Precinct (AMMP) in south-east Melbourne, as a hub for industry and research-based organisations.
At the heart of CSIRO's vision for AMMP is the creation of the Factories of the Future Innovation Centre.
The Group has also pledged support for the establishment of an industry-led innovation precinct – the Manufacturing Excellence Taskforce Australia.
In mineral exploration, the Minerals Down Under Flagship is playing a leading role in UNCOVER, a national collaborative research drive, to develop tools to successfully explore through the thick layer of sediment that covers the majority of the Australian continent.
The Flagship is also active in the Deep Exploration Technologies Cooperative Research Centre.
Our pathway to impact
In mineral resources, the Group has helped redefine large open pit mine design, ensuring mine slopes are reliable, minimising loss of life, equipment damage and sustained production losses in the event of mine slope failure (more in Program 1).
In February 2013 the open access Virtual Geophysics Laboratory was launched, allowing scientists from across Australia to access geophysics data online.
Research that used to take one week now takes just 15 minutes with this new tool. This was a multi-partner collaboration with Geoscience Australia, the National Computational Infrastructure, and several universities.
In manufacturing, CSIRO signed a major technology deal with Australian healthcare company Medical Developments International, for the next generation production of the paramedic's 'Green Whistle', an inhaler used to relieve pain.
This will assist the company's global growth and ultimately give more patients access to this innovative treatment.
The Group also helped develop a new ultra-absorbent material, in partnership with Victorian manufacturer Textor Technologies and Kimberly-Clark, which is now sold in Huggies Newborn Infant nappies (more in Program 1).
The Group continues to partner with universities and industry to deliver positive impact. Major co-locations include the 'New Horizons' building with Monash University at Clayton, Victoria.
Research will focus on material engineering including computational and physical modelling of manufactured products and services in the biomedical, aerospace and renewable energy fields.
In collaboration with Deakin University, CSIRO and the Victorian Centre for Advanced Materials Manufacturing, the Australian Future Fibre Research and Innovation Centre was opened in Geelong, Victoria in February 2013.
The Centre will focus on all aspects of fibre manufacturing, including carbon fibre development.
Manufacturing to support the global fight against disease
Rotavirus, the most common cause of severe diarrhoea among infants and young children, is a serious problem for communities around the globe.
But access to appropriate treatment is limited or unavailable in many developing countries, which is where 95 per cent of all rotavirus deaths occur.
Commercial vaccines exist, but they are not widely available or affordable in many parts of the world. With 800,000 children under five dying and millions more hospitalised from severe, dehydrating diarrhoea each year, a new accessible and affordable vaccine is vital.
The Program for Appropriate Technology in Health (PATH) is an international, not-for-profit organisation that has been working with a number of international partners to develop new accessible and affordable vaccines for the deadly disease.
Antibodies are required in large amounts for use as quality control reagents by vaccine manufacturers. PATH collaborated with CSIRO to provide the capabilities and infrastructure to perform the large-scale production of different monoclonal antibodies and supply these quality reagents to control the quality of new vaccine candidates.
In December 2012, CSIRO's state-of-the-art protein production facility in Clayton, Victoria produced 6,000 vials of monoclonal antibodies. These were distributed to India, where they are being used to control the quality of new vaccine candidates under development for rotavirus.
This new vaccine will mean cheaper and more accessible prevention methods for children in India, China, Brazil and other parts of the world, potentially saving thousands of lives.
Research group aim: To help grow Australia's wealth by developing improved commercial products and processes, fostering increased productivity, and supporting business and job creation in an environmentally and socially responsible manner.
The count of each article's citations is divided by a baseline calculated from all articles published of the same type, in the same subject, during the same year; the average of these ratios yields a measure of relative citation impact.
Web of Science, Thomson-Reuters.
Web of Science, Thomson-Reuters
Web of Science, Thomson-Reuters
Source: Portfolio Budget Statements
IP categories are defined in the glossary
Patent Cooperation Treaty
See organisational chart for the structure of each Research Group.
See organisational chart for the structure of each Research Group.
See organisational chart for the structure of each Research Group.
See organisational chart for the structure of each Research Group.
See organisational chart for the structure of each Research Group.