CSIRO is committed to the health and safety of its staff and recognises the importance of positive interventions aimed at improving staff wellbeing.
CSIRO acknowledges its responsibilities under the Work Health and Safety Act 2011 and seeks to exceed these in striving to achieve its vision of Zero Harm.
CSIRO has implemented a governance framework to ensure it can deliver upon its responsibilities and a summary of performance and compliance with this Act is provided below.
Health, Safety, Environmental Sustainability and Community Policy
CSIRO's Health, Safety, Environmental Sustainability and Community Policy reflects our commitment to ensuring the safety and wellbeing of our staff, visitors and the communities in which we work. This policy outlines what CSIRO will do in striving toward Zero Harm.
Health, Safety and Environment Management Standard
CSIRO's Health, Safety and Environment (HSE) Management Standard describes the mandatory performance requirements for the management of health, safety and environmental risks, and is applicable to all CSIRO staff, sites and facilities.
Health, Safety and Environment Procedures
CSIRO's Health, Safety and Environment Procedures provide mandatory requirements for achieving the intent of our Policy and Management Standard.
Venn diagram displaying:
A 9% reduction in physical injury and illness reported in 2012-13.
We are a signatory to FluoroCycle, a voluntary program where we agree to divert all used mercury from lighting from landfill to resource recovery.
Our Pawsey Centre is gaining an extensive international profile for its use of groundwater cooling for the supercomputer.
Good health and safety performance by all major projects.
These procedures detail the responsibilities of our Senior Leaders, Managers and Staff for ensuring risks arising from our work are eliminated or minimised.
CSIRO has adopted a continuous improvement of our procedures and in 2012–13 the following procedures were developed or revised:
Radiation Safety
Rehabilitation and Injury Management
Plant and Equipment Safety
Drug and Alcohol
Electrical Safety
Personal Protective Equipment
Consultation and Representation
International travel.
Health, Safety and Environment Guidelines
CSIRO's Health, Safety and Environment Guidelines accompany many of our procedures, providing our staff with examples of recommended best practice and helpful tools to enable them to effectively meet the requirements of our governance framework.
Health and Safety Strategy
The 2011 to 2015 Health and Safety Strategy outlines initiatives that will improve CSIRO's health and safety performance and progress its safety culture. During 2012–13, the following strategic initiatives were delivered:
A 360 degree HSE leadership review of our most senior leaders was undertaken.
HSE leadership training was provided to over 800 CSIRO line managers.
An enterprise Muscular Skeletal Injury Prevention program was scoped.
HSE audit tools were developed for a peer review audit program.
Management of risks associated with international travel was enhanced through an upgrade of our Staff International Travel System.
A web-based health and wellness information portal was made available to staff.
Consolidated occupational health monitoring requirements were established for the entire organisation.
Focused on mental health. A web portal was established that provides a range of tools to assist managers and staff deal with psychological health and wellbeing. The web portal includes links to CSIRO information and services, as well as support services provided by external organisations. Specific training and information sessions facilitated by organisations such as beyondblue were held to support improvement in mental health literacy and understanding within CSIRO.
Other significant enterprise initiatives delivered in 2012–13 include a review of controls for the operation of quad bikes and a review of asbestos controls and registers across all sites.
HSE performance
CSIRO is required to report each year on injuries that occur in the course of its business and which result in lost time or require medical treatment, see Figures 3.1 and 3.2.
CSIRO made a significant change to the criteria for classifying lost time injuries (LTIs) in 2010–11 to more closely align with industry best practice. This new system ensures reliable, accurate and standardised injury classification and surfaces injuries that otherwise may not have been reported. The increase in LTI rates between 2010–11 and 2011–12 was due to the new more stringent criteria for classifying lost time injuries.
Fifty-four LTIs were reported during the year resulting in an LTI frequency rate of 4.9. The nine per cent reduction in the incidence of physical injuries in the reporting period was offset by a corresponding increase in reporting of stress and anxiety related illnesses.
Eighty-six medical treatment injuries (MTIs) were reported during the year resulting in an MTI frequency rate of 7.8. This marginally higher MTI frequency rate compared to the previous period was in part due to an increase in early intervention treatments for muscular skeletal injuries. This early intervention approach is being actively encouraged to resolve and prevent muscular skeletal injuries from going on to develop to a more disabling level.
Raising awareness of the need for staff to report mental health illnesses that may have a work related component has seen mental health related illness reports increase to approximately nine per cent of LTI and MTI reports.
The number of workers' compensation claims with injury dates in the reporting period decreased from 60 in 2011–12 to 51 in 2012–13.
CSIRO's premium for 2012–13 was 0.66 per cent of payroll compared with the Commonwealth agency rate of 1.77 per cent.
Notifiable incidents
Under the Work Health and Safety Act 2011 CSIRO is required to report notifiable incidents (under section 38). A notifiable incident is classified as '…the death of a person; or serious injury or illness of a person; or a dangerous incident'.
In 2012–13 there were 19 Comcare Notifiable Incidents reported during the year (three serious incidents and 16 dangerous incidents) see Figure 3.3.
Notices from Regulators 2012–13
There were no Prohibition Notices or Improvement Notices issued in 2012–13.
There were no Provisional Improvement Notices issues in 2012–13.
Actions arising from the Comcare Improvement Notice issued to CSIRO near the end of the 2011–12 reporting period and referred to in the 2011–12 CSIRO Annual Report have been completed.
There were no investigations of Notifiable Incidents conducted by Comcare in 2012–13.
During 2012–13, the Australian Radiation Protection and Nuclear Safety Agency conducted five planned inspections and one unannounced inspection. One of the planned inspections (Toowoomba) resulted in three breaches of section 31(2) of the Act for failing to comply with conditions of source licence S0017. Relevant corrective actions have been deployed.
CSIRO also self reported a potential noncompliance in relation to the installation and use of three water sterilisers which were not on the Division's source licence. Action has been taken (Reg 51 application) to rectify the potential noncompliance.
There were no notifiable environmental incidents in the reporting period.
Figure 3.1: Total serious injuries (LTIs and MTIs)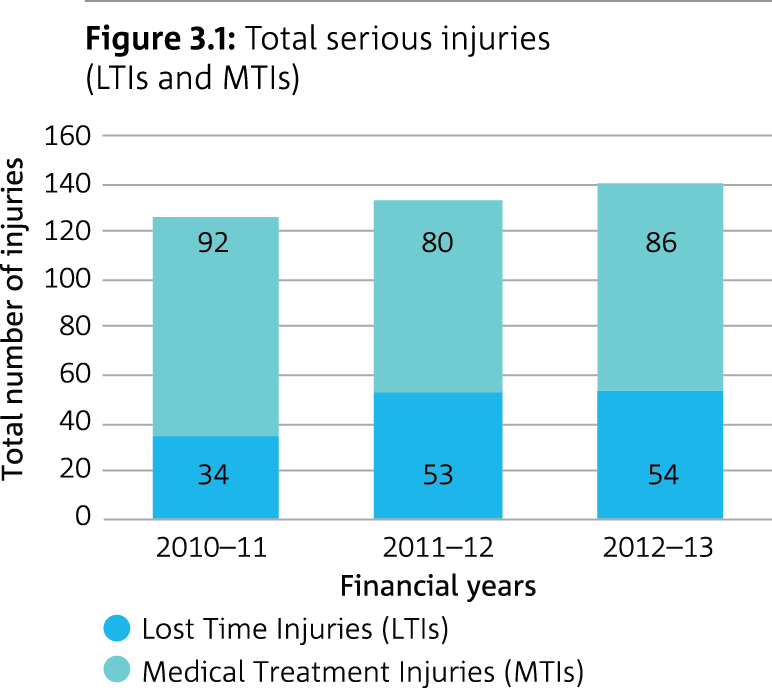 Figure 3.2: Lost time injury frequency rate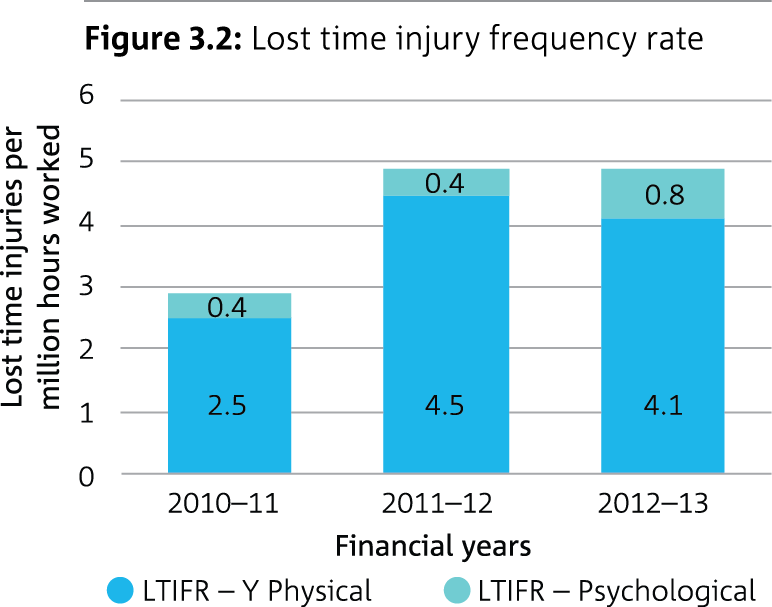 Figure 3.3: Number of notifiable incidents1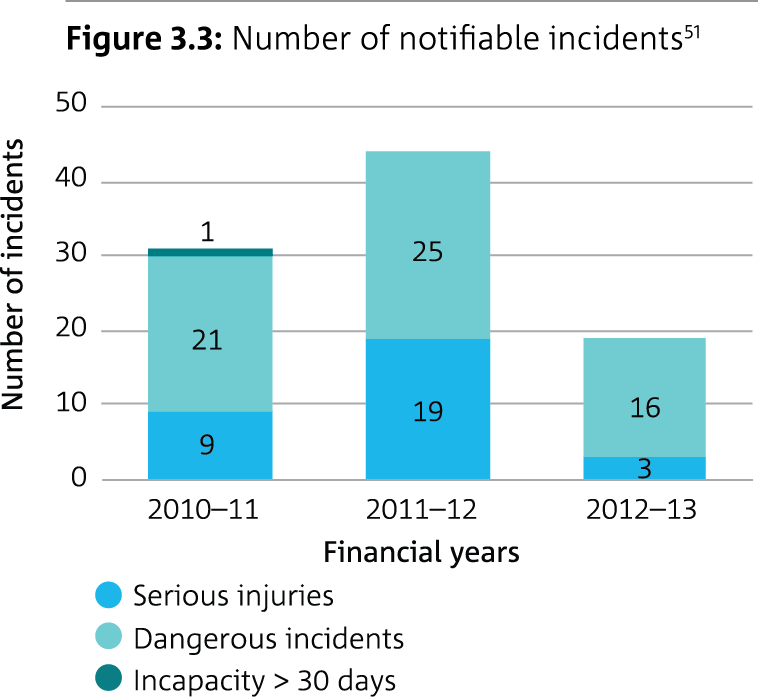 The Work Health and Safety Act 2011 came into force on 1 January 2012, changing the criteria that determine which incidents must be notified to Comcare. This change partially accounts for the steep decline in the number of notifiable incidents since 2011–12.