The highlights, objectives and performance of our National Research Flagships.
Since the launch of our first three National Research Flagships in 2003, we have committed an increasing proportion of our resources to addressing major national challenges and opportunities through our National Research Flagships Program. The Flagships tackle complex challenges by forming large-scale,multidisciplinary research partnerships with Australian universities, publicly-funded research institutions, the private sector and selected international organisations.
On 1 July 2013, we merged our Energy Transformed Flagship with our Advanced Coal Technology and Petroleum and Geothermal Research portfolios to create the Energy Flagship. In 2013–14, we devoted 60 per cent of our resources to our 11 National Research Flagships:
Biosecurity
Climate Adaptation
Digital Productivity and Services
Energy
Food Futures
Future Manufacturing
Minerals Down Under
Preventative Health
Sustainable Agriculture
Water for a Healthy Country
Wealth from Oceans.
OBJECTIVES AND DELIVERABLES
A key objective of our CSIRO 2011–15 Strategy is to grow our National Research Flagships as a key mechanism for achieving outcomes relevant to the Strategic Research Priorities identified in the National Research Investment Plan1.
Through these Flagships we intend to concentrate on strategic research, knowledge and technology transfer that have the potential to deliver major, long-term social, economic and environmental benefits to Australia. Each Flagship targets clearly defined goals, framed from a careful analysis of the needs of people and industry and has a strong focus on the adoption of research outputs to deliver positive impact for the nation.
Our ability to deliver profound impact through our National Research Flagships is underpinned by investment in core research capabilities. See Program 2 – Core Research and Services.
Through the National Research Flagships we intend to concentrate on strategic research, knowledge and technology transfer that have the potential to deliver major long-term social, economic and environmental benefits to Australia.
PROGRAM PERFORMANCE
This year, our National Research Flagships continued to perform well. An assessment of the Program's five key performance indicators (KPIs) identified in the Portfolio Budget Statements, showed we have met expectations and targets. Table 2.3 provides an overview of the evidence for each KPI with a more detailed analysis following.
Table 2.3: PERFORMANCE INDICATORS FOR PROGRAM 1 – NATIONAL RESEARCH FLAGSHIPS
Key performance indicator
Target (and performance assessment)
Performance
Demonstrated adoption and impact of Flagship outputs
Grow economic, social, environmental and intangible benefits
(Target achieved)
Two external Flagship reviews were undertaken during the year: Minerals Down Under (MDU) in March 2014 and Water for a Healthy Country (WfHC) in August 2013. Two areas (Themes) of the Future Manufacturing Flagship (FMF) were reviewed in September 2013, and a report released for the Preventative Health Flagship (P-Health) review completed in June 2013. The review identified that many MDU projects had the potential to be 'game-changers' for the mining industry and concluded the Flagship is well on track to deliver against its goal by 2030. The WfHC review concluded the Flagship's overall science capability is excellent with internationally and nationally recognised strengths in hydrologic modelling, application of climate science, groundwater contamination, informatics and systems modelling. The FMF Themes reviewed, 'Biomaterials and Medical Devices' and 'Australian Biotech Growth Partnerships', were found to be well placed to assist the Flagship in meeting its objectives. The P-Health review recommended several improvements, including structural changes, with a focus on obesity. The panel also considered elements of the existing colorectal cancer Theme should continue.
Customer satisfaction and engagement
Maintain
(Target achieved)
This year is the second year of our client satisfaction survey. We maintained our performance with results showing an average 'willingness to recommend' score of 8.6 out of 10 (up from 8.5).
Number of refereed Flagship publications
Maintain or increase
(Target achieved)
In 2013, the number of refereed Flagship publications grew by 11 per cent (2229 in 2013 compared with 2007 in 2012). This included 603 conference papers, 1238 journal articles, 136 books/chapters and 252 technical reports.
Financial support by Flagship partners
Maintain or increase
(Target achieved)
Revenue from external partners was $275.7 million, an increase from $270 million reported in the previous year.
Investment of the Flagship Collaboration Fund
As per plan
(Target achieved)
As at 30 June 2014, almost $132 million has been committed over the life of the Flagship Collaboration Fund. This includes $14.2 million in grants committed in 2013–14.
Highlighted cells indicates positive progress for the year and the target has been achieved.
Demonstrated adoption and impact of Flagship outputs
To maximise achievement of Flagship goals, we conduct independent reviews of each Flagship on a three-to-four-year cycle. The reviews are conducted by a panel of scientific and industry experts from Australia and overseas2.
In 2013–14, reviews were undertaken of our Minerals Down Under (MDU) and Water for a Healthy Country (WfHC) Flagships, plus two Themes within our Future Manufacturing Flagship (FMF). A report was also released for the Preventative Health Flagship review completed in 2012–13.
As part of the review process, assessment panels rate each research Theme within the Flagship for the probable impact on end-users. For the reviews undertaken in 2013–14, the panels assessed that for 73 per cent of the Themes, the outputs would enable users who adopted the outputs to distinguish themselves from their peers or competitors in terms of economic growth, environment, social and intangible benefits. Ratings were not provided for the Preventative Health Flagship.
A summary of the key outcomes from each Flagship review follows.
Minerals Down Under Flagship
GOAL: Delivering science and technology options for the discovery and efficient development of Australia's mineral resource endowment that will lead to $1 trillion in-situ value by 2030 and enable flow-on benefits to the wider national economy.
Date of review: March 2014
The review panel commended the Flagship's goal for being clearly-defined and relevant supported by a carefully planned 'path to impact' across the breadth and depth of the Flagship.
The panel found the Flagship had an impressive range of expertise and equipment to enable it to achieve its objectives, although there was some variability across research platforms. It had also developed strategic partnerships with external collaborators for when additional capabilities were needed.
The panel identified many projects in the Flagship with the potential to be 'game-changers' for the mining industry and concluded that the Flagship is well on track to deliver against its goal by 2030. These projects included the Lab-at-Rig system, the Large Open Pit project, nickel laterite ore processing and the low-emission integrated steelmaking process.
The panel identified many projects in the Minerals Down Under Flagship with the potential to be 'game-changers' for the mining industry and concluded that the flagship is well on track to deliver against its goal by 2030.
Water for a Healthy Country Flagship
GOAL: Consistent with Australia's national interest, develop science and technologies that improve the social, economic and environmental outcomes from water, and deliver $3 billion per year in net benefits for Australia by 2030.
Date of review: August 2013
The review panel noted that the Flagship was making good progress towards its defined goal and that the research resources of the Flagship and its partners were focused on water and related issues of great importance and national significance.
The panel concluded that the overall science capability of the Flagship was excellent, with internationally and nationally recognised strengths in hydrologic modelling, application of climate science, groundwater contamination, informatics and systems modelling. Partnerships and collaborations were assessed as effectively enhancing science capabilities and outcomes. Continued effort is required to adjust the Flagship's research portfolio in preparation for opportunities that will emerge given the cycle of extreme floods and droughts in Australia.
The panel recommended that the Flagship broaden its skills to address challenges of national significance involving climate, agriculture, energy and oceans, which are beyond the current scope of the Flagship.
Future Manufacturing Flagship
GOAL: To create $2 billion of additional annual value for Australia's manufacturing industry by 2025 through the development and application of resource efficient, clean and transformational technologies.
Date of review: September 2013 (partial review)
The two Flagship Themes reviewed were 'Biomaterials and Medical Devices' and 'Australian Biotech Growth Partnerships'. The Themes were chosen because they had recently moved into the Flagship. The panel found both Themes were well placed to assist the Flagship in meeting its objectives, but recommended their ability to meet their targets be closely monitored as both are fast moving fields within competitive environments.
The panel concluded that the overall science capability of the Water for a Healthy Country Flagship was excellent, with internationally and nationally recognised strengths.
Preventative Health Flagship
GOAL: To improve the health and wellbeing of Australians and save $2 billion in annual direct health costs by 2020 through the prevention and early detection of chronic diseases.
Date of review: June 2013 (Report released July 2013)
The review panel recommended that the Flagship be restructured, narrow its focus to the obesity aspects of health and be renamed to reflect this. The panel noted the obesity Theme included nationally-recognised thought leaders on attempted mitigation of established obesity and proposed this research area be rapidly expanded in the repositioned Flagship. Due to the increased prevalence of colorectal cancer in obese people, the panel considered that elements of the existing colorectal cancer Theme should continue. While noting the contribution that CSIRO had made to a number of collaborative partnerships, (in relation to existing activities in brain health and other colorectal cancer research) the panel concluded it would fall outside the framework of the new Flagship. The panel additionally recommended that CSIRO expand its public role in diet and obesity.
In response to these recommendations, from 1 July 2014 the Preventative Health and Food Futures Flagships will come together under a new Food and Nutrition Flagship.
Customer satisfaction and engagement
We are committed to continue to be a trusted advisor to our partners and to engage with industry, government and the community to deliver profound impact. Each year we work with almost 3000 organisations, fostering a collaborative approach to research and development with a focus on transforming research outputs into real world results. We maintain relationships with government departments and agencies at all levels. This year our industry customers included more than 1200 Australian SMEs, 500 big Australian companies and 450 multinationals.
We work with industry stakeholders and industry associations and provide input to Government policy on matters affecting Australian industry. We are also active in supporting innovation in industry through collaboration vehicles such as CRCs and providing funding opportunities to high-potential SMEs (see page 60 for SME engagement). In particular, we are continuing to work with key Australian and international manufacturing and resources companies.
This year our industry customers included more than 1200 Australian SMES, 500 big Australian companies and 450 multinationals.
We're listening to customers more systematically. We have sourced feedback from over 250 clients over the past two years and acted on their feedback to improve impact from science, project delivery and client engagement. On average our customers rated us 8.6 out of 10 this year (for more information see the Enterprise Strategy Measures section) maintaining the strong performance we achieved last year.
This year we continued our large-scale collaborations through research alliances with major organisations including General Electric, Grains Research and Development Corporation, Boeing and Orica. We are increasingly developing organisation-wide and cross-Flagship relationships to assist our clients in accelerating outcomes that resonate with their organisations and provide real value. We've identified practices in our existing longstanding relationships and alliances which will inform us in establishing successful new relationships in the future.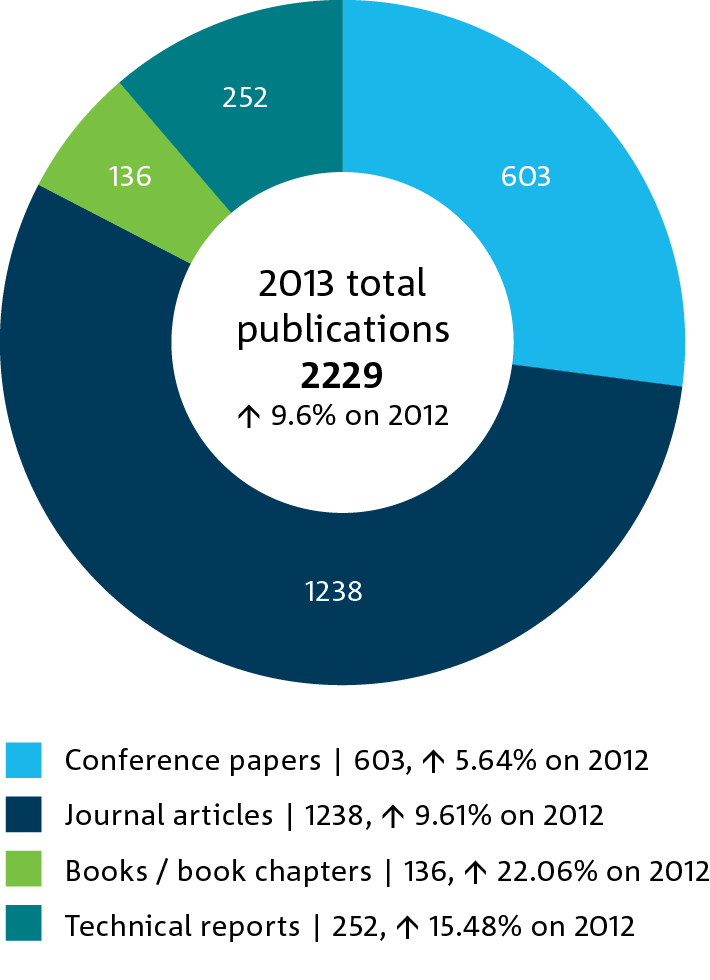 2013 publications.
Publication type
Number
Increase relative to 2012
Right-aligned header cell with highlight.
Total
2229
+9.6%
Conference papers
603
+5.64%
Journal articles
1238
+9.61%
Book/book chapters
136
22.06%
Technical reports
252
15.48%
Number of refereed Flagship publications
The total number of refereed Flagship publications (see Glossary for definitions of publication types) increased by 11 per cent between 2012 and 2013 (see Figure 2.4). This rise is due to the increased alignment of our research Themes with the Flagship Program and improved reporting in our publication repository, ePublish.
Financial support by Flagship partners
In 2013–14, $275.7 million in revenue for the National Research Flagships Program was received from external partners. The external revenue equates to 38 per cent of total funding for Flagships.
Investment of the Flagship Collaboration Fund
The Flagship Collaboration Fund continues to perform its role as a key mechanism for supporting impact partnerships across our Flagships that assist delivery against their goals. This year it invested a total $14.2 million in the Flagship Program to engage external partners. More than 50 projects, visiting fellowships, student scholarships and workshops provided specific expertise and talent development opportunities for the Flagships and their partners in areas such as:
new applications for Clean Chemical Manufacturing
designing a platform for collaboration on clean coal initiatives between Australia, the United States and China
opportunities to enhance collaboration between industry and researchers in food security and agricultural productivity – considered a key input to the G20 discussions.
This year saw the conclusion of a three-year Wealth from Oceans Coastal Collaboration Cluster, established to identify the key social and institutional barriers and enablers to the uptake of science in the management of the coastal zone. The Cluster has developed a useful online toolkit for government, community and industry with more than a dozen guides to undertaking coastal research, a range of case studies, an adaptive learning toolkit and around 100 annotated coastal publications for easy reference.
| Financial year | Funds disbursed ($m) | Funds committed ($m) |
| --- | --- | --- |
| 2009–10 | 96.0 | 16.7 |
| 2010–11 | 108.0 | 17.2 |
| 2011–12 | 121.0 | 17.1 |
| 2012–13 | 123.8 | 17.0 |
| 2013–14 | 131.9 | 14.2 |
The three-year Urbanism, Climate Adaptation and Health Cluster also concluded. This Cluster brought together researchers from a range of disciplines to develop adaptation strategies that will safeguard the health of urban populations in the face of a variable and changing climate. The Cluster focused on the health implications of extreme heat, understanding and controlling mosquito vectored diseases, urban transport and effects on air pollution, urban food security and safety, and the cross-cutting interactions between environment and health. The Cluster concluded with a National Science Symposium held in Canberra which was attended by 150 participants. More than 90 publications were produced, including over 30 published journal articles.
$14.2M was invested by the Flagship Collaboration Fund to engage external partners.
Investment in the Flagship Collaboration Fund continued on a similar growth trajectory to previous years. This growth pattern has resulted in almost $132 million to date being committed to assist Flagships and their partners in delivering their goals (see Figure 2.5).
Biosecurity Flagship
Analysis of performance
GOAL4: To support Australia's social, environmental and economic wellbeing by reducing the risk of pests and diseases entering Australia and improving the effectiveness of mitigation and eradication responses.
The challenges
As the world becomes more inter-connected, Australia's ability to protect itself from exotic pest and disease threats faces growing pressure. Global trade and the movement of animals, plants and people continue to increase, plus a changing climate can alter the magnitude or range of threats from pests and diseases. At the same time, levels of expertise and resources in biosecurity research are declining.
Our response
Table of themes and progress for the Biosecurity Flagship.

| Theme | 1–3 years | 4-9 years | 10+ years |
| --- | --- | --- | --- |
| Biosecurity risk preparedness and prevention | Strengthen Australia's capacity to assess risk, protect borders and improve initial response, reducing the likelihood of threats and minimising their impacts. | Apply risk assessments to internationally relevant targets and deploy enhanced surveillance systems for terrestrial and marine ecosystems. | A responsive, resilient biosecurity system based on coordinated policy, new surveillance technologies and pre-emptive response. |
| Managing pests, pathogens and invasive species | Develop cost-effective management solutions to prevent and reduce biosecurity incursion impacts. | Deployment of new cost-effective solutions to improve commodity market access, and improvements in on-the-ground biosecurity regulatory responses. | Responsive, resilient biosecurity system using technologies that allow rapid response to incursions and effective management of market access issues. |
| One Health – emerging infectious diseases | One Health approach to emerging infectious disease, and establish platforms of research for medical countermeasures. | Multidisciplinary capability in advanced animal and human health technologies, virology, and modelling to deliver outcomes for emerging disease threats. | Global network of research that supports Australia, and the world, to reduce the risk of pandemics and bioterrorist threats. |
Our Biosecurity Flagship has joined forces with industry and government to find a solution to Australia's Queensland fruit fly (Qfly) problem. SITplus™ is a five-year, $24 million partnership focused on developing a sterile line of male Qfly, as well as release and monitoring strategies, to effectively control what is one of our nation's most damaging horticultural pests.
Our researchers are providing critical science capabilities, expertise and infrastructure to support the Medical Countermeasure Products Australia taskforce. This industry-led body aims to grow national capability and industries that can develop medical countermeasure products to meet agreed national and international priorities.
With our partners, we have identified highly effective means of managing invasive species through biological control. Our recent focus has been weeds of national significance, including the devastating Parkinsonia and fast-spreading Crofton Weed. We are also leading a global research team that has identified and is now assisting in the management of the destructive cotton bollworm attacking Brazilian crops.
Our pathways to impact
To protect the health of animals and people, we undertook further research to confirm the world-first Hendra virus horse vaccine, Equivac® HeV, provides immunity for 12 months; this provides greater confidence for horse owners and the equine industry. Since the launch of the vaccine, more than 200,000 doses have been administered. While vaccination prevents Hendra virus infection in horses, its greatest impact is in breaking the chain of transmission of the virus from bats, via horses, to people. Hendra virus infections in humans are often lethal.
Collaborative research has led to a report on innovative quantitative techniques for estimating the progress of vertebrate pest control programs. Biosecurity Tasmania is incorporating the report's findings along with other data to determine success of their red fox eradication program. This approach will inform managers on the program's progress, enabling optimal allocation of resources to control and surveillance.
Bee sensors take flight to help farmers
Bees are estimated to contribute between $4 and $6 billion to the Australian economy annually. They provide a free pollination service for our agricultural industries. In fact around one third of the food we eat relies on pollination.
However, honey bee populations around the world are crashing because of Varroa mite and Colony Collapse Disorder.
To address this issue, CSIRO is working with the University of Tasmania, the Tasmanian Beekeepers Association, local beekeepers in Hobart, and fruit growers around the state to improve honey bee pollination and productivity on farms and help understand the drivers of Colony Collapse Disorder.
Our scientists have fitted thousands of honey bees with tiny sensors to monitor the insects and their environment, using a technique known as 'swarm sensing'. It is the first time such large numbers of insects have been used for environmental monitoring.
The research will also look at the impacts of agricultural pesticides on honey bees by monitoring insects that feed at sites with trace amounts of commonly used chemicals.
Understanding bee behaviour will give farmers and fruit growers improved management knowledge enabling them to increase the benefit received from their free pollination service. It will also help them gain and maintain access to markets through improving the way we monitor for pests.
1000+ monitoring sensors have been fitted to Australian honey bees.
The sensors are tiny radio frequency identification sensors that work in a similar way to a vehicle's e-tag, recording when the insect passes a particular checkpoint. The next stage is to reduce the sensor's size to just one millimetre so they can be attached to smaller insects such as mosquitoes. Already our researchers have started trialling these sensors on the highly destructive Queensland fruit fly.
Climate Adaptation Flagship
Analysis of performance
GOAL: To equip policy makers, industries and communities with practical and effective adaptation options to climate change and variability and in doing so create in the national interest $6 billion per annum in net benefits by 2030.
The challenges
Climate change and variability will pose even greater challenges for societies and economies into the future, requiring a more proactive approach to decision-making. Extreme climate events across Australia highlight the need to be better prepared to manage current and future climate risks.
Table of themes and progress for the Climate Adaptation Flagship.
Theme
1–3 years
4-9 years
10+ years
Pathways to adaptation
Define new approaches to vulnerability and adaptation assessments.
Adaptive capacity of communities and industries assessed. Innovative approaches to climate projections.
Identify social and economic adaptation outcome within different sectors and regions.
Biophysical social and institutional dimensions of adaptive capacity more effective for Australia.
Sustainable cities and coasts
Develop methods to assess climate risk and vulnerability in cities and coasts and community adaptive capacity and governance.
Flexible models of utilities, social sciences and governance for climate adapted urban planning and management.
Planning, design infrastructure, management and governance solutions for Australia's cities and coasts responding to climate change.
Managing species and natural ecosystems
Studies of regions, single species and simple species interactions.
Greater model realism. Focus on threats and tools to assist natural resource managers.
Complex studies of biotic interactions and community ecology. Refine tools for ecosystems managers.
Deliver adaptation options to protect Australia's marine and terrestrial species and ecosystems from the impacts of climate change.
Adaptive primary industries, enterprises and communities
Improve analysis of interaction between climate drivers and managers' responses on farms.
Develop technologies and practices for local industry adaptation.
Shifts in vulnerability to climate change understood. Identify when transformational options may be needed.
Adaptation strategies provide economic benefits and improve livelihoods from primary industries, enterprises and communities.
Our response
Our Climate Adaptation Flagship has worked with government, industry and communities to build resilience to climate change and variability, by providing practical options and solutions.
Working with the seafood industry, the Flagship provided seasonal forecasting of future environmental conditions for fish habitats – including prawn, tuna and salmon – to help enable longer-term decision-making to increase profitability across marine industries.
We delivered climate projections to support natural resource management (NRM) organisations across Australia refine their regional NRM plans. This will help identify locations where landscape adaptation and mitigation activities should be undertaken.
The Flagship was a critical contributor to the Regional Climate Change Adaptation Plan for the Eyre Peninsula, South Australia. This community report consolidates climate change planning work and identifies pathways and actions relevant to agriculture, aquaculture, tourism and mining industries, which are reliant on sustainable natural resources.
Our pathways to impact
Working with the Australian Government to identify likely impacts of four hazards on residential housing – coastal inundation, extreme winds, fire and inland flooding – the Flagship analysed policy options and recommended responses that could save at least $100 billion nationally.
The Flagship also embedded adaptation strategies and practices for households in Cambodia, Bangladesh, Laos and Andhra Pradesh (India). In Cambodia, these are being delivered across five provinces, enabling farmers to double rice production and achieve labour savings that allow them to pursue other income generating opportunities. From 40 communities in 2013, the program could reach 40,000 farming households once fully implemented. The impact this would have on food security benefits Australia by reducing the threat of regional instability.
Apps for critical bushfire assessment help mitigate future fire impacts
Bushfires have long been a key part of Australia's environment. They are influenced by many factors, including warmer and drier conditions, extreme heat, strong winds and low humidity, housing design and materials and fuel loads and management. Climate change projections indicate we are going to see an increase in the frequency of fire weather.
In response, our Climate Adaptation Flagship, together with the New South Wales (NSW) Rural Fire Service, developed two new apps for Android tablets. These helped conduct critical assessments of the recent bushfires in 2013 that devastated communities in the state and to plan responses to future climate risks.
The Rapid Impact Assessor app enabled the NSW Rural Fire Service and CSIRO teams to enter a bushfire zone and quickly gauge the extent to which properties were left untouched, damaged or completely destroyed. The app works in real-time and multiple teams can use it simultaneously.
The House Surveying Tool app captures the finer detail around a house, such as its design and surrounding landscape. The information is loaded into a geodatabase and analysed for further insights into fire management and prevention of house losses.
Daniel Gibson from the NSW Rural Fire Service says: 'Working with CSIRO helps us analyse the impact of fires on communities and buildings and helps us improve community safety in the future, particularly where people are living in bushfire-prone areas'.
'Working with CSIRO helps us analyse the impact of fires on communities and buildings and helps us improve community safety in the future, particularly where people are living in bushfire-prone areas'
—NSW Rural Fire Service.
The apps are also being tested by other agencies as part of the state's bushfire response. This creates the potential for unified data collection across multiple agencies, making sharing critical, life-saving information easier, faster and more efficient to manage.
Digital Productivity and Services Flagship
Analysis of performance
GOAL: By 2025, we aim to create $4 billion per annum in added value for the Australian economy by developing and delivering more efficient and innovative services that improve people's wellbeing and prosperity.
The challenges
The services sector represents approximately 80 per cent of Australia's Gross Domestic Product, touching all industries. Therefore productivity of this sector is a national priority. As broadband technology continues to rapidly open up opportunities, businesses and governments need help in delivering new, faster and better services to maintain a competitive edge, and ensure their effectiveness, efficiency and uptake by consumers.
Our response
Our Digital Productivity and Services Flagship uses data and digital technologies to develop smarter ways to improve productivity, growth and service delivery.
Table of themes and progress for the Digital Productivity and Services Flagship.

| Theme | 1–3 years | 4-9 years | 10+ years |
| --- | --- | --- | --- |
| Government and commercial services | Superannuation Cluster established. Social media monitoring in 30 agencies. The Department of Human Services saves $200 million per annum. | Social media monitoring across government. UN adopts Gazetteer. Government interactions online reach 80 per cent. Government staff tele-work rate is 12 per cent. | Human Services productivity increased 20 per cent and ten per cent reduction in cost of natural disasters. Up to 25 per cent of Australian superannuation invested in infrastructure. |
| Health services | Patient flow tools trialled. Clinical record computing tools in use. Telehealth platform in use. | Patient flow saving $100 million per annum. Clinical terminology service and systemic hospital model developed. Reporting delays reduced by 25 per cent. Telehealth system implemented. | Electronic health records leveraged. Telehealth addresses rural hospitalisation. Systemic modelling for health policy. Digital technologies reduce forecast healthcare by $1 billion per annum. |
| Smart secure infrastructure | Ngara backhaul technology transfer and Ngara access technology multi-year trials started. Museum robot installed at three sites. Simultaneous localisation and mapping technology transfer. | Ngara deployed in rural areas. Tele-immersion tools adopted for online education and commerce. Cyber security policies and tools adopted. | Economic contribution of digital infrastructure reaches $600 million per annum. Service platforms increase online industry by $400 million per annum. Cyber tools reduce losses by $600 million per annum. |
A recent survey found approximately 20 per cent of the population do not use the Internet and only half of Australian businesses have websites. These findings will inform future education programs aimed at addressing the digital divide in our society and economy.
The Superannuation Research Cluster, a partnership between CSIRO, Monash University and several industry and government partners, is exploring alternative ways of investing Australia's superannuation funds for safer and more successful returns, while providing easier options for individuals to explore investment opportunities.
We continue to work with the Department of Human Services to move more customers to online channels, and the Australian Taxation Office to encourage more online tax refund payments.
Our pathways to impact
In collaboration with the Australian eHealth Research Centre and the Queensland Government, the Flagship released the Australian Medicines Terminology, AMT v3, browser, featuring better utilisation of the SNOMED international health terminology standard. Such tools are estimated to provide a total value of impact of $161.9 million per year through improved health outcomes and reduced system costs.
This year, the Flagship licensed many of its technologies, such as its high-speed wireless backhaul system Ngara, broadband access technology, and 3D laser mapping technology. A number of computer vision technologies have also been adopted by 3P Learning to develop online education tools for schools.
Finding insight in the social media haystack
Social media produces a massive amount of information; 6000 tweets alone go out every second around the world. Organisations can learn a lot from this information to better tailor their services and give customers what they want. But with so many channels, social media monitoring has become challenging and time consuming.
Our Digital Productivity and Services Flagship developed social media monitoring tool Vizie, that is transforming the way governments listen to, understand and respond to customers.
This year, Vizie assisted around 30 organisations providing real-time insights to a range of situations.
~30companies in 2013–14 gained real-time insights by using our Vizie tool.
The National Mental Health Commission uses Vizie to better understand community thinking on mental health and wellbeing, identifying key issues on a daily basis and providing reports that are easy to understand and quick to produce.
The Department of Human Services (DHS) uses Vizie to manage social media engagement with customers. Amanda Dennett, DHS Senior Social Media Advisor, says: 'We find issues that we were never aware of before and we're more efficient as a result because the tool allows us to respond more quickly'.
Vizie allows DHS staff to prioritise posts, identifying which ones need greater attention or immediate follow-up to prevent the spread of misinformation. Staff are able to respond quickly providing customers with the right information and also to track posts that have been responded to so not to duplicate work.
Unlike other tools, Vizie is designed to support customer engagement, not simply provide summaries of social media activity. It also has a unique visualisation component, a river graph that shows retrieved posts, so users can instantly see hot topics and how they are changing over time. They can also isolate the original post to discover its context.
Analysing social media to find relevant information is like looking for a needle in a haystack, but Vizie is helping organisations filter through the noise and improve decision-making by providing a smarter, more efficient way to monitor and respond to social media.
Energy Flagship
Analysis of performance
GOAL: To deliver science and technology options by 2020 that will enhance Australia's economic competitiveness and regional energy security; enable Australia to transition to a lower emissions energy future; unlock $100 billion of in-situ value from our energy resources, and contribute 32 megatonnes per annum of greenhouse gas abatements by 2030.
The challenges
Australia's economy depends on reliable and cost competitive energy. Energy is also the major contributor to our nation's greenhouse gas emissions. Our challenge is to maintain energy security and affordability while reducing negative environmental, economic and social impacts.
Our response
Our Energy Flagship conducts research across all relevant forms of energy for Australia.
Table of themes and progress for the Energy Flagship.

| Theme | 1–3 years | 4-9 years | 10+ years |
| --- | --- | --- | --- |
| Local energy systems | Develop low-emission distributed energy technologies. | Develop distributed generation and efficient options model. | Reduce greenhouse gas emissions by driving the uptake of distributed energy solutions, demand reduction and energy efficiency measures. |
| Coal mining | Uptake of enhanced mining technologies and transfer of coal preparation technologies to mines. | Adoption of technologies for longwall top coal cave mining, coal mine methane capture and intelligent coal processing plant. | Uptake of multi seam mining and ventilation air methane technologies. One operational automated coal mine rapid roadway development system. |
| CO2 capture and geological storage | Develop research and development facilities, for carbon dioxide storage and monitoring. | Patent solvent technologies and membrane and solid adsorbent technologies. Develop Post Combustion Capture plant for environmental regulation. | Three storage sites characterised with a high level of confidence having storage capacity of 100 megatonnes each. |
| Fuels and products | Fuel gasification performance data used in proprietary technology models. | Pilot-scale demonstration of hydrogen from coal. | Pilot-scale demonstration of synfuel production from natural gas and stored solar heat. |
| Petroleum exploration and production | New technologies and reports developed for reservoir characterisation. Risk based hydrate management approaches. | Improved reservoir characterisation for microbially enhanced coal seam gas (MECSM). Study of coal seam gas fugitive emissions. Technologies for corrosion/sand erosion. | Key findings on fracture asymmetry, MECSM production, aromatic hydrocarbon distribution in coals and their partitioning to formation water. New technologies for detecting hydrocarbon sources. |
| Alternative stationary energy | Demonstrate solar field technology platform and Direct Carbon Fuel Cell facility. Undertake social attitude mapping. Hold stakeholder energy forum. | Complete Australian Renewable Energy Agency work. Install DICE demonstration project. Demonstrate dispatchable solar plant and design a Levelised Cost of Energy commercial plant. Hold stakeholder transport forums. Undertake larger population social analysis studies. Initiate integrated carbon assessment service. | International adoption of solar research. Support for DICE engines operating in Australia, China, Europe. Deploy integrated energy, water, food and carbon assessment service. |
The Flagship is conducting research towards a major trial of its Direct Injection Carbon Engine (DICE) in Victoria's Latrobe Valley. This technology uses a refined carbon slurry in highly efficient diesel engines. It has potential to lower power costs, reduce greenhouse gas emissions by 20 to 50 per cent compared to current technologies and create new export markets.
We have also developed tools to predict the effects of sand erosion in gas wells, on down-hole tools and underground facilities. This will help gas companies predict failure points, improve gas completion designs and reduce the costs of maintenance programs.
Our pathways to impact
The Flagship has achieved a world-first by producing supercritical steam (very high temperature and pressure steam) from solar energy alone. Today's most efficient steam turbines require supercritical steam to produce electricity. This is yet another step towards lower cost renewable energy.
Another important study measured the implications of the 5-Star Energy Efficiency Standard for residential buildings. We found that 5-star homes consume up to 56 per cent less energy for heating compared to 3.5 to 4-star homes (depending on the city). This work helps homeowners and builders better understand how the energy efficient star ratings work and what its actual costs and benefits are.
Keeping buildings OptiCOOL: delivering next generation energy management
In Australia, around 50 per cent of energy consumption in commercial buildings comes from heating, ventilation and air-conditioning (HVAC). To address this, CSIRO developed OptiCOOL, a clever technology designed to improve energy efficiency and reduce peak demand – a key driver behind costly network expansions. The system intelligently alters the operation of a building's HVAC control system according to settings for cost savings, occupant comfort and energy efficiency.
Under an exclusive licence to an Australian start-up company, the technology is now commercialised as BuildingIQ and installed in around 1.4 million square metres of buildings (equivalent to 92 football fields), including the Rockefeller Centre in New York City. In Australia, it helped a Sydney high-rise building save an average 23 per cent of its energy costs during the first seven months of operation. The total dollar savings exceeded the costs within the first year.
BuildingIQ was recently named in the Global Cleantech 100 as one of the top private companies in clean technology providing the next generation of energy management for commercial buildings. The technology also won the prestigious Bloomberg 2013 New Energy Pioneers award, ranking BuildingIQ as one of the top ten game-changing companies in clean energy technology and innovation. The technology has also won seven industry awards, including the Sustainable Engineering Association Award for Excellence in Innovation and the EcoGen Award for Most Outstanding Clean Energy Technology Innovation.
In 2013, BuildingIQ secured $9 million in venture funding that is helping to further accelerate the technology uptake.
The OptiCOOL technology can be fitted to almost any HVAC control system and is helping building owners across Australia and the United States reduce energy running costs without sacrificing comfort of occupants.
Food Futures Flagship
Analysis of performance
GOAL: To transform the international competitiveness of the Australian agrifood sector, adding $3 billion in annual value, by applying frontier technologies to high potential industries.
The challenges
The Australian agrifood sector is facing a globally-increasing demand for food with limited land and resource use and an additional need for optimal nutrition in food products.
Our response
Table of themes and progress for the Food Futures Flagship.

| Theme | 1–3 years | 4-9 years | 10+ years |
| --- | --- | --- | --- |
| Future grains | Optimise carbohydrate in grains, optimise omega-3 oils in plants and investigate genetic traits for improved quality and nutrition. | Combine beneficial traits for farmers and consumers, breed and commercialise long chain omega-3 oils in plants and commercialise quality and nutrition traits. | Increase returns to Australia by $550 million per annum through enhanced grain quality attributes and human health benefits. |
| Breed engineering | Animal management systems adopted and breeding technology developed with commercial partners. | Industry adoption of testes cell transfer techniques, success of aquatic breeds and novel feeds and optimal genetics in livestock and aquaculture. | Boost the value of Australia's animal-based food industries by $350 million per annum for beef and $550 million for seafood. |
| Quality biosensors6 | Development of test technology, odours predicting grape and wine quality identified. | Biosensor developed and adoption commenced in defence domain. Benchtop prototype completed and field prototype commenced. Applications for food safety and quality in development. | Apply technology to food safety and process control, clinical diagnosis, biosecurity and security/law enforcement, delivering value in excess of $750 million per annum. |
Our Food Futures Flagship, in partnership with Nuseed and the Grains Research and Development Corporation, has developed canola containing high levels of long-chain omega-3 oils. This is an important step towards providing a sustainable, land-based source of long-chain omega-3 to meet growing global demand. Nuseed will begin conducting field trials of the genetically-modified omega-3 canola later in 2014.
Flagship researchers have demonstrated proof of principle applications of the CYBERTONGUE® biosensor technology, for highly sensitive safety and quality monitoring in food and beverages. This will help protect consumers from some food safety threats and improve market access for food producers.
Our researchers have also lodged a provisional patent for the early detection and management of malaria, using a specific family of molecules present in expired breath. This will open up new research and collaboration opportunities in the area of breath diagnosis and sensor development.
Our pathways to impact
Together with Australian Capital Ventures, the Flagship established a spin-out company, BARLEYMax Enterprises, specialising in developing and commercialising novel grains with known health benefits. Five food manufacturing companies have now been licensed to use the CSIRO-developed BARLEYmax™ grain in their products.
A new genetic test for hornless cattle has been developed and is available to producers. This is a valuable tool as cattle with horns can injure other animals, as well as stock handlers. The new test is 99 per cent accurate across all cattle breeds grazed in Australia (for more information see the Food, Health and Life Science
Industries Group section).
Production of Novacq™, CSIRO's patented bioactive prawn feed ingredient that sees farmed prawn stocks grow on average 30 per cent faster, has commenced under licence in Australia, Indonesia, China and Vietnam, with further licences under negotiation (refer to Novacq feed additive case study below) .
The Flagship's industry research partnerships for selective breeding of Pacific oysters, abalone, Black Tiger prawns and Atlantic salmon have all been renewed. These programs continue to achieve greater than ten per cent gains in growth per generation, increasing farm productivity for our industry partners and product quality for consumers.
Novacq™ feed additive for prawn aquaculture sustainability and profitability
One third of the annual worldwide fish catch is used to produce fish meal for farmed fish and crustaceans. This, combined with a globally-growing demand for fish and other protein from marine sources, means there is a critical need to develop cost-effective, sustainable alternatives to wild-harvest fish products for aquafeeds.
CSIRO's novel prawn feed additive, Novacq™, will reduce the Australian prawn farming industry's reliance on fish meal and fish oil for feeds, a world-first achievement in sustainability.
Novacq will also increase the productivity of the industry. Adding it to the diet of farmed prawns results in stock that grow on average 30 per cent faster and are healthier, while remaining a high-quality product for consumers.
Novacq is the result of over a decade of CSIRO research into prawn nutrition. It is an entirely natural food source based on the smallest organisms in the marine environment – the microbes that are the foundation of the marine food pyramid.
The $75 million Australian prawn farming industry was the first to benefit from Novacq, with successful farm trials conducted at one of Australia's leading prawn farming companies, Australian Prawn Farms. The growth rate and health benefits of Novacq have since been demonstrated in Black Tiger prawns and Vannamei shrimp, the major breeds for both the local and international industries.
In July 2013, Australian company Ridley AgriProducts became the first licencee for the Australian and global markets. It is currently scaling-up production prior to moving into full-scale commercial production in 2014.
CSIRO has now issued licences for territories representing 66 per cent of the global prawn feed market and initial royalty payments have already been received. Licencees in China and Vietnam are also moving into full-scale commercial production in 2014.
Future Manufacturing Flagship
Analysis of performance
GOAL: To create $2 billion of additional annual value for Australia's manufacturing industry by 2025 through the development and application of resource efficient, clean and transformational technologies.
The challenges
Australian manufacturers face significant challenges to remain globally competitive. Companies are looking to improve productivity and resource efficiency and become more agile to adjust to market conditions and trends.
With Australian company Oventus, we developed customised 3D printed mouthpieces for sleep apnoea sufferers. As a partner in the CRC for Polymers, we also worked with Australian company Mesoblast to develop new materials and cost-effective manufacturing processes for the emerging cell therapy industry.
We helped develop the Advisory System for Processing, Innovation & Resource Exchange program, which runs economic models of options for recycling, sourcing raw materials and reviewing product 'end of life'. These models will reduce landfill, assist governments, and increase operational margins for small to medium businesses.
Our response
Table of themes and progress for the Future Manufacturing Flagship.

| Theme | 1–3 years | 4-9 years | 10+ years |
| --- | --- | --- | --- |
| Titanium technologies | With industrial partners, advance technology readiness for new titanium production and manufacturing processes. | Commercialise new processes and guide technologies to production levels, manage and strengthen industry relationships. Build direct manufacturing capability for domestic industry. | Creation of a world-scale titanium industry for Australia. |
| Flexible electronics | New materials discovery, device prototype optimisation, ruggedisation and scale-up. | Translate discoveries to create vibrant manufacturing industries based on flexible electronics. | Creation and growth of worldleading Australian companies in flexible electronics. |
| Manufacturing technologies for transport and mining | Further development of background intellectual property and scoping studies for key technologies for application in transport and mining. | Feasibility studies and first steps toward large-scale commercialisation of key technologies for application in transport and mining. | Large-scale commercialisation of key technologies for application in transport and mining. |
| Sustainable high performance materials | Develop sustainable and high performance materials for the aerospace, defence, civil infrastructure and technical textile sectors. | Materials with improved performance being used in manufacturing operations to produce new products. | Growth in world-class manufacturing based on new, more sustainable, higher performing materials. |
| Agile manufacturing | Develop and demonstrate the applicability of ICT-enabled and sustainable process technologies to improve firm productivity, safety and sustainability. | Grow partnerships that integrate, validate and extend ICT-enabled and sustainable process technologies as a mechanism of improving firm profitability. | Recognised leader in the development and integration of leading-edge ICT-enabled and sustainable process technologies that improve firm agility and competitiveness. |
| Australian Biotechnology Growth Partnerships8 | Translation of new processes to enable SME growth to meet global markets. | Continue to engage with companies to provide growth opportunities and commercial competitiveness. | New chemical and biological manufacturing processes for the next generation of high-value Australian companies. |
| Biomedical materials and devices8 | Develop new biomedical polymers and coatings for application in the biomedical manufacturing sector. | Build value for and create new Australian companies in the biomedical manufacturing sector. | Contribute to the growth of the Australian biomedical manufacturing sector. |
| Infrastructure technologies8 | Establish new bushfire test methods. Extend fire/smoke detection capability to ISO international standards. | Establish room-scale test facility and apply to research on improved understanding of sprinkler response impact. | Improved community response to safety and amenity, lower conformity costs and reduction of technical trade barriers. |
Our Future Manufacturing Flagship worked with over 1100 manufacturing firms in 2013–14 to develop technologies that enhance productivity, open new markets and product lines, and build long term sustainability.
Our pathways to impact
We continued to gain international recognition for our 3D printing capability; for example multinational BAE Systems has chosen our LAB 22 as its preferred service provider. Our RAFT7 technology also gained further industry adoption. Australian company Boron Molecular is now manufacturing RAFT agents at a commercial-scale enabling the company to expand its expertise and manufacturing base.
Our expertise also contributed to the building of three fire refuges to bushfire shelter standards. We are extending the program's lessons with future refuges planned.
Breaking down global business barriers
Australia has high skin cancer rates, in fact they are twice those of the United Kingdom and the United States. However, the corals that have adapted to life on Australia's Great Barrier Reef over at least 20,000 years don't get sunburnt.
North Queensland company, Larissa Bright Australia, recognised a market need for a safe, effective, non-irritating sunscreen drawing on nature's models. Further, the company wanted to develop a new filter that met broad spectrum guidelines. Intrigued by the corals' properties, the company made the decision to invest in developing a sunscreen that mimics the natural sunscreens of coral.
Through Enterprise Connect's Researcher in Business program, CSIRO partnered with Larissa Bright Australia to enable the creation of the world's first UVA/UVB sunscreen filters to copy the natural sun protection used by Great Barrier Reef corals.
The achievement builds on work by scientists at the Australian Institute of Marine Science, who were the first to discover the natural sun-screening ability of this resource.
The key to the success of the project has been adapting the coral's sunscreen code so it can be safely used as an ingredient in a product for humans.
Outcomes from our partnership include the creation of a patent-pending filter technology. For Larissa Bright Australia this has opened the door to a global sunscreen market valued at over US$6 billion per year.
The broad spectrum coral sunscreen filters are expected to be available to consumers across the globe within five years. The company is now looking for a commercial partner to incorporate the new technology and bring the compounds into full-scale production.
Minerals Down Under Flagship
Analysis of performance
GOAL: Delivering science and technology options for the discovery and efficient development of Australia's mineral resource endowment that lead to $1 trillion in-situ value by 2030 and enable flow-on benefits to the wider national economy.
The challenges
The Australian minerals industry faces fluctuating metal prices, declining ore grades, rising production costs, environmental pressures and increasing global competition. Science and technology solutions are needed across the minerals value chain to help enable the long-term sustainability of Australia's resource base, industry and economy.
Our response
Table of themes and progress for the Minerals Down Under Flagship.

| Theme | 1–3 years | 4-9 years | 10+ years |
| --- | --- | --- | --- |
| Discovering Australia's mineral resources | Identify new exploration tools. Enable data interoperability. Build multi-party collaborations. | New 3D exploration tools developed and applied to buried deposits and new Greenfield sites. | 3D visualisation, modelling and targeting embedded as an industry standard leading to new discoveries. |
| Intelligent mining and online analysis | Engagement with industry to develop innovative mining concepts. Collaborative projects for concept development in online analysis. Technology trials with industry. | Field trials of novel automated continuous selective mining systems and integrated light weight drill systems. Industry partnerships for platform development. Spin-offs and commercialisation. | Adoption of new drilling, rock extraction and sorting systems. A vibrant mining equipment technology and services sector. Online analysis embedded in Australian operations with significant efficiency gains and reduced cut-off grades. |
| Advanced processing technologies | Laboratory testing of new ore characterisation, ore concentration and mineral/ metal extraction techniques. | Continuous improvements of existing plant. Pilot plant and field trials of new techniques. | New ore reserves on-stream. Insitu leaching viable. Australian mineral processing technology preferred. |
| Sustainable metal production | Develop concepts to reduce greenhouse gas and water use. Develop infrastructure for precision iron ore and coke characterisation. Large laboratory testing of new light metal processes. | Proof of concept for new eco-efficient technologies. Beneficiation and agglomeration process improvements resulting in efficiency gains. Pilot plants for new metallurgical processes. | Adoption of new metal production processes. Lowgrade iron ores gaining traction in the Australian export market. Australia's light metal industries are global leaders in efficiency. |
| Australia's mineral futures | Assess the implications of plausible futures for the industry to 2040. | New planning tools to support social license to operate. | Social negotiation tools embedded in technology and project development. |
Our Minerals Down Under Flagship is supporting the Australian iron ore industry with the introduction of new products and ore blends to the market through ore characterisation and pilot-scale sintering studies. Our research has enabled companies to obtain premium prices for their new products, thereby increasing sales revenues by hundreds of millions of dollars per year.
The CSIRO Chile International Centre of Excellence in Mining and Mineral Processing continues to work with industry and our Chilean partners on issues of joint national significance to the mining industry, including safety, water and energy solutions. This provides a platform for further collaborative research with CSIRO and Latin America.
Our pathways to impact
CSIRO spin-off Virtual Curtain has commercialised a new environmentally-friendly, cost-effective process for treating mine wastewater that reduces sludge by up to 90 per cent and does not require large infrastructure.
With partners Bluescope Steel and Arrium, a new low-emission steelmaking process was proven at pilot-scale and plans for full-scale operation are under development. The process could increase productivity, halve carbon dioxide emissions, reduce energy use and save 1000 litres of water per tonne of slag for the global steel industry.
Developed with Barrick Gold Corporation, a safe, non-toxic method for processing gold was successfully demonstrated at pilot-scale and prepared for full-scale production. This is the first commercial operation of this technology, which has the potential to open up global opportunities in gold processing.
'Green' approach to wastewater management shapes future mining
Around the world the minerals industry is seeking more effective ways to manage wastewater and reduce its environmental footprint.
Mine sites require water for many purposes, including mining, mineral processing and dust control. After use, the wastewater is often treated and safely released to the environment.
Our Minerals Down Under Flagship has developed methods to assess the potential impacts, including toxic effects, of wastewater management practices on the environment. These methods are helping the industry improve both economic and environmental outcomes through better mine site closure planning and rehabilitation strategies.
In 2013, the Flagship completed a major research study to underpin Energy Resources of Australia's closure plan for the Ranger Uranium Mine in the Northern Territory. The mine is surrounded by, but separate from, the World Heritage-listed Kakadu National Park and accounts for the majority of Australia's uranium production.
The Flagship provided scientific advice on the long-term geochemical stability of fluids and sediments within a major waste repository at the mine. This involved examining how the residues interacted with groundwater and rainfall and predicting how contaminants within the waste repository may behave and interact with the landscape over thousands of years.
The results confirmed that closure planning for the waste repository was environmentally sound and regulatory approval was subsequently granted.
This study is enabling Energy Resources of Australia to manage Ranger Mine activities in a way that sustains operations while seamlessly planning for the ultimate closure of the site.
Through this work, CSIRO is helping the mining industry achieve more sustainable outcomes for Australia and also building the community's confidence in modern mining environmental management practices.
Preventative Health Flagship
Analysis of performance
GOAL: To improve the health and wellbeing of Australians and save $2 billion in annual direct health costs by 2020 through the prevention and early detection of chronic diseases.
The challenges
Australia has some of the highest incidence rates in the world for colorectal cancer and obesity. Alzheimer's remains a significant health challenge and our ageing population will see more than 700,000 Australians living with the disease by the middle of the century.
Our response
During 2013–14, our Preventative Health Flagship focused on translating research into health outcomes, working with industry partners on the commercialisation of diagnostic tools and weight management programs.
Table of themes and progress for the Preventative Health Flagship.

| Theme | 1–3 years | 4-9 years | 10+ years |
| --- | --- | --- | --- |
| Colorectal cancer and gut health | New knowledge, early detection and prevention of colon and rectal cancer and inflammatory bowel disease. | Translation into marketable diagnostics and protective foods. | Reduced morbidity and mortality from colon and rectal cancer and inflammatory bowel disease in Australia. |
| Brain health | New knowledge about the aetiology and early detection of neurodegenerative disease. | Develop and commercialise neuro protective agents and biomarkers for early detection and prevention. | Delay the onset of Alzheimer's and other neurodegenerative diseases in Australia by five years. |
| Obesity and metabolic health | New evidence based strategies for healthy weight – determinants to translation. | Identify determinants of obesity and develop, substantiate and implement diet and lifestyle programs for metabolic health. | Healthy lifestyles and eating behaviours, reduced impact of obesity and its complications. |
With our Australian Imaging, Biomarkers and Lifestyle study partners, we engaged pharmaceutical and pathology stakeholders to generate screening tools for those most at risk of developing Alzheimer's disease. In particular, retinal scan technology is showing significant promise as a non-invasive, population-level screening instrument.
Funding from the BUPA Foundation is supporting the clinical evaluation of a second blood test for colorectal cancer, based on a panel of blood protein biological markers. Using samples and data from colonoscopy clinics in Adelaide, the research will provide an important comparison between the protein-based blood test and the current faecal immunological screening test.
Our pathways to impact
The Aspirin in Reducing Events in the Elderly study is examining the effects of low-dose aspirin to determine if it may help older people to live well for longer by delaying the onset of illness. In June 2014, the biobank reached its initial target of 10,000 Australian participants, complementing the 4000 samples already collected in the United States.
200 Australian pharmacies launched a new weight and health management program developed by CSIRO and Probiotec.
The Flagship developed a new weight and health management program with commercial partner Probiotec. ImpromyTM was launched in May in over 200 pharmacies around Australia. CSIRO research and expertise led to the development of Impromy's service model, which includes a mobile phone application, consultant training program and decision support tool for pharmacy consultants. Impromy captures anonymous point-of-care health data that will provide important information on the health and economic benefits of the program.
Australian first for cancer screening
Globally, colorectal (bowel) cancer is the second most commonly diagnosed cancer in women and the third highest in men. Surgery provides a very effective means of treatment; if detected early, five-year survival rates can be as high as 95 per cent.
Screening is vital in detecting early-stage cancers, which can be readily removed during colonoscopy. The National Bowel Cancer Screening Program uses the faecal immunochemical test to identify at-risk subjects. However, only 35 per cent of people invited to screen participate in the program. There is a real need for a cancer-specific, more acceptable test for bowel cancer.
Working in collaboration with partners Clinical Genomics and the Flinders Centre for Cancer Innovation, CSIRO embarked on a research program to develop a blood test for the disease. The culmination of more than 15 years of research across multidisciplinary teams is a new test, offering an alternative for people who, for personal or cultural reasons, choose not to use the in-home faecal test.
The blood test is currently being introduced in Australia and the United States. It is expected that if ten per cent of non-compliant screening program participants in Australia use the new test, at least 4000 additional diagnoses will result. This has the potential to significantly reduce long-term cancer cases and save hundreds of lives every year.
New colorectal cancer test to launch nationally.
The project highlights the benefits of engagement between scientific organisations and small research enterprises, delivering long-term economic and social benefits to Australia. Furthermore, a successful market introduction of the test will be a considerable boon for Australian science and its translation into global health outcomes.
Sustainable Agriculture Flagship
Analysis of performance
GOAL: To secure Australian agriculture and forest industries by 2030 through a 50 per cent increase in productivity and a 50 per cent reduction in carbon emissions intensity, while enhancing the resource base and partnering for global benefit.
The challenges
Demand for food production will significantly increase over the next 30 years due to increasingly constrained and contested land, water, nutrient and energy resources. The impact of climate change also means the food security challenge has to be met while reducing the greenhouse gas load on the atmosphere.
Our response
Table of themes and progress for the Sustainable Agriculture Flagship.
Theme
1–3 years
4-9 years
10+ years
Reducing net greenhouse gas emissions while increasing storage of new carbon in our lands.
Develop greenhouse gas mitigation practices and technologies, measurement, accounting and bio-sequestration options.
Total system greenhouse gas outcomes for different management, history, climate and soil combinations quantified with defined uncertainty and co-benefit assessment.
New carbon sinks and mitigation practices created within profitable and sustainable agricultural system.
Support national policy decisions on land use management for carbon storage and greenhouse gas mitigation.
Conduit for science and integration for industry and government.
National dialogue, policy and action are informed by robust science.
Advancing agricultural productivity and environmental health.
Identify challenges and prospects for food and fibre productivity increases in key industries, regions and systems.
Direct links between genetics, breeding and farming systems research underpin accelerated improvements in food and fibre productivity.
Step-change in productivity achieved via industry adoption of agro-ecological innovations for 'smart' food and fibre production systems.
Characterise resource and labour-use, soil and water constraints to sustained productivity.
Integrated whole-farm analyses support diverse sustainable enterprise options for efficient resource management.
More sustainable production practices adopted with enhanced resources-use efficiency.
Evaluate agro-ecological tradeoffs in farming systems to improve productivity and natural resource management outcomes.
Assess environmental impacts of emerging productivity and mitigation practices, technologies and policies.
New markets developed and in use for effective on-farm environmental and biodiversity stewardship schemes.
Informing land use planning, policy and natural resource management.
Observation of current status and historic change in key land management drivers.
Develop life-cycle based sustainability assessments for agri-food value chains.
Multi-scale temporal assessment of land use change.
Enhance national soil and terrain data systems.
Triple-bottom-line modelling framework for land use systems.
International system for forest and carbon tracking.
Addressing global food and fibre security challenges through partnerships at home and abroad.
Deliver enhanced science and impact via an integrated approach to international project portfolio.
Deepen partnerships with international R&D institutions leading to enhanced capacity building.
Monitoring and evaluation confirm realised sustainable livelihood benefits in target regions.
Our Sustainable Agriculture Flagship provides significant value to nationally-coordinated programs addressing water and nutrient use efficiency in grain enterprises, integrated pest management, mixed cropping-grazing productivity and irrigation management. We are the custodians and developers of new technology and key knowledge infrastructure for Australia's agricultural landscapes and food systems, and led new global partnerships in vegetation, soil, landscape and socio-economic mapping and modelling.
Our pathways to impact
The Flagship delivered carbon emissions reduction and assessment techniques and accounting methodologies, particularly for the Australian Government's Carbon Farming Initiative. Three of the first methodologies approved under the Initiative are grounded in CSIRO expertise. Of the 1.5 megatonnes of carbon dioxide equivalent that has been offset by approved land-based offset projects, 44 per cent has been directly enabled by CSIRO research.
This year culminated decades of work with partners to scale-out remote sensing expertise from the Australian National Carbon Accounting System to Indonesia. This is the system of choice for the United Nations. CSIRO has worked with the Indonesia-Australia Forest Carbon Partnership since 2009 to develop and implement Indonesia's National Carbon Accounting System.
On the moooove: improving livestock transport
Northern Australia's beef herd is around 12.5 million cattle, making up 90 per cent of Australia's live cattle exports. Moving northern Australia's cattle from farm to market can involve the longest land transport distances of any Australian commodity, with Northern Territory cattle often travelling over 1000 kilometres. The costs are up to 35 per cent of the market price of livestock.
The Sustainable Agriculture Flagship set up a project called Livestock Logistics to look at ways to improve efficiencies, reduce costs and identify opportunities for new development in northern Australia. The project developed a series of modelling tools that have already started to be used to identify ways to reduce transport costs by more than $15 million per year in some regions.
These tools incorporate information from more than 50,000 cattle properties in northern Australia, and map more than 88,000 possible pathways from property gate to end destination. The set of tools can identify cheaper transport options, allow for seasonal variations like roads closed by flooding, and also highlight opportunities for new development, such as road upgrades or construction of new abattoirs and port infrastructure.
During development, these tools were trialled by industry to identify and evaluate six options for reducing costs in the north. One option included upgrading the 510-kilometre road corridor between Clermont and Roma in Queensland to accommodate larger road trains. The tools show this development could save transport companies $15 million per year. These new tools will also assist any review and planning by providing scenario testing that takes into account actual cattle flows to various markets and ports.
$15M per year of potential savings to transport companies.
Since the tools were made available to the rest of industry and government in 2014, three new clients have adopted them, including Meat and Livestock Australia, Flinders Shire Council and the Queensland Government.
Water for a Healthy Country Flagship
Analysis of performance
GOAL: Consistent with Australia's national interest, develop science and technologies that improve the social, economic and environmental outcomes from water and deliver $3 billion per year in net benefits for Australia by 2030.
The challenges
Water security is a global issue and is fundamental to human development and international security. In Australia, population growth, a drying southern climate and land use change have pushed river systems and water storages beyond their limits, threatening water security and creating challenges for water managers, industry, policy makers and the community.
Our response
Table of themes and progress for the Water for a Healthy Country Flagship.
Theme
1–3 years
4-9 years
10+ years
Urban water
Develop new approaches for sustainable integrated urban water management.
Inform state and national urban water policies.
New decision support systems and technologies to deliver sustainable integrated urban water services.
Provide acceptable, affordable, environmentally beneficial solutions for urban water systems.
Integrated water resources management
With the Bureau of Meteorology, develop water reporting and forecasting tools to improve real-time monitoring.
Enable water information interoperability through research.
Widely accessible and used national water information tools and network based on open standards.
Combine forecasting information with integrated models to support whole-of basin water management.
Ecosystems and contaminants
Develop and embed integrated models and evaluation tools in adaptive management of priority water ecosystems.
Inland and coastal water ecosystems managed through the use of integrated knowledge platforms.
Significantly reduced long-term impacts of pollutants and changed flow regimes in priority water ecosystems.
Provide the knowledge to protect or restore major water ecosystems while enabling sustainable use of water resources.
Water resource assessment
Improve water efficiency and sustainability through advanced surface and ground water management options.
Enable improved institutional water use arrangements and evaluate their economic, social and environmental impacts.
Improve water security and productivity through integrated management of river basins and aquifers.
Provide systems knowledge and tools for river basins and aquifers to ensure water security for all users.
Our Water for a Healthy Country Flagship provides an integrated, multidisciplinary approach, coupled with strategic partnerships, to deliver science-based knowledge to improve water management in regional and urban environments and enable improved water security – at national and international scales.
With partners we commenced research to inform the Australian Government's Bioregional Assessments program on potential impacts of coal seam gas and large coal mining developments on water resources and water dependent assets.
Internationally, we continued to engage with government and industry in South Asia to address trans-boundary water management challenges, including piloting the Source modelling system in the Koshi River basin that runs through China, Nepal and India.
The Flagship identified critical pollutant sources in all 35 Great Barrier Reef major catchments across 430,000 square kilometres. We also contributed to the 2013 Scientific Consensus Statement on water quality in the Great Barrier Reef which informs government efforts towards improved water quality.
Our pathways to impact
Through our Water Information Research and Development Alliance with the Bureau of Meteorology, the streamflow forecasting service now covers over 70 sites nationally. This informs critical water planning and management decisions and has been used on the Cotter Dam expansion in Canberra and the Victorian Government's water catchment allocations.
Our research on managed aquifer recharge directly informed the Water Corporation of Western Australia's decision to upscale groundwater replenishment at Beenyup from 1.5 gigalitres per year to 28 gigalitres per year by 2022. This has the potential to save Water Corporation and customers $1 billion by 2030 and deliver 105 gigalitres per year (20 per cent of Perth's drinking supply) by 2060.
Guiding the development of sustainable agriculture in northern Australia
Increasing concerns about water availability and climate-based threats to food and fibre production in southern Australia have re-directed attention towards the potential use of northern water resources for the development of agriculture in northern Australia.
In January 2012, the Australian and Queensland Governments established the North Queensland Irrigated Agriculture Strategy to assess the opportunities and challenges of increasing agriculture in the north. The major component of the Strategy was the Flinders and Gilbert Agricultural Resource Assessment (FGARA). These catchments occupy an area of 160,000 square kilometres and, based on the assessment, could increase northern Australia's irrigated production potential by about 30 per cent.
Assessment finds the Flinders and Gilbert catchments could increase irrigated production potential by 30%.
Led by CSIRO and involving more than 100 specialists from diverse disciplinary backgrounds and organisations, FGARA provides the fundamental knowledge needed to support future sustainable agricultural development decisions across northern Australia.
The assessment, completed in 2014, identified and evaluated water capture and storage options and also identified and tested the commercial viability of irrigated agricultural opportunities. It also examined the potential environmental, social and economic impacts and risks of such development.
It also addressed the barriers to investment in regional development. It explicitly looked at local needs and aspirations, meeting the needs of governments as they regulate the sustainable and equitable management of public resources with due consideration of environmental and cultural issues. It also met the due diligence requirements of private investors by addressing questions of profitability and income reliability at a broad scale.
The findings were released by the Australian Government in February 2014 and are informing policy and planning decisions at both state and federal levels, including the revision of the Queensland Government's Water Resources (Gulf) Plan. Private investors are also utilising the assessment's approach and findings.
Wealth from Oceans Flagship
Analysis of performance
GOAL: To provide Australia with the knowledge and tools to protect coastal and ocean environments, increase their value to society and create a net economic benefit of $3 billion per annum.
The challenges
Ocean-based industries such as oil and gas, fisheries, transport and tourism contribute over $42 billion a year to the Australian economy. By 2025, this is projected to increase to more than $100 billion. The oceans and coasts also drive the climate system, provide food, sustain biodiversity, and offer recreational and lifestyle opportunities. The management of multiple uses for our oceans and coasts is a key challenge for government, regulators and managers, industry and the community.
Our response
Our Wealth from Oceans Flagship has a formal agreement with the Australian Maritime Safety Authority (AMSA). This agreement has resulted in the creation of a comprehensive safety and preparedness oil spill kit, enabling immediate deployment of CSIRO technology in the event of a marine incident, such as an oil spill or shipping accident. The data we collect and analyse informs AMSA's countermeasure strategies during such events, and are ensuring science-based decisions are made to protect the environment and community.
Through our international research collaborations, further breakthrough discoveries were made about our ocean climate system, enabling us to predict extreme weather events three to six months in advance. Our modelling indicates that extreme weather events are set to double over the next decade.
Our pathways to impact
In 2013–14, the Flagship delivered the first of a series of ecosystem baseline studies of the World Heritage-listed reef ecosystem in the Pilbara of Western Australia. This study is helping to inform government and industry in balancing the environmental sustainability of the region with increasing broad-sector use.
We've delivered the first of a series of studies of the World Heritage-listed reef ecosystem in the Pilbara of Western Australia.
In March 2013, the Flagship's collaboration with research agencies and industry delivered the eReef Marine Water Quality Dashboard, which is now being used by reef managers and government to obtain timely information on water quality indicators such as temperatures and sediments for the Great Barrier Reef.
Table of themes and progress for the Wealth from Oceans Flagship.

| Theme | 1–3 years | 4-9 years | 10+ years |
| --- | --- | --- | --- |
| The dynamic ocean | Synoptic forecasting system for major marine industries delivered (BLUElink 3). | Deliver littoral zone forecasting system for defence and industry applications. | National, seamless near-real ocean prediction and forecasting system operationalised. |
| Our resilient coastal Australia | Coastal management strategy evaluation system implemented and operational in three regions nationally. | Integrated observation modelling and visualisation system (eReefs) guiding management of the Great Barrier Reef Marine Park. | Regional shelf-scale hydrodynamic model nationally implemented and used for oceanographic services. |
| Sustainable ocean ecosystems and living resources | CSIRO R&D underpinning marine bioregional plans and National Representative System of Marine Protected Areas. | Adoption of CSIRO marine incident emergency response system and implementation of offshore oil and gas research strategy for improved policies and regulations for offshore oil and gas industries. | Operationalisation of a National Ocean and Coastal Information System, as part of Australia's National Environmental Information System. |
Our stock assessment methods and harvest strategies have contributed to a significant reduction in overfishing in Commonwealth managed fisheries. A recent independent evaluation estimated this research generates over $300 million per year in the long term.
Missing planes to oil spills: the science of marine incident response
Science is a crucial part of modern day incident and disaster response. When disaster does strike, our Wealth from Ocean Flagship's routine data collection, modelling and analysis provides a platform for the science-based decision-making required to guide operations.
The Flagship has a Memorandum of Understanding with the Australian Maritime Safety Authority that facilitates the provision of scientific knowledge and technical support during maritime incidents, such as oil spills, search and rescue and shipping accidents.
In 2014, the Flagship's partnership was called upon to assist in the search for missing Malaysian Airlines flight, MH370. The support involved modelling and projecting the track of any potential debris spotted by satellites and planes during the initial search in the Indian Ocean.
The debris tracking used advanced models of ocean currents around Australia developed through BLUElink – a collaboration between the Flagship, the Bureau of Meteorology and the Australian Navy over the past decade – to determine likely movement of (potential) wreckage or to backtrack to a crash site.
These same models are used to track and project oil spills, missing boats, valuable fish stocks and guide Navy operations. With oil spills, our science extends to monitoring technologies, plus environmental and ecosystem models and data.
As demonstrated with our partnership with BP in the Great Australian Bight, the science begins well before any exploration takes place. This year, in the Bight region, we began baseline monitoring of the ecosystem and biodiversity, socio-economic research with the community and related industries, oceanography and geochemistry analysis.
The science we carry out before, during and after any incident informs the readiness, response and subsequent monitoring of an incident, with the overall aim of minimising harm to people and the environment.
The National Research Investment Plan is available at: www.industry.gov.au/research/Pages/NationalResearchInvestmentPlan.aspx

See Glossary for the Flagship Review Terms of Reference.
See Glossary for definitions of publication types.
The Flagship's goal was finalised in 2013–14 with slight amendments from the previous year.
In July 2013, CSIRO merged its Energy Transformed Flagship, Petroleum and Geothermal Portfolio and Coal Portfolio to form the new Energy Flagship. The Flagship roadmap reflects the new Flagship strategy. Previous year comparison is not possible.
The Quality Biosensors Theme changed from last year to reflect a new focus and wider applicability of the technology.
Reversible Addition Fragmentation chain Transfer.
The Themes was integrated into the Flagship on 1 July 2013. Previous year comparison is not possible.