The highlights, objectives and performance of our Core Research and Services.
Our core research and services improve industry, environment and community wellbeing across the breadth and depth of the National Innovation System1. We do this through the provision of advice, information and solutions.
Objectives and deliverables
The objectives of our core research and services include the delivery of new and improved technologies, management systems, intermediate and final products, catalyst services for business, advice relevant to policy development and new knowledge and skills. Each of our core research Groups are led by a Group Executive and all Groups are committed to pursuing their objectives through partnerships in private and public sectors both within Australia and internationally.
Our ability to deliver profound impact through our National Research Flagships is underpinned by investment in our core research capabilities that build strength in areas of national need, ensuring that Australia has the knowledge and skills to respond to national and international challenges. See Program 1 – National Research Flagships.
Program performance
This year, our Core Research and Services Program continued to perform well. An assessment of the Program's four key performance indicators (KPIs) identified in the Portfolio Budget Statements, showed we have met expectations and targets. Table 2.4 provides an overview of the evidence for each KPI with a more detailed analysis following.
Table

2.4

: PERFORMANCE INDICATORS FOR PROGRAM 2 – CORE RESEARCH AND SERVICES

| Key performance indicator | Target (and performance assessment) | Performance |
| --- | --- | --- |
| Demonstrated adoption and impact of core research outputs | Grow economic, social, environmental and intangible benefits | In 2013–14, we supported approximately 200 SMEs. Our overall total equity portfolio increased by $4.1 million. At June 2014 we had 644 patent families, 257 trade mark families, and 91 different Plant Breeders' Rights. Twenty-six per cent of our patent portfolio is commercially licensed. Most of the licences generating revenue were to Australian companies, with one third international entities. We saw a decrease in new inventions and corresponding Patent Cooperation Treaty (PCT) applications. Further evidence of adoption and impact for each of our Groups is reported below. |
| Customer satisfaction | Maintain | This year is the second year of our client satisfaction survey. We maintained our performance with results showing an average 'willingness to recommend' score of 8.6 out of 10 (up from 8.5).See Program 1 for details. |
| Number of refereed Core Research publications | Maintain or increase | Refereed journal publications increased from 2842 in 2012 to 3111 in 2013. CSIRO maintained its rank in the top 0.1 per cent of global institutions in Plant and Animal Sciences, Agricultural Sciences, Environment and Ecology, and Geosciences (based on total citations). |
| Science excellence in CSIRO research capabilities as assessed through a rolling program of rigorous peer review | Maintain or increase | Five Divisional Capability reviews were conducted in 2013–14: Materials Science and Engineering, Land and Water, Ecosystem Sciences, Plant Industry, and Animal, Food and Health Sciences. Overall the quality of science was regarded as high and the translation of its value into projects of significance acknowledged. The Panels recommended areas for further opportunity including stakeholder engagement and synergies across the organisation's multiple capability areas. |
Blue shading: indicates positive progress for the year and the target has been achieved.
Demonstrated adoption and impact of core research outputs
Intellectual property management and licensing
Intellectual Property (IP) is a key tool for capturing the benefits of our research for Australia, protecting the results of our activity and ensuring our technologies are not inappropriately copied by competitors. Our Intellectual Property Management framework is provided by the Statement of Intellectual Property Principles for Australian Government Agencies. It gives guidance and ensures effective identification, protection, ongoing management and exploitation of IP. Strong IP portfolios also provide key positioning in various marketplaces, underpinning our strategy and providing external reputation benefits with clients and potential collaborators and competitors.
Intellectual property portfolio
As of June 2014, CSIRO had 644 patent families, 257 trade mark families, and 91 different Plant Breeders' Rights. We have seen a decrease in the number of new inventions and corresponding Patent Cooperation Treaty (PCT) applications. This apparent decrease in the size of our patent portfolio continues a trend over several years. Some of these downward trends demonstrate an increased focus on a more strategic approach to the management of our patent portfolio, utilising the patent process only for cases where it is likely to achieve the intended impact. Some of the changes observed also relate to changes in Australian legislation, particularly the more stringent requirements around patentability.
TABLE 2.5: CSIRO Intellectual property portfolio
IP category
Sub category
2009–10
2010–11
2011–12
2012–13
2013–14
Patents
Current PCT applications
90
101
98
83
56
Granted
1,630
1,631
1,649
1,647
1,755
Live cases
3,379
3,370
3,582
3,454
3,506
Inventions
Patent families
712
709
728
718
644
New (provisional patents and direct filings)
99
92
95
87
66
Trade marks
Australian
263
259
275
281
257
Foreign
114
109
81
88
91
Plant breeder's rights
Australian
122
122
83
87
91
Foreign
21
21
39
24
26
Registered designs
Australian
2
2
3
3
2
Foreign
10
10
8
8
6
Our IP is a valuable asset used to generate short and long-term revenue through licensing, or to attract third party collaborations. Of the IP assets listed in Table 2.5, 26 per cent of our patent portfolio is commercially licensed (to 288 different entities both local and international), and 57 per cent is subject of research rights to third parties. About half the licences that generate revenue relate to licensing of Registered IP rights (Patents, Trade marks and Plant Breeder's Rights). A significant component of licensing revenue was generated by cotton seed and WLAN2 royalties. The majority of the remaining revenue was generated from copyright and patent licences. Most of the licences generating revenue were to Australian companies, with one third international entities.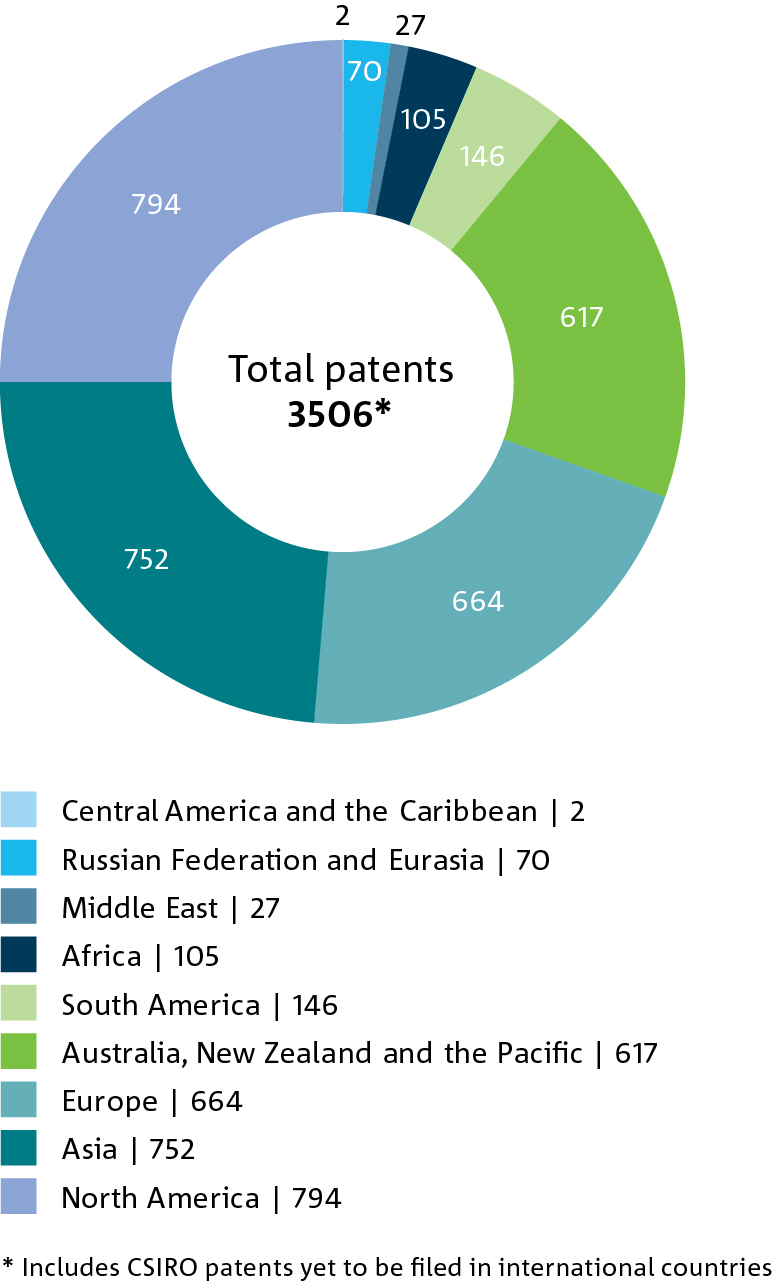 This chart represents CSIRO's live patent cases by geographic region. CSIRO has a total of 3506 patents; this includes patents yet to be filed in international countries.
Total patent distribution is:
Central America and the Caribbean = 2
Russian Federation and Eurasia = 70
Middle East = 27
Africa = 105
South America = 146
Australia, New Zealand and the Pacific = 617
Asia = 752
North America = 794.
Registered Rights are also used as collateral in collaborations or technology evaluations and these types of third party engagements themselves generate new IP that can lead to other licensing opportunities or other collaborations. Currently CSIRO has more than 30 active research collaborations that have patents listed as background IP. Of the 644 current patent families, 195 of them (or 30 per cent) were the result of collaborative activity with 97 distinct external parties. The majority of partners (64 per cent including 40 per cent international) can be characterised as industry partners, 24 per cent SME and large Australian firms. The other partners are Australian research institutes (15 per cent), government bodies (16 per cent) and overseas research institutes (five per cent).
The total number of live patent cases in Asia has been growing steadily over recent years. CSIRO has a large proportion of live patent cases in Asia, with at least 20 per cent in Japan, China, India, South Korea, Hong Kong, Malaysia, Indonesia, Singapore, Vietnam, Taiwan, Thailand and the Philippines (see Figure 2.6). There has also been an increase in the number of filings in South America and Africa, but these regions represent a relatively small portion of our patent portfolio – slightly more than seven per cent. Overall, our spread of patent cases mirrors the geographic regions where we focus our research and its research reach.
SME Engagement Centre
Our SME Engagement Centre assists Australian industry by providing tailored support and advice about the National Innovation System to SMEs. This year approximately 200 SMEs were supported with information, connections and facilitation of research projects that allow the company to develop a competitive advantage.
Of these, the SME Engagement Centre facilitated 35 projects where a researcher was placed in an SME to collaborate on a technical solution to a company challenge or opportunity. Twenty-six used a CSIRO researcher and nine used researchers from other Australian research organisations. These projects allow for both explicit and tacit knowledge transfer, which helps improve collaboration between SMEs and research organisations. Our SME Engagement Centre won a 2013 Australian Business Award for its innovative approach to bridging the gap between SMEs and research organisations.
Universal Biosensors
Rowville-based manufacturer Universal Biosensors (UBI) makes hand-held blood-analysis devices for point-of-care testing – the types of instruments doctors and diabetics use to measure blood sugar levels. The company began working with CSIRO through the Researchers in Business program to come up with improved coatings for biosensor test strips used to diagnose and monitor diseases.
The aim is to improve the sensitivity of tests performed using UBI strips. As a result, UBI will be able to offer a broader range of tests that can be easily used by medical practitioners and patients. This will increase their exports and grow their manufacturing business.
Today, we are continuing to work with UBI, supported by the Victorian State Government's Technology Voucher Program, to further develop the research and create superior products that can be taken into the international diagnostics market.
Australian Growth Partnerships Program
To support the growth of our IP Portfolio, we place significant focus on strategic engagements and collaboration with industry partners. In 2007, we established the Australian Growth Partnership (AGP) program to increase engagement with Australian SMEs. The AGP program provides funds to high-potential, technology-receptive SMEs so they can access CSIRO research and development capability and IP. It is designed to be mutually beneficial by assisting SMEs to overcome existing technical issues, while contributing to our own National Research Flagships Program.
As at 30 June 2014, six SMEs were engaged in the AGP program, including one new participant. This year $662,000 was invested in two SMEs. There were no company exits from the program during 2013–14.
Reducing the cost of pain relief
In 2012, Australian healthcare company Medical Developments International (MDI), received funding through the AGP program for the next generation production of the drug methoxyflurane – the pain-relieving ingredient used in Penthrox (commonly known as the 'Green Whistle'). The aim was to significantly reduce the cost of producing Penthrox and facilitate large-scale production as part of MDI's plan to expand Penthrox sales into the United Kingdom (UK) and Europe.
The project has successfully completed its second stage and has commenced work on the final phase, which involves building of the manufacturing plant and final demonstration of the manufacturing process. MDI has also made excellent progress in the drug registration approval process for Penthrox in Europe. If registration is given, Penthrox will be approved for sale in the UK, France, Belgium and Ireland. Penthrox is manufactured at MDI in South East Melbourne and is currently sold in 11 countries.
Equity portfolio
This bar graph displays the number of journal articles from 2009 to 2013 and includes the normalised citation impact (NCI) calculated for each year.
Yearly publication with NCI are summarised below

| Year | Number of publications | NCI |
| --- | --- | --- |
| 2009 | 2155 | 1.44 |
| 2010 | 2586 | 1.38 |
| 2011 | 2768 | 1.48 |
| 2012 | 2842 | 1.40 |
| 2013 | 3111 | 1.62 |
The total value of CSIRO's equity portfolio at 30 June 2014 was $14.6 million across listed and unlisted companies. Our overall total equity portfolio increased by $4.1 million from 30 June 2013. Major contributing factors were the $1.1 million value increase in listed companies and $3 million value increase in unlisted, which also included $1.3 million in new spin-out companies. A total of four portfolio companies were wound up and two new spin-out companies formed during 2013–14. Seven portfolio companies raised over $50 million from capital markets during the year, helping to fund ongoing commercialisation activities.
CSIRO licenses technology to existing companies where it is deemed the most likely route of maximising IP value. However, it also directly creates new high technology SMEs through spinning out IP when that is considered to be the best pathway to commercialisation. Currently CSIRO has interests in 33 companies.
Number of refereed Core Research publications
The number of refereed CSIRO journal articles has been trending upwards over the last five years (see Figure 2.7), with a nine per cent increase between 2012 and 2013. This is the largest annual increase since 2009–10.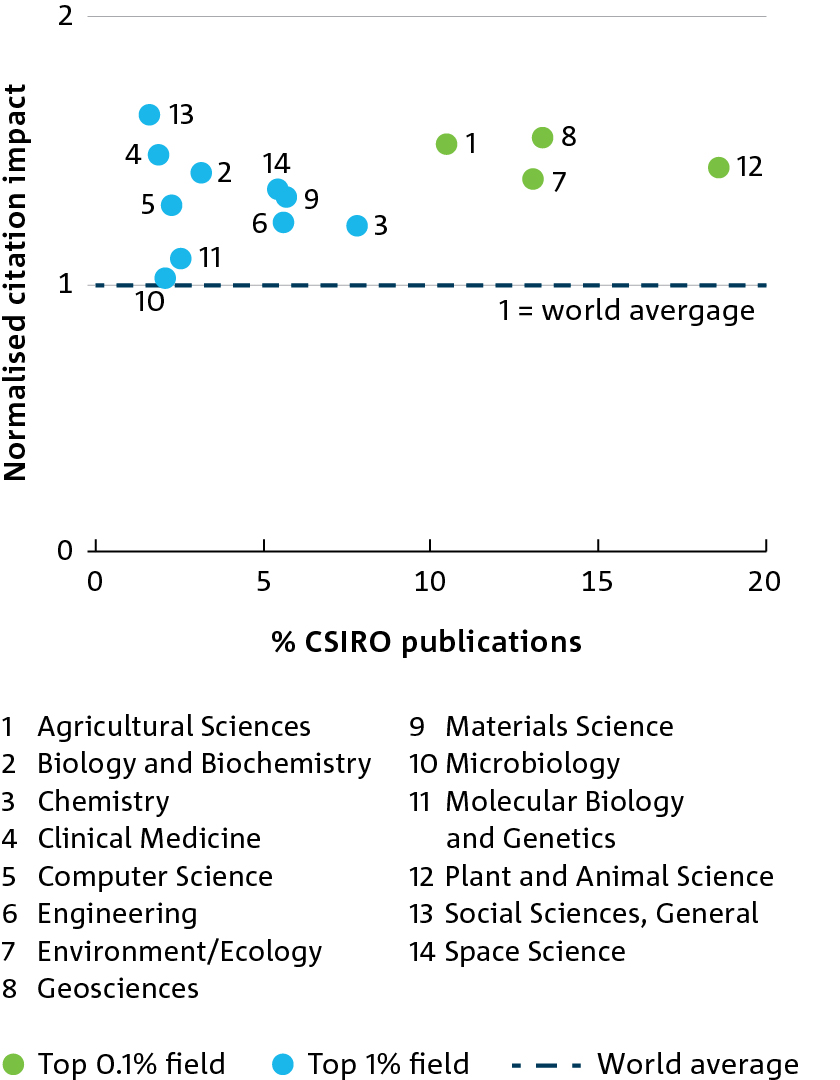 This scatter plot displays the percentage of CSIRO publications by research field against the normalised citation impact, referenced against the world average.
The plot shows CSIRO publications are above the world average, and ten of the 14 research areas are in the top one percent of the field. These research areas include:
biology and biochemistry
chemistry
clinical medicine
computer science
engineering
materials science
microbiology
molecular biology and genetics
social sciences, general
space science.
The remaining CSIRO publications for research topics are still above the world average, occurring in the top 0.1 per cent of the field. These research topics include:
agricultural sciences
environment/ecology
geosciences
plant and animal science.
Research publication performance is often measured in the science community by counting citations – the references from one article to another in its bibliography. When one pieceof work cites another, this is taken as recognition of value and academic impact. The more citations an article has received, the more impact it has had on its field.
Approximately 55 per cent of all CSIRO publications are produced in its four strongest fields, ranked globally by total citation count (see Figure 2.8). The remaining fields in which we rank in the top one per cent globally are also shown in Figure 2.8. Fundamental changes in the way the data provider assembles its rankings saw CSIRO fall out of the Physics ranking this year.
Citations can also be expressed relative to the world average performance, accounting for the age and subject of publications. A result of 1.0 is equal to the global average, 1.2 is 20 per cent more cited and 0.75, 25 per cent less cited (see Figure 2.7). Overall, our citation impact has been improving over the last decade, with CSIRO articles cited performing 47 per cent better than the global average for the period 2009–13.
In 2013, performance for the period 2008–12 was reported as 56 per cent better than world average. The apparent drop is due entirely to a complete overhaul of the baselines the data provider requires to generate the metric. When measured using the new baselines, 2008–12 performance was 41 per cent better than world average, meaning our 2009–13 performance is a six per cent improvement. This demonstrates that we are performing competitively and are positioned well against our global peers in terms of science excellence.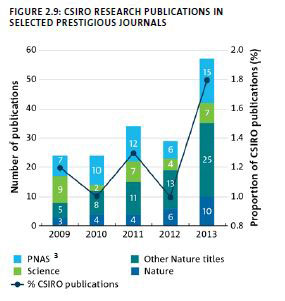 This bar graph shows number of CSIRO publications in high-impact journals, including Nature, other Nature titles, Science and the Proceedings of the National Academy of Sciences between 2009 and 2013.
Numbers for each journal, plus the percentage of CSIRO publications for each year published in these high impact journals is summarised below.
| Journal | 2009 | 2010 | 2011 | 2012 | 2013 |
| --- | --- | --- | --- | --- | --- |
| PNAS | 7 | 10 | 12 | 6 | 15 |
| Science | 9 | 2 | 7 | 4 | 7 |
| Other Nature titles | 5 | 8 | 11 | 13 | 25 |
| Nature | 3 | 4 | 4 | 6 | 10 |
| % CSIRO publications | 1.2 | 1.0 | 1.3 | 1.0 | 1.8 |
Another robust and established metric is to rank articles by citation count based on percentile performance, compared with all other articles of the same type and in the same subject. In 2009–13, 2.8 per cent of CSIRO publications were in the top one per cent of articles globally, 10.2 per cent in the top five per cent and 18.1 per cent in the top ten per cent. All three of these levels improved on the period 2008–12. These results demonstrate that our share of the very best research output is substantially above average and continues to improve.
Prestige publications
A measure of academic esteem is to track the level of an organisation's publications in a small number of the highest-impact journals, including Nature, other Nature titles, Science and the Proceedings of the National Academy of Sciences. The number of CSIRO publications in each of these since 2009 are shown in Figure 2.9. This year recorded the highest level in the series.
Joint research publications with Australian universities
Our number of collaborative publications has nearly tripled since 2003. In 2013, 85 per cent of our publications were collaborations with authors from other institutions. Fifty-nine per cent were produced with authors from other Australian institutions. Figure 2.105 shows our collaboration with Australian universities has also increased substantially since 2003 (as measured by joint publications). We continue to collaborate with the Group of Eight universities, with universities in the Australian Technology Network of Universities and with those in the Innovative Research Universities.
CSIRO is demonstrated to be the most important ('central') institution in the country in the six fields in which it publishes most work– agricultural sciences, chemistry, environment/ecology, geosciences, materials science and plant/animal science.
Network analysis can also show our place in Australia's research ecosystem by analysing the relationships among research producers, as measured through their collaborative publications. Applying a common network metric – Eigenvector Centrality – which shows a weighted closeness of the organisation to all other institutions, CSIRO is demonstrated to be the most important ('central') institution in the country in the six fields in which it publishes most work – Agricultural Sciences, Chemistry, Environment/Ecology, Geosciences, Materials Science and Plant/Animal Science.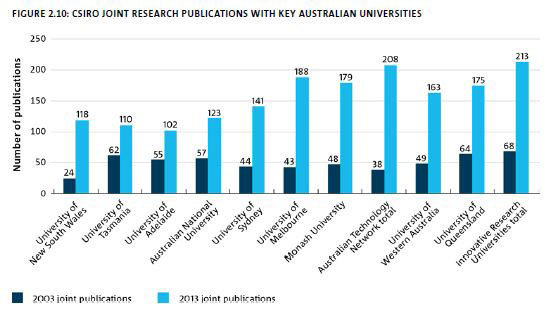 This bar graph shows a comparison of CSIRO joint research publications with key Australian universities between 2003 and 2013.
Joint publications for each university for the years 2003 and 2013 are summarised in Table 1.
Table 1. Summary of Figure 2.10: from CSIRO's 2013-14 annual report.

| University | 2003 | 2013 |
| --- | --- | --- |
| University of New South Wales | 24 | 118 |
| University of Tasmania | 62 | 110 |
| University of Adelaide | 55 | 102 |
| Australian National University | 57 | 123 |
| University of Sydney | 44 | 141 |
| University of Melbourne | 43 | 188 |
| Monash University | 48 | 179 |
| Australian Technology Network total | 38 | 208 |
| University of Western Australia | 49 | 163 |
| University of Queensland | 64 | 175 |
| Innovative Research Universities total | 68 | 213 |
Joint research publications with other countries
We have significantly increased the rate of collaboration with organisations overseas, as measured by joint publications. In 2013, 51 per cent of our scientific publications were co-authored with an international author. The top ten countries we have co-published with are, in descending order, the USA, China, England, Germany, France, Canada, Japan, the Netherlands, New Zealand and Italy. Joint publications with institutes in China increased eight-fold between 2003–13. Over the same period joint publications with USA institutions have more than doubled.
8 fold increase in joint publications with institutions in China from 2003 to 2013.
Science excellence in CSIRO research capabilities as assessed through a rolling program of rigorous peer reviews
A key element in our success is our development and continued maintenance of high-quality scientific capability, including world-class researchers, research infrastructure and collaborative relationships. A key mechanism that has helped maintain this high standard in research capability is independent, robust and rigorous Divisional reviews every three to five years.
As with our Flagship reviews, the assessments are led by a panel of independent scientific experts (typically two from overseas and two from Australia) whose knowledge and skills provide an appraisal of the capability performance of a Division, as well as suggestions as to how the performance of research teams can be increased6. The panels are encouraged to be forthright in their advice.
Five reviews where held in 2013–14. As with Flagship reviews, panels rate each research program for global science quality and probable industry or community impact. When the rankings to-date are combined for the third cycle, the overall interim results indicate that 82 per cent of the research being undertaken was recognised as either setting a new scientific direction or sustaining the position of a scientific leader (quality). Eighty-five per cent was research that enables or sets the standard for commercial, environmental, community or policy development that has real-world application compared with its peers (impact). A summary of the key outcomes from these reviews by Division follows.
CSIRO Materials Science and Engineering (CMSE)
Date of review: September 2013
The review panel concluded that CMSE was one of the world's top ten global materials science and engineering research institutions as judged by science quality. They found the capabilities, science directions being pursued, and the way they were being used to drive the Division's work, impressive. The panel noted CMSE's science has the potential to have significant translational impact.It also observed that our RAFT technology is a major lever in developing science and business opportunities.
Additionally, the strategy of collaborating with other research organisations was an important mechanism for the Division to build and leverage capability, particularly in a resource constrained environment. It was recognised that the Division and Chief were new and that the Division operates over multiple sites. The panel recommended greater focus and alignment for the future development of the Division.
Stakeholders interviewed during the review highly commended the work of CMSE researchers and their understanding of industry needs and commitment.
CSIRO Animal, Food and Health Sciences (CAFHS)
Date of review: September – October 2013
The review panel concluded that the quality of CAFHS research and science is generally strong and benchmark in several areas. It recognised that CAFHS was formed just one year before the review and made recommendations on opportunities to achieve further synergies across the Division, optimising the use of facilities, and suggestions for developing the interaction and engagement with stakeholders.
The panel noted that the combination of skills, expertise and facilities has the potential to contribute uniquely to the competitiveness of Australia's agriculture and food industries, particularly in responding to global challenges and opportunities related to food security, population health, biosecurity and food safety.
CSIRO Land and Water (CLW)
Date of review: December 2013
The Division was assessed as having strong scientific expertise and capabilities and the science overall was noted to be healthy. The quality of science delivery for industry and the community was described as commanding and the review panel noted that much of CLW's research had been successfully translated into policies and practices.
The panel noted that the Division had a long-term vision of Australia's policy challenges in the water and land domains, and the role it could play in addressing these. CLW also showed long-term commitment to invest resources but the panel noted that, given the economic realities, resourcing levels were lower than some other international R&D organisations. The panel recommended opportunities be explored to maximise the value of stakeholder and collaborator relationships, especially if CSIRO is to continue to be a leader in the nation's water and land science.
CSIRO Ecosystem Sciences (CES)
Date of review: February – March 2014
The review panel found the Division has a very strong upward trajectory in terms of its science in both fundamental/discovery science and applied science. It also observed the strong collaborative culture within the Division. It noted that science leadership in some groups was very strong but indicated there was room for improvement in others. It was evident that external stakeholders regard the work of CES with great respect. The panel was also impressed by the strong engagement with Aboriginal and Torres Strait Islander communities across much of its science and with communities more generally.
The panel noted that the Division was unique in several ways. Its research bridges social, economic and biophysical sciences in ways not commonly encountered elsewhere. CES is also home to some unique resources (collections, data sets and models) which underpin quality science. The panel recommended the Division explore opportunities to deliver the full potential for scientific advancement through its diverse and multidisciplinary capabilities and resources through active engagement with other research areas following our restructure.
CSIRO Plant Industry (CPI)
Date of review: May 2014
The review panel noted the prominent role of the Division in plant science and agriculture research in Australia and its substantial contribution to international plant science research. The panel affirmed that CPI had sustained achievements over many years and gained a national and international reputation for excellent basic research and the translation of that research. It did, however, indicate that some groups were very industry focused and appeared to have declined in basic science capability.
It recommended that CPI continue to support capacity in the basic sciences underpinning its more applied research. The panel also observed that there was a strong cohort of excellent researchers in the Division and recommended it explore ways to maintain this into the future.
Energy Group7
Analysis of performance
AIM: To develop and apply leading-edge energy research that reduces greenhouse gas emissions, ensures energy supply, maximises Australia's wealth from its energy resources, and derives increased, sustainable benefits from Australia's marine resources while ensuring conservation of our marine biodiversity and coastal habitats and settlements.
THE CHALLENGES
Australia's growth and way of life is underpinned by the export of our vast energy resources, plus domestic access to affordable and sustainable energy sources for electricity and transport.
Solutions are needed to shape Australia's energy future that will enhance the global competitiveness of our energy resources while ensuring the sustainability of the extraction, conversion and use of energy.
OUR RESPONSE
Our Energy Group continues to work closely with industry, governments, the community and its research partners, to focus on productivity and environmentally-friendly technologies that maximise the economic, social and environmental wealth from Australia's rich endowment of energy resources and oceans.
With our partners Curtin University and The University of Western Australia, we are a founding member of the National Resource Sciences Precinct in Perth, officially launched in April 2014. The Precinct is a collaboration between industry, government and research institutions aimed at solving our nation's most critical resource challenges.
Our sustainable groundwater cooling system developed for the $80 million Pawsey Centre supercomputer is the first of its kind in Australia, and has the potential to revolutionise building and facility cooling. Available year-round regardless of weather conditions, it is expected to save over 14.5 million litres of water within two years.
14.5M litres of water expected to be saved by our groundwater cooling system within two years.
The National Geosequestration Laboratory is on its way to delivering innovative solutions for safe, efficient carbon dioxide storage in Australia. Fundamental data was recently collected for a large-scale survey in south-west Western Australia using two vibroseis trucks. These specialised pieces of equipment are designed for minimal soil erosion and community and environmental impact. They are part of a larger package of state-of-the-art equipment vital to assessing the viability of commercial carbon storage in Australia.
1st commercial vehicle installation of our ultrabattery that is 70 per cent cheaper to make.
OUR PATHWAYS TO IMPACT
Our low-emission energy technology, the UltraBattery, achieved a significant milestone this year with its first commercial vehicle installation in Honda's Odyssey, which is now available for purchase in Australia. The UltraBattery is about 70 per cent cheaper to make than batteries with comparable performance and can be made using existing manufacturing facilities.
The UltraBattery gives the Honda Odyssey's engine the acceleration power needed – a challenge for conventional batteries in cars with idle start-stop.
The UltraBattery has turned the conventional 150-year old energy storage system into a dynamic and transferable technology. Its applications are varied and include hybrid vehicles, renewable energy storage, remote area power, emergency power backup and forklifts.
Powering the future
The Australian electricity sector is at a crossroads with historically high retail electricity prices, widespread deployment of solar panels, the desire to reduce greenhouse gas emissions at the lowest cost possible, and declining aggregate peak demand and consumption. Australia's electricity landscape has huge potential for transformation and some of its greatest changes will be defined by consumer choices. Australians have unprecedented opportunity to tailor their electricity use and better meet individual needs.
There are several potential directions for Australia. Each has far-reaching implications for the electricity supply chain and would alter our country's electricity model. Recognising the significance of this time for the electricity sector, CSIRO convened the Future Grid Forum to develop and explore scenarios for Australia's energy future and support decision-making around what comes next.
The Forum brought together over 120 representatives of the electricity industry, government and community to inform the national conversation about Australia's electricity future and provide a way forward.
Forum partners recognised that the electricity system cannot be analysed and optimised by examining its separate parts. The result is Australia's first extensive whole-of-system evaluation of the energy chain, from generation to consumption.
Findings from the Forum were presented in a comprehensive report, Change and choice: The Future Grid Forum's analysis of Australia's potential electricity pathways to 2050 (available from www.csiro.au). The report, developed through extensive quantitative modelling, analysis and social dimensions research, presents four scenarios of what Australia's future electricity system could look like.
Traditionally, electricity hasn't been a service consumers proactively engage in. The Forum's scenarios presented ways for people to take greater control of how they consume and produce electricity. Such a shift could potentially influence Australia's electricity sector's business model and encourage the emergence of services supplying individually tailored products.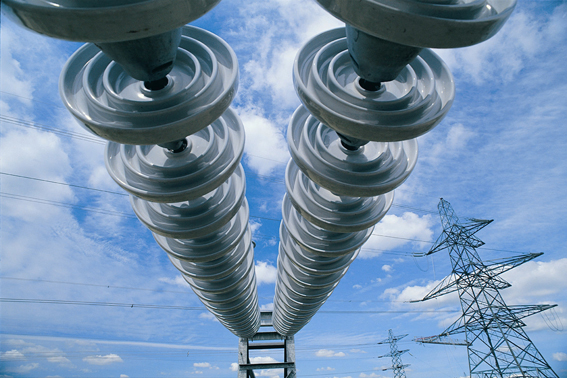 Environment Group7
Analysis of performance
AIM: A sustainable Australia addressing global challenges, in which CSIRO's environmental research and development role is pivotal and acclaimed.
THE CHALLENGES
Australians have stewardship of a beautiful, diverse, unique environment. Over 200 years of development of natural resources has provided a legacy of economic opportunity, but also environmental challenges.
The future of Australia and the world is being re-shaped by climate variability and change, natural resource quality and security, technological revolution, trade reform, poverty alleviation and national security concerns.
Our response
Our Environment Group is boosting Australia's understanding of the operation and interaction of entire ecosystems, regional economies and societies. We are applying enhanced systems understanding alongside the development and deployment of new technologies, processes and services.
We have renewed our commitments with the Bureau of Meteorology to deliver improved weather and climate forecasts through the Australian Community Climate and Earth System Simulator. Together we are also delivering value-added water information products through the Water Information Research and Development Alliance.
We extended our commitment to the Integrated Marine Observing System – a national array of equipment monitoring the open oceans and coastal marine environment around Australia. We also joined the international GlobalSoilMap.net Consortium to have input into the development of an open access global soil information system.
We welcomed QGC as a member of the Gas Industry Social & Environmental Research Alliance, which funds research into the socio-economic and environmental impacts of the natural gas industry.
Our pathways to impact
We led an international team of scientists that confirmed a link between the Indian Ocean Dipole and extreme weather events. This information will enable farmers, industry, communities and governments to better prepare for droughts and increased bushfire risk, up to six months in advance.
The third State of the Climate Report was released, indicating temperatures in Australia are on average almost one degree warmer than a century ago, with most warming occurring since 1950.
We released a report examining strategies to protect Western Australia's Pilbara region's most threatened species, indicating the most cost-effective strategies are managing feral ungulates, creating predator-proof sanctuaries and managing feral cats. This information will help government and industry balance the environmental sustainability of the region with its increasing broad sector use.
Using big data to manage biodiversity
For the first time, the majority of Australia's biodiversity data is now located in one place – and it is free for anyone to use.
Created using open source software, the Atlas of Living Australia contains over 50 million records of species and their locations gathered from 152 natural history collections and through citizen science.
The Atlas is a collaboration between Australia's natural history collections and other custodians of biological data. It is integrating the country's biodiversity information, making it more accessible and useable online.
Australia's remarkable biodiversity is a key to our economic, social and environmental wellbeing. Until now, information on our country's biodiversity has been fragmented across biological collections, institutions and government agencies, making it difficult to access.
In the three years since the Atlas has been publicly available, the goal of making data available for reuse has been well and truly exceeded. On Australia Day 2014 the Atlas reached a major milestone, clocking up one billion downloads. Across the following seven months it reached another – two billion downloads.
Government and industry are now using the Atlas in the push to cut green tape. The wealth of information available in once place in real-time reduces the time taken to conduct environmental impact assessments, while improving their comprehensiveness and quality. This is streamlining and improving critical development approval processes.
The Atlas is also being used by researchers, teachers, students, local communities and natural resource managers to identify species or understand their distribution. This research is helping to sustainably manage our natural environment, land and water resources, food security and better manage invasive pests and weeds.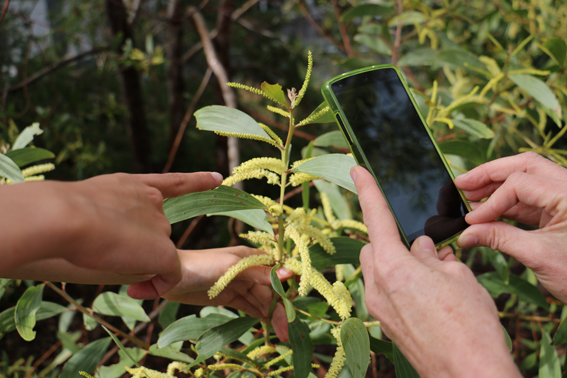 Food, Health and Life Science Industries Group7
Analysis of performance
AIM: To deliver sustainable productivity growth and value to food and fibre production in support of the economy, the environment and the health of Australians. We will do this through scientific excellence in the biological and food sciences and their application to creating profound impact across the agricultural value chain, health, biosecurity and industry.
THE CHALLENGES
Global food security remains a fundamental challenge as the world's population grows to an estimated nine billion by 2050. This population-driven food demand will need to be met through practices that are less carbon-intensive and with limited land and natural resource use.
Equally important is the requirement for food and nutritional quality and the role of this in human wellness and productivity, the prevention of chronic disease and subsequent costs on the Australian health system.
Additionally, increases in global trade and in the movement of plants, animals and people, along with climate change, are placing growing pressure on Australia's biosecurity, which is critical to protecting our people, environment and economy.
OUR RESPONSE
In 2013–14, our Food, Health and Life Science Industries Group further developed its world-leading work improving the productivity and sustainability of Australian and international aquaculture industries. We renewed all our aquaculture selective breeding research partnerships which are improving productivity, reducing disease and increasing quality for both farmers and consumers. We also saw major advances in the commercialisation of our novel aquafeed additive NovacqTM, with manufacturing licence agreements now established in Australia, China, Vietnam, Indonesia, the Philippines and Malaysia (more under Program 1: National Research Flagships).
68% yield increase revealed through water use efficiency project.
The Group commenced a major relationship agreement with WA Resources Ltd for a large-scale, land-based prawn aquaculture project in northern Australia called Project Sea Dragon. CSIRO is now the leading R&D supplier for prawn domestication, selective breeding, health, nutrition, feed technology, environmental management and food quality on the project, which is designed to help meet the growing global demand for seafood.
The development of CYBERNOSE®, a benchtop prototype electronic biosensor, passed a key milestone this year, detecting an airborne chemical at one part per trillion within 15 seconds. We also succeeded in having the first CYBERNOSE® patent issued in the United States.
Our biosecurity capability was strengthened with the opening of a new biosecure PC3 immunology lab at the Australian Animal Health Laboratory in Victoria. With collaborators we also established the Geelong Centre for Emerging Infectious Diseases to focus on zoonotic diseases (those that pass from animals to people).
OUR PATHWAYS TO IMPACT
This year the Group contributed to the first accurate map of Australia's soil carbon profile, working with partners to develop the map's prediction models. This map provided baseline data for monitoring the impact of land use on Australia's soil carbon stocks and has now attracted ongoing Australian Government funding.
A major project in collaboration with Flinders University and Clinical Genomics has led to a new blood-based diagnostic test for colorectal cancer. The test was launched to a consumer test market in June and is scheduled for national launch in late 2014.
Our food and nutrition research program launched a new diabetes recipe book with Baker IDI as an extension of the Diabetes Diet and Lifestyle Plan. We also joined forces with Australian company Probiotec to develop a new multifaceted weight and health management program, which launched in pharmacies across Australia in May (learn more in the Preventative Health Flagship section).
A national water use efficiency project, in collaboration with the Grains Research and Development Corporation, collected data from participants on impact and adoption to measure its success. Growers in northern NSW generated significant increases in water use efficiency and, by sowing slow-maturing wheats early, recorded increases in yield of 68 per cent.
New genetic test breeds the horns out of cattle
A new Australian Poll Gene Marker test is dramatically reducing the number of cattle bred with horns, improving animal welfare and saving the Australian cattle industry up to $30 million a year, the amount that bruising injuries from horns can cost.
The new test is 99 per cent accurate across a range of tropical and temperate cattle breeds, including breeds like the Brahman which thrive in northern Australia. The test allows identification of breeding animals that carry no genes for horns, enabling producers to breed the horns out of cattle.
The test is the result of a collaborative project between researchers at CSIRO, the University of Queensland and the Animal Genetics Breeding Unit at the University of New England. The team identified genetic markers that show which cattle are 'true polled', meaning the chance of horned offspring is significantly reduced.
Scott Hansen, then managing director of Meat & Livestock Australia, which funded the development of the test, said it will benefit producers by helping them reduce costs and improve animal welfare in their herds.
'This provides cattle producers with an additional tool to select the right genetics for their herds. In this case, a tool to help reduce costs of dehorning, to reduce production losses and mortalities associated with dehorning and to reduce downgrades of their product due to bruising and hide damage', Mr Hansen said.
The new Australian Poll Gene Marker was released to industry in November 2013 through the Animal Genetics Laboratory at the University of Queensland and Zoetis Animal Genetics.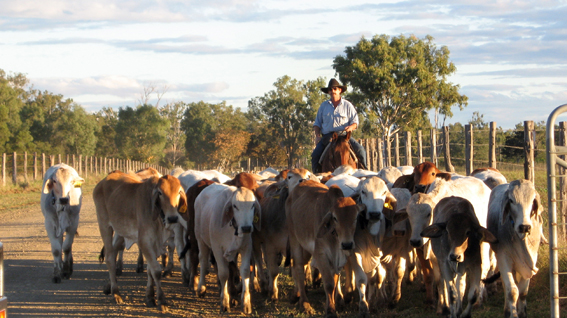 Information Sciences Group7
Analysis of performance
AIM: To work with partners to solve national challenges, drive the productivity of Australian industries and deliver public good outcomes through the innovative application of mathematical, statistical, information and communication sciences and technologies, and to build Australia's role in developing the next generation of space sciences.
THE CHALLENGES
The increasing digital connectivity of our world is seeing an explosion in the volume and speed of data available at our fingertips. It is predicted that by 2020, 37 billion 'things' will be available online and the average person will own six different smart devices. In this digital world, modern science also generates massive amounts of data. We need better ways to capture, manage and analyse this data to turn information overload into knowledge for industry, government and consumers.
OUR RESPONSE
Our Information Sciences Group is delivering innovative technologies and services to support the needs of business and communities and is building our understanding of the universe and its origins.
In July 2013, we launched our Computational Informatics Division, bringing together our capabilities in key information sciences such as autonomous systems, signal processing and systems modelling, data science and decision and user science.
We continued to form close ties with industry, government and the community. We developed two new partnerships in China for our Terra Hertz imaging and digital modem technologies. We also continue to work with the United Nations on spatial information access.
Our biggest international alliance involves delivering world-leading technologies and research in astronomy, astrophysics and space tracking, via the Australian Square Kilometre Array Pathfinder (ASKAP) and international Square Kilometre Array projects.
Our leadership in astronomy was strengthened with further funding from NASA for our Canberra Deep Space Communication Complex (CDSCC). The CDSCC is part of NASA's Deep Space Network providing continuous radio contact with spacecraft exploring our solar system and beyond. The Network celebrated 50 years in 2014.
OUR PATHWAYS TO IMPACT
In a world-first, we've fitted thousands of honey bees with tiny sensors to improve honey bee pollination and productivity on farms and better understand the decline in honey bee populations worldwide. The miniaturised sensing technology captures environmental data with unprecedented density and in locations not previously accessible.
Six of the 36 antennas that make up ASKAP have been fitted with CSIRO's first-generation phased array feeds technology. They successfully captured ASKAP's first image at twice the speed of comparable telescopes. The image covered an area 50 times that of the entire moon and verified the unprecedented quality of the new technology and ASKAP's unique third axis of rotation.
1st image has been successfully captured by ASKAP at twice the speed of comparable telescopes.
With Australian company Catapult Sports we've developed ClearSky, a tracking system for use in indoor sports venues. The system uses our patented WASP (Wireless Ad hoc System for Positioning) technology, which provides highly accurate tracking of objects in environments where traditional technologies fail. AFL teams have been trialling the system to improve athlete movements and develop game tactics.
With University of Tasmania we developed a smart cow collar that predicts cattle behaviour. It provides an inexpensive and practical method of optimising feeding and milk production. It has the potential to advise farmers on a cow's health to assist breeding and early injury intervention.
Also with University of Tasmania we developed biosensors that monitor the health of farmed oysters by measuring heart rate and other physiological indicators. Currently being trialled as part of Sense-T, these measures are helping farmers make better, real-time decisions on best farming practices to yield higher quality oysters.
Easy 3D mapping goes international
Access to high-quality 3D maps of an environment can help improve decisions and productivity across a wide range of applications. Generating these maps can be challenging as traditional methods either involve cumbersome measurements, expensive laser scanners or external references such as GPS.
To overcome these challenges, we partnered with UK company 3D Laser Mapping to commercialise our Zebedee technology – the world's first lightweight, handheld 3D laser mapping system. Simple to use, Zebedee creates detailed 3D maps quickly, reliably and cost-effectively.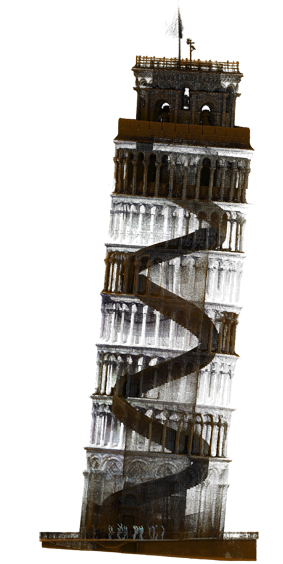 Using Zebedee, we created the first interior 3D map of Italy's Leaning Tower of Pisa. Cramped stairs and complex architecture prevented bulky, tripod-mounted mapping technologies from capturing the Tower's interior, but using Zebedee our researchers simply walked through it.
Produced for Italian university, Scuola Superiore Sant'Anna and the international CyArk project, the map preserves the site digitally in intricate detail and would inform reconstruction if the Tower were to suffer catastrophic damage. The 3D computer model also allows users to remotely explore the Tower online or via immersive displays.
Zebedee has also produced intricate maps of heritage-listed ANZAC Square in Brisbane. The site includes the Shrine of Remembrance that houses an Eternal Flame in memory of the men and women that have represented Australia and New Zealand in overseas armed conflicts.
The Queensland Police Service purchased Zebedee to improve efficiency of crime scene examination and provide detailed records for court cases. Its compact size reduces crime scene interference, saves time and can record difficult areas, such as steep bushland.
UK mining company Cleveland Potash purchased Zebedee to map underground workings, complete stock surveys and comply with health and safety legislation at its Boulby Mine. The company has reported significant time savings, reduced equipment needs for routine work and more valuable data provided to mine managers.
Zebedee has already been used in many applications and we are exploring further possibilities and customers for the technology. Zebedee was awarded a Eureka Prize for Innovative use of Technology and the national and Queensland iAwards for Research and Development in 2013.
Manufacturing, Materials and Minerals Group7
Analysis of performance
AIM: To help grow Australia's wealth by developing improved commercial products and processes, fostering increased productivity and supporting business and job creation in an environmentally and socially responsible manner.
THE CHALLENGES
Australia's manufacturing and minerals sectors operate in an increasingly challenging environment. Resource pressures are increasing, as are global competition and consumer demands for better and greener products and services. Innovative solutions that lead to ongoing sustainability in a global context are needed.
OUR RESPONSE
Our Manufacturing, Materials and Minerals Group continues to provide expert advice to industry and the Government through various forums such as the Manufacturing Sector Advisory Council and the Committee for Economic Development Australia. It established Australia's first additive manufacturing network and hosted the inaugural automotive diversification workshop focused on helping suppliers transition to new markets.
Plans to build the Manufacturing Innovation Centre in Clayton, Victoria have been approved. The Centre will allow companies to access a range of emerging technologies to help inform their adoption and investment strategies and is also central to CSIRO's Precinct strategy.
In partnership with five Australian universities, the Group's Minerals Down Under and Future Manufacturing Flagships launched the Wealth from Waste Cluster to help identify viable options for recycling metals from Australian products.
In partnership with Monash University, the Victorian Environment Protection Authority, the Plastics and Chemicals Industries Association and the Victorian Department of State Development, Business and Innovation, we launched the Victorian Centre for Sustainable Chemical Manufacturing, enabling manufacturers to better interact with researchers to drive improved sustainable manufacturing outcomes. The Centre has successfully delivered milestones for 32 industry projects and six outreach activities so far.
The Group continues to strengthen its strategic partnerships with companies such as Boeing, General Electric, Orica and Dulux. The year 2014 marks the twenty-sixth year of our partnership with Boeing and the fifth with Orica.
100th 'Researcher in business' project conducted in 2014.
OUR PATHWAYS TO IMPACT
We strengthened our leading position in advanced metals technologies and gained international recognition for our world-class 3D printing capability – multinational, BAE Systems, has chosen our LAB 22 as its preferred service provider.
The Group helped develop the Advisory System for Processing, Innovation & Resource Exchange program, to run economic models for recycling, sourcing raw materials and reviewing product 'end of life'. The models will reduce landfill, assist local government and increase operational margins for Australian small to medium businesses.
We were part of developing bushfire shelter standards and three community fire refuges in Victoria.
We helped Virtual Curtain commercialise a new cost-effective mining wastewater treatment that produces up to 90 per cent less sludge.
A new low-emission steelmaking process is being developed with Bluescope Steel and Arrium. It could increase productivity, halve carbon dioxide emissions and significantly reduce water and energy use for the global steel industry.
The Group worked closely with Enterprise Connect, the Australian Government organisation which helps connect businesses with research. In 2014, the Group facilitated its one hundredth 'Researcher in Business' project.
X-ray vision increases gold mining productivity
Australia produces around $10 billion worth of gold annually. However, a processing plant may only recover between 65 and 85 per cent of gold present in mined rock. Given a typical plant produces around $1 billion of gold each year, this means hundreds of millions of dollars worth of gold are going to waste.
Working with Canadian x-ray accelerator company Mevex, CSIRO conducted a pilot study that shows gamma-activation analysis (GAA) is a much faster and more accurate way to detect gold than traditional chemical analysis methods.
GAA works by scanning mineral samples, typically weighing around half a kilogram, using high-energy x-rays similar to those used to treat cancer patients in hospitals. The x-rays activate any gold in the sample and the activation is then picked up using a sensitive detector. The method takes only a few minutes, is fully automatic and completely non-destructive. CSIRO tests show it can be two-to-three times more accurate than the standard industry technique of fire assay.
This means that mining companies can measure material coming in to and out of their processing plants much more rapidly and precisely. This allows them to monitor process performance in real-time, and potentially recover millions of dollars worth of gold that would otherwise be discarded. Another advantage of GAA is that it is more sustainable, as unlike fire assay it does not require the use of heavy metals such as lead.
While most of the work done so far has been based on the gold industry, the technique can be modified for other valuable commodities such as silver, lead, zinc, tin, copper and the platinum group metals.
Now that the effectiveness of the technique has been proven, CSIRO is looking to partner with local and international companies to establish a full-scale analysis facility to support Australia's mining industry.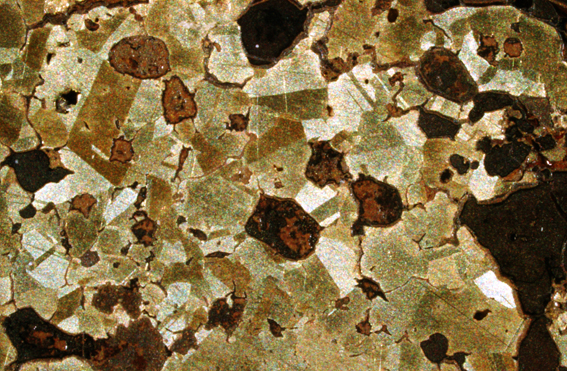 Information about the National Innovation System is available in the Australian Innovation System Report at: Australian Innovation System - annual series

Wireless Local Area Networks
Data source: Web of Science (acquired 15 May 2014); Articles & Reviews, 2009-13
Proceedings of the National Academy of Sciences (PNAS)
Data Source: Web of Science, Thomson-Reuters
See Glossary for the Divisional Capability Review Terms of Reference.
See organisational chart for the structure of each Research Group.