We are committed to providing all staff and affiliates with a work environment that is physically safe and psychologically supportive. We hold strongly to our vision of Zero Harm, in which we protect the environment and our people go home safely each day with a sense of pride and achievement.
In 2013–14, our combined efforts resulted in 17 fewer staff suffering an injury serious enough to prevent them from coming to work. These injuries occurred at a rate of 3.4 per million hours worked (see Figure 3.1), 28 per cent lower than the 4.7 lost time injury frequency rate (LTIFR) of 2012–13. Such a significant reduction is testimony to the continued and dedicated effort of many of our people to live our CSIRO Values.
Lost time injuries per million hours worked.
Year
LTIFR
psychological
LTIFR
physical
2011–12
0.5
4.6
2012–13
0.7
4.0
2013–14
0.1
3.3
Over the last several years musculoskeletal disorders have remained the most frequent cause of injury to our people. Although not life-threatening, these injuries are always painful and often debilitating. In 2013–14, 133 of our staff experienced an injury which required time off work or medical treatment, and 50 (38 per cent) of these occurred in an office environment (see Figure 3.2). In response, the Wellnomics computer work-pace and risk management software has been installed on all Windows computers, providing our people with a rich assessment of their computer use habits. The gathered data will inform the design of future interventions including those targeting repetitive-type activities.
Serious injuries per million hours worked.

| Year | Medical treatment injury frequency rate | Lost time injury frequency rate |
| --- | --- | --- |
| 2011–12 | 8.0 | 5.1 |
| 2012–13 | 8.2 | 4.7 |
| 2013–14 | 9.5 | 3.4 |
We are also focused on preventing injuries which are low frequency but have the potential to cause death or permanent disability. These high-potential incidents are typically reportable to Comcare. In 2013–14 there were 13 reportable incidents, down from 19 in 2012–13 (30 per cent reduction) (see Figure 3.3).
On 12 May 2014, Comcare issued CSIRO with an improvement notice under Section 19 of the Work Health and Safety Act 2011 (WHS Act) related to possible exposure to dust potentially containing asbestos of three workers employed by a contractor.
Additionally there were no radiation or environmental incidents reportable to government regulators in 2013–14.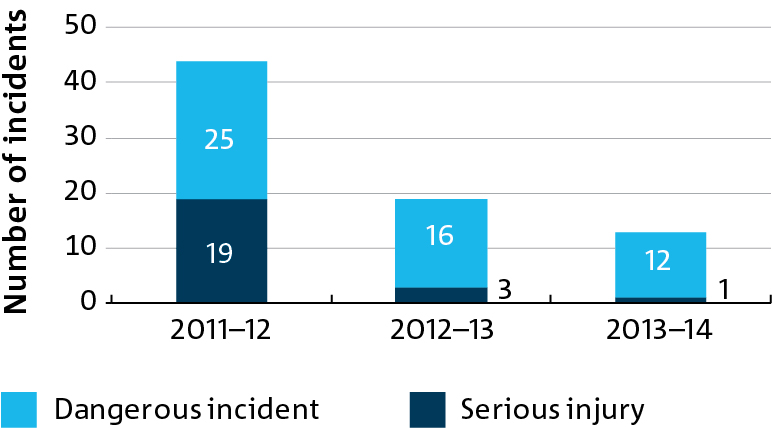 Number of incidents.

| Year | Dangerous incident | Serious injury |
| --- | --- | --- |
| 2011–12 | 25 | 19 |
| 2012–13 | 16 | 3 |
| 2013–14 | 12 | 1 |
We hold strongly to our vision of Zero Harm, in which we protect the environment and our people go home safely each day with a sense of pride and achievement.
HSE Strategy
Our 2011–15 HSE Strategy includes several initiatives designed to improve our health, safety and environmental performance and progress our safety culture. During 2013–14, the following strategic initiatives were progressed:
HSE leadership training for line managers continued with more than 1000 leaders now trained. This program focuses on leadership behaviours and responsibilities and prepares participants to lead our HSE agenda amongst their teams and work groups.
A Training Officer has been recruited and has developed capabilities in eLearning authoring and video production. This role will be producing self-paced, on-demand training materials so our people have ready access to relevant and meaningful instruction at their time of need.
Our CSIRO Wellbeing at Work Strategy was developed by Human Resources in close collaboration with our HSE team. Implementing this strategy will improve our ability to ensure our people are provided with a psychologically supportive work environment.
A wholesale review of our injury management procedures was completed and an audit by Comcare rated this new system 92 per cent compliant with their Rehabilitation Guidelines. Key improvements included new performance metrics and a new Memorandum of Understanding with the Department of Defence which allows us to access their panel of injury management service providers.
A fatality risk protocol has been drafted which outlines how high-potential risks are to be managed over and above our standard risk management practices. This protocol is currently being applied to fatality risks associated with all-terrain vehicles, forklifts, electrical work and pressure vessels.
The Wellnomics computer work-pace and risk management software was installed on all Windows computers providing our people with rich data regarding their computer use habits and allowing HSE staff to intervene when computer use is creating an elevated risk.
Contractor HSE management procedures have been rewritten and a new training program is being delivered to assist staff to identify and manage risks arising from work by contractors.
We undertook a significant asbestos removal program to minimise the risk to health and safety of our people and minimise the potential for environmental contamination. While the program focused predominantly on removing asbestos from building structures (for example wall cladding and roof materials), we also undertook remediation of asbestos-contaminated soil at our Crace site in Canberra. The project required the removal of contaminated topsoil surrounding several buildings and replaced with new topsoil. Both the roof and contaminated soil were remediated successfully using approved contractors.
Our internal HSE audit program continued and five business units have now been completed. These audits provide business units with an accurate assessment of the level of implementation of our HSE procedures, highlighting opportunities for further improvement.
1000+ leaders have completed HSE training for line managers.
2014–15 is the final year of this HSE Strategy and the focus in the next 12 months will primarily be upon fatality prevention, musculoskeletal disorders and the continued development of a culture in which health, safety and environmental risks are recognised by all staff and the ongoing management of these risks becomes entrenched in the way we approach our work and do business.