My first year as Chief Executive has been an extraordinary experience.
In my short time with CSIRO, I have been privileged to be introduced to a broad portfolio of world-leading science, technology and innovation with the potential to deliver long-term, sustaining value to our customers in government and industry, and long-term benefit to the nation.
I would like to acknowledge the leadership of Megan Clark, who completed her tenure as CSIRO's Chief Executive at the end of 2014, leaving us all a remarkable legacy.
This is an exciting time for CSIRO, and our ambitious Strategy 2020 will help us position ourselves as an innovation catalyst for Australia, seeing us focus very clearly on a mission to create value for customers through innovation to deliver positive economic, environmental and social benefit for Australia.
We will achieve this by putting our customers and the value they seek first, collaborating more deeply and integrating the capabilities of others with our own, to deliver the best outcome. We will work more globally, to enhance the market vision and global access for customers, and we will seek to increase our capacity for breakthrough innovation to help reinvent existing industries, create new industries for Australia and deliver social and environmental value.
I am especially proud that the strategy is largely driven by the great thinking of CSIRO's people, our most valuable resource. For the first time ever, we crowd-sourced the ideas of our staff, industry partners and the community, to deliver a new vision and goal for our organisation.
Success for CSIRO is not our success alone. It is making a serious contribution to boosting Australia's innovation performance, which on most indices is poor compared to other advanced economies. We don't succeed unless others succeed, and we can't succeed alone.
Our vision – Australia's Innovation Catalyst
Innovation is in our DNA. In the 1950s, we saved Australia's greatest industry, by enabling wool to be woven, washable without shrinking, and pleated into suits. We recently re-purposed that weaving technology to enable carbon-fibre circuits in clothing, and to create a unique 3D material for Victorian SME Textor Technologies that is now the most innovative product for Kimberley Clarke, a global multinational. Industries can and must reinvent themselves, and CSIRO must be every vigilant of disruptive innovations affecting Australia.
An example is our 3D titanium printing capabilities, which are opening new doors for the treatment of medical conditions across the world. In the last year, CSIRO, together with the St Vincent's Hospital and biotech company Anatomics, produced a titanium-printed heel bone for a world-first surgery on a Melbourne man. The heel was successfully implanted into the 71-year old, who had been diagnosed with cancer of the heel bone and was facing amputation of the leg below the knee. This collaboration saved the patient's leg from amputation. Innovative products like this are helping to improve the quality of people's lives.
In another innovative solution to a national challenge of reducing energy consumption, CSIRO created a building energy management system for heating, ventilation and air conditioning – OptiCOOL. The technology has been widely adopted, controlling approximately 15 million square feet of floor space in Australia and the US. The impacts include reduced energy consumption in commercial buildings up to 30 per cent, greater electricity grid stability, reduced greenhouse gas emissions and employment opportunities through licensee BuildingIQ.
In the last year we launched the Marine National Facility – the RV Investigator. Funded by the Australian Government and operated by CSIRO, the Marine National Facility operates Australia's only blue-water research vessel dedicated to marine research throughout Australia's vast ocean territories.
The Investigator is exploring the southern ocean and aiding new technological research, which should leverage Australian marine science to be at the forefront of the world. The Investigator recently discovered extinct volcanoes just off the coast of Sydney.
Global outlook, national benefit through collaborations
Our customers are seeking the best capability to solve their problems, and that capability will not always be within CSIRO. While we are a high-performing and differentiated applied R&D organisation, CSIRO today represents less than five per cent of the research capability in Australia. We are aiming to more effectively source and integrate research capability from outside CSIRO, offer our customers unique value and ensure that we are a provider of choice. This helps us deliver the best solutions for our customers and make the connections that support a more collaborative and efficient Australian innovation system.
In an example of a successful collaboration, CSIRO is working with Chinese partners to deliver exceptional science outcomes with real prospects of transforming the productivity and environmental performance of global iron smelting. CSIRO is partnering with Beijing MCC Equipment Research and Design to commercialise our dry slag granulation technology.
Helping to forge a future in green steelmaking, this Australia-China research collaboration has led to the development of the new smart technology able to harvest furnace waste and convert it into a new product to make cement while reducing water use and greenhouse gas emissions.
Vibrant culture
We continue to invest in and enable a staff culture that is vibrant and innovative. We hire the best and brightest people to provide answers to national challenges through research and development. Where we are co-located with universities or have active student engagement, the culture is more vibrant and innovative. Students bring age, multicultural and gender diversity, fresh perspectives, and an attitude to try things differently and take risks. We embrace this model and will expand it.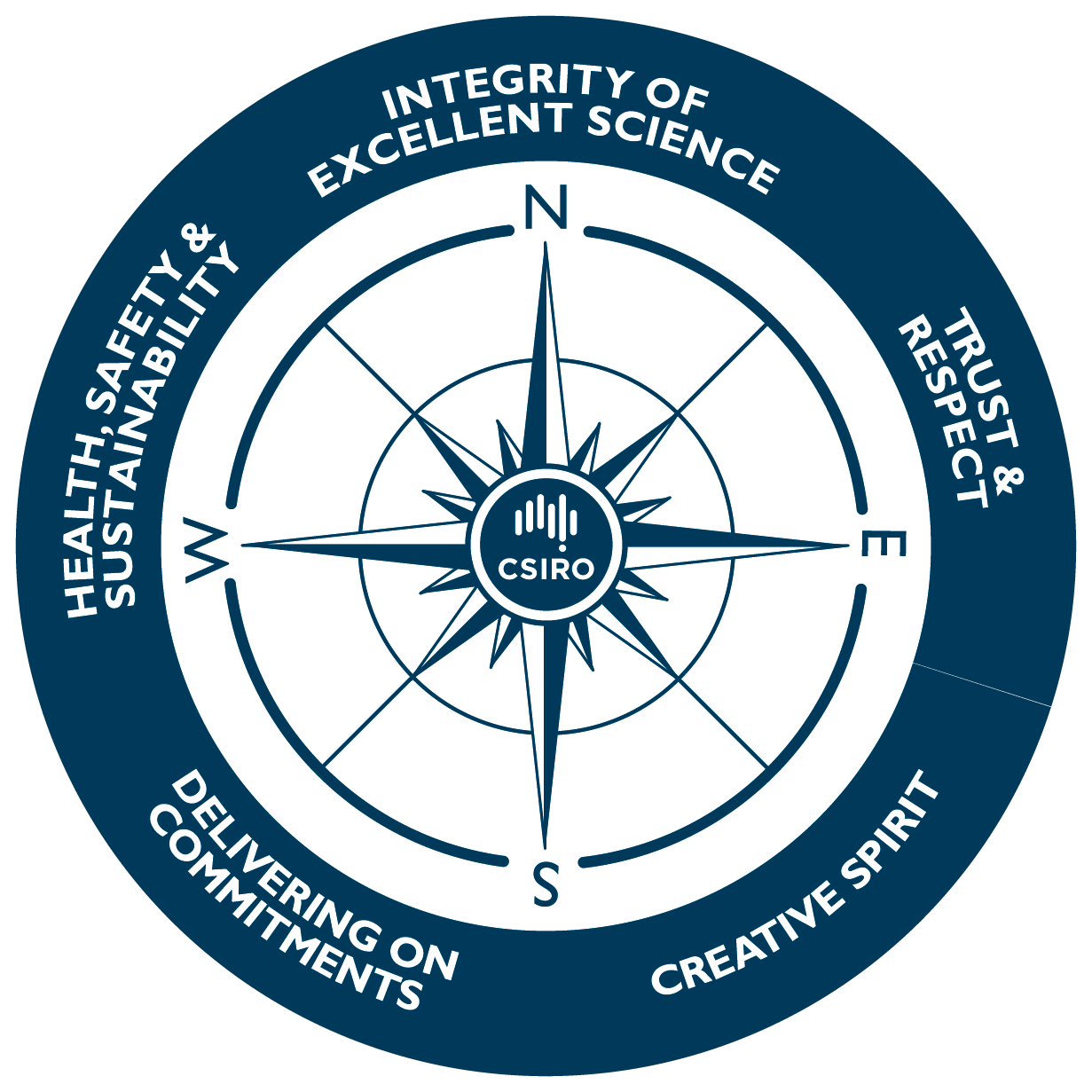 We currently co-supervise more than 750 postgraduate students with our university partners and take on hundreds of interns across our business.
We are also engaged in school programs and are seeking to grow these numbers significantly to help build the science, technology, engineering and mathematics (STEM) and innovation workforce. CSIRO is partnering with the BHP Billiton Foundation on a $28.8 million, five-year project to deliver education programs, excellence awards, mentoring, summer schools and tailored university degrees aimed at closing the gap in Aboriginal and Torres Strait Islander achievement and employment in STEM.
The measure of CSIRO's success comes from our people, and we strive to create a trustworthy and respectful environment where coming to work is seen as a benefit to the Australian community.
The year ahead
We will position CSIRO to become Australia's innovation catalyst, implementing a number of changes that will see us focus on value creation and the delivery of innovative solutions to help our customers invent or reinvent themselves.
One of the major initiatives is CSIRO 'ON'. Launched in June 2015, ON provides a path for the best ideas in CSIRO to be identified and accelerated. It will build our entrepreneurial skills, connection and culture and provide new funding models for high-potential ventures.
I believe we are more relevant to our customers today than when we first opened the doors. Our pioneering spirit is strong, and I am genuinely excited to be a part of the organisation's next chapter as a more entrepreneurial, innovative and customer focused CSIRO that provides tangible benefit to Australia.
Dr Larry Marshall
Chief Executive of the CSIRO