The highlights, deliverables and performance of our National Research Infrastructure, and National Research Facilities and Biological Collections.
CSIRO hosts National Research Infrastructure on behalf of the broader scientific community to assist with the delivery of research. There are two types of National Research Infrastructure: National Research Facilities and National Biological Collections.
Objectives and deliverables
We operate a range of specialised laboratories, scientific and testing equipment and other research facilities. These are available for use by Australian and international researchers and are not restricted to CSIRO staff. The National Research Facilities include:
The Australian Animal Health Laboratory (AAHL)
The Australia Telescope National Facility (ATNF)
The Marine National Facility (MNF)
Pawsey Centre.
CSIRO's National Research Collections Australia (NRCA) comprises six national biological collections and the Atlas of Living Australia (ALA), funded by the National Collaborative Research Infrastructure Strategy (NCRIS). These collections and the ALA are available to all researchers and are storehouses of information on Australia's biodiversity. They support a significant part of the country's taxonomic, genetic, bio-geographical and ecological research and are a vital resource for conservation and science.
The national biological collections include:
Australian National Fish Collection (ANFC), specialising in marine fishes
Australian National Herbarium (ANH), specialising in native plants and weeds
Australian National Insect Collection (ANIC), specialising in terrestrial invertebrates
Australian National Wildlife Collection (ANWC), specialising in terrestrial vertebrates
Australian National Algae Culture Collection (ANACC), specialising in living microalgae cultures
Australian Tree Seed Centre (ATSC), specialising in supplying tree seed to both domestic and overseas customers.
The Atlas of Living Australia (ALA) contains information on all the known species in Australia, aggregated from a wide range of data providers including museums, herbaria, community groups, government departments, individuals and universities.
CSIRO also manages over 20 smaller collections of interest that contribute to the discovery, inventory, understanding and conservation of Australia's biological diversity.
In 2014–15, among many other achievements, we helped manage a major disease outbreak in South East Asia, began operating the most advanced public research supercomputers in the southern hemisphere and managed 15+ million physical specimens on behalf of Australia.
Program performance
This year, our National Research Infrastructure Program continued to perform well. An assessment of the Program's four key performance indicators (KPIs) identified in the Portfolio Budget Statements, showed we have largely met expectations and targets. Table 2.9 provides an overview of the evidence for each KPI with a more detailed analysis following.
Table 2.9: PERFORMANCE INDICATORS FOR PROGRAM 2 – NATIONAL RESEARCH INFRASTRUCTURE.

| Key performance indicator | Target (and performance assessment) | Performance |
| --- | --- | --- |
| Utilisation of the National Research Infrastructure and Collections | Maintain or Increase* | We maintained the availability levels and supported an increase in the use of the National Research Infrastructure under its custodianship. The new MNF research vessel RV Investigator was launched and three scientific research voyages have been undertaken, for a total of 44 days at sea. |
| National Research Infrastructure maintained or operated to appropriate standards | Meet International Standards* | We achieved compliance with relevant Australian and International Standards. The Science Operations Centre at the ATNF's headquarters in Sydney became the default location for observing with the Compact Array. Astronomers can now operate Parkes or the Compact Array from their home institutions. |
| Maintain or increase the proportion of collections available to researchers and the public, including digitised and non-digitised | Maintain or Increase* | We maintained the proportion of the National Biological Collections that are digitised. The Australian National Algae Culture Collection achieved 100 per cent digitisation during the year. |
| Demonstrated response to national events | Timely Response* | AAHL continued to play a key role in Avian influenza surveillance and diagnostics and is advancing Yellowhead virus diagnostics to protect Australia's shrimp and prawn industry. |
* Shading: indicates positive progress for the year and that the target has been achieved.
Australian Animal Health Laboratory
AAHL, located in Geelong, Victoria, is recognised nationally and internationally as a centre of excellence in disease diagnosis, research and policy advice in animal health and human diseases of animal origin (zoonoses). AAHL helps protect not only Australia's billion dollar livestock and aquaculture industries, but also the general public from exotic and emerging infectious diseases. One of the world's largest high-containment laboratories, our facilities enable work on the most dangerous pathogens and our expertise in biosecurity and biosafety is sought after by customers around the world.
Utilisation
AAHL is supported under the Australian Government's NCRIS as a crucial part of Australia's biosecurity infrastructure.
The user base for the AAHL laboratories has been expanding through a variety of initiatives. During the past year AAHL held international biosafety and biosecurity training courses involving delegates from seven countries. This training helps reduce the risks of bioterrorism, by enhancing biosecurity measures at high containment laboratories around the world.
We have trained diagnostic staff from the Asian region and provided diagnostic services to assist in the management of disease outbreaks both locally and more widely. Regional capability development such as this contributes to trade access, regional food security, improved public health in the Asia Pacific region, soft diplomacy and enhanced pre-border biosecurity for Australia.
We also established new collaborative partnerships with Barwon Health, one of Victoria's state health services, to facilitate research into two infectious pathogens of public health concern.
AAHL's unique large animal facility has enabled ground-breaking research into the development of an innovative animal model for testing disease pathogenesis. This model has attracted considerable interest due to its potential to facilitate the testing and registration of new human therapeutics against viruses such as Ebola.
Maintenance and operation
The AAHL modernisation program has progressed through the expression of interest stage to tender for design. Capital upgrade is essential to ensure the facility continues to meet or exceed all regulatory standards, now and into the future. It will also ensure AAHL is best equipped to meet the diagnostic and research demands involved in protecting Australia from infectious pathogens that may pose a threat to the health of our animals, industries and people.
Maintaining and reviewing the microbiological and physical security of AAHL has been a constant priority since AAHL was officially opened in April 1985. In addition to our regular reviews, this past year AAHL conducted a major Protective Security Risk Review. Recommendations from the review have been endorsed and significant upgrades to many of our security systems have commenced. AAHL continues with its aim of maintaining or exceeding the many regulatory requirements specified by the Department of Agriculture, the Office of the Gene Technology Regulator and the Department of Health's Security Sensitive Biological Agent legislation, while also ensuring all relevant ISO accreditation.
Demonstrated response to national events
While AAHL's involvement in terrestrial animal disease outbreaks has received widespread publicity over recent years, our work with aquatic animal species, from investigating diseases of risk to the Tasmanian salmon industry to characterising new viruses affecting Southern Australia's abalone populations, has quietly continued.
AAHL is designated by the World Organization for Animal Health as an international reference laboratory for Yellowhead virus (YHV), a viral infection of prawns, in particular the giant tiger prawn (Penaeus monodon), which has caused mass mortalities of farmed shrimp in Thailand.
Australian wild-caught and farmed prawn production, forecast at 24 kilotonnes in 2014–15, is valued at more than $310 million and is an important natural resource and valuable export industry, particularly for northern Australia.
The YHV1 genotype of the virus can cause 100 per cent mortality of farmed prawns in three to five days. This highly pathogenic strain is exotic to Australia, but a closely-related less pathogenic genotype, gill-associated virus (GAV or YHV2), has been known to be present in wild and farmed giant tiger prawns in eastern Australia.
As part of a research project to improve AAHL's Yellowhead virus diagnostic capability and uphold the quality of Australia's ongoing quarantine, AAHL's Fish Diseases Laboratory diagnosed two new YHV genotypes (YHV8 and YHV10) in imported prawns. AAHL has now commenced a research project to determine the potential risk of these new YHV genotypes, as well as to develop more sensitive and specific diagnostic tests for the various YHV genotypes. The findings will deliver impact to the Australian prawn market and also facilitate disease management strategies in the Asian region.
AAHL continues to play a key role in Avian influenza surveillance and diagnostics, and the past year has also seen us expand our work to include surveillance of Australian pigs as well as birds. While many of the viruses of risk to Australia are known as zoonotic diseases, those that pass from animals to human, influenza in swine is a 'reverse-zoonosis', meaning that pigs can be infected with human strains of the viruses. Our surveillance has shown that pigs can re-assort animal and human strains of the virus to form new pathogenic strains. Ongoing surveillance will be of great benefit in helping protect Australian pigs and people from the threat of a new pandemic strain.
AAHL helps manage disease outbreak in South East Asia
AAHL's expertise in the management of zoonotic diseases is well recognised nationally and internationally and AAHL is now a designated World Animal Health Organization International Reference Laboratory for Hendra and Nipah Virus, as well as an International Collaborating Centre for New and Emerging Diseases.
The World Health Organization (WHO) contacted AAHL on behalf of the Philippines Department of Health and the Research Institute of Tropical Medicine (RITM) to request assistance in the management of a deadly disease outbreak affecting both animals and people. One of AAHL's diagnostic veterinarians was deployed on the ground in the Philippines as part of an international effort involving staff from the Philippines Department of Health and Department of Agriculture, RITM, and the United States Centers for Disease Control and others. Samples were collected and sent back to AAHL to our team of diagnostic scientists, who characterized the virus and confirmed the diagnosis of highly pathogenic Nipah virus.
AAHL's role in the successful management of this outbreak has led to funding from the Australian Centre for International Agricultural Research to conduct a research project on the epidemiology of Henipaviruses in Sultan Kudarat, in the Philippines, which includes collaborations with the Bureau of Animal Industries and RITM.
Furthermore, at the request of the WHO, AAHL will host a visiting scientist from the RITM Special Pathogens Laboratory for three months of capability training. This scientist will work alongside one of our leading dangerous pathogens virologists to investigate the pathogenicity of the Ebola Reston strain, isolated from a separate disease outbreak in pigs in the Philippines some years ago.
Australia Telescope National Facility
Radio astronomy is one of the major branches of modern astronomy. Studying the radio waves emitted by stars, galaxies and gas clouds gives us a deeper understanding of astrophysical processes, just as an X-ray of a human body adds to what we can learn from an ordinary photograph.
CSIRO's radio astronomy observatories are collectively known as the Australia Telescope National Facility (ATNF). The ATNF operates three telescopes in New South Wales, near the towns of Parkes, Narrabri and Coonabarabran, and is developing a fourth, the Australian Square Kilometre Array Pathfinder (ASKAP), in Western Australia. These observatories are supported by staff and facilities at the ATNF's headquarters in Sydney.
CSIRO also operates the Canberra Deep Space Communication Complex (CDSCC), which is responsible for meeting the Government's obligations under the USA-Australia Agreements for deep space tracking and communications in Australia. CSIRO, through CDSCC, provides critical front line mission control support to NASA for all its deep space missions studying our Solar System. During 2014–15, CDSCC tracked over 40 interplanetary spacecraft missions and provided radio and radar astronomy observations for the exploration of the Solar System and the universe. The CSIRO activity is underpinned by a strategic partnership with NASA, within the framework of a bilateral space tracking treaty between Australia and the USA.
As a national facility, the ATNF operates major instruments that would be beyond the capacity of a single university to run. It is managed with the aim of maximising scientific return, as measured through the publication record of telescope users.
All Australian and overseas researchers can apply to use ATNF facilities, under a competitive process,
ensuring that the telescopes are used for the best possible science. Telescope operations are aimed at achieving high reliability and excellent data quality, and telescope users receive extensive support. Research conducted with ATNF facilities has high-level impact, with the Parkes and Compact Array telescopes ranked by an independent study as second and third in the world among radio telescopes, in terms of the total number of citations to research papers1.
Utilisation
Observing time on ATNF telescopes is determined on the scientific merit of the observing proposals submitted by research teams. Proposals are assessed twice a year, and observations scheduled in two six-month semesters. In 2014 research teams of more than 890 individual astronomers submitted proposals. Observing time at the Mopra telescope near Coonabarabran is primarily dedicated to researchers from the National Astronomical Observatory of Japan, the University of NSW and the University of Adelaide, as the telescope is now funded by these groups. However, some observing time is made available to the general astronomical community as National Facility time.
Observers have an 18-month proprietary period after the observation during which they have sole access to their data. After this period the data are made publicly available to astronomers worldwide. Compact Array, Mopra, and some Parkes data are archived on the Australia Telescope On-line Archive2, with most Parkes data from pulsar observing archived on the CSIRO Data Access Portal3.
Time allocation is calculated by dividing the time awarded to an observing project by the number of members in that observing team. The figures for 2014 include the National Facility time allocation for the Compact Array, Parkes and Mopra.
Table 2.10: UTILISATION OF Australia Telescope National Facility.

| Access to ATNF | 2010–11 | 2011–12 | 2012–13 | 2013–14 | 2014–15 |
| --- | --- | --- | --- | --- | --- |
| Time allocated to observations (%) | 72.4 | 73.6 | 76.7 | 76.8 | 76.3 |
| Time lost to equipment failure (%) | 3.1 | 2.7 | 2.7 | 3.3 | 2.2 |
| Time allocated to CSIRO staff (%) | 24 | 22 | 22 | 19 | 22.5 |
| Time allocated to other Australian researchers (%) | 25 | 21 | 28 | 30.3 | 28.4 |
| Time allocated to international researchers (%) | 51 | 57 | 50 | 50.7 | 49.1 |
Maintenance and operation
In 2013, systems were put in place to allow astronomers to control the Parkes radio telescope from the new Science Operations Centre (SOC) at the ATNF's headquarters in Sydney, and in 2014 the SOC also became the default location for observing with the Compact Array. Once qualified in its use, astronomers can operate Parkes or the Compact Array from their home institutions. Several times each year the ATNF telescopes combine with other telescopes in Australia and overseas to co-observe using a technique called Very Long Baseline Interferometry. This enables an improvement by a factor of several thousand in the detail that can be seen in resulting images of objects in our galaxy, or at the bright cores of distant galaxies and quasars.
The SOC is also used by the team commissioning the ASKAP in Western Australia; from the SOC, the team can make observations with the Boolardy Engineering Test Array (BETA), a set of six of ASKAP's 36 antennas. The BETA antennas have been fitted with first-generation widefield phased-array feeds, in essence, 'radio cameras' for imaging the sky, while development of improved second-generation feeds continues. This year has seen dramatic improvements in the images being produced by the BETA array. Several scientific papers on BETA results, described below, have been submitted for publication.
First science from the ASKAP
CSIRO is developing the ASKAP in Western Australia to be a world-class radio telescope for surveys of the whole sky. The telescope is being commissioned using six of its 36 antennas, outfitted with phased-array feeds 'radio cameras' giving an extremely wide field of view on the sky. Three results arising from commissioning projects carried out in 2014, all led by CSIRO scientists, have now been submitted for publication.
In one project, the research team found giant, starless clouds of hydrogen gas near a galaxy called IC 5270. This gas was probably stripped out of the galaxy by other galaxies passing close by. The finding confirms that ASKAP will be sensitive enough to spot such stripped gas around thousands of galaxies, helping us better understand galaxy evolution.
A second project involved observations of a pulsar (a small star that produces regular pulses of radio waves) called J1107-5907. Much of the time this pulsar is 'turned off', producing no detectable pulses. Such part-time pulsars are hard to find with traditional pulsar surveys. But ASKAP spotted the pulsar easily, suggesting it could uncover a new population of these objects.
ASKAP will also be able to detect galaxies other telescopes can't. In a third project, observers recorded a five-billion-year-old radio signal from the galaxy PKS B1740-517. A small dip showed that the signal had travelled through hydrogen gas in a galaxy on its way to Earth. The dip would have been missed at many radio observatories, but ASKAP's home, the Murchison Radio-astronomy Observatory, is so 'radio quiet' that it stood out clearly. The finding means that ASKAP will be able to discover thousands of galaxies up to eight billion years old, helping us learn why the universe forms fewer stars than it used to.
Last year the ASKAP commissioning team made an image that covered ten square degrees of the sky, or 50 times the area of the full moon. The team has now made an image covering an extraordinary 150 square degrees. Observations of this field taken weeks apart have confirmed that the telescope is extremely stable.
Marine National Facility
Funded by the Australian Government since 1984 and hosted by CSIRO, the Marine National Facility (MNF) is a keystone element of the nation's research infrastructure, providing the only blue-water research capability available to Australian researchers and their international collaborators for work in Australia's vast marine estate. Access is provided through a competitive, independent, peer-reviewed applications process focused on scientific and/or technical excellence, the potential to contribute to Australia's national benefit and the ability of the research team. This ensures research undertaken through the MNF is specifically selected for its excellence and contribution to Australia's national benefit. It provides key information to government, industry and other stakeholders to support evidence-based decision-making focused on research challenges in fisheries management, geological resources, regional and global climate, coastal and offshore developments and marine operations.
Utilisation
With much of this year devoted to commissioning the new MNF research vessel RV Investigator, three scientific research voyages have been undertaken for a total of 44 days at sea (see Table 2.11). Participants in these voyages were 64 scientists from 11 Australian research agencies and their international collaborators from New Zealand, France and Canada. This number will increase significantly in coming years as commissioning activities give way to research voyages and the supplementary applications process seeks to fill unused berths on research and transit voyages.
The MNF has also maintained a commitment to developing the next generation of Australian blue-water scientists by providing training opportunities on board Investigator, primarily through the supplementary application process. In February 2015, the MNF Steering Committee furthered this commitment, joining a consortium of Australian higher education agencies to establish a national postgraduate level, sea-going training program. Led by Macquarie University, the Strategic Marine Alliance Research, Teaching and Training (SMART2) program aims to provide Australian post-graduate marine research students with targeted training and experience by establishing a national standard syllabus, with the incorporation of marine industry approved sea safety and survival training certification.
Table 2.11: UTILISATION OF THE MNF.

| Access to the MNF | 2014–15 |
| --- | --- |
| Research days scheduled | 44 |
| Research days delivered | 44 |
| Scientist days possible | 1,300 |
| Scientist days delivered | 947 |
| Time allocated to CSIRO researchers (%) | 61 |
| Time allocated to other Australian researchers (%) | 39 |
Maintenance and operation
Following delivery of Investigator to Hobart in September 2014, much of the 2014–15 period was dedicated to commissioning activities and trial voyages to fully test Investigator and associated scientific equipment, as well as providing training opportunities for marine crew, MNF support staff and scientists, prior to the first research voyages. The trial voyages have successfully tested the vessel's geoscience, atmospheric, oceanographic and biological research capabilities and included Investigator's maiden cold-water voyage to the Antarctic ice edge.
Feedback from all parties involved has been very positive, as excitement builds regarding new research possibilities now becoming available. Of particular note, both the crew and scientists have been impressed with the stability of the vessel in heavy seas and the effectiveness of the dynamic positioning system in holding the vessel on station, thus providing a safe and effective operational platform for scientific activities at sea.
Delivery and commissioning of Australia's new world class MNF research vessel
With two thirds of Australia's total territory located underwater, at nearly 14 million square kilometres we have the third largest marine jurisdiction globally, of which only about 25 per cent has been mapped or explored in any detail. Australia has sovereign rights over much of this vast estate and its associated fishing, mineral and petroleum resources. Underpinning the growth and sustainability of ocean-based industries, Australian territorial claims and international research obligations for future generations is the knowledge generated by Australian marine scientists, and the supporting infrastructure provided by the MNF.
In September 2014, Australia's new state of the art research vessel Investigator was delivered to the MNF in Hobart, marking a step change in Australian marine and atmospheric research capability. Investigator can undertake voyages from the tropics to the Antarctic ice edge of up to 60 days in duration with as many as 40 scientists, a substantial increase in capacity over the previous MNF research vessel RV Southern Surveyor, which could carry no more than 15 scientists on voyages of up to 28 days in duration. Investigator hosts an extensive suite of the latest scientific research equipment and is one of a handful of research vessels globally, designed for very quiet operation with the ability to undertake acoustic mapping and sampling to the deepest parts of our oceans. With these capabilities, Investigator will act as a catalyst for international collaboration.
With applications for sea time on Investigator currently seeking over 800 days per year, the MNF has developed a multi-year research schedule which has been optimised through supplementary applications to utilise any spare capacity available on voyages with student training and opportunistic science projects. Utilising Investigator's greatly increased capacities has also enabled multiple primary applications to be accommodated on a Southern Ocean voyage, which will undertake deep sea moorings servicing, atmospheric research and biogeochemical oceanography on a single voyage.
Pawsey Supercomputing Centre
The Pawsey Supercomputing Centre commenced operations in 2014 and provides some of the most advanced compute and storage infrastructure in the world. The centre has two powerful supercomputers – Galaxy, specifically for radio astronomy operations and research, and Magnus, used for a variety of science. Enabling ground breaking scientific research is the central focus of Pawsey's purpose.
The Pawsey Supercomputing Centre received $90 million in funding between 2009–15, as part of the Australian Government's measures to enable national research infrastructure under NCRIS and related programs through the Commonwealth Department of Education.
Pawsey is currently serving over 80 organisations and achieving unprecedented results in science domains such as radio astronomy, geosciences, engineering, bioinformatics and health sciences. Pawsey also attracts research and development investment and up-skills scientists.
Pawsey's supercomputers and advanced data storage is critical to processing, storing and analysing the data from the Australian SKA Pathfinder (ASKAP) and the Murchison Wideband Array (MWA) and Pawsey partners closely with the International Centre for Radio Astronomy Research to curate and publish the data from these projects for the international research community.
Utilisation
Pawsey allocates compute time to researchers through project awards. Proposals for projects may be submitted through one of a number of schemes: the National Computational Merit Allocation Scheme (NCMAS), the Pawsey Geosciences Merit Allocation Scheme, the Astronomy Supercomputing Time Allocation Scheme, the Pawsey Partner Merit Allocation Scheme, and the Pawsey Director's Allocation Scheme.
Through these allocation schemes, Pawsey strives to maximise research impact, promote scientific advantage in priority domains such as radio astronomy and geosciences, provide leading-edge, supercomputing resources for researchers in Pawsey's partner institutions, and enable wider adoption of and benefit from supercomputing across Australia.
In addition, over the past year Pawsey held 68 training sessions and workshops that attracted over 700 attendees, providing the scientific-computing skills needed in the resources, biotechnology and engineering sectors.
CPU Time Allocation
Table 2.12 outlines the high level in principal central processing unit (CPU) time allocations on the Pawsey supercomputers Magnus (Petascale batch machine) and Galaxy (real-time processor for radio astronomy instruments ASKAP and MWA). The Radio Astronomy and NCMAS allocations are the only fixed allocations: all others are fluid depending on scientific merit and demand.
Data Storage Allocation
Data storage allocations at the Pawsey Centre are predominantly for the radio astronomy projects of ASKAP and MWA. Of the total approximately 35 Petabytes of data storage available, 80 per cent is dedicated to ASKAP and MWA and 20 per cent is available for general science.
Table 2.12: UTILISATION OF THE PAWSEY CPU and DATA STORAGE ALLOCATION.

| Central Processing Unit Time Allocation | 2014–15 |
| --- | --- |
| Radio Astronomy (ASKAP & MWA) | 25% |
| Partner Share (allocated through merit process) | 30% |
| NCMAS | 15% |
| Focussed Domain (Geoscience) | 25% |
| Director's Discretion | 5% |
| Data Storage Allocation | |
| Radio Astronomy | 80% |
| General Science | 20% |
Maintenance and operation
Pawsey operates through an unincorporated joint venture, with the core members being the CSIRO, Curtin University, Edith Cowan University, Murdoch University and the University of Western Australia. It is governed by a Board made up of partner representatives and several independent members, including the Chairman, with CSIRO operating as Centre Agent. The primary funding partners for Pawsey are the Department of Education, the Minister for Science and Innovation (WA Government) and the Pawsey partners. Pawsey employs staff through all of its five partner organisations. CSIRO has employees dedicated to Pawsey, including the Executive Director. The primary site for Pawsey operations is the CSIRO Kensington site.
Pawsey Supercomputing Centre – tools and expertise to process and visualise
The Pawsey Supercomputing Centre is providing world-class tools and expertise to process and visualise astronomy data collected by the ASKAP, a major radio astronomy facility funded and constructed by CSIRO. ASKAP consists of 36 antennas, each equipped with a phased-array feed that generates 36 parallel signals on each antenna. The 36 antenna work together as a single instrument, generating enormous data rates at the equivalent of one DVD every two seconds. This data needs to be processed and the processed data archived synchronously with observations, requiring extremely high levels of computing power.
Galaxy, the real time supercomputer as part of the Pawsey Supercomputing Centre, is playing a crucial role in the ASKAP project, an integral part of the ASKAP telescope. With processing power in excess of 200 TeraFLOPS (200 trillion floating point operations per second), Galaxy runs the Central Science Processor for ASKAP, allowing real-time processing of the data delivered to the Centre from the Murchison Radio-astronomy Observatory near Boolardy, some 350 km inland from the coastal town of Geraldton in Western Australia.
By processing the data in near real-time, CSIRO researchers are able to achieve immediate results from observations in the form of scientifically useful data products like images and archives. This differs from previous, smaller radio telescopes such as the Australian Telescope Compact Array, which would produce data that would be queued for later processing. Pawsey also enables the data received to be reduced to a manageable and storable size before being accessed by the wider science community.
The Pawsey Supercomputing Centre is a critical piece of the infrastructure that will enable Australian scientists to stay at the forefront of radio astronomy, and is on the leading edge of real time computing capability in terms of 'big data' volumes.
At the present time Pawsey is managing data from just the first six antennas making up the ASKAP test array.
National Research Collections Australia
Australia is one of the 17 mega-diverse countries that harbour the majority of the planet's biological diversity. Australia is home to more than 500,000 species of plants and animals, of which approximately 70 per cent are found only on this continent. Managing this unique biodiversity is both a major challenge and an international responsibility with regard to environmental conservation, especially in the face of a changing environment. Importantly, it is a unique resource that can be exploited for bio-based industries, e.g. wild-caught fisheries and algae. Australia also has wild relatives of major crops such as cotton, soybean and macadamia.
Our collections are the most reliable set of nationally representative biological collections and the primary source of specimen-based information about Australia's unique biological assets.
NRCA aims to secure and mobilise the rich biological information of its world-class 'science ready' collections to explore, conserve and exploit our nation's unique biodiversity for the benefit of our environment, the community and industry. It enables us to identify, quantify and explore Australia's biodiversity over time so that we can measure and understand our country's biological diversity for conservation and sustainable management and inform public policy decisions and contribute to management science. It also allows the exploration of biodiversity for commercial purposes and account for cost and benefits in free market transactions.
Utilisation
The 15+ million physical specimens from the six national collections represent a 240-year time-series of data on the occurrence and distribution of native and introduced plants, terrestrial vertebrates, invertebrates, fish, algae and tree seeds.
These collections are available for use by the Australian and international community and are increasingly also publicly accessible. Collection activities include the curation of each collection and the essential core research to make it 'science usable'. The Atlas of Living Australia (ALA) is the primary mechanism for making the data available in electronic format to the wider community.
TABLE 2.13: COMBINED UTILISATION OF NATIONAL BIOLOGICAL COLLECTIONS.4

| Use of National Research Collections Australia | 2010–11 | 2011–12 | 2012–13 | 2013–14 | 2014–15 |
| --- | --- | --- | --- | --- | --- |
| Number of specimens dispatched | 25,925 | 15,548 | 13,660 | 30,514 | 20,156 |
| Outward going loans | 193 | 157 | 153 | 222 | 171 |
| Tissue samples sent | 4,447 | 3,819 | 2,415 | 8,461 | 4,033 |
| Tissue sample grants | 40 | 43 | 74 | 34 | 61 |
| Number of visitors hosted | - | - | - | - | 417 |
| Total visitor research days | - | - | - | - | 651 |
| Number of tours hosted | - | - | - | - | 90 |
| Total number of visitors on tours | - | - | - | - | 695 |
The Australian National Algae Culture Collection (ANACC), through the Australian National Algae Supply Service, supplied living microalgae cultures to 89 customers, 58 domestic and 31 international, from 19 countries. There were a total of 147 sales represented by 311 culture strains and revenue of $49,662. The collection hosted approximately 100 visitors during 2014–15. Of particular note was a visit by the NCRIS Executive to both ANACC and ANFC.
The Australian Tree Seed Centre (ATSC) supplied a total of 77 seed orders to 62 customers comprising 506 bulk seedlots and 1215 individual tree seedlots. This resulted in total sales revenue of $381,667.
Collections available to researchers and the public
The collections continue to place emphasis on digitising specimens for ease of access by researchers and the general public. However, this effort is only just keeping pace with collections growth, hence the perceived lack of improvement in the digitisation figures (Table 2.14).
The Australian National Insect Collection (ANIC) is currently focused on developing and serving a major database of genomic information based on sequencing of 600 Australian insects. The database will serve between 900 Gigabytes and 1 Terabyte of digital sequence data for a broad range of insect species, for use by researchers in CSIRO and elsewhere.
The Australian National Wildlife Collection (ANWC) focused on digitising bird specimens from several recent expeditions to remote locations including the Kimberley and Papua New Guinea, adding rare and valuable specimen record data to the ALA.
The majority of the Australian National Fish Collection (ANFC) specimen records are digitised. Approximately 65 per cent of the registered specimen records are available publicly through the Online Zoological Collections of Australian Museums and the ALA.
The majority of Australian National Herbarium (ANH) Australian specimen records are digitised and available through Australia's Virtual Herbarium and the ALA.
The ANACC specimens are 100 per cent digitised and form an irreplaceable backbone for curation of this living collection. Approximately 60 per cent of these data are available publicly through the ANACC public database and the ALA.
Digitising the ATSC has focused on two aspects. Paper records or 'provenance sheets' have been digitised into PDF format and made searchable from our web-served database. The 'born digital' initiative focuses on storing digital photographs, spreadsheet data and statistical analysis relating to the seedlots on the database.
The ALA has grown rapidly and delivers more than 55 million records and 3.78 billion downloads. Between July 2014 and May 2015, the ALA website was visited 1.19 million times by 620,000 users, an increase from the previous year of approximately 28 per cent. One hundred and sixty-four collections from around Australia contribute data. In a collaborative effort, the National Collections, the ALA and the Digital Productivity Flagship have been developing tools that will enable researchers to combine 3D scans of insect specimens with other data sets and create meaningful 3D annotations.
TABLE 2.14: DIGITISATION OF THE National BIOLOGICAL COLLECTIONS.
Collection
Proportion of collection digitised (%)
2010–11
2011–12
2012–13
2013–14
2014–15
Australian National Insect Collection
5
5
5
5
5
Australian National Wildlife Collection (excluding sound collection)
91
91
92
92
92
Australian National Fish Collection
100
100
100
100
85
Australian National Herbarium
76
76
76
76
76
Australian National Algae Culture Collection
-
-
-
-
100
Australian Tree Seed Centre
65
66
67
68
70
Key achievements
Australian National Insect Collection
Using genomic analysis, scientists have for the first time been able to conclusively establish that insects originated approximately 480 million years ago, and developed the ability to fly about 80 million years later. The study involved 100 researchers from 16 countries, including five from the ANIC, and has been essential to understanding the millions of insect species that shape our environment, and both support and threaten our natural resources. The only way we can understand the enormous species richness and ecological importance of insects is with a reliable reconstruction of how they evolved and are related.
Australian National Wildlife Collection
This year ANWC research has emphasised applying powerful new genomics technologies, to address the ways in which different bird species are evolving when faced with major climatic changes. Understanding how the genome underpins the capacity of different bird species to live in different climates will be important in ensuring the survival of species and provide useful conservation and management tools in 'evolutionary rescue'.
Australian National Fish Collection
The ANFC is a vital resource for Australia's marine fish biodiversity, holding specimens of over 3000 species and an extensive tissue library. These resources are supporting a BioPlatforms Australia project: DNA Barcodes for Australian Fish5.Employing cutting-edge genomic research, over 1000 specimens and 400 species have been barcoded to date: a standardised reference database for rapid species identification and increased species discovery, contributing to international barcode databases. This new research is developing genomic markers for intra and inter-species comparisons and up-skilling external domestic infrastructure providers such as the Ramaciotti Centre for Genomics.
Australian National Herbarium
ANH research on iconic Australian orchids, in conjunction with the Australian Tropical Herbarium, has produced significant classification insights into the evolutionary relationships and diversification of several ecologically and evolutionarily significant Australian terrestrial orchid groups, such as duck, hammer and spider orchids. These findings have helped stabilise the classification and relationships of species within these groups. This new understanding and classification clarity is vital for the conservation and management of species that are listed as either nationally threatened or endangered.
Australian National Algae Culture Collection
Microscopic algae inhabit our world's oceans and, as the primary producers of omega-3 oils, are a great potential alternative and renewable source for 'fish oil'. As concerns increase around depletion of natural fisheries and the health of fish supplies due to pollution, alternative sources of fish oil supplements are being investigated. Research conducted through the ANACC has demonstrated that a specially developed collection of unusual microalgae, called Thaustrochytrids, is an extremely fruitful producer of omega-3 oils. The microalgae have been fed using industrial waste carbon, in the form of crude glycerol. Production is being optimised and will soon be scaled up in the CSIRO Fermentation Facility, with commercial application in the next 10 years.
Australian Tree Seed Centre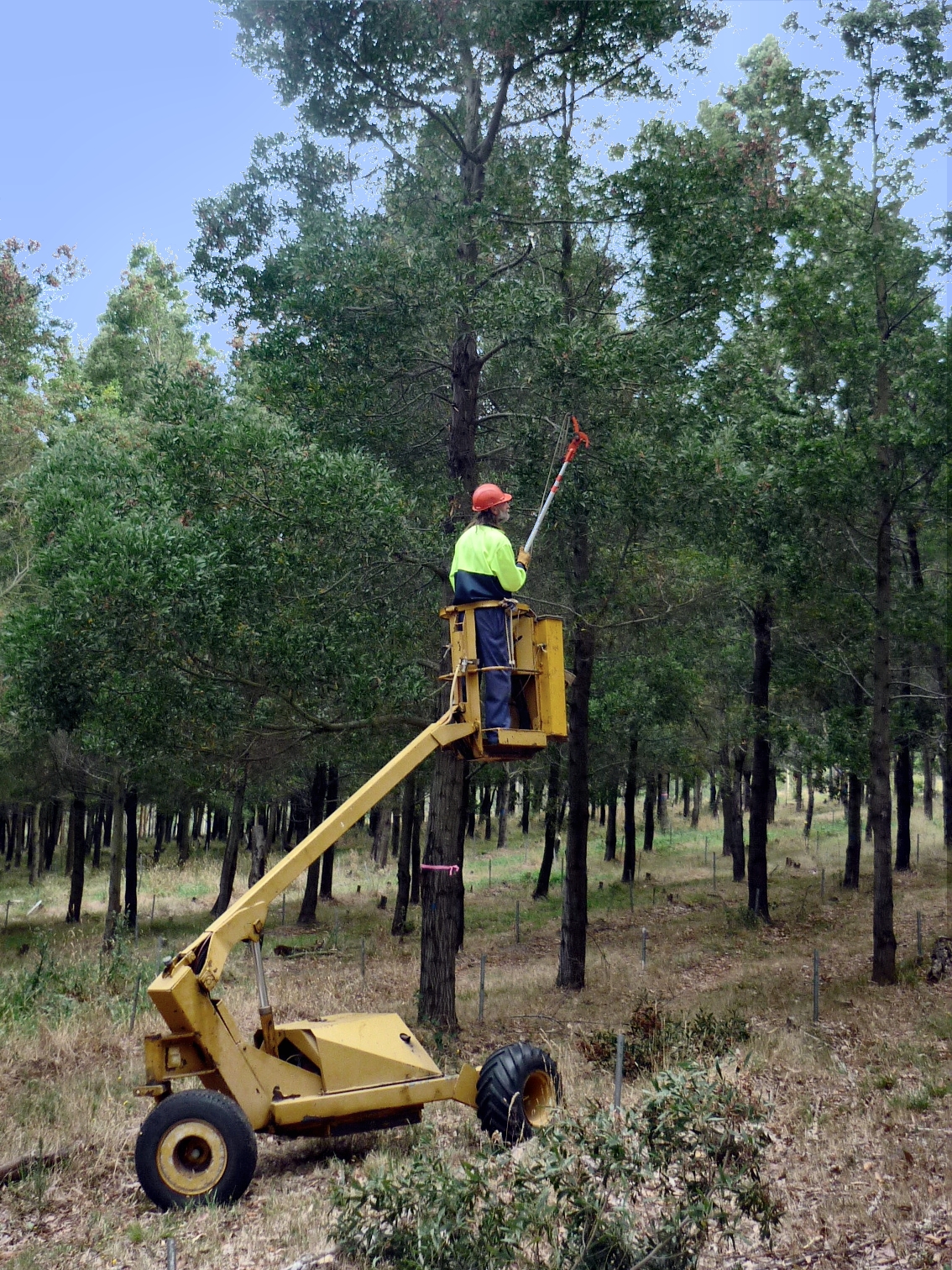 The ATSC's main research focus is on characterising and conserving forest genetic resources. The collection is used extensively by customers in Australia and overseas for breeding, as a source of wild seed, and for genetically improved seed of known pedigree. Research on quantitative and population genetic parameters is a major focus, to support conservation and tree breeding programs. In addition to the stored seed, the ATSC has an extensive network of planted trials, in partnership with other research organisations overseas and with farmers in Australia. The ATSC has worked extensively on development assistance projects in tropical Asia and the Pacific, where Australian forest genetic resources are a critical part of the sustainable plantation base. Key clients for this work include the Australian Centre for International Agricultural Research and DFAT. In Australia, a major focus is on new species that are well-adapted to drier and hotter climates, in anticipation of future land-use and climate change.
Atlas of Living Australia
The ALA has released a new tool for visualising phylogenetic trees and exploring data from evolutionary relationship perspectives, called PhyloLink. This tool enables users to generate flexible, customised visualisations and biodiversity profiles and metrics, through its ability to intersect a phylogenetic tree with species occurrence records, environmental data and character information. Both novices and experts can use the tool, making data exploration and visualisation accessible to a broad range of audiences.
PhyloLink enables users to generate flexible, customised visualisations and biodiversity profiles making data exploration and visualisation accessible to a broad range of audiences.
Excludes ATSC and ANACC, as the function of these collections is as a supply service not coverage.