CSIRO's Research Program activities deliver economic, social and environmental impacts to the nation by providing advice, information and solutions.
CSIRO commits the majority of its resources to this program through large-scale, multidisciplinary research partnerships with Australian universities, publicly funded research institutions, the private sector and selected international organisations. CSIRO also provides technical and advisory services to industry and government. CSIRO Services runs student education programs and provides technical and engineering services, SME support and foresight advisory services.
Our science outreach activities aim to promote the importance of CSIRO science and its application to students, parents, teachers and the Australian community. We support undergraduate, postgraduate and postdoctoral researchers to boost the calibre of researchers working in the Australian community and strengthen Australia's future innovation capacity. We also operate CSIRO Publishing, an independent science and technology publisher which has a global reputation for quality products and services covering a wide range of scientific disciplines.
This year our research program continued to perform well. Table 2.3 provides an overview of the evidence against each performance criterion, followed by a more detailed analysis.
More than 86 per cent of our resources were committed to this Program, with the aim of achieving major, long-term benefits to Australia.
Table 2.3: PERFORMANCE SUMMARY FOR PROGRAM 1.1
Criteria source: Corporate Plan 2015–16; Portfolio Budget Statements 2015–16, Program 1.1, PG 142

Performance criterion

Result against performance criterion

Maintain or increase the number of refereed publications

The number of refereed publications has increased by 8.5% over the past year. Published journal articles increased from 3,176 to 3,385 between 2014 and 2015. Refereed conference papers also increased, from 518 in 2014 to 595 in 2015.

Maintain or improve science excellence in CSIRO research capabilities and the impact of their research outputs as assessed through a rolling program of rigorous peer review

Our citation impact has continued to improve over the last decade. CSIRO articles cited perform 68% better than the global average for 2015, a considerable increase from 46% for 2014. There are 14 research fields in which we rank in the top 1% globally by total citation count.

Maintain customer satisfaction

Starting in 2015–16, CSIRO adopted the industry benchmark Net Promoter Score (NPS) methodology to assess customer satisfaction, as the existing 'Customer Willingness to Recommend' score was found to be a less effective and reliable measure to report. The NPS for 2015–16 is +11, a favourable result.

Awareness of science by CSIRO stakeholders

90% of Australians are aware of CSIRO, a 1% increase from 2015. This period also saw an improvement in perceptions, with 75% holding a positive view of CSIRO in 2016, compared to 63% in 2015.

Utilisation and success of science outreach programs

Utilisation and success of science outreach programs has continued. The number of school students participating in science education programs has reduced, due to the closure of state-based centres in late 2014, but visitor numbers to our radio astronomy visitor centres have increased, participation in the Scientists and Mathematicians in School (SMiS) program has increased and a new pilot teacher professional learning program commenced in 2016.

Evidence of economic, social and environmental impacts through demonstrated uptake and adoption of research outputs

The total number of active technology licences recorded as at 30 June 2016 was 347, which represents an increase of 25%, or 71 active licences, more than the previous year. 44% of CSIRO's patent portfolio is either subject to a research right, arose as a result of collaborative activity, was used as background IP in a collaboration/evaluation or is subject of a commercial licence.

Analysis of performance

Since its inception, CSIRO's point of difference has been its mandate to deliver benefits to the nation. Over the past years, CSIRO developed and implemented a framework to allow the organisation to plan, monitor and evaluate its impact. Reporting impact from research has now become a dominant discussion and anticipated inclusion into what will be required from Australian universities, so CSIRO's competitive advantage in this space will be challenged. The research sector's ability to respond to this expectation will grow over time, and significant capacity building will be required.

Our innovation system continues to focus on identifying high-value research and programs with benefits to a wide range of stakeholders to enable the adoption of science and technology. This includes a concentrated effort in linking research to industry, and the pursuit of a next-generation, STEM-qualified labour force remains an emphasis of the Chief Scientist.

High aspirations to scientific excellence from Australia's publicly funded research agencies and universities continue. Empowered creativity, risk-taking and collaborative innovation are seen as leading areas of growth for the nation because they embrace diversity and inclusion, as well as expanding leadership opportunities.
Maintain or increase the number of refereed publications
The number of published, refereed CSIRO journal articles and reviews has been trending upwards over the last five years (see Figure 2.1), with an increase from 3,176 to 3,385 between 2014 and 2015. The number of refereed conference papers has also increased: from 518 in 2014 to 595 in 2015. Overall, the total number of refereed publications has increased by eight per cent over the past year.
Journal articles are the main type of research publications produced by CSIRO, followed by conference papers (see Figure 2.2). In addition, CSIRO produced 695 client reports and 395 technical reports during 2015.
Maintain or improve science excellence in CSIRO research capabilities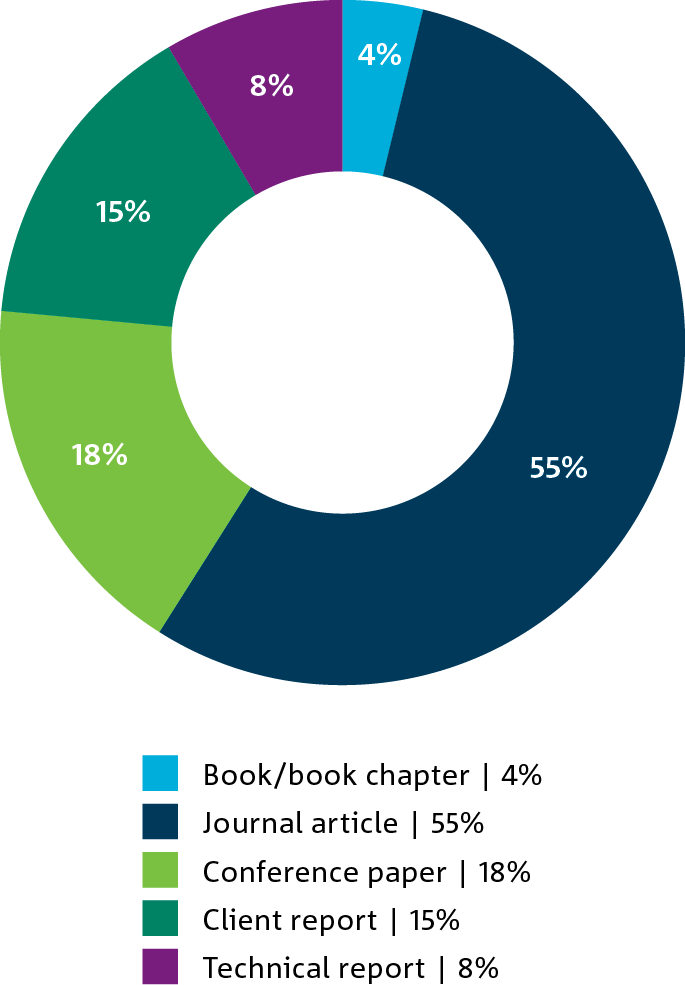 Research publication performance is often measured in the scientific community by counting citations: the references from one article to another in its bibliography. When one piece of work cites another, this is taken as recognition of value and academic impact. The more citations an article has received, the more impact it has had on its field.
Citations can be expressed relative to the global average performance, accounting for the age and subject of publications. A result of 1.0 is equal to the global average, 1.2 is 20 per cent more cited and 0.75 is, accordingly, 25 per cent less cited. Overall, our citation impact has continued to improve over the last decade. CSIRO articles cited have performed 68 per cent better than the global average for 2015, a considerable increase from 46 per cent for 2014.
CSIRO produces publications in a range of research fields. Figure 2.3 shows the top 14 fields in which we rank in the top one per cent globally (by total citation count). Fifty-one per cent of our publications are in the four fields for which we are most strongly ranked for citations (that is, in the top 0.1 per cent).
Another robust and established metric is ranking articles by citation count based on percentile performance, compared with all other articles of the same type and in the same subject area. In 2011–15, three per cent of CSIRO publications were in the top one per cent of articles globally, 10.5 per cent in the top five per cent and 18.5 per cent in the top 10 per cent. All three of these levels equalled or improved on percentages from the period 2010–14. These results demonstrate that our share of the very best research output is substantially above average and continues to improve.
Maintain customer satisfaction
During 2015, CSIRO undertook a review of the current 'Customer Willingness to Recommend' methodology. It was found that the measure was not an effective indicator to report and the Board agreed to shift to the industry benchmark Net Promoter Score (NPS) methodology. The NPS for 2015–16 is +11, a favourable result.
The survey results show that customers trust CSIRO and feel that our staff are empathetic, ethical, professional and honest. This is good news, given the changes we have instigated in the year. According to our customers, CSIRO's strengths are empathy, trust, reliability and excellence. The quality of our science is second to none; we are innovative and committed to customer needs.
The survey also identified opportunities for improvement, including maintaining our capability and improving competitiveness, contractual and intellectual property (IP) processes, which are already underway as a specific focus of our Strategy 2020 customer-first initiative.
Awareness of science by CSIRO stakeholders
Public awareness of CSIRO slightly improved this year – 90 per cent of Australians are aware of CSIRO, a one per cent increase from 2015. This period also saw an improvement in perceptions of CSIRO, with 75 per cent of people holding a positive view in 2016, compared to 63 per cent in 2015. Respondents stated that their positivity was driven by attitudes that CSIRO is trustworthy, reputable and makes a meaningful contribution.
Last year's survey found that 67 per cent of respondents perceived that CSIRO staff want to make a difference and are innovative. The 2016 survey results showed an increase in perceptions of performance: 76 per cent of respondents agree that staff are innovative and 79 per cent agree that staff are here to make a difference.
During this period, along with individual- to organisational-level efforts to showcase achievements and share our knowledge, we increased our focus on communications and community engagement, to help increase positive perceptions about CSIRO. Two major brand campaigns were delivered – CSIROseven and the experiential Infinity Swing – as well as a stream of customer-focused stories on our breakthroughs, innovations and impact.
In late 2015, CSIRO also commissioned a study with the business community, which found that 97 per cent of respondents understood what we do to some degree, which is above the awareness level of the general public. Nearly three-quarters (71 per cent) of industry stakeholders stated that CSIRO provides innovative solutions to help business and industry. Over half (61 per cent) were not aware their business could work directly with CSIRO – 35 per cent reported CSIRO was not relevant to the operation of their business.
Utilisation and success of science outreach programs
Our science outreach programs, including the Discovery Centre and education programs, aim to promote the importance of CSIRO science and its application. We conduct various education and outreach programs for school students, teachers and the public to inform students, families and teachers of the valuable contribution scientific research makes to the community. We also support undergraduate, postgraduate and postdoctoral researchers to boost the calibre of researchers working in the Australian community and strengthen Australia's future innovation capacity.
CSIRO Education and Outreach has education specialists and facilities in each capital city, and Townsville and Newcastle. In the past year 42,233 primary and secondary students took part in hands-on science education programs. More than 37,337 students took part in community programs.
Top 0.1% globally in 4 research fields
Top 1% in 14 research fields
The Education and Outreach team delivered the SMiS, Sustainable Futures, BHP Billiton STEM Indigenous project, BHP Billiton Science and Engineering Awards, CREativity in Science and Technology (CREST), Indigenous STEM education, and Science Bootcamp programs. A new pilot teacher professional learning program, Inquire to Discover, also commenced in 2016; 20 schools have participated to date.
SMiS links scientists and mathematicians with primary and secondary teachers and students. At the end of June 2016 there were 1,972 SMiS partnerships in 1,300 schools including 32 per cent of partnerships in rural and regional schools and 52 partnerships in schools with more than 25 per cent Aboriginal or Torres Strait Islander students.
The BHP Billiton Foundation Indigenous STEM Education program aims to increase participation and achievement of Aboriginal and Torres Strait Islander students in STEM as they progress through primary, secondary and tertiary education, and into employment. In its second year, five of the program elements are up and running and making good progress. Already, 238 teachers and teacher assistants and 3,425 students are taking part in school programs, and 17 students are enrolled in the Bachelor of Science (Extended) at the University of Melbourne.
Almost 80,000 primary and secondary students took part in hands-on science education and community programs
Sustainable Futures worked with 3,092 students and 342 teachers Australia-wide to help them understand the science behind climate change and reduce their own carbon footprint.
In 2015, CREST helped over 9,600 school students plan and carry out research projects. Over 60 per cent received awards for their work. Many went on to participate in BHP Billiton's Science and Engineering Awards, which recognise outstanding scientific research and technology projects by school students, and the commitment and expertise of their teachers. Last year, 7,639 students entered these awards (6,555 in science and 1,084 in engineering).
We host the CSIRO Discovery Centre in Canberra, and major visitor centres at the Parkes and Narrabri observatories in NSW and the Canberra Deep Space Communication Complex (CDSCC). These centres are purpose-built to showcase our research in an entertaining way that demystifies and educates people of all ages about research and innovation.
We worked with >1,200 SMES
The CSIRO Discovery Centre continues to attract large crowds – its biggest audience is local and interstate school groups comprising 18,477 students during 2015–16. The CSIRO Discovery Centre was closed for part of 2015 due to building renovations, which accounts for the drop in visitor numbers compared to previous years.
Education and outreach programs at the CDSCC attracted 9,082 school students and teachers during 2015–16, 0.7 per cent up on 2014. An additional 347 school students and teachers participated in self-guided visits. Programs covered the broad spectrum of science, technology, engineering and mathematics subjects, with a focus on their uses in space exploration and astronomy. The total number of visitors was 67,378, up 10 per cent on the previous year.
1,959 granted patents, 597 patent families, 313 trademark families, 117 plant breeder's rights
The Parkes radio telescope welcomed 95,212 visitors in 2015–16, almost a 30 per cent increase on 2014–15. Thirty-six schools participated in education and outreach programs, compared with 41 the previous year, reaching approximately 1,183 students, and there were 1,893 visitors from seniors' groups, clubs or specialised interest groups. The PULSE@Parkes program had 280 students, 80 teachers and 30 astronomers and general public in sessions held in New South Wales, Victoria, Queensland, the Australian Capital Territory and Guangzhou (China). We also ran a session for participants at the International Astronomical Union General Assembly in Hawaii.
Public outreach activities at the Australia Telescope Compact Array at Narrabri included a self-guided visitor centre experience serving 11,511 visitors during 2015–16, an increase on the visitor numbers of the previous year. Regular visitors to the observatory include seniors' coach tours and local school groups.
Table 2.4: Science outreach: education programs

| Program | 2011–12 | 2012–13 | 2013–14 | 2014–15 | 2015–16 |
| --- | --- | --- | --- | --- | --- |
| CSIRO Science Education Centres (visitors) | 374,797 | 363,099 | 366,305 | 154,825 | 08 |
| CREativity in Science and Technology (CREST) (participants) | 8,385 | 7,767 | 11,048 | 10,805 | 9,600 |
| BHP Billiton Science and Engineering Awards (participants) | 3,770 | 4,065 | 7,125 | 8,146 | 7,639 |
Table 2.5: Science outreach: visitor centres

| Centre | 2011–12 | 2012–13 | 2013–14 | 2014–15 | 2015–16 |
| --- | --- | --- | --- | --- | --- |
| CSIRO Discovery Centre (visitors) | 108,060 | 113,000 | 120,000 | 33,189 | 18,477 |
| Parkes radio telescope (visitors) | 96,609 | 92,876 | 84,698 | 68,427 | 95,212 |
| Canberra Deep Space Communication Complex (visitors) | 77,350 | 68,710 | 67,554 | 61,051 | 67,378 |
| Australia Telescope Compact Array, Narrabri (visitors) | - | 10,500 | 12,500 | 10,971 | 11,511 |
Postgraduate and postdoctoral researchers
Our Postgraduate Scholarship Program provides opportunities in science and engineering for outstanding graduates who enrol at Australian tertiary institutions as full-time postgraduate students for research leading to the award of a PhD. Doctoral students at CSIRO are co-supervised by a university, allowing students to maintain and develop their university connections while being exposed to research in a working environment (see Table 2.6). The number of students fluctuates, with uneven intakes each year and reduced numbers when a cohort moves through the program.
Table 2.6: Science outreach: CSIRO's Postgraduate Students and Postdoctoral Fellows, as at 31 May 2016
2011–12
2012–13
2013–14
2014–15
2015–16
Sponsored postgraduates3
PhD
291
294
254
224
280
Master
20
16
19
16
36
Honours
17
22
23
10
19
Total
328
332
296
250
3354
Supervised postgraduates3
PhD
639
642
601
621
599
Master's
77
68
90
70
132
Honours
64
82
61
70
70
Total
780
792
752
761
801
Postdoctoral Fellows
326
324
325
303
229
CSIRO Publishing
CSIRO Publishing operates as an independent science publisher within CSIRO on behalf of authors and customers in Australia and overseas. Our publishing program covers a wide range of scientific disciplines, including agriculture, the plant and animal sciences, and the environment. We are Australia's only endemic, scholarly science publisher with a significant digital capability. We provide a viable, local publishing option for CSIRO itself, and for learned and professional societies to publish scholarly content that champions Australian research.
During 2015–16, we published 28 journals. Fourteen were published in partnership with the Australian Academy of Science, a successful relationship dating back to 1948. Eleven journals were produced under agreements with Australian and international societies or institutions. Additionally, special issues of journals were published in connection with societies and international conferences. These journals are available free to developing countries through the United Nations program Research4Life. This program fosters scientific understanding and education in developing nations. Online use of the journals resulted in 2,471,566 articles being downloaded.
In 2015, our two science magazines for kids (Scientriffic and The Helix) merged into one product, Double Helix, to focus our resources and continue bringing children a great range of amazing science stories, activities and more. Producing one magazine every six weeks has helped us do that.
2,471,566 articles were downloaded through the United Nations Research4Life program, which provides journals free to developing countries.
Table 2.7: CSIRO PUBLISHING SuBSCRIBERS

| | 2011–12 | 2012–13 | 2013–14 | 2014–15 | 2015–16 |
| --- | --- | --- | --- | --- | --- |
| CSIRO Publishing journals (downloads) | 2,653,848 | 2,641,160 | 2,819,798 | 2,471,566 | 2,901,602 |
| Double Helix Magazine5 (subscribers) | 13,851 | 15,958 | 15,209 | 11,226 | 7,216 |
| Science by Email (subscribers) | 41,204 | 42,422 | 42,011 | 43,010 | 43,029 |
| Maths by Email (subscribers) | 14,967 | 17,292 | 20,381 | 22,771 | 23,456 |
New book titles
During 2015–16, CSIRO Publishing released 33 book titles in print and digital formats. The digital books comprised approximately 12 per cent of sales. A highlight among the titles was our first children's book, Phasmid: Saving the Lord Howe Island Stick Insect, which was shortlisted for the Children's Book Council of Australia Book of the Year Awards.
Net profit
CSIRO Publishing delivered a net profit of $518,316 for 2015–16. Total revenue for the period was $10,228,338.
Evidence of economic, social and environmental impacts through demonstrated uptake and adoption of research outputs
Adoption and uptake of research outputs are evidenced by our IP assets, equity portfolio and direct connections with SMEs. IP is a key tool for capturing the benefits of our research for Australia, protecting the results of our activity and ensuring our technologies are not inappropriately copied by competitors. Our Intellectual Property Management framework is provided by the Statement of Intellectual Property Principles for Australian Government Agencies. Strong IP portfolios also provide key positioning in various marketplaces, underpinning our strategy and providing external reputation benefits with customers and potential collaborators and competitors.
Intellectual property
As of June 2016, CSIRO had 597 patent families, 313 trademark families, and 117 different Plant Breeder's Rights. The total number of patent families in the IP portfolio has increased over the last year, as has the number of new inventions (provisional patents) and the number of granted cases. The overall number of live cases appears steady over the last few years.
Of the IP assets listed in Table 2.8, 44 per cent of CSIRO's patent portfolio is either subject to a research right, arose as a result of collaborative activity, was used as background IP in a collaboration/evaluation, or is the subject of a commercial licence. Of the 105 unique Plant Breeder's Varieties, 49 per cent are licensed. About half of the licences that generate revenue relate to licensing of Registered IP rights (patents, trademarks and Plant Breeder's Rights). A significant component of licensing revenue was generated by cotton seed and wireless LAN royalties. Other IP revenue was derived from our work with contact lenses and coal mining automation. The majority of the remaining revenue was generated from copyright and patent licences. Most of the licences generating revenue were to Australian companies, plus one-third to international entities.
Table 2.8: CSIRO intellectual property portfolio
IP category
Sub category
2011–12
2012–13
2013–14
2014–15
2015–16
Patents
Current Cooperation Treaty (PCT) applications
98
83
56
78
75
Granted
1,649
1,647
1,755
1,854
1,959
Live cases
3,582
3,454
3,506
3,430
3,544
Inventions
Patent families
728
718
644
578
597
New provisional and direct filings
95
87
66
63
70
Trademarks
Australian
275
281
257
250
251
Foreign
81
88
91
63
62
Plant Breeder's Rights
Australian
83
87
91
89
89
Foreign
39
24
26
25
25
Registered designs
Australian
3
3
2
2
2
Foreign
8
8
6
6
6
The total number of live patent cases in Asia has been growing steadily over recent years. CSIRO has a large proportion of live patent cases in Asia, with at least 20 per cent in Japan, China, India, South Korea, Hong Kong, Malaysia, Indonesia, Singapore, Vietnam, Taiwan, Thailand and the Philippines (see Figure 2.4). There has also been an increase in the number of filings in South America and Africa, but these regions represent a relatively small portion of our patent portfolio – slightly more than seven per cent. Overall, our spread of patent cases mirrors the geographic regions where we focus our research and its reach.
Figure 2.4 displays CSIRO's live patent cases by geographic region totalling 3398. Patents by region are summarised as follows:
South America = 194
North America = 714
Middle East = 16
Europe = 940
Eurasia = 97
Central America and the Caribbean = 6
Australia, NZ and PNG = 507
Asia = 809
Africa= 115
Equity portfolio
Central to CSIRO's purpose is the application of our research directly to industry. In doing so, we catalyse the creation of new businesses, connect SMEs with global supply chains, and stimulate jobs growth. We systematically partner with the companies, large and small, best placed to take new technologies to market and deliver positive impact to Australia.
CSIRO licenses technology to existing companies where it is deemed the most likely route of maximising IP value. However, it also directly creates new high-technology SMEs through spinning out IP when that is considered to be the best pathway to commercialisation. As detailed in the Australian Innovation System Report7, start-ups often behave differently and are more likely to report increases in employment, sales, profitability, productivity, product range and product innovation.
CSIRO's equity holdings are represented by ordinary shares, convertible notes, investments in the CSIRO Innovation Fund and units in a pre-seed investment fund. The total value of CSIRO's equity portfolio at 30 June 2016 was $49.4 million. This is an increase compared with the value at 30 June 2015 of $12.6 million.
A major contributing factor of the revaluation of the portfolio was additional investments in unlisted companies. During the 2015–16 reporting period, CSIRO established three wholly owned companies – CSIRO Financial Services Pty Ltd, CSIRO General Partners Pty Ltd and CSIRO Fund of Funds, LP – which were set up to enable the CSIRO Innovation Fund, and became a shareholder of two new unlisted companies. CSIRO also established one new spinout, Cardihab Pty Ltd, to support the incubation of a successful AcceleratiON project. Two companies exited from the portfolio – one company was deregistered and one AGP company had convertible notes fully repaid.
Currently, CSIRO has interest in 36 companies with a total market value of $574 million.
Connecting to SMEs
Australian businesses are facing a new era of technological advancement and innovation, and operating in a more global environment. To remain competitive and thrive in this new world, they need to deliver a better, more efficient and more innovative service, no matter what area of business they are in. SMEs in particular must adapt their business and take advantage of new knowledge and technology.
CSIRO's SME Connect team works with SMEs to identify opportunities for research to benefit their business, connects them with the best Australian researchers, and facilitates access to research project grants.
SME Connect provides research and grant facilitation services in the Innovation Connections element of the Department of Industry, Innovation and Science Entrepreneurs' Programme, and manages the STEM+ Business Fellowship Program on behalf of the Science and Industry Endowment Fund (SIEF).
In 2015–16, CSIRO worked with over 1,200 SMEs. The CSIRO SME Connect team met with over 500 SMEs, provided detailed research facilitation services to over 140 SMEs, and facilitated 74 Innovation Connections research project grants – 15 of which CSIRO was the research organisation, and 59 involving external research organisations and universities. In addition, CSIRO was the research organisation in 15 other Innovation Connections project grants.
The team has an existing presence in Melbourne, Sydney, Newcastle and Brisbane, and will shortly have research facilitators in Adelaide and Canberra. We have helped businesses operating in a wide range of industries (from food and healthcare, to mining and manufacturing) access technical expertise from across the nation to grow their business.
Adoption case studies
Another way to showcase the achievements by CSIRO staff in attaining adoption and uptake of their work is through case studies. The following section provides examples from each of our Science and Services Business Units of how lives, businesses and communities have benefited from our solutions.
Agriculture
Kebari, a new barley grain for people with coeliac disease
There is a large and growing demand for food and beverage products to meet the needs of people with coeliac disease and people who are gluten intolerant. Gluten-free diets are often nutritionally poor, being high in fat and sugar, and low in fibre, minerals and vitamins.
Our scientists, with co-funding from the Grains Research and Development Corporation, have bred the Kebari™ grain, a new barley variety with ultra-low levels of hordeins, the type of gluten found in barley.
Over 12 years of research using conventional plant breeding methods, our researchers have developed Kebari™ barley, a world-first barley grain that has 10,000 times less hordeins, the type of gluten found in barley, than regular barley. The gluten content of Kebari™ barley is less than 5 parts per million – well below the limit of 20 parts per million recommended by the World Health Organization for classification as gluten-free.
As a result, Kebari™ barley has been used to make the first commercially brewed, full-flavoured, barley-based, gluten-free beer. The Pionier beer, produced by German brewer Radeberger, was launched in Germany in April 2016. Pionier beer is stocked in selected Edeka Supermarkets in Germany.
In Germany, the production of beer is regulated by the German Beer Purity Law (Reinheitsgebot) which allows only water, barley, yeast and hops to be used in beer-making. By using our Kebari™ grain, Radeberger have been able to release the first ever gluten-free beer produced in Germany under the Reinheitsgebot – a fitting celebration of tradition and innovation in 2016, which is the 500th anniversary of the Reinheitsgebot.
While Pionier beer is currently only available in Germany, we are exploring opportunities with Australian brewers to develop a local beer using Kebari™ barley. Since the launch of Pionier beer in Germany, we have received interest from both international and Australian brewers to use Kebari™ for future products.
The first version of Kebari™ barley is a malting barley used for production of malt and beer. We are now actively working to develop a hulless version, which can be used as a flour or whole grain in foods. In the future, this will provide more food options for the global population, including one to two per cent of Australians, with coeliac disease and people who avoid gluten in their diet.
CSIRO Education and Outreach
Partnering with STEM professionals boosts school students' and teachers' confidence
Science, technology, engineering and maths (STEM) subjects are essential to fostering innovation and critical thinking, yet student participation in STEM subjects is declining.
Our SMiS program is a major national program that partners scientists, mathematicians and ICT professionals with teachers for the benefit of students. SMiS is a volunteer program that brings real science, mathematics and ICT into the classroom through ongoing, flexible partnerships between STEM professionals and teachers.
It not only has a presence in a large number of schools, but is significant as an exemplar for a national agenda in bringing schools and STEM professionals together in collaborative arrangements.
The Building Productive Partnerships for STEM Education: Evaluating the model and outcomes of the Scientists and Mathematicians in Schools program 2015 report showed that SMiS is a highly effective program in terms of the scale of its operation as a significant part of the Australian STEM education scene; the multiple significant benefits for students, teachers and STEM professionals; and the clear return on investment of resources.
The report shows a range of very significant benefits for students. These include increasing students' engagement with STEM learning and reasoning; increased interest, enjoyment, knowledge and confidence in STEM subjects; a greater awareness of how scientists and mathematicians think and work; and of potential careers.
Findings from the report will be used to inform the program's development in the future. This will include convening a symposium in the second half of 2016 to examine and reflect on the evaluation with stakeholders, including program participants (teachers and STEM professionals).
'The scientist is changing the culture and perception of who and what scientists do, and this is really important from a gender perspective, too', one science teacher said.
Since its inception in 2007, SMiS has brought to life contemporary science and maths practices into classrooms, fostering almost 5,000 partnerships and touching 23 per cent of schools across Australia.
Today there are over 1,900 SMiS partnerships (up 5.6 per cent on 2015–16) involving teachers in 1,300 schools, which includes 243 ICT in Schools partnerships.
SMiS is funded by the Australian Government and CSIRO, and managed by CSIRO.
CSIRO Services
Wearable tech reduces aircraft downtime
Queensland aerospace company TAE partnered with SME Connect to help TAE commercialise CSIRO's Guardian Mentor Remote (GMR) wearable technology system to make it available to the global aerospace industry.
GMR is hands-free technology that uses a headset and glasses to connect experts with on-site operators so the experts can provide real-time assistance.
In the aerospace industry, costs associated with aircraft downtime are critical. TAE provides maintenance and engineering support for the aviation industry, and they saw an opportunity to commercialise the GMR technology to help the industry use it all around the world.
Integrating this new technology into TAE's business required direct assistance from the developer to tailor it for the aviation industry and get it ready for commercialisation.
Through the Federal Government's Innovation Connections program, the CSIRO SME Connect team embedded a researcher into TAE's business. The CSIRO researcher who helped develop the GMR system is working with TAE to troubleshoot how the system can be integrated into TAE's business. The researcher will also train and support TAE staff so that they can construct and maintain GMR systems for TAE's customers.
Integrating the GMR technology into TAE will allow the company to repair and maintain aircraft for their customers remotely, providing a more affordable service to reduce aircraft downtime.
Once TAE have customised and tested the GMR system, they will be able to commercialise and make it available to the global aerospace industry. TAE will be making this unique technology available commercially as fountx™ .
Digital Productivity
Data drives Black Saturday response to decrease bushfire risk
Victoria's 2009 Black Saturday fires killed 173 people, destroyed 2,100 homes and left communities in mourning. Another statistic is lesser known: multiple Black Saturday fires were started by powerlines.
Although only a small percentage of bushfires in Australia are started by powerlines, they are associated with over 80 per cent of Australia's bushfire-related deaths since 1950.
When the 2009 Victorian Bushfires Royal Commission recommended to the Victorian Government that it act on this information, and improve electrical infrastructure to keep residents safer, CSIRO knew it could make a contribution.
The Victorian Government established a 10-year, $750 million Powerline Bushfire Safety Program (PBSP) to address two of the recommendations. This work is being undertaken as part of the Victorian Department of Environment, Land, Water and Planning (DELWP) fire-reduction activities. However, putting powerlines underground across the state would cost tens of billions of dollars. We began work to ensure that available funds would make the maximum impact.
We coordinated, processed and mathematically modelled 'big data' related to electrical infrastructure and ignitions starting from 2007. Researchers worked with distribution businesses AusNet Services and Powercor Australia; state bodies including Energy Safe Victoria and the Country Fire Authority, and DELWP; and sourced information from federal bodies such as the Australasian Fire and Emergency Services Authorities Council and the Australian Energy Regulator. Our quantitative approach, much like that used by insurers, meant the government could assess the risks and probabilities associated with individual powerlines and decide where to allocate resources.
CSIRO's analytics showed that by carefully targeting PBSP investment, a large percentage of the bushfire risk from powerlines could be removed across the state. The Victorian government combined CSIRO's data with local knowledge and developed a ranking system for identifying the powerline areas to prioritise.
In 2015, reports showed that investment in network protection had already resulted in a 15.7 per cent reduction in relative risk. Later that year, researchers incorporated new data into the modelling, which prioritised 45 zone substations where Rapid Earth Fault Current Limiter (REFCL) technology will be installed. REFCLs improve fault detection and management to prevent ignitions on existing lines. Further modelling enables regulations that will support effective use of REFCLs. Once the REFCL rollout is complete in 2022, it is projected that up to 60 per cent of ignition risk will be removed from Victoria's distribution networks.
Our risk-reduction approach required a shift in mindset. By communicating the benefits of a data-driven approach to replacing powerlines, we helped government and industry embrace a quantitative view of risk.
The work looks likely to be adopted beyond the PSBP. Industry bodies such as AusNet have expressed an interest in using aspects of the model internally, the Victorian Government is in discussion about its further potential use, and interest has been expressed by a distribution business in the United States.
Most importantly, our work reduces the chance of another Black Saturday event, an incident with a $4 billion damage bill and loss of priceless human life.
Energy
Automation reaps safer, more productive coal mines
Coal currently accounts for around 24 per cent of employment and 27 per cent of total revenue for the Australian mining sector, contributing 15 per cent of our total export income. Coal mining is an inherently hazardous process and represents a major area for research innovation to increase the value of the nation's resources through improved mining selectivity, productivity and safety.
Coal is mined either by open-cut mining – accounting for 80 per cent of total coal production – or underground mining. The latter is dominated by the longwall mining method, which accounts for around 90 per cent of Australia's total underground production, contributing about $7 billion per year to Australia's export income. Technologies for remote and automated longwall mining have influenced the direction and development of present-day mining operations.
In underground coal mining, a longwall shearer machine cuts along the coal seam beneath a temporary roof supported by a system of hydraulic supports, exposing miners to multiple risks. Increasing health, safety and productivity around the longwall mining process has been a long-term industry goal. Despite significant progress, many challenges remain, including how to develop sensors and automated technologies to remove underground miners from potentially hazardous operating conditions.
In partnership with the coal industry, we developed an automation system for underground longwall mining equipment to help mitigate mining hazards and improve productivity. Our system uses specialised guidance technology to automatically steer longwall equipment according to a desired mining extraction plan, removing people from hazards.
The technology has emerged as an essential component of modern automated longwall mining operations: now two-thirds of Australia's longwall underground operations use it. It has been licensed to major international longwall equipment manufacturers and technology suppliers Caterpillar, Joy Global, Eickhoff Australia, Kopex and Nepean Longwall, and is delivering productivity improvements of up to 10 per cent. Net industry benefits over the technology's lifetime are estimated to exceed $790 million.
While productivity improvement is the chief benefit, further benefits are gained through enhanced sensing and automation. The value of the coal is increased because a higher quality product results from less rock introduced into the product during mining. The overall cost of production is decreased because less activity is required post-mining. An environmental benefit is the reduced need for above-ground storage and its associated risks of environmental pollution due to the spoil or 'ash' extracted in the beneficiation processing.
Improved worker health and safety is the main social impact from longwall automation. Using automated systems reduces the time that workers have to spend at the coalface to monitor and adjust the operation of the longwall. Thus, there is less exposure to noise, coal dust and mechanical hazards.
In collaboration with international partners, we recently successfully demonstrated the first longwall automation technology deployment in China, generating the first longwall face profile, with real-time control of the longwall system to follow. This may lead to further commercialisation opportunities that will improve Australia's international position as a provider of digital mining technology, and support our mining equipment and service sector.
Food and Nutrition
Delivering the right ingredients for improved health and wellbeing
In 2015, approximately 63 per cent of Australian adults were overweight or obese, which means that more than 11 million Australians have an increased risk of developing health conditions such as cardiovascular disease, high blood pressure, type 2 diabetes and some cancers. With health spending per person expected to double over the next 40 years, these chronic diseases will continue to place a significant strain on Australia's healthcare system.
Last year, we introduced the CSIRO Healthy Diet Score, a scientifically validated survey that assesses a person's diet against Australia's healthy eating guidelines, providing a single dietary quality score on a 100-point scale. An individual's score is based on food variety, frequency and quantity, as well as age and gender. In addition to their overall score, people who complete the online assessment receive feedback on how they can improve their diet.
The launch of the Healthy Diet Score follows more than three years of research by CSIRO and the University of South Australia, and is capable of providing a similar evaluation to other, more complex diet-assessment methods such as tracking weekly food intake.
Since its launch, more than 70,000 people have completed the CSIRO Healthy Diet Score. In August 2015, we released the findings, giving Australians a grade of 'C', with an average score of 61 out of 100. As there is no one-size-fits-all approach to weight loss, CSIRO's team of scientists are using the principles of higher protein diets to develop programs to suit the varying needs and lifestyles of consumers.
The CSIRO Total Wellbeing Diet has been extended to include optional support with Dietitian Plus, which provides extra guidance and motivation from dietitians through online face-to-face sessions and ongoing telephone support. Research shows that support from a nutrition professional is the best way to succeed in losing weight. The CSIRO Total Wellbeing Diet online has proven to be popular with the public; more than 18,000 people have signed up for the program since its launch at the beginning of 2015.
Another successful product co-developed by CSIRO is the Impromy™ Health and Weight Management program. Impromy™ is delivered through 290 pharmacies Australia-wide, where trained consultants provide testing to assess risk factors such as cholesterol, blood pressure and blood glucose levels. The information is then used to determine an appropriate eating pattern that includes higher protein main meals, and breakfast and lunch meal replacements.
Combining meal replacements with high-protein recipes for dinner helps people feeling full for longer. The pharmacy consultants assist people to monitor progress and keep them on track, which is further improved with ongoing support through a mobile phone app. More than 25,000 Australians have used Impromy™, with research showing that members lose an average of seven kilograms over the 12-week program.
A solid combination of CSIRO's scientific expertise and the commercial skills of industry partners has made a significant impact in improving the health and wellbeing of the Australian community.
Health and Biosecurity
Home monitoring of chronic diseases saves patient lives and healthcare dollars
Managing the rising cost of delivering healthcare is a major challenge for Australia. Targeting health services to assist the chronically ill and ageing population can help to reduce the load on our health system and hospitals. Older patients with multiple chronic diseases and complex medical conditions typically will visit the hospital two or more times per year.
Funded by the Australian government broadband-enabled Telehealth Pilots Programme, we built on our e-health expertise and partnered with non-government organisations; local health districts; hospitals; and industry partners iiNet, Samsung and TeleMedCare, to deliver a national telehealth trial of home monitoring of chronic disease for aged care. Trial partners across the country – including in Canberra, Townsville, the Grampians, Launceston and Western Sydney – meant this was Australia's first large-scale telehealth clinical trial.
In total, 287 patients participated in the trial across the six sites. Test patients were provided with a telehealth device that included participant/clinician video-conferencing capabilities; messaging features; delivery of clinical and study-specific questionnaires; as well as vital signs devices to monitor their electrocardiography, heart rate, spirometry, blood pressure, oxygen saturation, body weight and body temperature, and glucometry as an optional add-on.
The 12-month trial enabled chronic disease patients to self-manage their conditions at home. Health workers could assess changes in their patients' conditions remotely and provide appropriate care interventions earlier to help them stay out of hospital and improve their quality of life.
Patient surveys showed that they were satisfied using the monitoring device and found instructions easy to understand, which generally led to high compliance with the measurement protocols. Patient self-reported measures included improvements in anxiety, depression and quality of life, with many people finding that home monitoring gave them a better understanding of their chronic conditions.
The trial showed that home telemonitoring not only improved quality of life for patients through timely access to quality care, but was also cost effective. Substantial savings were demonstrated – there was a 46.3 per cent drop in the rate of Medicare Benefits Schedule expenditure, through fewer and less costly General Practitioner (GP) visits, specialist visits and procedures carried out. The study also showed savings in Pharmaceutical Benefits Scheme expenditure, with an overall 25.5 per cent drop in medication spending. Patients also showed a decrease in the rate of hospital admissions and in their length of stay following the intervention – which is significant, considering the cost of a hospital bed is estimated to be about $2,051 per day in Australia. In addition, patients in the trial had a reduced mortality rate of more than 40 per cent.
Over 500,000 Australians aged over 65 would be good candidates for at-home telemonitoring. Our research found the return on investment of a national telemonitoring initiative would be in the order of five to one. It would reduce demand on hospital inpatient and outpatient services, visits to GPs, visits from community nurses and overall on increasingly scarce clinical resources. This could equate to savings in the order of $3 billion per year to Australia's healthcare system.
Land and Water
Increasing the efficiency of logistics infrastructure in Australian agriculture
Over 85 million tonnes of agricultural product is moved from farms to domestic and international markets each year in Australia. Agriculture supply chains in Australia are often characterised by transport distances of over 1,000 kilometres between production and markets; transport costs account for up to 40 per cent of the market price.
To address the transport challenges faced by Australian agriculture enterprises, we developed the Transport Network Strategic Investment Tool (TraNSIT). It was co-funded by the Office of Northern Australia, Northern Territory government, Queensland government and Western Australian government. This state-of-the-art computer-based logistic tool identifies operational, infrastructure investment and regulatory changes that can substantially reduce logistics costs for agriculture at the enterprise and sector level.
TraNSIT optimises transport routes for hundreds of thousands of enterprises and millions of vehicle trips between them and their markets, providing input into operational and investment decisions. Initiated in 2013, the tool incorporates factors such as road/rail conditions, heavy vehicle access restrictions, vehicle choice, driver fatigue, animal welfare regulations, and availability of supporting facilities such as vehicle stops and holding yards. It can be used to manage logistics costs for individual enterprises or whole industries.
TraNSIT currently accommodates 142 million tonnes of agricultural transport, over five million vehicle movements and 15,000 rail trips per year. The tool considers transport from over 148,000 farms or production locations to storage, feedlots, processing, export ports, domestic supply chains, distribution centres and retailers. Over the previous 18 months, as part of the Agricultural Competitiveness White Paper, TraNSIT has expanded across the broader Australian agricultural sector to include an additional 25 commodities that, together, represent over 95 per cent of Australia's transport volume.
When used to inform the $100 million Northern Australia Beef Roads Program (October 2015 to April 2016), as part of the federal government's White Paper on Developing Northern Australia, the tool demonstrated how certain road upgrade investments are able to reduce livestock transport costs by over $500,000 per year.
TraNSIT has been adopted by both government and industry. State and federal governments have used the tool to target investment in roads. The Queensland Department of Agriculture and Fisheries uses TraNSIT to inform biosecurity regulations, and the Northern Territory Department of Transport has used outputs for the Australian Infrastructure Audit.
Farming associations apply the tool to inform where supply chains within their own industry can be improved, and then communicate this information to farmers and government. Industry organisations, including graziers and processors, use the tool to address bottlenecks in their own supply chains.
The Australian Infrastructure Plan 2016 highlights the tool and recommends that the proposed National Freight and Supply Chain Strategy should be informed by TraNSIT.
Manufacturing
3D-printed rib cage helps cancer patient
3D printing has significant advantages over traditional manufacturing methods, particularly for biomedical applications. As well as being customisable, it also allows for rapid prototyping – which can make a big difference for patients waiting for surgery.
CSIRO has leading expertise in metallic 3D printing through Lab 22, our open-access 3D-printing facility. 3D printing with metal is much more complex than using other materials such as plastic. The equipment also has a high capital cost at about $1 million per printer.
Lab 22 offers Australian companies a unique opportunity to access and explore metallic 3D printing, allowing innovation with less capital investment risk. By lowering barriers to entry for industry, CSIRO is making this technology more accessible and increasing its adoption across Australia.
This year, a surgical team from Salamanca University Hospital in Spain determined that a fully customisable 3D-printed sternum and rib cage was the best option for a cancer patient. The team of surgeons turned to Anatomics, a Melbourne-based medical device company, which designed and manufactured the implant, drawing on our expertise and using our Lab 22 facility.
Using CSIRO's Arcam electron-beam metal printer, an implant from a surgical-grade titanium alloy was manufactured. The printer works by directing an electron beam at a bed of titanium powder in order to melt it. This process is then repeated, building the product up layer by layer until a complete implant is constructed.
The Anatomics team created a 3D reconstruction of the patient's chest wall and tumour, allowing the surgeons to plan and accurately define resection margins. While titanium implants have previously been used in chest surgery, flat and plate implants that rely on screws for rigid fixation may come loose over time. This can increase the risk of complications and the possibility of repeat surgery. Our Lab 22 was used to overcome this problem, and an implant with a rigid core and semi-flexible titanium rods (to act as prosthetic ribs attached to the sternum) was produced.
Once the sternum and rib prosthesis was complete, it was couriered to Spain and implanted into the patient. Twelve days after the world-first surgery, the patient was discharged and has recovered well.
This collaboration crossed disciplines and international boundaries, with a clear benefit for both this individual patient and for surgical practice around the globe.
Anatomics is one of 400 manufacturing businesses that CSIRO works with every year. Using advanced materials, systems and processes, we are helping our customers transition to a more innovative, economically viable, high-technology sector.
Mineral Resources
Saving millions on exploration costs with an on-site lab 'at the rig'
As Australia's easy-to-find, near-surface mineral resources are being depleted, technology solutions are needed to reduce exploration costs so that the minerals industry can efficiently and economically target the next generation of deposits. Minerals exploration companies around the world rely on drilling to prospect the land for new deposits and to better understand potential mineral targets.
Drilling involves sampling rock from the earth to characterise its chemistry and mineralogy. It is a necessary step in exploration and mine planning, but expensive and often time-consuming. In particular, there are high costs and time delays associated with assessing drill samples, which traditionally needed to be sent off-site for manual analysis.
In partnership with Imdex and Olympus Scientific Solutions Americas, under the Deep Exploration Technologies Cooperative Research Centre (DET CRC), we developed a technology that allows exploration companies to make multi-million dollar decisions in minutes rather than months. This leads to cheaper, more dynamic and more productive exploration programs.
The opportunity was identified when the CSIRO-led team observed a diamond-drilling rig operating near Adelaide, South Australia. They realised that during drilling, fluids were carrying rock cuttings to the surface, and the cuttings that were previously regarded as waste could be analysed in real time. The team then developed a system to collect rock cuttings from drill-hole samples and deliver automated analysis results on the spot in a one-hour cycle.
Called Lab-at-Rig®, the system separates the cuttings from the drilling fluids in a solid removal unit. These cuttings (in the form of mud) are then sub-sampled, dried and x-rayed by sensors that deliver data about the chemistry and mineralogy of samples. The technology is small, light and mounted on a trailer so that it is mobile and has little environmental impact. This breakthrough innovation is set to dramatically reduce exploration costs. Taking the lab into the field minimises the turnaround time on results and allows mining or exploration companies to have real-time information about the mineralogy and chemistry of the drill-hole samples, enabling efficient planning of what to do next.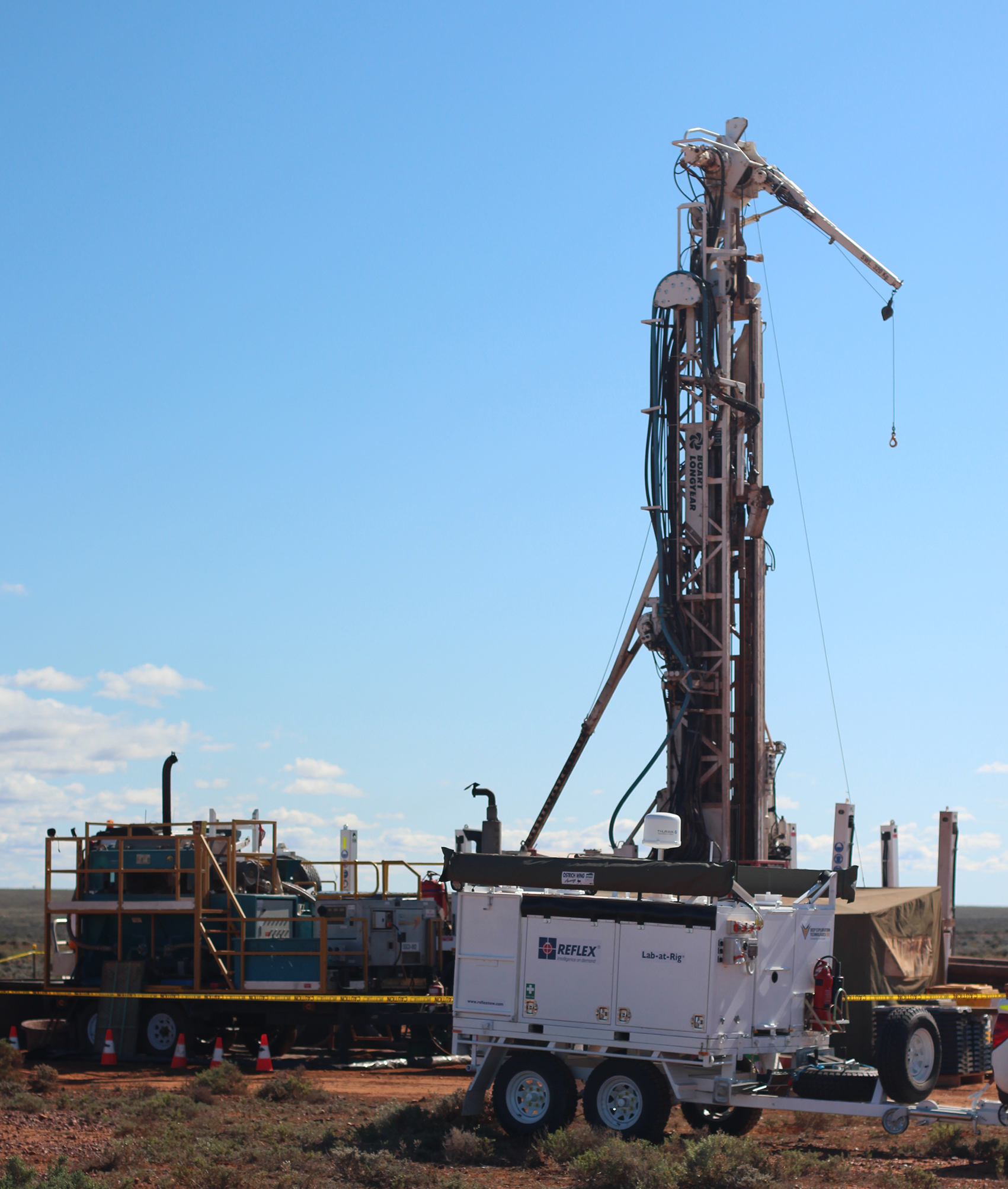 In 2015, we partnered with REFLEX, a business in the ASX-listed Imdex Group of Companies, to commercialise the Lab-at-Rig® technology – allowing the mining and exploration industry to make their exploration programs more cost-effective and efficient.
In addition, a four-year, $11 million collaborative project between CSIRO, DET CRC, Imdex, Olympus, the University of Adelaide and Curtin University has been established to develop the next-generation system. It brings together a diverse team of experienced geologists, geochemists, engineers and end-user representatives who will work together to develop the technology so that it can work to analyse samples from deeper below the surface and sediment cover. The next Lab-at-Rig® model will incorporate new sensor technologies, and improved data analysis and processing for better decision-making.
Oceans and Atmosphere
Forecasting smoke spread to protect community health
Australia has some of the world's most fire-prone environments which are burnt in planned and unplanned events every year. While the devastating losses from fire are well known, the subsequent human health impacts of smoke pollution are less well known. Smoke and dust are the two most significant causes of air pollution in Australia. Smoke from bushfires can travel many hundreds of kilometres and pose health risks for both urban and rural communities.
Research into how fires burn, their likely emissions, and how smoke will be dispersed through the atmosphere is improving the decision-making capabilities of state governments and rural fire agencies, and protecting local communities from undue risk in all weather conditions.
In a project instigated by the Victorian DELWP, a team from CSIRO Oceans and Atmosphere, BOM, the University of Melbourne, Monash University, the University of Wollongong and Macquarie University have developed a state-of-the-art modelling system that can simulate the burn characteristics, the smoke emissions, and the smoke transport from fires.
The Smoke Forecasting System generates crucial information for national fire agencies to help manage planned burns, and also to provide advance warning of smoke from bushfires. Reducing fuel loads through planned burns is considered to be an important tool for mitigating the risk of large bushfires that can have devastating effects on communities.
The system was trialled in Victoria during the 2015–16 southern bushfire season. Embedded as part of operational fire management at the Victorian Government's State Control Centre, the system was able to be used to provide advanced warning of potential smoke exposure to Victorians. This capability was particularly useful when smoke from fires in Tasmania impacted Victoria in January and February 2016.
The capability to forecast smoke dispersion allows fire agencies to understand in what conditions they could complete planned burning, what other atmospheric pollutants may be present (for example, smoke from fires in adjoining states) and whether the forecast pollution would be sufficient to issue warnings or to consider other management options such as rescheduling a burn.
The success of operational trials in Victoria has led DELWP to request that the model be fully operationalised. This is now being considered by BOM who, through collaboration with CSIRO researchers, would be able to tailor the model to all states in Australia, adding significantly to national fire planning and management, and positively impacting the health of all Australians.