CSIRO hosts national research infrastructure on behalf of the broader scientific community to assist with the delivery of research. There are two types of national research infrastructure: National Research Facilities and National Biological Collections.
We operate a range of specialised laboratories, scientific and testing equipment, and other research facilities. These are available for use by Australian and international researchers and are not restricted to CSIRO staff. The national research facilities include:
Australian Animal Health Laboratory (AAHL)
Australia Telescope National Facility (ATNF)
Marine National Facility (MNF)
Pawsey Supercomputing Centre.
CSIRO's National Research Collections Australia (NRCA) comprise six national biological collections and the Atlas of Living Australia (ALA), funded by the National Collaborative Research Infrastructure Strategy (NCRIS). These collections and the ALA are available to all researchers and are storehouses of information on Australia's biodiversity. They support a significant part of the country's taxonomic, genetic, biogeographical and ecological research, and are a vital resource for conservation and science.
The national biological collections include:
Australian National Fish Collection (ANFC), specialising in marine fishes
Australian National Herbarium (ANH), specialising in native plants and weeds
Australian National Insect Collection (ANIC), specialising in terrestrial invertebrates
Australian National Wildlife Collection (ANWC), specialising in terrestrial vertebrates
Australian National Algae Culture Collection (ANACC), specialising in living microalgae cultures
Australian Tree Seed Centre (ATSC), specialising in supplying tree seed to both domestic and overseas customers.
The ALA contains information on all the known species in Australia, aggregated from a wide range of data providers including museums, herbaria, community groups, government departments, individuals and universities.
CSIRO also manages over 20 smaller collections of interest that contribute to the discovery, inventory, understanding and conservation of Australia's biological diversity.
Table 2.9: PERFORMANCE SUMMARY FOR PROGRAM 1.2
Criteria source: Corporate Plan 2015–16; Portfolio Budget Statements 2015–16, Program 1.2, PG 145

Performance criterion

Result against performance criterion

Utilisation of the national research infrastructure and collections (such as research days, observation time or operation time, access to and downloads of digital information, visitor days, the number of loans and/or online resources accessed)

We maintained the availability levels and supported an increase in the use of the national research infrastructure under its custodianship. The new MNF research vessel RV Investigator was successfully commissioned and ramped up to a full schedule of research operations, with a total of 248 days at sea.

National research infrastructure maintained and operated to appropriate standard

We achieved compliance with relevant Australian and international standards. New users of the ATNF telescopes are required to observe from the Science Operations Centre at the ATNF's headquarters in Sydney, where they are provided with training and support. Once qualified, astronomers can also operate Parkes or the Compact Array from their home institutions. AAHL continues to maintain or exceed the many regulatory requirements certified by the Department of Agriculture and Water Resources (DAWR), the Office of the Gene Technology Regulator and the Department of Health's Security Sensitive Biological Agents legislation, and all relevant International Organization for Standardization (ISO) accreditation.

Maintain or increase the proportion of collections available to researchers and the public, including digitised and non-digitised collections

We increased the proportion of the national biological collections that are digitised. The Australian National Algae Culture Collection maintained 100% digitisation.

Demonstrated response to national events by providing science-ready facilities in support of CSIRO and external party research

AAHL continued to play a key role in avian influenza surveillance and diagnostics, testing for exclusion of foot-and-mouth disease and quarantine tests to enable global movements of healthy animals, facilitate import of biological materials, exclude exotic diseases in Australian livestock or characterise viruses detected in our region.

Analysis of performance

The national research infrastructure CSIRO hosts is of global significance, used by the international and Australian research communities. Increasingly, major instruments and facilities are beyond the capacity of a single entity to run, resulting in the rise of multinational, multidisciplinary, applied research institutions collaboratively managing and co-investing in resources. These arrangements present opportunities to be more efficient, effective and sustainable, yet can also present challenges regarding their use.

Additionally, science is experiencing rapid growth in the application of digital technologies and data digitisation in international natural history collections.CSIRO will continue to manage the national collections in a manner that uses the power of digital and genomic technologies to provide rapid access to comprehensive and reliable data.

CSIRO will engage with the 2016 National Research Infrastructure Roadmap process under the leadership of the Chief Scientist.
Australian Animal Health Laboratory
The Australian Animal Health Laboratory (AAHL), located in Geelong (Victoria), is recognised nationally and internationally as a centre of excellence in disease diagnosis, research and policy advice in animal health and human diseases of animal origin (zoonoses). AAHL helps protect Australia's billion-dollar livestock and aquaculture industries, and also the general public, from exotic and emerging infectious diseases. One of the world's largest high-containment laboratories, our facilities enable work on the most dangerous pathogens. Our expertise in biosecurity and biosafety is sought after by customers around the world.
Utilisation
AAHL is supported primarily by CSIRO appropriation, with significant funding from DAWR and, more recently, minor support under NCRIS. AAHL is a crucial part of Australia's biosecurity infrastructure.
AAHL's user base has been expanding through a variety of initiatives. International demand continues for our biosafety and biosecurity training courses, which help reduce the risks of bioterrorism by improving biosecurity measures at high-containment laboratories around the world.
While our primary responsibility is to provide a diagnostic, surveillance and response service to DAWR to underpin Australia's license to trade in animal products, AAHL also serves hundreds of customers through our quarantine testing service. This service covers a range of testing to enable the global movement of animals and biological products including:
birds – including ducks, chickens and turkeys
horses, cats and dogs
tests on vaccine constituents and other products for disease agents.
As the only high-containment animal health laboratory in the Asia-Pacific region, AAHL also services the region with funding provided by the Food and Agriculture Organization of the United Nations, World Organisation for Animal Health (OIE), Australian Centre for International Agricultural Research, and Department of Foreign Affairs and Trade. AAHL has provided, and continues to provide, a range of services to over a dozen countries in the Asian region on matters of biosecurity and food security.
The PC4 Zoonosis Suite at AAHL is one of the most sophisticated high containment laboratories in the world, enabling collaborative research into the most lethal diseases, such as Ebola, SARS and Nipah.
Maintenance and operation
Maintaining and reviewing the microbiological and physical security of AAHL has been a constant priority since AAHL was officially opened 30 years ago in April 1985. Following a security review in 2014–15, this past year has seen AAHL upgrade and reinforce many of its existing security access systems as well as construct new gates and surveillance systems in the grounds. Work continues on planning a broader capital upgrade program to ensure the facility continues to meet or exceed all regulatory standards, now and into the future.
AAHL continues with its aim to maintain or exceed the many regulatory requirements as certified by DAWR, the Office of the Gene Technology Regulator and the Department of Health's Security Sensitive Biological Agents legislation, while also ensuring all relevant ISO accreditation.
Demonstrated response to national events
Each year, AAHL receives around 3,000 submissions for diagnostic testing, many involving multiple samples and requiring a range of diagnostic tests. Samples are received from around the world for a range of purposes, including to enable global movements of healthy animals, facilitate import of biological materials, exclude exotic diseases in Australian livestock, or characterise viruses detected in our region.
This year, as a designated OIE International Reference Laboratory for avian influenza, AAHL received samples from infected poultry in Myanmar. Testing and characterisation of these identified, for the first time in Myanmar, a strain of avian influenza identified as H5N6. This strain was also identified by AAHL scientists in samples submitted from the Laos veterinary authorities in 2014. This strain causes diseases in poultry, and there have also been a small number of human fatalities associated with this virus.
The rapid diagnosis and characterisation of avian influenza viruses in the region enables quicker response to outbreaks, contributes to matching vaccines to viruses, reduces the risk of spread to humans, and ultimately contributes to regional food security.
In Australia, it is what we rule out as a cause of disease that is critical to our livestock industries. Every month AAHL receives samples for exclusion of foot-and-mouth disease (FMD), collected by field veterinarians in Australia.
FMD is a highly contagious emergency animal disease. An FMD outbreak in Australia would cause major production losses, would seriously interrupt Australia's international livestock trade and cost the economy tens of billions of dollars. While no cases have occurred in Australia in over a century, there have been a number of severe outbreaks in previously FMD-free countries that have caused huge socio-economic impacts – including in the United Kingdom, Japan and the Republic of Korea.
A sample for FMD exclusion is treated as an emergency, and often involves after-hours testing by AAHL staff. The impact of the result on the nation is so important that Australia's Chief Veterinary Officer is notified immediately.
If FMD were diagnosed, the government's National Response to a Foot and Mouth Disease Outbreak would be enacted and AAHL, which was built to cope with an FMD outbreak, would lead the national laboratory response.
AAHL designated International Reference Laboratory for the World Organisation for Animal Health
AAHL's expertise in the management of human diseases of animal origin (zoonotic diseases) is well recognised nationally and internationally, and AAHL is now a designated OIE International Reference Laboratory for Hendra and Nipah viruses, as well as an OIE International Collaborating Centre for new and emerging diseases.
The increasing emergence of zoonotic diseases – which, in recent years, has led to global crises caused by severe acute respiratory syndrome (SARS), Middle Eastern respiratory syndrome (MERS), avian influenza, Ebola and Zika viruses – has seen AAHL in demand by human health organisations as well as the veterinary and agriculture industries.
In December 2015, the World Health Organization (WHO) published its list of the top emerging pathogens likely to cause severe outbreaks in the near future, and for which few or no medical countermeasures exist. All of the viruses on the list require containment at biosafety level 3 (BSL3) or 4 (BSL4) – the level at which AAHL operates. The WHO list comprises: Crimean-Congo haemorrhagic fever, Ebola and Marburg virus disease, Lassa fever, MERS and SARS coronavirus diseases, Nipah virus and Rift Valley fever.
As government research institutes and biopharmaceutical companies increase their R&D work to develop new vaccines and therapeutics to control these high-consequence infectious diseases, the demand for high-containment pre-clinical models of human disease also increases. Because human clinical trials involving dangerous pathogens are unethical, the importance of robust animal models to generate quality, reliable data is a critical factor to aid product registration. To date, AAHL has significant experience in this area, as demonstrated with its work on highly pathogenic avian influenza in chickens and ferrets, and testing the efficacy of the Hendra virus equine vaccine.
Building on this experience, this year AAHL signed a major contract with the world's largest non-profit research and development organisation, funded by the United States Government National Institutes of Health, to develop our Ebola virus model in accordance with the Principles of Good Laboratory Practice. This model will help meet the global demand for pre-clinical studies, facilitating the product registration of new vaccines and therapeutics.
A delegation from the United States responsible for managing the contract spent a week at AAHL in November 2015 to assess our capability and processes. The delegation was impressed with our full-service offering which includes pathology, immunohistopathology, immunopathology, bioimaging, in situ hybridisation, biomarker identification as well as the BSL3 and BSL4 animal rooms.
The work is being performed in AAHL's Large Animal Facility, specifically in the globally unique BSL4 animal rooms and the BSL4 zoonosis suite. While AAHL's capability in this area is not new, the provision of BSL3+ laboratory serology testing and animal-model pathogenesis, and efficacy and transmissibility studies to serve the Australian and international biopharmaceutical industry is a new growth area for CSIRO and one which increases the value of AAHL as a national facility.
Australia Telescope National Facility
The Australia National Telescope Facility (ATNF) is a set of world-class radio-astronomy observatories operated by CSIRO. ATNF observatories are located near the towns of Parkes, Narrabri and Coonabarabran in eastern Australia; and in the mid-west region of Western Australia where the Australian Square Kilometre Array Pathfinder (ASKAP) is being commissioned.
ATNF telescopes support a broad range of studies in galactic (interstellar medium (ISM), pulsar, X-ray binaries, star formation, stellar evolution, magnetic fields), extragalactic (galaxy formation, ISM, Magellanic Clouds, cosmic magnetism) and cosmological science.
The ATNF comprises the major part of CSIRO Astronomy and Space Science, which also operates the Canberra Deep Space Communication Complex (CDSCC) on behalf of the National Aeronautics and Space Administration. CDSCC is responsible for meeting the government's obligations under the US-Australia agreements for deep space tracking and communications in Australia. CSIRO, through CDSCC, provides critical front-line mission control support to NASA for all its deep space missions studying our solar system.
CSIRO also manages Australian astronomers' access to these antennas, which are often used in conjunction with ATNF telescopes as part of the Long Baseline Array (LBA), an array linking radio telescopes in Australia and overseas.
Utilisation
Observing time on ATNF telescopes is awarded to research teams on the basis of the scientific merit of their proposals. Proposals are assessed twice a year, and observations scheduled in two semesters of six months each.
In 2015, research teams of more than 846 individual astronomers from 31 countries submitted proposals to use the Compact Array, Parkes, Mopra and the LBA. For ASKAP, 10 major survey science projects, representing 363 investigators from 131 institutions, have been awarded 75 per cent of the observing time in the first five years of full operation. Most of the observing time on the Mopra telescope near Coonabarabran is allocated to a consortium of university groups who have funded its operation under a three-year agreement with CSIRO.
Observers have an 18-month period after the observation during which they have sole access to their data. After this, the data are made publicly available to astronomers worldwide. Data from the Compact Array, Mopra and Parkes are archived on the Australia Telescope Online Archive, and most Parkes data from pulsar observing is archived on the CSIRO Data Access Portal.
Metrics for time allocation are calculated by dividing the time awarded to an observing project by the number of members in that observing team. The figures for 2015 include the national facility time allocation for the Compact Array, Parkes and Mopra.
Table 2.10: UTILISATION OF the ATNF, in %

| Access to ATNF | 2011–12 | 2012–13 | 2013–14 | 2014–15 | 2015–16 |
| --- | --- | --- | --- | --- | --- |
| Time allocated to observations | 73.6 | 76.7 | 76.8 | 76.3 | 77.5 |
| Time lost to equipment failure | 2.7 | 2.7 | 3.3 | 2.2 | 3.0 |
| Time allocated to CSIRO staff | 22.0 | 22.0 | 19.0 | 22.5 | 21.5 |
| Time allocated to other Australian researchers | 21.0 | 28.0 | 30.3 | 28.4 | 33.6 |
| Time allocated to international researchers | 57.0 | 50.0 | 50.7 | 49.1 | 44.9 |
Maintenance and operation
New users of the ATNF telescopes are required to observe from the Science Operations Centre at the ATNF's headquarters in Sydney, where they are provided with training and support. Once qualified, astronomers can also operate the Parkes telescope or the Compact Array from their home institutions.
Several times each year, the ATNF telescopes combine with other telescopes in Australia and overseas to co-observe using a technique called Very Long Baseline Interferometry. This enables improvement – by a factor of several thousand – in the detail that we can see in resulting images of objects in our galaxy or at the bright cores of distant galaxies and quasars.
In July 2015, the Canberra Deep Space Communication Complex was the prime tracking station for the closest encounter between the New Horizons spacecraft and dwarf planet Pluto.
Commissioning the ASKAP array in Western Australia continued during the year, using observations made with the Boolardy Engineering Test Array (BETA). The six BETA antennas were fitted with first-generation wide-field phased-array feeds – in essence, 'radio cameras' for imaging the sky – and several scientific papers based on data from BETA were accepted for publication in scientific journals during the year.
BETA was decommissioned in May 2016 to make way for installation of enhanced second-generation receivers. The ASKAP science team has started commissioning activities with ASKAP-12, a set of 12 antennas installed with the new receivers, which will enable the start of the ASKAP Early Science program. We continue to develop and assemble the remaining receivers to complete the full 36-antenna array.
Shape of Galaxy's invisible 'atmosphere' uncovered by Compact Array team
Invisible structures shaped like noodles, lasagne sheets or hazelnuts could be floating around in our galaxy, radically challenging our understanding of gas conditions in the Milky Way. The structures appear to be 'lumps' in the thin gas lying between the stars in our galaxy.
CSIRO used the Australia Telescope Compact Array in eastern Australia, coupled with an innovative technique, to make their breakthrough observations of one of the 'lumps', which they described in the paper published in the journal Science.
Astronomers in the United States got the first hints of the mysterious objects 30 years ago when they saw radio waves varying wildly in strength from a bright, distant galaxy called a quasar. The researchers realised that this behaviour was the work of our galaxy's invisible 'atmosphere', a thin gas of electrically charged particles which fills the space between the stars.
Lumps in this gas work like lenses, focusing and de-focusing the radio waves, making them appear to strengthen and weaken over a period of days, weeks or months. These episodes were unpredictable and infrequent, and so hard to find that researchers had given up looking for them. However, short observations of a large number of quasars with CSIRO's Compact Array could reveal this kind of variable behaviour.
Pointing the telescope at a quasar called PKS 1939–315 in the constellation of Sagittarius, researchers observed a lensing event that went on for a year. Astronomers think the lenses are about the size of the earth's orbit around the sun (about 300 million kilometres across) and lie approximately 3,000 light years away, one thousand times further than the nearest star, Proxima Centauri.
Until now their shape could not be determined; however, the team demonstrated that this lens could not be a solid lump or shaped like a bent sheet. By modelling the data, the team found they could be looking at a flat sheet, edge on, or looking down the barrel of a hollow cylinder like a noodle, or at a spherical shell like a hazelnut.
While the lensing event went on, the team observed it with other radio and optical telescopes. The optical light from the quasar did not vary while the radio lensing was taking place. This is important, because it means earlier optical surveys that looked for dark lumps in space could not have found the one this team detected. These lenses could be cold clouds of gas that stay pulled together by the force of their own gravity. That model, worked through in detail, implies the clouds must make up a substantial fraction of the mass of our galaxy.
Nobody knows how the invisible lenses could form, but these structures are real and our observations are a big step forward in determining their size and shapes. Further observations will be able to more precisely determine the geometry of these lumps, and bring us another step closer to answering the fundamental questions about how galaxies evolve and form.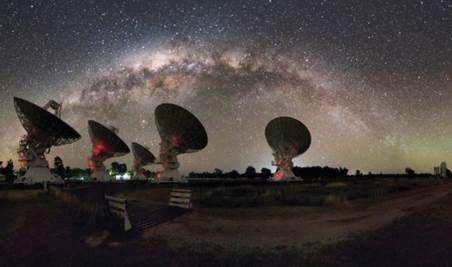 Marine National Facility
Funded by the Australian Government since 1984, and owned and operated by CSIRO, the Marine National Facility (MNF) is a key element of the nation's research infrastructure. The MNF operates the research vessel Investigator to provide a world-class blue-water research capability for Australian researchers and their international collaborators for work in Australia's vast and largely unexplored marine estate.
Access is offered through a competitive, independent, peer-reviewed application process focused on scientific and/or technical excellence, the potential to contribute to Australia's national benefit, and the ability of the research team. Through this process, the MNF enables excellent research in the national interest, providing key information to government, industry and the Australian community. The information supports evidence-based decision-making focused on research challenges in regional and global climate, fisheries management, geological resources, coastal and offshore developments, and marine operations.
Utilisation
Following the successful completion of commissioning activities in the first quarter of 2015–16, the MNF research vessel Investigator worked up to a full schedule of research operations, commencing with two CSIRO research charters in the Great Australian Bight – in collaboration with Chevron and BP – for a total of 61 days. Investigator then completed three granted voyages – in the remote Heard Island and McDonald Islands, Southern Ocean, and from the Antarctic ice-edge to equator – totalling 160 days.
In addition, to maximise efficiencies in the research schedule, the MNF chartered the Australian Institute of Marine Science research vessel Solander for 27 days to undertake Indonesian through-flow moorings work out of Darwin. Across these voyages, the MNF provided 248 research voyage days to 235 individual scientists from 29 Australian research agencies and their international collaborators from the United States, Germany, France, Timor Leste and New Zealand.
The Marine National Facility has partnered with CAPSTAN to train Australian postgraduate marine research students.
The MNF also contributed to developing the next generation of Australian marine researchers by providing training opportunities on board Investigator. In total, 25 students were afforded a unique opportunity to obtain blue-water research experience. Furthering this, the MNF has partnered with the Collaborative Australian Postgraduate Sea Training Alliance Network (CAPSTAN) program led by Macquarie University to begin to train Australian postgraduate marine research students, and establish a national syllabus incorporating marine industry safety and survival training certification. CAPSTAN training will commence on Investigator in 2016–17.
Table 2.11: UTILISATION OF THE MNF

| Access to the MNF | 2014–15 | 2015–16 |
| --- | --- | --- |
| Research days scheduled | 44 | 248 |
| Research days delivered | 44 | 248 |
| Scientist days possible | 1,300 | 9,110 |
| Scientist days delivered | 947 | 8,549 |
| Time allocated to CSIRO researchers (%) | 61 | 63 |
| Time allocated to other Australian researchers (%) | 39 | 37 |
Maintenance and operation
Following the successful commissioning of Investigator, preparations for upcoming research voyages continued at its home port of Hobart early in the 2015–16 schedule. This included fitting out a fully equipped on-board surgery to manage medical risks in remote areas. Trial voyages were undertaken to further test Investigator and its associated scientific equipment, as well as provide training opportunities for marine crew, MNF support staff and scientists before starting research voyages.
Stakeholder feedback continues to be very positive, with Investigator and the broad suite of scientific equipment it provides facilitating new levels of multidisciplinary research for the Australian marine community. Of particular note, complex research charter requirements were successfully accommodated within the MNF research schedule, and Investigator successfully completed the first remote research voyage to Heard Island and McDonald Islands during 2015–16.
To ensure best practice in assessing national benefit in the MNF applications process, the MNF Steering Committee has established a new specialist assessment panel for this criterion. To explain the changes, the MNF delivered information sessions across the country and produced a video to raise stakeholder awareness of the new applications process and the MNF in general.
The Investigator has state-of-the-art features and capabilities that can capture water samples as deep as 7,000 metres to help understand ocean currents and changes in deep ocean temperatures, or study marine life between 1,500 to 3,000 metres below the surface to better manage our fisheries.
Science-ready ship enables multidisciplinary research on remote and challenging voyages
In January 2016, Australia's new research vessel Investigator departed Fremantle on a 60-day multidisciplinary research voyage. It was heading to the remote Heard Island and McDonald Islands to study the link between submarine volcanoes and the mobilisation of iron which enriches and supports life in the Southern Ocean. These islands are situated around 4,000 kilometres south-west of Perth, providing a remote and challenging operating environment for both the ship and scientific research activities.
The voyage brought together a wide variety of institutions to address research challenges, and involved international collaboration between scientists and students from the University of Tasmania and the Institute for Marine and Antarctic Studies (IMAS), the Antarctic Climate and Ecosystems CRC, Australian National University, University of NSW, Pierre and Marie Curie University/The National Center for Scientific Research (France), Microbial Oceanography Laboratory (LOMIC), European Institute for Marine Studies (France), University of California and CSIRO. Voyages such as this foster a spirit of collaboration among participants, building networks and relationships to facilitate future research collaborations.
The voyage was an outstanding success, providing a unique opportunity for a research team of 40 people and 20 marine crew to systematically map the ocean floor and unlock the secrets of this globally important volcanic system. Investigator's sea-floor mapping and sub-sea acoustic systems allowed survey of the active hydrothermal systems and submarine volcanoes for the first time.
The multidisciplinary capabilities of the ship enabled researchers to conduct a wide array of activities on this voyage, including capturing 3D images of the sea floor; deploying deep-sea cameras and other sensors; collecting rock, sediment and seawater samples to track hydrothermal fluids from the sea floor to the ocean; and identifying phytoplankton blooms. The scientific data collected will allow researchers to test the hypothesis that hydrothermal activity is responsible for phytoplankton blooms which, if correct, has significant implications for the solid earth surface-biosphere linkages in the global carbon cycle.
Investigator's Heard Island and McDonald Islands voyage attracted worldwide media coverage and provided headline news when it captured a rare glimpse of an erupting volcano, Big Ben, on Heard Island. The MNF worked in collaboration with the IMAS to promote the voyage with blogs, video and media, including a live television broadcast from the ship for ABC News 24 and production of a short documentary on the voyage by the Discovery Channel Canada. Media coverage alone reached an estimated audience of over 2.5 million people, providing an international focus on the ship and the research it enables.
The voyage demonstrated the science-ready capability that Investigator provides the nation, offering a greatly increased area of operation, accommodation for multiple scientific teams, student training opportunities and a multidisciplinary suite of scientific equipment. Challenged with severe weather and cold conditions, the ship demonstrated its capability to successfully undertake a wide variety of marine research to international standards in the most remote corners of Australia's vast marine estate.
Pawsey Supercomputing Centre
CSIRO is the centre agent for the Pawsey Supercomputing Centre (Pawsey), a world-class supercomputing facility for Australia. The facility provides access to one of the largest supercomputers in the Southern Hemisphere for Australian researchers in government, academia sector and industry. Pawsey is currently serving over 80 organisations and achieving unprecedented results in science domains such as radio astronomy, geosciences, resources engineering, bioinformatics and health sciences.
Within Pawsey's specially commissioned building, located on CSIRO's Kensington site, are two supercomputers; and advanced data-storage capabilities and tools critical to processing, storing and analysing the data from various projects such as CSIRO's ASKAP facility and the Murchison Wideband Array (MWA). In support of these activities, Pawsey partners closely with the International Centre for Radio Astronomy Research to curate and publish the data for the international research community.
Utilisation
The Pawsey Supercomputing Centre provides access to its supercomputing resources (supercomputers called Cray XC40 Magnus and Cray XC30 Galaxy) through a number of national and local merit-allocation schemes. These schemes are summarised as follows for the 2015–16 period:
National Computational Merit Allocation Scheme – 25 per cent of resources allocated. The call for proposals was made in September/October, with 12-month allocations, budgeted quarterly.
Geosciences Merit Allocation Scheme and Energy and Resources Merit Allocation Scheme – 15 per cent of resources allocated. Six-monthly calls (Geosciences in Quarter 2, Energy and Resources in Quarter 4) with large, 12-month allocations, budgeted quarterly.
Pawsey Partner Merit Allocation Scheme – 30 per cent of resources allocated. Six-monthly calls (in Quarter 2 and Quarter 4) with large, 12-month allocations, budgeted quarterly.
Pawsey Director's Allocation Scheme – five per cent of resources allocated. Responsive-mode grant assessment process, available most of the year and most resources were made available with small (<0.1 per cent of available resource time), 3-month allocations.
Radio astronomy operational commitment – 25 per cent of Pawsey resources allocated (100 per cent of Cray XC30 Galaxy). Priority access to these resources was to support MWA operations and ASKAP commissioning. Additional radio astronomy science projects were allocated where resources were available.
Table 2.12: UTILISATION OF THE PAWSEY Central Processing Unit and DATA-STORAGE ALLOCATION

| Central processing unit time allocation | 2014–15 (%) | 2015–16 (%) |
| --- | --- | --- |
| NCMAS | 15 | 25 |
| Focused domain (Geoscience) | 25 | 15 |
| Partner share (allocated through merit process) | 30 | 30 |
| Director's discretion | 5 | 5 |
| Radio astronomy (ASKAP and MWA) | 25 | 25 |
| Data storage allocation | | |
| Radio astronomy | 80 | 80 |
| General science | 20 | 20 |
Maintenance and operation
The Pawsey Supercomputing Centre is an exemplar collaboration hub involving an unincorporated joint venture that brings together the Australian Government, the Western Australian Government, CSIRO and university partners (Curtin University, Edith Cowan University, Murdoch University and the University of Western Australia) in a consortium that has been steadily producing outcomes for more than 14 years. Rather than a single-service agency, Pawsey is focused on providing integrated research solutions by giving users simultaneous access to world-class expertise and infrastructure in supercomputing, data, and visualisation services.
Pawsey is governed by a Board comprised of core member representatives and several independent members, including the chairman. The primary funding partners for Pawsey are the Australian Government Department of Education and Training, the Minister for Science (WA Government) and the Pawsey members. Pawsey hosts seconded staff from all five member organisations.
Pawsey reconstructs Australia's greatest naval wreck in 3D
In 1941, the pride of Australia's naval fleet, HMAS Sydney (II), was involved in a battle with the German HSK Kormoran off the coast of Western Australia, where both ships sank and all 645 crew from the Sydney and 82 crew from the Kormoran were lost.
It is Australia's greatest naval disaster and, until the wreckages were located 200 kilometres off the WA coast in 2008, remained one of the country's most enduring maritime mysteries.
With the ships resting on the floor of the ocean 2.5 kilometres below the surface, and safely protected from any disturbances by the Historic Shipwrecks Act 1976, they are unfortunately out of the reach of the general public.
This drove a team of researchers led by Curtin University and the Western Australian Museum to form the Sydney-Kormoran Project to bring these culturally significant, but highly inaccessible, pieces of maritime history back to the public using virtual environment technologies, 3D-imaging and 3D-reconstruction techniques.
The team's nine-day expedition to the wrecks in 2015 captured half a million high-resolution photos and 300 hours of high-definition video (mostly in 3D). When they calculated that it would take a standard computer about 1,000 years to process the data using conventional techniques, they turned to Pawsey to help solve their big-data problem.
As one of the joint venture partners of the Pawsey Supercomputing Centre, Curtin University researchers have access to state-of-the-art, high-performance computing facilities including Magnus – Pawsey's biggest supercomputer and the most powerful public research computer in the southern hemisphere.
Magnus is making the project's time frame possible by performing many thousands of tasks in parallel using 3D-reconstruction software that matches and stitches the photos together to reconstruct the wreckage in 3D.
This is the first time in the history of Australian maritime archaeology a project like this has been undertaken, and now the team are working hard to make the once-lost wrecks 'virtually' accessible to the general public: bringing history to life.
So far the wrecks have been partially reconstructed in 3D, and the team are expecting to make the full reconstruction available to museum-goers within two to three years, with the continued help of Magnus. Because the wrecks are protected at the sites and artefacts are not allowed to be removed, researchers have also been exploring the use of 3D printing to create physical replicas.
The team anticipates that the algorithms and techniques they develop for this project will help bring 3D reconstruction to other areas, such as surveying oil and gas sub-sea infrastructure, and terrestrial applications such as documenting fields of rock art.
National Research Collections of Australia
Australia is home to more than half a million species of plants and animals. Three-quarters of them are found nowhere else on earth. Our unique biodiversity is a national treasure. It is also crucial environmental infrastructure, providing ecosystem services and representing an economically valuable resource.
The National Research Collections of Australia (NRCA) are a vital resource for conservation, science and innovation. NRCA's six biological collections contain more than 15 million specimens, representing a 240-year time-series of data on the occurrence and distribution of native and introduced plants, terrestrial vertebrates, insects, fish, algae and tree seeds.
These collections are Australia's most reliable set of nationally representative biological collections. They underpin research in agriculture, biosecurity, biodiversity and climate change, and are used by researchers all over the world.
NRCA's role is to secure and mobilise the rich biological information in its collections to explore, conserve and exploit our nation's unique biodiversity for the benefit of our environment, the community and industry. The collections enable us to identify, quantify and explore Australia's biodiversity over time, inform public policy decisions, support biosecurity and contribute to environmental management. Importantly, the collections also underpin exploration of biodiversity for commercial purposes.
The Australian National Insect Collection holds 12 million specimens, including a weevil collected by Charles Darwin at King George (present day Albany, WA) in March 1836.
Utilisation
The Australian National Insect Collection (ANIC) is critical biosecurity infrastructure for Australia. Two DAWR staff working as part of ANIC identify hundreds of insects intercepted at Australia's borders each year. ANIC's other biosecurity activities – sponsored by DAWR, Plant Health Australia, the Department of Foreign Affairs and Trade and private industry – involve a diverse range of users from government, private industry and universities from Australia, the Pacific and the Association of Southeast Asian Nations region. ANIC also reviewed Australia's biosecurity diagnostic system and runs training courses that build national biosecurity capacity.
The Australian National Wildlife Collection, especially its cryo-frozen tissue collection, continued to be a major research resource for the international community, with 1,126 tissue samples sent for DNA sequence–based research during 2015–16.
The Australian National Algae Culture Collection (ANACC), through the Australian National Algae Supply Service (ANASS), provides microalgae strains as starter cultures to industry, research organisations and educational institutions in more than 70 countries. During 2015–16, ANASS supplied a total of 400 living microalgae cultures to 98 customers (67 per cent Australian and 33 per cent international), resulting in total sales revenue of $61,233.
The Australian Tree Seed Centre (ATSC) supplies wild and genetically improved native tree seeds to Australian and international customers. During 2015–16, ATSC supplied a total of 118 seed orders (51 per cent Australian and 49 per cent international) to 93 customers, resulting in total sales revenue of $377,000.
TABLE 2.13: COMBINED UTILISATION OF NATIONAL research COLLECTIONS1

| Use of National Research Collections of Australia | 2011–12 | 2012–13 | 2013–14 | 2014–15 | 2015–16 |
| --- | --- | --- | --- | --- | --- |
| Number of specimens dispatched | 15,548 | 13,660 | 30,514 | 20,156 | 18,588 |
| Outward-going loans | 157 | 153 | 222 | 171 | 177 |
| Tissue samples sent | 3,819 | 2,415 | 8,461 | 4,033 | 2,884 |
| Tissue sample grants | 43 | 74 | 34 | 61 | 74 |
| Number of visitors hosted | | | | 417 | 404 |
| Total visitor research days | | | | 651 | 1,018 |
| Number of tours hosted | | | | 90 | 126 |
| Total number of visitors on tours | | | | 695 | 888 |
Maintain or increase collections available to researchers and the public
Digitisation is key to making biological collections available to researchers and the public. It covers a spectrum of activities from capturing a specimen's metadata, to including images, 3D scans and genomic work. NRCA has drafted a strategy to digitise existing specimens and facilitate the digitisation of newly collected specimens. NRCA has successfully piloted a new collections-management system, worked with Data61 and other CSIRO groups on innovations in digitisation and curation, and is investigating high-resolution imaging of the entire Australian National Herbarium (ANH) collection.
The Atlas of Living Australia (ALA) is the primary mechanism through which NRCA's digitised biological collection data is made freely available in electronic format to the wider community. The ALA delivers more than 60 million records provided by partners who include museums, state and local governments, non-government organisations, universities and CSIRO (through NRCA). During 2015–16, 3.8 billion records were downloaded from the ALA for uses including education, research and management. Approximately 32 million of the records downloaded were provided by NRCA.
During 2015–16, the Australian National Wildlife Collection (ANWC) focused on digitising bird specimens from expeditions to remote locations including Cape York Peninsula, the Kimberley and Papua New Guinea, adding rare and valuable specimen record data to the ALA. During this period, 7,222 sound files, comprising 35,881 species records, were registered to the ANWC sound archive and ANWC now makes 41,955 species-occurrence sound records available through the ALA.
ANIC delivers scientific expertise in taxonomy, and technical expertise in collections and their management to researchers and governments. ANIC has developed digitisation and imaging techniques that place it in a leading position in Australia.
The majority of the Australian National Fish Collection specimens are digitised. Recent activity has focused on adding unregistered specimens collected during fieldwork over the past 30 years to the database, which represent approximately 15 per cent of the entire collection. Approximately 80 per cent of registered specimen records are available publicly through the ALA.
The majority of the ANH Australian specimen records are digitised and available through the Australia's Virtual Herbarium and the ALA. Imaging of ANH type specimens has largely been completed as part of a joint initiative across Australian herbaria, funded by the Andrew W. Mellon Foundation. More than 7,700 images of ANH type specimens are now available online via the Global Plants Initiative hosted by JSTOR, a publicly available, searchable resource that stores digital documents and images. ANH has started imaging its lichen type specimens and orchid type specimens.
Core culture and accession information is digitised for all ANACC specimens; additional imaging, georeferencing, genomic and phenotypic characterisation have been digitised to different levels. Eighty per cent of ANACC strains have been successfully sequenced using four phylogenetically useful gene regions. Taxonomic validation and digitisation of this data is ongoing. Approximately 60 per cent of these data are available publicly through the ANACC public database and the ALA.
The ATSC focused on digitising paper records, or provenance sheets, that have been scanned into PDF format and made searchable from ATSC's web-served database. These sheets often have collection notes, maps and photographs that supplement categorical data entered directly into the database.
The oldest specimen in the Australian National Herbarium was collected in 1770 by Joseph Banks.
TABLE 2.14: DIGITISATION OF THE NATIONAl BIOLOGICAL COLLECTIONS
Collection
Proportion of collection digitised (%)
2011–12
2012–13
2013–14
2014–15
2015–16

Australian National Insect Collection

5.0

5.0

5.0

5.0

5.0

Australian National Wildlife Collection (excluding sound archive)

91.0

92.0

92.0

92.0

99.9

Australian National Fish Collection

100.0

100.0

100.0

85.0

85.0

Australian National Herbarium

76.0

76.0

76.0

76.0

80.0

Australian National Algae Culture Collection

-

-

-

100.0

100.0

Australian Tree Seed Centre

66.0

67.0

68.0

70.0

70.0
Mobilising the biodiversity data of Papua New Guinea for better decision-making
The globally significant biodiversity of Australia's regional neighbour Papua New Guinea (PNG) is under increasing threat from population growth, economic activity and climate change. Understanding PNG's biodiversity is challenging because of a lack of easily accessible biodiversity data, which makes it difficult for the PNG government to make informed management decisions for sustainable land use and development.
The NRCA contain many representations of PNG biological specimens, resulting from land-use surveys in PNG during the 1950s, 1960s and 1970s, and ongoing research into connections between the biodiversity of Australia and its regional neighbours.
NRCA's PNG collection is a rich source of biodiversity data and has incredible potential to support conservation, development and tourism but, until recently, specimens were not readily available to the PNG government and other agencies due to not being digitised.
To resolve this, NRCA undertook to mobilise the biodiversity data held within its PNG collection and provide this data to the PNG government. Focusing on plants from the Kokoda Track and Owen Stanley Range, the ANH in Canberra began to capture data from its holdings of more than 200,000 PNG plant specimens.
There are many challenges in working with ANH's PNG plant specimens. Some older specimens have limited label information that exclude details such as latitude and longitude, now regarded as essential in modern collections. Identifying exactly where a specimen was collected can be made more difficult due to the complex and changing geography of PNG villages. Many PNG plant species are undescribed, making some specimens difficult to identify, and many PNG plant specimens are fragile and difficult to handle because tropical plants often have large, soft leaves that become crisp and brittle when dry.
Beginning with the Ericaceae, a family that includes showy plants such as rhododendrons and is richly represented in the Kokoda area, ANH staff ensured specimens were correctly identified and captured detailed information on name, collection date, location, altitude, habitat and more in the ANH electronic specimen database.
NRCA then expanded the project to include biodiversity data from birds, mammals, reptiles and amphibians from PNG held in the ANWC, and from butterflies, dragonflies and beetles from PNG held in the ANIC.
In early 2016, NRCA delivered this trove of biodiversity data to the PNG government. NRCA intends to make future investments in PNG biodiversity data-capture and information management, adding other plant groups from the ANH PNG collection, such as ferns, figs and umbrella trees.
This work was funded by the then Australian Government Department of the Environment to validate and provide biological collection data to the PNG Department of Environment and Conservation for inclusion in the PNG National Biodiversity Information System.
The ANH is part of the Centre for Australian National Biodiversity Research, a joint venture between Parks Australia's Australian National Botanic Gardens and CSIRO.