At CSIRO we aspire to 'Zero Harm' and are committed to the safety, health and wellbeing of our people, partners, customers and the environment.
In 2015–16, 30 staff suffered an injury serious enough to prevent them from coming to work, five fewer than in 2014–15. These injuries occurred at a rate of 3.3 per million hours worked, which is an improvement from the rate of 3.7 in 2014–15. In 2015–16, we also had a significant decrease in injuries that required medical treatment. These combined reductions resulted in a 30 per cent reduction in the Recordable Injury Frequency Rate in the financial year.
Musculoskeletal injuries remain the most frequent cause of injury to our people. Although not life-threatening, these injuries are always painful and often debilitating. In 2015–16, 94 of our staff experienced an injury which required time off work or medical treatment, and 67 per cent of these were musculoskeletal. The focus on preventing these injuries has continued through equipment upgrades to reduce manual handling, Wellnomics Computer WorkPace® software being in place, Move 4 Life training, and a focus on reducing repetitive manual tasks. Establishing a dedicated Injury and Rehabilitation Management team with specialist physiology skills has also improved the early intervention and return-to-work programs, resulting in better outcomes for our people.
We are also focused on preventing injuries that are low-frequency but have the potential to cause death or permanent disability. These high-potential incidents are typically reportable to Comcare or, in the case of radiation incidents, the Australian Radiation Protection and Nuclear Safety Agency (ARPANSA). In 2015–16, there were 10 reportable incidents, down from 13 in 2014–15. All of these incidents have been fully investigated by CSIRO and prevention measures are being implemented. Comcare issued CSIRO a Prohibition Notice under the Work Health and Safety Act 2011 (WHS Act) after an incident involving an angle grinder in Queensland. CSIRO has implemented improved procedures across the organisation to the satisfaction of Comcare.
In 2015–16 there were no radiation incidents that were reportable to ARPANSA. There were also no incidents reportable to the Office of the Gene Technology Regulator or Security Sensitive Biological Agents.
This graph displays the recordable injury frequency rate per millions of hours worked across multiple financial years. Data is further broken down into number for lost time injury frequency rate (LTIFR) and medical treatment injury frequency rate (MTIFR).
Table 1: CSIRO Recordable Injury Frequency Rate¹, 2011–12 to 2015–16

| Year | MTIFR | LTIFR |
| --- | --- | --- |
| 2011-12 | 8.0 | 5.0 |
| 2012-13 | 8.2 | 4.7 |
| 2013-14 | 10.1 | 3.6 |
| 2014-15 | 11.1 | 3.7 |
| 2015-16 | 7.0 | 3.3 |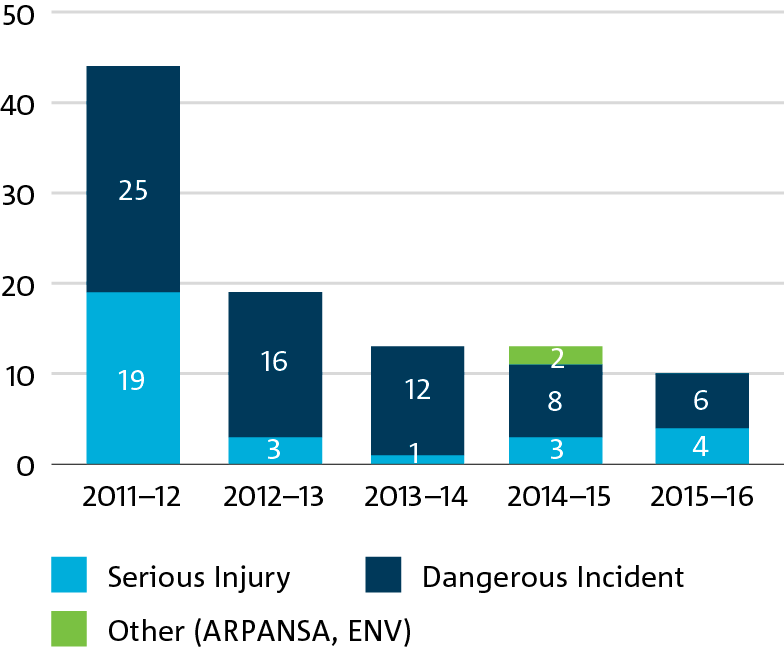 This graph displays the regulatory notifiable incidents², 2011–12 to 2015–16 across multiple financial years.
Table 2: Regulatory notifiable incidents², 2011–12 to 2015–16

| Year | Serious Injury | Dangerous Incident | Other (ARPANSA, ENV) |
| --- | --- | --- | --- |
| 2011-12 | 19 | 25 | |
| 2012-13 | 3 | 16 | |
| 2013-14 | 1 | 12 | |
| 2014-15 | 3 | 8 | 2 |
| 2015-16 | 4 | 6 | |
Health Safety and Environment Strategy
In 2015–16, the CSIRO Health Safety and Environment (HSE) 2020 Plan was developed to support the CSIRO Strategy 2020. This plan builds upon the key initiatives of the CSIRO 2011–2015 HSE Strategy, which focused on a 'one CSIRO' approach to HSE processes and practices and the growth of CSIRO's HSE capability. During this period, significant programs such as the Wellbeing at Work strategy and Fatality Prevention program were developed and implementation commenced. The HSE 2020 Plan builds upon this work; core elements are having simple processes and empowering all leaders. This will be achieved by the HSE staff working in collaboration with the Business Units and support staff and being heavily involved in the cultural change programs used to facilitate the broader CSIRO 2020 Strategy.
The CSIRO HSE 2020 Plan was developed in consultation with the Business Units and other internal stakeholders. The key themes of the plan are:
Safety leadership – enabling all CSIRO team members to be safety leaders
Global and collaborative – CSIRO teams everywhere are enabled and supported to be safe
Systems and processes – simple, agile and adaptable systems and processes that empower
Monitoring and review – learning from our partners and continually improving
Health and wellbeing – supporting a 'whole person' approach.
These themes are underpinned by two guiding principles:
Tools and processes to effectively manage key risks are developed with end users (our scientists/technicians/support staff).
Strong HSE partnerships are developed with other CSIRO support teams and the science businesses.
The Recordable Injury Frequency Rate is calculated as the sum of Lost Time Injuries per million hours worked (LTIFR) plus the Medical Treatment Injuries per million hours worked (MTIFR).
The Work Health and Safety Act 2011 came into effect on 1 January 2012, changing the criteria that determine which incidents must be notified to Comcare. This change accounts for much of the steep decline in notifiable incidents between 2011–12 and 2012–13.