CSIRO's Research Program activities deliver economic, social and environmental impacts to the nation by providing scientific solutions, information and advice.
CSIRO commits the majority of its resources to this program through large-scale, interdisciplinary research partnerships with Australian universities, publicly funded research institutions, the private sector and selected international organisations. We also provide technical and advisory services to industry and government. CSIRO Services runs student education programs and provides technical and engineering services, SME support and foresight advisory services.
Our science outreach activities promote the importance of CSIRO science and its application to students, parents, teachers and the Australian community. We support undergraduate, postgraduate and postdoctoral research to boost the calibre of researchers working in the Australian community and strengthen Australia's future innovation capacity. We also operate CSIRO Publishing, an independent science and technology publisher that has a global reputation for quality products and services covering a wide range of scientific disciplines.
This year our Research Program continued to perform well. Table 2.4 provides a summary of the results of the performance against each criterion, followed by additional details for each criterion, where not already provided earlier in this report.
Table 2.4: PERFORMANCE SUMMARY FOR PROGRAM 1.1

PERFORMANCE CRITERION

RESULT

Customer and user satisfaction as measured through satisfaction and willingness to recommend surveys and other feedback mechanisms

The NPS for 2016–17 was +34, which is a solid improvement over the +11 result achieved last year. Further details about this result are included in the strategy performance section, pg 20.

Improve the innovation capacity, diversity and inclusion of staff with a focus onleadership

The 2016 staff survey showed that 36 per cent of staff felt CSIRO culture was good or very good at supporting innovation. The survey also showed that 55 per cent of respondents felt they had the ability to 'think outside the box'.

The representation of women in middle-to-senior leadership roles increased to 31% in 2016–17. Employment of Aboriginal and Torres Strait Islander people and the percentage of leaders of non-English speaking background has seen minor increases.

Further details about these results are included in the strategy performance section, pp 24, 26.

Maintain or grow proportion of external revenue, particularly from industry andinternationally

Total external revenue was in line with the budget, delivering revenue from industry, government and international customers of 37% of total expenditure.

The CSIRO Innovation Fund1, LP has a strong pipeline of investible propositions across deep science based technology

Efforts to date have been on establishing the necessary entities for the operation of the Fund, which will commence in 2017–18. Details of the performance of the Fund will be reported in next year's annual performance statements.

The CSIRO Innovation Fund1, LP aligns with key industry sectors including Government's Science and Research priorities and Industry Growth Centres

Evidence of economic, social and environmental impacts through validated uptake and adoption of research outputs and science excellence

47% of CSIRO's patent portfolio is either subject to a commercial licence, arose as a result of collaborative activity, was used as background IP in a collaboration or evaluation, or is subject to a research right.

Currently, CSIRO has interest in 41 companies and special purpose vehicles with a total market value of $664 million.

Our research publications were 51% more cited than the global average for 2016, with 2.8% of CSIRO publications in the top one per cent of articles globally and 10.6% in the top five per cent globally.

Uptake and adoption of our research and education programs is demonstrated through nine case studies.
Analysis of our performance
In 2016, the National Innovation and Science Agenda (NISA) augmented CSIRO's vision to be Australia's innovation catalyst. NISA has created new opportunities for collaboration in science by supporting the establishment of the CSIRO Innovation Fund 1, LP to invest in start-up and spin-off companies and SMEs engaged in research generated through the publicly funded research sector. This is important as Australia builds more ways to realise the value from the outstanding research from our nation's scientists. This includes a concentrated effort in linking research to industry, and the pursuit of a next-generation, STEM-qualified labour force.
Under the Minister's SoE, CSIRO is tasked with supporting women in STEM and closing the gap in Aboriginal and Torres Strait Islander achievement and employment in STEM. CSIRO remains committed to ensuring we are an employer of choice, a preferred collaboration partner and a trusted advisor. CSIRO rolled out the Balance initiative to foster a diverse and inclusive workplace for the future, and continues to work towards the diversity benchmarks in the SAGE program. Our science outreach programs promote the importance of CSIRO research, its application and STEM literacy and connection to the Australian community.
CSIRO will continue to build capability in managing our research for impact and supporting staff in planning, monitoring and evaluating the outcomes from their work. Reporting impact from research is becoming a central discussion in the national innovation system, and anticipated inclusion into an impact assessment framework for Australian universities.
Further details against each criterion, where not already provided earlier in the report
Maintain or grow external revenue
Financial sustainability is fundamental to CSIRO. External revenue reflects our external commercial engagement and informs our planning. The total external revenue was in line with the budget, delivering revenue from industry, government and international customers of 37 per cent of total expenditure. See page 24 for an overview of CSIRO revenue and sources.
CSIRO Innovation Fund
The CSIRO Innovation Fund 1, LP aims to help improve the translation of publicly funded research into commercial outcomes and stimulate innovation in Australia. In 2016–17, our focus was on establishing the necessary entities to operationalise the Fund, to be managed by a CSIRO subsidiary known as Main Sequence Ventures. All necessary legal entities are now in place. Managing Director Bill Bartee was recruited in December 2016 and finalisation of the team is complete with Phil Morle, Mike Zimmerman, Mike Nicholls and Martin Duursma now on board. Innovation and Science Australia (ISA) conditionally registered the Fund as an early stage venture capital limited partnership at the 20 June Board meeting. An application for an Australian Financial Services Licence is in process with the Australian Securities and Investments Commission. Licensing and ISA registration are the final steps required before investments can be made by the Fund. An Information Memorandum for potential investors in the Fund will be issued in early 2017–18 after licensing and registration and once due diligence has been completed.
Uptake and adoption of research outputs and science excellence
Another way in which we evidence the adoption and uptake of our research is through our IP assets, equity portfolio and case studies. They provide examples from our Science and Services Business Units of how businesses and communities have benefited from our work. The quality of our science is evidenced by the citation impact and ranking of our research publications.
Intellectual property
As of June 2017, CSIRO had 692 patent families, 261 trademark families and 116 Plant Breeder's Rights. The total number of patent families1 in the IP portfolio has increased over the last year as a result of the incorporation of NICTA bringing 29 families. There has been steady increase in new invention filings over the past few years, with 79 new invention patent filings during 2016–2017. The number of granted cases and the number of live cases has also shown steady increase.
Of the IP assets listed in Table 2.5, 47 per cent of our patent portfolio is either subject to a research right, arose as a result of collaborative activity, was used as background IP in a collaboration or evaluation, or is the subject of a commercial licence.
Table 2.5: CSIRO intellectual property portfolio (including NICTA IP)

IP CATEGORY

SUB CATEGORY

2012–13

2013–14

2014–15

2015–16

2016–17

Patents

Current Cooperation Treaty (PCT)applications

83

56

78

75

59

Granted

1,647

1,755

1,854

1,959

2,122

Live cases

3,454

3,506

3,430

3,544

3,773

Inventions

Patent families

718

644

578

595

692

New provisional and direct filings

87

66

63

70

79

Trademarks

Australian

281

257

250

251

238

Foreign

88

91

63

62

94

Plant Breeder's Rights

Australian

87

91

89

89

90

Foreign

24

26

25

25

26

Registered designs

Australian

3

2

2

2

2

Foreign

8

6

6

6

6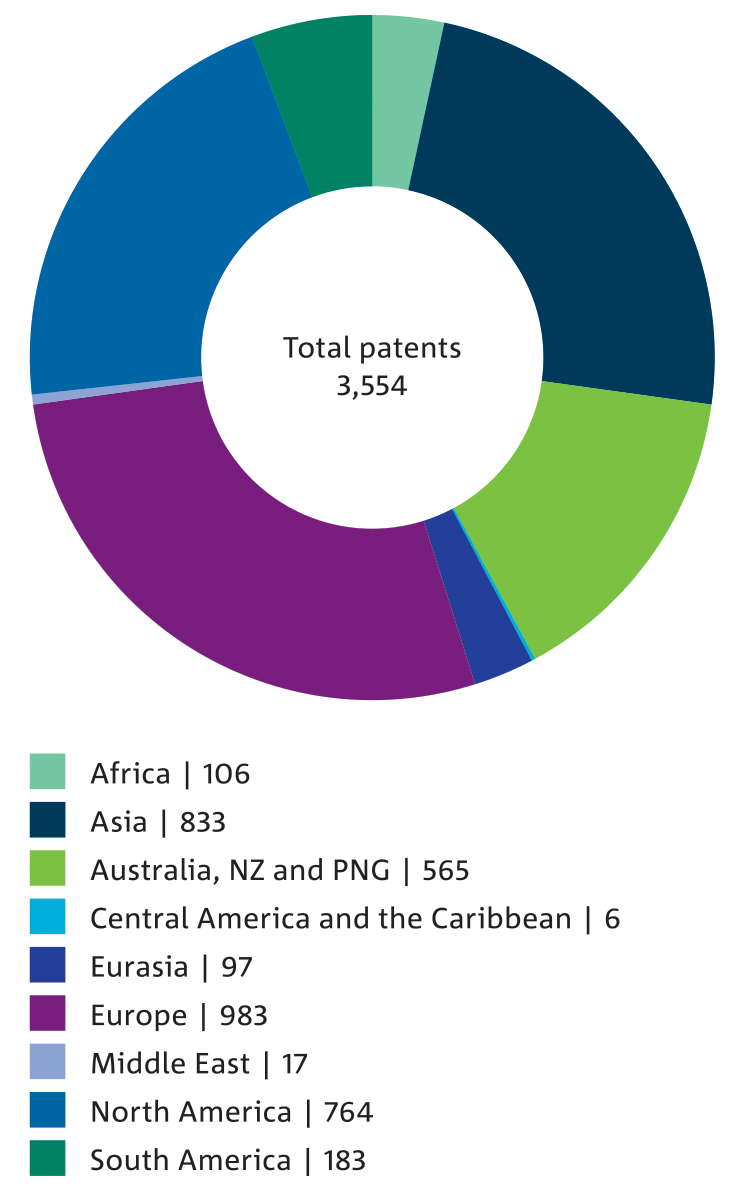 Pie chart: CSIRO's standard patent cases by geographic region:
total patents = 3554
Africa = 106
Asia = 833
Australia, NZ and PNG = 565
Central America and the Caribbean = 6
Euraisa = 97
Europe = 983
Middle East = 17
North America = 764
South America = 183.
The total number of live patent cases in Asia has been increasing steadily over recent years. CSIRO has a large proportion of live patent cases in Asia, with approximately 23 per cent in Japan, China, India, South Korea, Hong Kong, Malaysia, Indonesia, Singapore, Vietnam, Taiwan, Thailand and the Philippines (see Figure 2.3).
There has been a slight decrease in the number of filings in regions such as Africa and South America. These regions represent a relatively small portion of our patent portfolio (approximately eight per cent). Overall, our spread of patent cases mirrors the geographic regions where we focus our research.
Equity portfolio
Central to CSIRO's purpose is the application of our research directly to industry.
We systematically partner with the companies, large and small, best placed to take new technologies to market and deliver positive outcomes for Australia. CSIRO licenses technology to existing companies where it is deemed the most likely to maximise IP value. It also directly creates new high-technology SMEs through spinning out IP when that is considered to be the best pathway to commercialisation.
CSIRO's equity holdings (Table 2.6) are represented by ordinary shares, convertible notes and investments in the CSIRO Innovation Fund 1, LP and units in a pre-seed investment fund. The total value of CSIRO's equity portfolio at 30 June 2017 was $69.8 million.
Table 2.6: VALUE OF CSIRO'S EQUITY HOLDINGS

| | 2015–2016 | 2016–2017 |
| --- | --- | --- |
| Listed and unlisted companies | $8,930,281 | $19,541,035 |
| Unlisted special purpose vehicles (SPV), CSIRO Innovation Fund 1, LP and Unlisted Unit Trust | $40,515,560 | $50,279,196 |
| Total | $49,445,841 | $69,820,231 |
Currently, CSIRO has interest in 26 listed and unlisted companies with a total market value of $581 million. We are involved in 15 special purpose vehicles (SPV), which brings the total market value to $664 million. A major contributing factor of the revaluation of the portfolio was new and additional investments in unlisted companies. During 2016–17, the Fund increased by $10 million in government funding. CSIRO also became a shareholder in the start-up company Chrysos Holding to commercialise the PhotonAssay, a disruptive gamma activation analysis technology to measure ultra-low levels of gold and other valuable elements (see page 40 for further information). CSIRO received 38 per cent shareholder worth of $4.1 million shares in return for a transfer of IP and asset and research work.
A new investment was also made in the US company Amfora Inc. to develop applications of technology in corn and to progress applications in sorghum. This is of potential importance to farmers in northern Australia and dry environments. CSIRO has invested $3.3 million for a 28 per cent shareholding.
Other changes such as additional investments in unlisted companies and changes in share price for listed companies resulted in the increase of $20.4 million.
Bar chart: CSIRO Normalised citation impact by 5-year rolling windows, increase from 2008-12, 2011-15 and 2012-16 same, around 1.51.
Two companies were impaired as at 30 June 2017, resulting in an impairment expense of $425,000. One company went into voluntary administration (Carbon Energy Pty Ltd) and the other was deregistered (Skiatech Pty Ltd).
Citation impact
Research performance is often measured in the scientific community by counting the citations of research publications as well as rankings in a range of fields. Citations are taken as recognition of value and academic impact.
Citations can be expressed relative to the global average performance, accounting for the age and subject of publications. A result of 1.0 is equal to the global average, 1.2 is 20 per cent more cited and 0.75 is, accordingly, 25 per cent less cited. CSIRO's publications for the period 2012–16 were 51 per cent more cited than the world average, a result equal with the period 2011–15 (see Figure 2.4).
CSIRO produces publications in a range of research fields. Figure 2.5 shows the top 14 fields in which we continue to rank in the top one per cent globally by total citation count. Fifty-three per cent of our publications are in the four fields for which we are most strongly ranked for citations (that is, in the top 0.1 per cent). We have held this position for 13 years—as long as CSIRO has tracked this performance.
Another established metric is ranking articles by citation count based on percentile performance, compared with all other articles of the same type and in the same subject area. In 2012–16, 2.8 per cent of CSIRO publications were in the top one per cent of articles globally, 10.6 per cent in the top 5 per cent and 18.2 per cent in the top 10 per cent. These results demonstrate that our share of the very best research output is substantially above average and continues to improve.
Scatter chart: CSIRO Publication output and citation impact by research field 2007–16.
Our main research fields are Agricultural Sciences, Geosciences, Environment/Ecology, and Plant and Animal Science.
Adoption case studies
Case studies showcase the achievements of CSIRO staff in attaining adoption and uptake of their work. The following section provides examples from our Science and Services Business Units of how businesses and communities have benefited from our work.
Agriculture and Food
Novacq™ prawn feed additive going global
One third of the annual worldwide fish catch is used to produce fish meal for farmed fish and crustaceans. A six per cent per annum worldwide growth in aquaculture means there is a critical need to develop cost-effective, sustainable alternatives to wild-harvest fish products for aquafeeds. Commercial prawn diets typically contain about 25 per cent fishmeal. Currently, about one million tonnes of fishmeal go into shrimp diets worldwide. CSIRO's novel prawn feed additive, Novacq™, is helping reduce Australian prawn farming reliance on fish meal for feeds and to preserve global fish stocks.
Novacq™ is the result of over a decade of CSIRO research into prawn nutrition. This has required a unique, interdisciplinary capability in prawn biology, disease, microbiology, biochemistry and nutrition. Novacq™ is an entirely natural bioactive product based on the smallest organisms in the marine environment – the microbes that are the foundation of the marine food pyramid. Novacq™ is produced via the bio-conversion of low-value plant waste from agriculture. Adding Novacq™ to the diet of farmed prawns results in prawn stock that grows on average 40 per cent faster and is healthier, while providing a high-quality product for consumers.
The $75 million Australian prawn farming industry was the first to benefit from Novacq™. Successful farm trials were conducted at Australian Prawn Farms, one of Australia's leading prawn farming companies. The growth rate and prawn health benefits of Novacq™ have since been demonstrated in Black Tiger prawns and Vannamei shrimp, the major breeds for both the local and international industries.
This Australian innovation is now being taken to the world by Australian company, Ridley AgriProducts. Ridley became the first licensee for the Novacq™ technology in 2013 for Australia, Indonesia, the Philippines and Malaysia. In 2016, Thailand and other South Pacific territories were added. In early 2017, CSIRO extended Ridley's licensing arrangements to the rest of the world (excluding China and Vietnam). Ridley has commenced development of production sites and blending facilities in Thailand from where it can service multiple markets and feed manufacturers quickly and cost-effectively.
CSIRO has granted additional licences to two companies enabling commercialisation of Novacq™ technology into China and Vietnam; two of the world's largest producers of farmed prawns. In Vietnam, Viet-Uc is the key CSIRO partner. Its Novacq™-based feed factory is expected to begin selling to the Vietnamese prawn industry in 2017. CSIRO has now issued licences for 100 per cent of the global prawn feed market.
Our work has reduced pressure on precious marine resources and has created a new industry in Australia – the production of a sustainable prawn feed ingredient. The key impact of Novacq™ is the improved yield of farmed prawns through increased growth rates. Additional jobs in the industry are expected as a result of the expansion of Ridley's Novacq™ production plants in Yamba, NSW and in Thailand. The positive impacts on the environment include a more sustainable prawn industry, reduction in agricultural waste and protection of existing fish stocks.
This year CSIRO and Ridley signed a long-term research development alliance to continue research and development of the Novacq™ technology and to explore the potential of expanding use to other species, such as potentially livestock.
Data61
PaidRight set to future-proof payroll practices
How do you prevent headaches, legal battles and fines? Data61's PaidRight system could make it easier for staff to be paid in line with their employment contracts and allow employers to avoid the highly publicised payroll errors, reputational damage and fines that are known to follow suit.
A joint venture between Data61 and PricewaterhouseCoopers (PwC) has resulted in PaidRight, a world-first web application that solves a global business problem: how to interpret modern awards and complex enterprise agreements and avoid payroll errors.
Data61 is a leader in the emerging field of regulation technology (known as RegTech) and has been researching how to encode law and regulation as machine-readable code for a decade. PaidRight strips back enterprise agreements and quickly turns them into machine-readable code.
PaidRight works by going deeper into the field of legal informatics. It transforms rules and regulations into digital logic using a multi-stage process and makes connections between complex regulations. It means that 'If X then Y' scenarios can be explored at the touch of a button. Using PaidRight, businesses can assess the implications of overtime for certain employees, analyse the impact and cost of roster changes and make quick comparisons before determining the best course of action while staying compliant.
While PaidRight is digital logic at its best, it still requires human interaction. One of the strengths of PaidRight is that it uses the interaction between computer and humans to deliver best practice decision-making. As complex problems such as efficient rostering are solved, the application makes suggestions that humans can act on. For example, PaidRight may indicate that some workers perform overtime, but it is the human managers who make the final decision.
For CEOs and Board members looking for assurance that franchisees or sub-contractors are paying employees appropriately, the arrival of PaidRight in the marketplace is a way to stay on the right side of increasingly active regulators. It is a way to avoid the hefty fines that come with underpayments or non-compliance with enterprise agreements.
PwC's global client list will be among the first companies able to run the application alongside their in-house payroll systems. Within its first year on the market, PaidRight is set to help 100 companies ensure their employees are being paid correctly.
The successful collaboration between Data61 and PwC allowed the team to take the application from development to commercialisation in just 16 weeks. As PaidRight enters the market, Data61 is looking to the future. The team is designing other platforms to springboard future digital regulation tools and services to remain at the forefront of the RegTech industry.
Energy
Transforming the grid: our Electricity Network Roadmap
Australia has experienced an unprecedented take-up of rooftop solar panels, and the adoption of batteries and other technologies is expected to increase. There is a significant opportunity to transition Australia's electricity network to ensure the future grid supports energy security, affordability for customers and significant reductions in emissions. The next decade will see considerable changes resulting from new technologies that must deliver lower costs and consumer preferences as well as limits on emissions following the Paris climate commitments.
In partnership with Energy Networks Australia, CSIRO developed the Electricity Network Transformation Roadmap that sets out concrete actions and milestones to 2027 to achieve significant outcomes for customers. The Roadmap provides a plan for the electricity sector to achieve a significant reduction in cumulative total expenditure, primarily due to avoided duplication of capacity and better use of the distribution, transmission and end-use sectors. As a consequence, substantial increases in average residential electricity bills can be avoided and customer cross-subsidies reduced. The Roadmap minimises inequitable outcomes and unintended cost transfers that might arise where customers are not able to take up opportunities that would save on electricity bills.
CSIRO's approach to developing the Roadmap provides an excellent foundation for industry and other stakeholders implementing positive change. Besides the strong stakeholder collaboration during its development, further Roadmap adoption includes consumer groups and government using the Roadmap scenarios and outputs to determine protections needed for consumers in a changing electricity system4 and stress testing current electricity sector regulations.
In October 2016, CSIRO presented its work to the COAG Energy Council on the future of the electricity system. In January 2017, CSIRO and Energy Networks Australia provided a joint briefing to the Council's senior committee providing an update on the Roadmap findings. CSIRO also provided briefings and responded to a number of information requests from Chief Scientist Alan Finkel who was head of the independent review into the Future Security of the National Electricity Market. The review's final report emphasis on demand management using customer-distributed energy resources can, at least in part, be attributed to the Roadmap.
The Roadmap was launched in April 2017 and is the result of comprehensive CSIRO energy system analysis and input from over 200 electricity industry stakeholders. The Roadmap conclusions are supported by 25 expert reports. Feedback from public webinars and workshops was incorporated into components of the Roadmap that received a great amount of public interest. To date, the Roadmap website has had over 30,000 visits.
CSIRO and Energy Networks Australia were invited to provide expert information to the Select Committee into the Resilience of Electricity Infrastructure in a Warming World, and the Standing Committee on Environment and Energy's inquiry into modernising Australia's electricity grid. Energy Networks Australia has developed 11 critical projects that are essential to Roadmap success.
Health and Biosecurity
Providing Digital Health Infrastructure for Australia
Health systems in Australia and around the world are facing the same challenges – to deliver high quality services to citizens in cost effective ways. Moving a paper-based healthcare system to a digitally enabled system is a key enabler of efficiencies. It also increases the quality and safety of healthcare delivery. This requires the sharing of patient data across many different electronic systems, often captured using different formats and data types.
The use of standardised language in electronic health records enables health data to be shared between these different systems. This interoperability supports the data sharing, clinical decision support and data analytics required for a safer healthcare system and better health outcomes for patients.
Health records often use various terms to describe the same medical concept and clinical terminologies can be complex. Australia has adopted the international standard, Systematized Nomenclature of Medicine-Clinical Terms (SNOMED CT) for clinical documentation. It has also developed the Australian Medicines Terminology for medications used in Australia. Due to their complexity, these terminologies are difficult to implement and maintain in electronic health record systems.
In 2016, CSIRO partnered with the Australian Digital Health Agency to develop the National Clinical Terminology Service (NCTS). This is one of four national digital health foundation services supporting Australia's data driven health future. The NCTS makes CSIRO's terminology server, Ontoserver, available free for use in Australia. Ontoserver is one of the clinical terminology tools developed at the Australian e-Health Research Centre (AEHRC).
Ontoserver allows easy and fast implementation of terminology in electronic health records and clinical information systems. It also provides access to the advanced features needed for decision support and reporting use cases. CSIRO and the Australian Digital Health Agency have also developed a syndication service that provides automated updating of terminology content.
Ontoserver implements and supports a new standard in data interoperability in health – Fast Healthcare Interoperability Resources (FHIR). This emerging standard substantially simplifies implementation for most health IT vendors. Over the past 12 months, over 30 licences of Ontoserver have been taken out by large and small health IT companies, and implementation and deployment is increasing. Organisations already on-board are The Royal Australasian College of Surgeons, the Princess Alexandra Hospital, Mackay and Townsville hospitals and Queensland Health, as well as many small and medium-sized businesses in Australia. Bendigo Hospital was the first adopter of Ontoserver as part of the NCTS.
These tools are already providing benefits for patients and health services The Princess Alexandra Hospital in Brisbane in the last year used the AEHRC SnoMAP tool to automatically map terminology from the hospital's electronic medical records to the Australian disease classification system. They are using it to access accurate funding data and allowing clinicians to benefit from the detailed terminology records. Royal Hobart Hospital has being using Ontoserver for four years to capture procedures and diagnoses, and provide reports from their Clinical Information System.
Land and Water
Partnering for impact – managing Australia's precious water resources
The sustainable and productive management of Australia's water resources faces significant challenges. These include meeting competing water demands from the agricultural, environmental and urban sectors, impacts of over-allocation and resource extraction, uncertainty in water resource availability and the effects of hydroclimate variability and climate change.
The Australian Government recognised this challenge and introduced new legislated responsibilities, providing additional resources to the Bureau of Meteorology under the Water Act 2007 to deliver water information for Australia. In 2008, a partnership between CSIRO and the Bureau of Meteorology brought together CSIRO's leading expertise in water and information sciences and the Bureau of Meteorology's operational role in hydrological analysis and prediction. The resulting Water Information Research and Development Alliance (WIRADA) delivers value-added water information products and tools.
Through WIRADA, Australia now has nationally-consistent and regionally-relevant water information products and services based on high quality data and timely delivery systems, to support robust decision making across national, state and local levels. Significant impacts arise from the novel water information products and services and their adoption by the water industry and research community. The benefits from WIRADA and the Bureau's national water information products have been valued by the Centre for International Economics.at $287 million per year.
The hydrological models in Australian Water Resources Assessment (AWRA) have been used in numerous applications, including the ongoing and nationally-significant large resource and impact assessments (Bioregional Assessment and Northern Australia Water Resource Assessment). Over the last year AWRA outputs have been used by a number of federal and state government agencies, water corporations, consultants and researchers to underpin water resources planning and policy formulation. Using AWRA-L (landscape) outputs, the NSW Department of Primary Industries Water is now able to determine seasonal loss triggers for water allocation, relating the AWRA-L outputs of soil moisture to transmission losses in rivers, which enables the management of risks to the delivery of water allocations in NSW river basins.
The water forecasting models are also being applied to support water quality forecasting for the Great Barrier Reef and river forecasting for environmental watering in northern Victorian catchments. Overseas, the forecasting methods are being used to support sustainable development projects in South Asia, collaborations with China and Singapore, and experimental forecasting programmes in the USA.
The science and technology breakthroughs in WIRADA, and the translation of science into operational water products, have enabled the Bureau to fulfil its national water information mandate, delivering direct impacts to the Australian community and industries. The research in WIRADA in the water forecasting, water resources assessment and water informatics areas has significantly advanced the Australian national research priority and helped address the practical challenge area of water. Australia is now recognised as an international leader in the development of water information exchange standards and systems.
Manufacturing
Protein power: helping create a next-generation cancer and blood disease drug
Around 48,000 Australians are expected to die from cancer in 2017. More than 134,000 Australians are also expected to be diagnosed with some form of the disease over the same period4. Many of them will undergo broad based cancer treatments such as chemotherapy, which kill healthy cells along with cancerous ones and can lead to damaging side effects.
Now, in partnership with CSIRO, the Cancer Therapeutics CRC (CTx) has developed a potential new treatment that is more precise, attacking specific cancers in a targeted way that results in fewer side effects. This truly innovative technique is one of the few in the world to use the cutting edge field of epigenetics, which allows researchers to manipulate specific genes. In this case CTx has created a small molecule inhibitor drug that is hoped will 'switch off' lymphomas by targeting a protein called PRMT5. Heightened levels of PRMT5 are found in patients with cell lymphoma, lung cancer, breast cancer and colorectal cancer.
The drug could also prove a potent weapon in the fight against non-cancerous genetic deficiencies and blood disorders such as sickle cell disease and beta thalassemia. PRMT5 switches on and off important genes in the development of blood and it may be able to make the body produce foetal haemoglobin, which carries more oxygen than adult haemoglobin and may therefore compensate for genetic deficiency.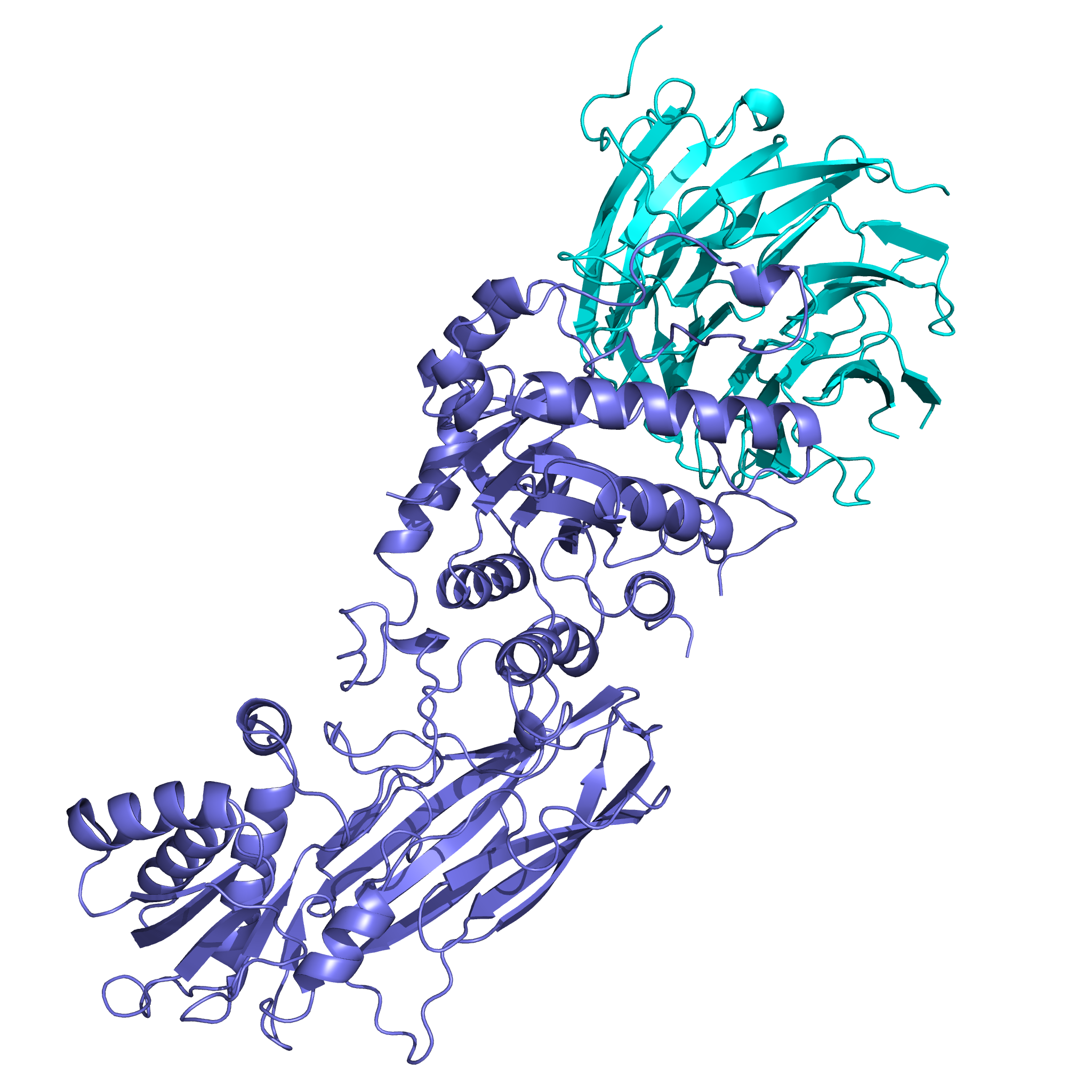 As Australia's leading producer of high quality protein for research, CSIRO's capabilities were vital to CTx's ground breaking work developing this potential oncology drug. One of the challenges of creating new drugs is producing proteins in large enough quantities to support pre-clinical and clinical trials. CSIRO's state-of-the-art equipment at its Recombinant Protein Production Facility allows the production of proteins in large quantities, from hundreds of milligrams to kilograms.
Using these facilities CSIRO created high quality proteins specifically designed for drug development and provided biophysical screening and crystallisation studies for structure based drug design. These world class protein facilities meet the demand for fast production and evaluation often needed in medical technologies.
US pharmaceutical company, Merck, has licensed the drug for US$15 million in one of the largest ever pre-clinical licensing deals in Australian research. This has the potential to return US$500 million to CTx and its partners. Merck US will further develop the drug and take it to clinical trials with a view to worldwide commercialisation. Phase 1 trials are likely to start in 2018. CSIRO continues to be a part of the process, through our protein production work with Merck. CSIRO and CTx are now a step closer to knowing how PRMT5 works and a greater understanding of how to fight a variety of cancers and blood disorders. Other research partners involved in this project were Monash University, Peter MacCallum Cancer Centre and the Walter and Eliza Hall Institute.
Mineral Resources
X-ray vision speeds up gold analytical services
Easy-to-access, high-quality gold deposits are becoming increasingly scarce around the world, and mining companies are seeking cost-effective ways to get more value from lower-quality ore. Australia is the world's second largest gold producer with annual production valued at about $15 billion. Yet a significant fraction of mined gold is unrecovered and goes to waste. This is, in part, because conventional analysis methods are too slow to allow miners to track and optimise their operations in real time. Gold losses from large processing plants can be valued in the hundreds of millions of dollars per year, so improvements in efficiency arising from a faster and more effective analysis method would deliver huge value.
Increasing the efficiency and effectiveness of analytical services (also known as 'assays') has the potential to significantly increase mining productivity. Analytical services – worth nearly $1 billion globally for gold alone – are essential across the mining value chain, ranging from initial exploration to running profitable extraction operations.
CSIRO recognised the potential to deliver greater value to the assays market. CSIRO's PhotonAssay uses high-powered x-rays to bombard rock samples and activate atoms of gold and other metals. A sensitive detector takes just a few minutes to pick up the unique gamma-ray signatures from these elements and determine their concentrations. This is much faster and more accurate than traditional gold assay methods.
With a turnaround time for analysis now minutes, not days, PhotonAssay mining companies can monitor their operations in real time and rapidly respond to problems. As a result, miners can more readily optimise their processes and make better-informed decisions during the mining process.
PhotonAssay also provides significant health and safety advantages. Traditional manual assay methods require technicians to work with toxic chemicals such as lead or cyanide. PhotonAssay is a fully-automated, chemistry-free process that is also non-destructive, allowing further testing to be performed if required. This reduces both the environmental impact and operating costs of mining assay operations.
In December 2016, CSIRO partnered with a network of experienced investors and industry professionals to create Chrysos Corporation Limited (Chrysos ) to bring the technology to market. Together with manufacturing partner Nuctech Company Ltd, Chrysos plans to deliver its first system in late 2017.
Chrysos has set its sights on becoming a global leader in the market for gold assay services. Although focussing initially on gold, Chrysos plans to expand the technology in the near future to a wide range of other important commodities, including silver and copper. CSIRO holds a 38 per cent stake in the company.
ASX-listed Ausdrill is set to install Chrysos' first high-throughput, lab-based PhotonAssay unit in their Perth facility in December 2017. Smaller units for mine-site operations will follow in 2018. Validation of the PhotonAssay technology has been supported by industry partners including Newcrest Mining and Gannet Holdings. BHP Billiton and the South Australian Government have provided funding to support the commercialisation.
Oceans and Atmosphere
World-first platform delivers vital information for the Great Barrier Reef
The Great Barrier Reef is a national treasure that brings significant economic, cultural and social benefits to Australia. It generates $6.4 billion annually for the national economy and underpins more than 64,000 jobs. The health of the reef is under increasing threat from cumulative pressures such as climate change, declining water quality, habitat loss and coastal development.
The reef is vast and complex, requiring the nation's marine and reef scientists to apply their knowledge and skills in its management and recovery. CSIRO Oceans and Atmosphere is helping to do this through the development of a world-first, fully-integrated decision support and communication tool for managing the reef. The eReefs project has developed a digital information platform that provides a picture of what is currently happening on the reef and what will likely happen in the future. The platform spans the estuaries, the reef lagoon and the open ocean and links to models of adjacent catchments.
CSIRO has delivered a modelling framework capable of simulating and predicting the physical state of the Great Barrier Reef lagoon and reef matrix across multiple spatial scales. Together, these models represent a capability to accurately reproduce in three dimensions the hydrodynamic, sediment, and biogeochemistry and ecology of the Reef. It provides information on physical processes, sediment transport, biogeochemistry and ocean colour. The eReefs marine models are currently being used in near-real-time operation and can also be used for scenario analysis such as how changes in catchment land-use and practice might affect the health of the reef.
The eReefs tools help inform public policy designed to protect the health of the reef. In the last year, eReefs was used by the Australian and Queensland governments to revise catchment water quality targets to protect the Great Barrier Reef. Modelling has been used to predict the potential of reef bleaching and eReefs is used as a key platform in the Reef Integrated Monitoring Reporting and Assessment Program that supports Reef 2050.
The eReefs models are being used by the Great Barrier Reef Marine Park Authority and the Queensland government to aid decision making. The Bureau of Meteorology uses eReefs to deliver remote sensing products based on CSIROS algorithms. CSIRO has also negotiated an agreement with Chile to create a similar model for their coast region to help protect local aquaculture.
The eReefs project is delivering significant impacts by enabling the protection and improvement of the marine ecosystems, creating more efficient tourism and shipping operations, and supporting sustainable growth in aquaculture. Based on conservative assumptions, the net present value of benefits to 2025–26 from the project is over $80 million.
The eReefs project is conducted in collaboration with the Great Barrier Reef Foundation, the Australian Bureau of Meteorology, the Australian Institute of Marine Science, and the Queensland Government, with funding support from the Australian Government, Queensland Government, the Science and Industry Endowment Fund, and BHP Billiton.
CSIRO Services
Education and outreach
We design and deliver high-quality, national education and outreach programs for school students, teachers and the public about the valuable contribution scientific research makes to the community. We also support undergraduate, postgraduate and postdoctoral researchers to boost the calibre of researchers working in Australian industry and strengthen future innovation capacity. Our science outreach programs also promote the importance of CSIRO research, its application and STEM literacy and connection to the Australian community.
CSIRO Education and Outreach has education specialists and facilities in each capital city as well as in Townsville and Newcastle. This year, 133,135 primary and secondary students took part in hands-on science education programs. More than 30,000 people took part in community programs.
We delivered the STEM Professionals in Schools (formerly known as Scientists and Mathematicians in Schools), Sustainable Futures, BHP Billiton Foundation Indigenous STEM Education project, BHP Billiton Science and Engineering Awards, CSIRO's Creativity in Research Engineering Science and Technology (CREST) Awards (formerly known as CREativity in Science and Technology Awards), the CSIRO Discovery Centre, Digital Careers and Science Bootcamp programs.
The STEM Professionals in Schools program partners STEM professionals with primary and secondary teachers around the country. By 30 June 2017, there were 1,919 STEM Professionals in Schools partnerships in 1,234 schools. Of these, 26 per cent were in rural and regional schools and 46 were in schools with more than 25 per cent Aboriginal or Torres Strait Islander students.
The BHP Billiton Foundation Indigenous STEM Education program increases the participation and achievement of Aboriginal and Torres Strait Islander students in STEM in schools and onto employment. The program is in its third year and is successfully delivering all program elements. Already, 643 teachers and teacher assistants and 11,179 students in 324 schools are taking part in school programs, 11 communities are involved in community programs and 20 students are enrolled in the Bachelor of Science (Extended) at the University of Melbourne.
CSIRO Sustainable Futures worked with 814 schools Australia-wide to help them understand the science behind climate change and how to reduce their carbon footprint.
The Digital Careers program increased student participation and interest in ICT courses and careers. During 2016–17, 78,271 students took part in the suite of Bebras computational thinking challenge programs and 1,249 students took part in the Young ICT Explorers program.
In 2017, CREST helped over 5,500 school students plan and conduct research projects. To increase participation and scale the program, this year the team focussed on updating the CREST materials to map to the curriculum, incorporate digital technologies and ICT components and trial new teacher professional learning models. A new database for participants is also being developed to streamline engagement with participants. Over 60 per cent of students received awards for their work. Many went on to participate in the BHP Billiton Science and Engineering Awards that recognise outstanding scientific research and technology projects by school students. The awards also recognise the commitment and expertise of their teachers. Last year, 10,950 students entered the awards.
We host the CSIRO Discovery Centre in Canberra, and major visitor centres at observatories near Parkes and Narrabri in NSW and the Canberra Deep Space Communication Complex (CDSCC). These centres are purpose-built to showcase our research in an entertaining way that demystifies and educates people of all ages about research and innovation.
Education and outreach programs at the CDSCC attracted 10,221 school students and teachers during 2016–17, which is 12.5 per cent more than in 2015–16. An additional 313 school students and teachers participated in self-guided visits. Programs covered the broad spectrum of science, technology, engineering and mathematics, with a focus on the contribution to space exploration and astronomy. The total number of visitors was 70,753, which is an increase of five per cent from 2015–16.
The visitors centre at the Parkes radio telescope welcomed 83,851 visitors in 2016–17. Thirty-eight schools participated in education and outreach programs, compared with 36 the previous year, reaching approximately 1,082 students. There were 1,579 visitors from seniors groups, clubs or specialised interest groups.
The PULSE@Parkes program attracted 180 students from 16 schools, 75 teachers and 10 university students. Sessions were held at the Pawsey Supercomputing Centre in Perth, at CSIRO Discovery Centre in Canberra and in Brisbane for teachers participating in the STEM X Academy at CONASTA, the national science teacher conference. Three sessions were also held in Guangzhou, China.
At the Australia Telescope Compact Array at Narrabri, 10,965 visitors in 2016–17 took self-guided tours of the visitor centre. This continues to be highly popular with families, schools, photography clubs and seniors groups.
Table 2.7: Science outreach: education programs

| PROGRAM | 2012–13 | 2013–14 | 2014–15 | 2015–16 | 2016–17 |
| --- | --- | --- | --- | --- | --- |
| CSIRO Science Education Centres (visitors) | 363,099 | 366,305 | 154,825 | 05 | 0 |
| Creativity in Research Engineering Science and Technology (CREST) Awards (participants) | 7,767 | 11,048 | 10,805 | 9,600 | 5,579 |
| BHP Billiton Science and Engineering Awards (participants) | 4,065 | 7,125 | 8,146 | 7,639 | 10,950 |
Table 2.8: Science outreach: visitor centres

| CENTRE | 2012–13 | 2013–14 | 2014–15 | 2015–16 | 2016–17 |
| --- | --- | --- | --- | --- | --- |
| CSIRO Discovery Centre (visitors) | 113,000 | 120,000 | 33,1895 | 18,477 | 26,332 |
| Parkes radio telescope (visitors) | 92,876 | 84,698 | 68,427 | 95,212 | 83,851 |
| Canberra Deep Space Communication Complex (visitors) | 68,710 | 67,554 | 61,051 | 67,378 | 70,753 |
| Australia Telescope Compact Array, Narrabri (visitors) | 10,500 | 12,500 | 10,971 | 11,511 | 10,965 |
Postgraduate and postdoctoral researchers
Our Postgraduate Scholarship Program provides opportunities in science and engineering for outstanding graduates who enrol at Australian tertiary institutions as full-time postgraduate students for research leading to the award of a PhD. Doctoral students at CSIRO are co-supervised by a university, allowing students to maintain and develop their university connections while being exposed to research in a working environment (see Table 2.9). The number of students fluctuates, with uneven intakes each year and reduced numbers when a cohort moves through the program.
Table 2.9: Science outreach: CSIRO's Postgraduate Students and Postdoctoral Fellows as at 31 May 2017

2012–13

2013–14

2014–15

2015–16

2016–17

Sponsored postgraduates6






PhD

294

254

224

280

416

Masters

16

19

16

36

27

Honours

22

23

10

19

16

Total

332

296

250

335

4597

Supervised postgraduates6






PhD

642

601

621

599

673

Masters

68

90

70

132

115

Honours

82

61

70

70

68

Total

792

752

761

801

856

Postdoctoral Fellows

324

325

303

229

248
A long-standing partnership driving passion for science in our communities
For 35 years, CSIRO has delivered Australia's most prestigious school science awards – the BHP Billiton Science and Engineering Awards (BHPBSEA) – in partnership with the BHP Billiton Foundation, the Australian Science Teachers Association and state and territory science teachers associations. The awards recognise school-aged students for their research projects that demonstrate innovative and thorough scientific and/or engineering procedures, as well as the outstanding contributions made by classroom teachers to science education.
In the last 10 years, the awards have recognised 252 Australian students as national finalists for their scientific work, and 93 teachers for their excellence in teaching and support of open-ended student investigations.
Through the recognition and reward of high-quality work in science and engineering, the BHPBSEA encourages students and teachers to be involved in open-ended STEM-related projects. The goal is to stimulate a thirst for knowledge while setting them on a path for a future career in science and engineering.
A 2015 evaluation of the BHPBSEA found the benefits for students were an increased knowledge and learning in STEM, exposure to future study and career pathways and increased networking opportunities. Of the students surveyed, 86 per cent expressed an interest in a future career working in science fields and 60 per cent in the engineering fields.
BHPBSEA is one of the only Australian competitions that allows winning students to compete at the world's largest international school-level science competition, the Intel International Science and Engineering Fair (ISEF) held in the US each year. Attendance at Intel ISEF is highly competitive and involves approximately 1,800 high school students from more than 75 countries, regions and territories. Attendance at the fair allows students to gain international exposure, provides inspiration and networking opportunities to further their interest in STEM fields. It gives them a chance to compete for a range of awards and scholarships to further their STEM education.
In 2017, six BHPBSEA finalists attended the Intel ISEF, with one student winning third prize in environmental engineering. Another was selected to attend a VIP luncheon and address the five members of the Science and Excellence panel, which included several Nobel Laureates.
All students who attend the international competition return with renewed enthusiasm for STEM and often go on to pursue STEM-related subjects at tertiary level. BHPBSEA alumni reflect that being selected as a finalist and attending ISEF changes their lives, they have a greater appreciation for science, scientific investigation and potential career paths in STEM fields. One student attending the 2017 international competition reflected, 'Intel ISEF for me was a wonderful learning experience, even in ways I did not anticipate. I not only made friends and learned about science but also feel invigorated and motivated for the future. This is only the beginning!'
Publishing
CSIRO Publishing provides a viable, local publishing option for CSIRO itself, and for learned and professional societies to publish scholarly content that champions Australian research. It operates as an independent science publisher within CSIRO on behalf of authors and customers in Australia and overseas. Our publishing program covers a wide range of scientific disciplines, including agriculture, the plant and animal sciences, and the environment. We are Australia's only endemic, scholarly science publisher with a significant digital capability.
During 2016–17, we published 30 journal titles. Thirteen titles were published in partnership with the Australian Academy of Science, a successful relationship dating back to 1948. Fifteen journals were produced under agreements with Australian and international societies or institutions. Additionally, special issues of journals were published in connection with societies and international conferences. These journals are available free to developing countries through the United Nations program Research4Life. This program fosters scientific understanding and education in developing nations. Online use of the journals resulted in 4,224,132 articles being downloaded.
In November 2016, we launched an online resource for teachers of Years 5 and 6 science called Double Helix Lessons. Mapped to the Australian Curriculum, Double Helix Lessons is a suite of online interactive science lessons for upper primary school students. It is designed to make it easy for any school to supercharge their science program. The product was developed in partnership with tech start-up company Stile.
Table 2.10: CSIRO PUBLISHING SuBSCRIBERS

| | 2012–13 | 2013–14 | 2014–15 | 2015–16 | 2016–17 |
| --- | --- | --- | --- | --- | --- |
| CSIRO Publishing journals (downloads) | 2,641,160 | 2,819,798 | 2,471,566 | 2,901,602 | 4,224,132 |
| Double Helix Magazine* (subscribers) | 15,958 | 15,209 | 11,226 | 7,216 | 6,687 |
| Science by Email (subscribers) | 42,422 | 42,011 | 43,010 | 43,029 | 42,017 |
| Maths by Email (subscribers) | 17,292 | 20,381 | 22,771 | 23,456 | 23,294 |
*In 2015, two magazines, The Helix and Scientriffic, were combined in to one magazine called Double Helix. The reduction in 2015–16 subscriptions is due to subscribing families, schools and libraries taking only one subscription, not two.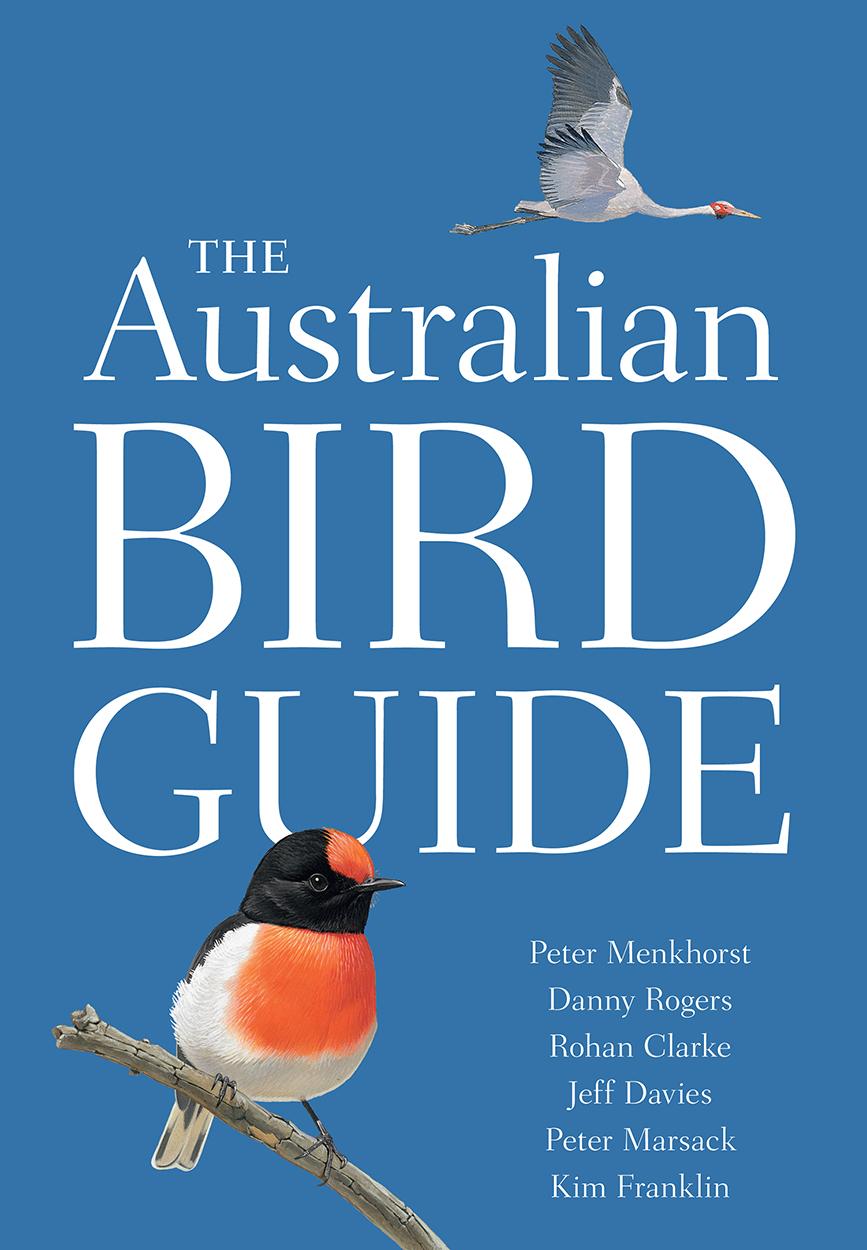 New book titles
During 2016–17, CSIRO Publishing released 32 book titles in print and digital formats. The digital books comprised approximately 12 per cent of sales. A highlight among the titles was The Australian Bird Guide, the most comprehensive field guide of Australian birds. It features over 4,700 specially commission paintings of more than 900 bird species and is the culmination of 10 years of work. Over 20,000 copies were distributed in less than four weeks.
Net profit
CSIRO Publishing delivered a net profit of $556,301 for 2016–17. Total revenue for the period was $10,360,929.
SME Connect
Collaboration between industry and research institutions in Australia is historically poor, resulting in a research knowledge base that is not captured effectively8. CSIRO's SME Connect helps to raise that performance through three programs designed to connect SMEs with Australia's best researchers and facilities. The goal is to help SMEs become Australia's next innovation success stories.
In 2016–2017, SME Connect facilitated over 155 research projects nationally, injecting $25 million into research and development. In addition, 143 SMEs were connected with over 37 Australian research organisations, including 24 universities as well as CSIRO. We also facilitated 22 graduate placement grants.
Fostering innovation success stories in regional Australia
As experienced facilitators of Innovation Connections under the Australian Government's Entrepreneurs' Programme, SME Connect has undertaken the most collaborations with the University of Newcastle9. This connected more than 40 regional SMEs with the local research sector to undertake 33 projects in 2016–2017. SME Connect is also boosting regional NSW researcher career pathways by securing the placement of nine University of Newcastle graduates in local industry businesses. This is the highest number of placements for a university across the country under this program.
Multiskilled Resources Australia (MRA) is one SME that has developed an ongoing research partnership with the University of Newcastle. This was fostered through three Innovation Connections projects facilitated by SME Connect. The collaboration has seen MRA move to market-leader status in delivering automated ship loading processes with collision avoidance. This is an innovative smart-sensing technology that addresses a major optimisation target for export terminals globally. MRA is continuing to expand its research in this area through a University of Newcastle 12-month Researcher Placement via CSIRO's SME Connect team.
A research-industry partnership to improve cancer detection
Bowel cancer, or colorectal cancer (CRC), is the second most common cause of death from cancer in Australia, with almost 15,000 new cases diagnosed each year. It is responsible for more than 600,000 deaths worldwide each year. Post-surgical recurrence of CRC occurs in 30 to 50 per cent of cases, most often in the first two to three years following initial diagnosis and treatment. SME Connect, through Innovation Connections and a Researcher in Business placement, facilitated three collaborative research projects between CSIRO and Australian-founded biotechnology company, Clinical Genomics. The projects assisted further development and application modelling of a new innovation, Colvera™, that detects cancer-specific chemical changes in fragments of DNA from the tumour found circulating in the blood. The test has been shown to be more than two times as sensitive for CRC recurrence as existing tests. It also has potential broader application in CRC screening. Colvera™ increases the likelihood of detecting curable CRC recurrences that could lead to a reduction in the number of deaths from the cancer. Clinical Genomics successfully launched Colvera™ in the US market in late 2016. It is anticipated that the test will become available in Australia in 2018.
A patent family is a collective set of patents to protect a single invention. In other words, all patent filings around the world for the same invention constitute a patent family.
The total patents reported excludes PCT and Provisional Application filings, as these by themselves do not give rise to a patent right. The total number of 'live cases' reported in Table 2.5 does include PCT and Provisional filings.
The four research fields represented by green points are CSIRO's four main fields of research.
Consumer Action Law Centre 2016.
Cancer Australia: www.canceraustralia.gov.au/affected-cancer/what-cancer/cancer-australia-statistics
The state-based science education centres closed in late 2014.
A student may be either sponsored, supervised or both. The total number of individual students sponsored and/or supervised was 856, including more than 19 supervised in collaboration with Cooperative Research Centres. See glossary on page 167 for definition of sponsorship and supervision.
Includes 152 students fully sponsored and 307 students partially sponsored by CSIRO
Department of Industry, Innovation and Science (2015) Australian Innovation System Report 2015, Office of the Chief Economist, Part 4: Financial statements.
Innovation Connections League Ladder for grants approved between 1 September 2014 and 31 May 2017 inclusive.