CSIRO's Values Compass represents five key values that guide our success. Our values guide our decisions and interactions with our colleagues and with our external partners and stakeholders.
Our values are: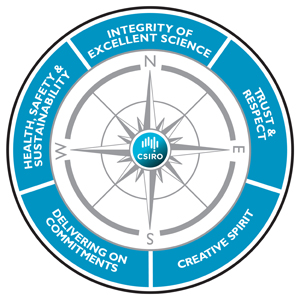 Embracing scientific excellence and working together ethically and with integrity in everything we do.
Building trust and respect each day with our communities, partners and colleagues, knowing that with trust comes accountability.
Igniting our creative spirit, exploring new horizons and creating an environment where innovation thrives.
Consistently delivering on our commitments. 'Do what we say we will do'.
Striving towards a healthy, safe and sustainable future.