An outline of the key capabilities that we will invest in to equip our staff to be resilient and outcome-oriented.
Current capability
Health & safety
Our focus has been on building the skills of leaders to support the health, safety and wellbeing of their teams through case study based leadership training and simplifying the systems and processes they use. Although our safety performance has improved over a number of years, too many staff are still being injured and a number of incidents highlighting the need for more effective management of the diverse risks associated with our science. An external review of the management of health, safety and environment was conducted that highlighted the need for a cultural shift in the organisation, a realignment of strategy and the HSE team structure, to provide more effective support to the organisation. The CSIRO Leadership Team embraced the need for change with the organisation moving from 'Zero harm' to a focus on 'Safety: Make it personal. What could go wrong?'. This next phase commenced with the entire organisation ceasing normal operations on the 16 May for 'HS-ME Day'.
Adaptiveness
Adaptiveness is a critical trait for us to develop, given the disruptive world in which we operate, to ensure sustainability and ongoing value creation for our partners and the community. In the CSIRO context, we have focussed on building adaptiveness through an integrated approach to how we design our systems and processes, empowering our people, and having a cultural focus on collaboration and inclusiveness that aims to build mutual trust across all levels of the organisation.
Knowledge translation and commercial outcomes
Improving the translation of knowledge and ideas from the Australian research sector to outputs for the economy, society and environment requires greater levels of collaboration across Australia's innovation system than previously undertaken. We recognise this need, and we focus on acting as the national innovation catalyst. We have responded with the ON program, a national science and technology accelerator. ON provides the permission, support and connections for Australia's best researchers to step out of the lab, learn more about the challenge they aim to address, and determine the best pathway to impact. The program continues to expand its level of participation, and across the period of this Plan, the program intends to further increase involvement of Australian universities and small to medium size enterprises.
Also to support the translation of 'deep technology' from the publically funded research sector into commercial outcomes, CSIRO has established the CSIRO Innovation Fund (Main Sequence Ventures). Main Sequence Ventures invests in companies at an early stage of technology development, including opportunities arising through ON, and supporting small Australian companies to grow through technology. The partner team have specialist skills as venture capitalists, company founders and scientists and extensive networks – the skills and experience required to transform research into global-scale companies and in so doing this team has skills and training impact across both CSIRO and the university catchments.
Diversity and inclusion
Our current capability in science delivery is focussed on building a more diverse and inclusive organisation through improving female participation and indigenous employment, and building a talent pipeline through actively engaging students and early career researchers.
This is an important path to deepening our partner relationships with universities and increasing our engagement in education and training, from school age to PhD level, and facilitating transition to the workplace, to help build and equip Australia's future science, technology, engineering and mathematics (STEM) and innovation-capable workforce. Currently, we host approximately 1,000 students, and approximately 270 post‐doctoral fellows (PDFs), and we plan to boost our talent pipeline by growing these numbers of early career researchers. We are also exploring enhanced pathways between postgraduate studentships, PDF roles and the transition to more senior research roles.
Capability for the future
Cultural Vision Plan
Our Cultural Vision Plan includes work on diversity and inclusiveness, leadership development and staff engagement, to ensure we deliver on agreed cultural actions, with a focus on several key areas that underpin our strategic direction and purpose. The key areas of focus include: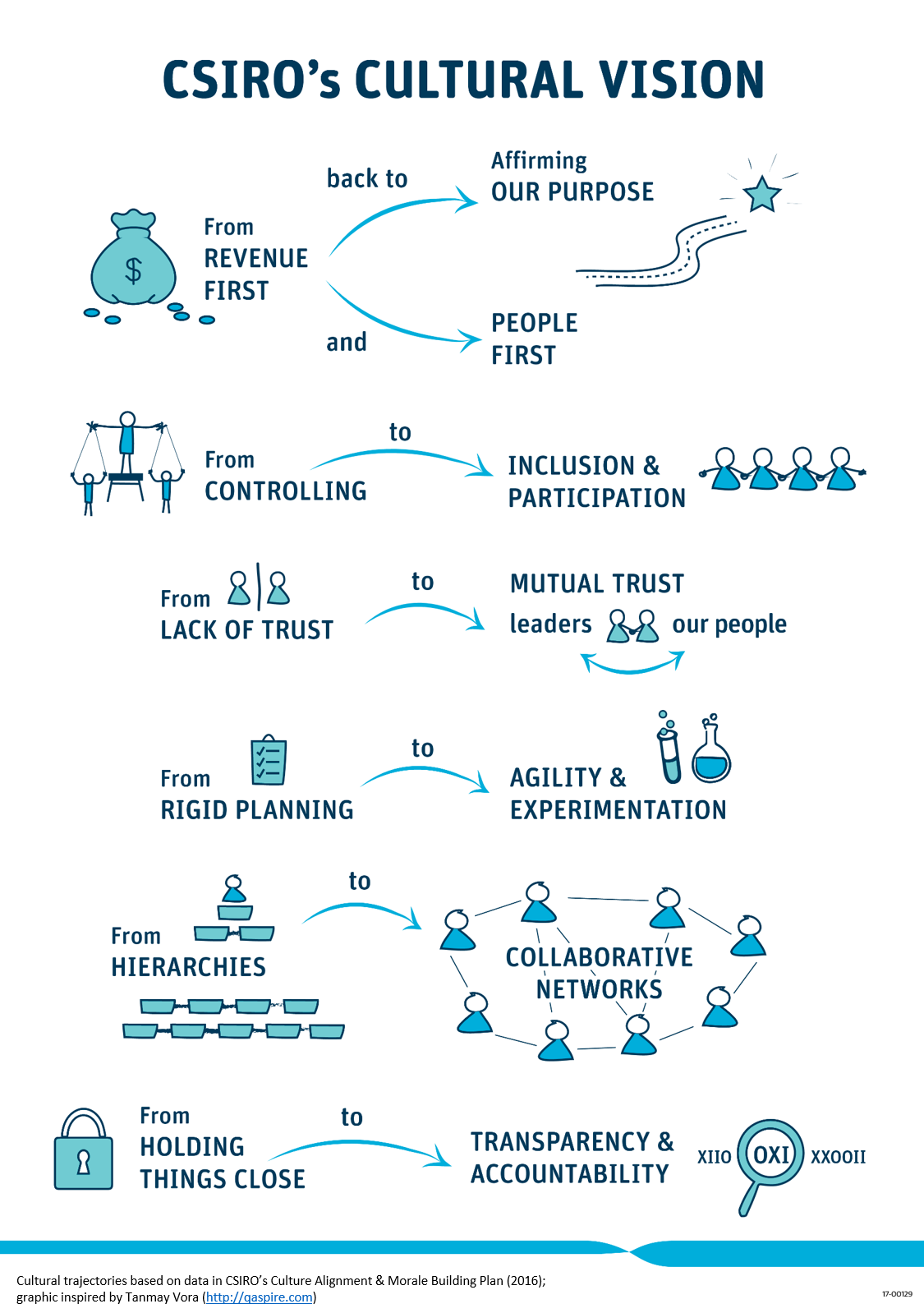 Attracting people with future aligned capabilities (e.g. collaborative, inclusive, agile, accountable, transparent – these are being identified using a participatory process involving representatives from current and future leader cohorts) through recruitment and initiatives to increase focus on proactive talent and succession planning.
Building organisational capability and adaptiveness through leadership, team and people development programs, our feedback and coaching programs and initiatives such as 'Switch', to support stretch assignments beyond the organisation.
Facilitating increased staff engagement, inclusion and participation in organisational decisions and change, creating explicit opportunities for cross-organisational engagement and collaboration through 'CSIRO Connect' events, round table discussions, 'Leader Change' webinars and crowd sourcing.
Measuring alignment and engagement with the strategic direction and cultural vision of CSIRO through staff surveys, focus groups and other feedback mechanisms (e.g. crowd sourcing and 360 leader feedback).
Increasing representation from diverse perspectives, cultures, genders, experience and building inclusive work practices to realise the potential of our people through the implementation of specific Science in Australia Gender Equity (SAGE) and Male Champions of Change (MCC) interventions aimed at redressing current gender inequities.
Incorporating the Indigenous Office into the Organisational Development & Change function, and ensuring that associated engagement activities are well integrated with broader cultural alignment activities.
Health, Safety and Wellbeing
The CSIRO Leadership Team has embraced the recommendations from an external review and is actively engaging with their teams to make safety personal. A sense of positive wellbeing is key to people being at their best. Our focus on wellbeing is being expanded in the next few years to be more holistic, and will include programs dedicated to physical and mental wellbeing as well as the sense of connectedness and community within CSIRO. We will build on current programs that are highly valued in the organisation, such as the 'Balance' flexible working arrangements, our current mental illness awareness training, and the many activities that occur on the majority of sites in support of physical fitness and social connection. Our focus on the safety cultural journey will continue to build on our 'Safety: Make it personal. What could go wrong?' message with key desired behaviours being identified and rewarded. We will also develop a broader range of metrics to help track progress and report our performance.
Employee value proposition
Our focus over the next 12 months is to clearly define our Employee Value Proposition (EVP) to differentiate CSIRO from key competitors (industry, universities and the public sector), improve our employee experience to retain and develop current critical science capability, and to attract new capability to invest in world class science, engineering and digital research for Australia's future.
Our initial work recognises different critical employee segments (digital researchers, post-doctoral fellows (PDFs) and mid-career scientists) within and external to CSIRO, and addresses four key areas:
The Work: an opportunity to join Australia's national premier science/engineering/digital agency to solve the greatest challenges through science, perform socially impactful work, and solve complex problems on a global stage.
The People: an opportunity to work with diverse, world-class professionals, in an inclusive and collaborative culture.
The Environment: access to generous working conditions and word-class infrastructure, excellent tools/support/resources, and the opportunity for development and reward.
The Experience: access work/life balance and flexibility, help to grow the next generation of scientists, collaborate with partners on a global stage, and access real career development opportunities.
The EVP work, over the forward years, will consider other critical employee segments such as women in science, technology, engineering and mathematics (STEM) and non-scientific professions. Plans are also underway to close the gaps identified in the realisation of a consistent EVP experience for current employees.
Next generation scientists
We have invested in exploring new and innovative options for us to engage students in additional, novel ways, and pursuing growth in our student numbers to create a diverse pipeline of researchers who, in the future, can contribute and take up leadership roles throughout the national innovation system.
Our intent over the next two years is to monitor and continually improve the student and early career staff experience across the entire lifecycle, e.g. sourcing, recruitment, time with CSIRO, and post-cessation connection through Alumni. We are defining the particular attributes required of students and post‐doctoral fellows, and those of their supervisors. In addition to better equipping and supporting supervisors of students or postdocs, we will also focus on providing a standard and fit-for-purpose development offering to students and early career staff to build their customer, innovation, and team-work and project management skills.