Our purpose is to provide innovative scientific and technology solutions to national challenges and opportunities to benefit industry, the environment and the community, through scientific research and capability development, services and advice.
As Australia's national science agency we play a distinct role as a large, multidisciplinary research organisation. We connect extensively across the wider research and innovation system, seek to be a preferred partner to industry and a trusted advisor to government. In doing so, we act as an innovation catalyst, enhancing Australia's capacity to turn more world-class research into benefits for the nation.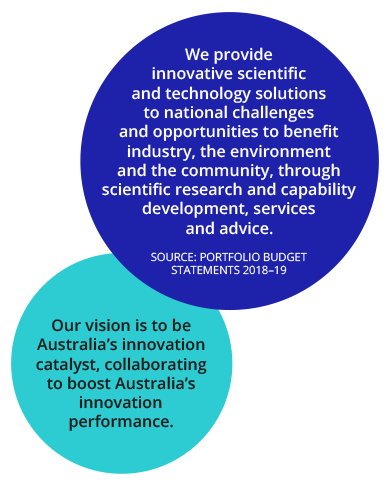 In order to deliver on our purpose, we:
Conduct, and encourage the uptake of, world-class scientific research.
Mobilise and develop the best talent, for the benefit of Australia.
Manage research infrastructure on behalf of the nation.
Our strategic approach
To deliver impacts for Australia we use a strategic approach which includes eight strategic pillars. During the 2018-22 reporting period, we will continue to use this approach to our purpose and deliver on the outcomes included in the Portfolio Budget Statement (see Table 1), fulfilling our functions under the Science and Industry Research Act 1949.
Table 1: Aligning our strategic pillars with our purpose
Strategic pillars
CSIRO purpose (aligned with outcomes in the PBS)
Overarching Function
Conduct, and encourage the uptake of, world-class scientific research (PBS Programs 1 & 3)
Mobilise and develop the best talent, for the benefit of Australia (PBS Programs 1 & 3)
Manage research infrastructure on behalf of the nation (PBS Program 2)
Be a healthy and sustainable organisation
Customer first: Create deeper innovation relationships with our customers and prioritise the highest value investments

●

●




●





Collaboration: Integrate the best solutions for our customers, increase our flexibility and enhance Australia's innovation performance

●




●

●



Breakthrough innovation: Increase our capacity to help reinvent existing industries and create new industries for Australia and deliver public good

●

●

●



Global engagement, national benefit: Deliver connectivity to the global science, technology and innovation frontier as well as access new markets for Australian innovation

●

●

●



Excellent science: Create breakthrough technology and knowledge and be a trusted advisor for Australia

●




●



Our people: Fully enable and support the innovative capacity of our creative people and teams to take risks and deliver to customers



●




●

Health, safety and environment: Enhance staff safety and wellbeing and to further our aspirations towards zero harm



●




●

Adaptiveness: Enhance our agility, financial sustainability and capacity to respond at the speed of business



●




●