CSIRO's Metal-Organic Frameworks (MOFs) technology makes it possible to store, separate, release or protect valuable commodities, enabling companies to develop high value products.
This opportunity is for
This technology enables functional, advanced materials for various industries, including:
Energy
Manufacturing
Water treatment
Agriculture
Pharmaceuticals.
We're now seeking:
Research organisations or teams who can help us further develop this technology, and
Companies who wish to license the technology to use in their business.
Read New synthetic routes towards MOF production at scale by researchers from CSIRO and the Catalan Institute of Nanoscience and Nanotechnology for more information about how MOFs can help industry.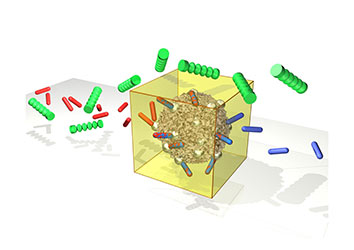 Diagram depicting molecules flowing through MOFs, a special material that can capture or allow certain sized molecules to pass through.
In this case larger green molecules are excluded from the MOF and don't interact with it. Smaller red molecules interact with the MOF and are changed into blue molecules by it.
Made of metals joined to each other by organic linkers, MOFs are crystalline powders full of holes. These molecular-sized holes can store, separate, release or protect just about anything.
MOFs have demonstrated benefits for:
Gas storage and delivery, and natural gas storage and purification
Carbon capture and storage
Batteries and catalysts
Horticulture
Pharmaceutics
Fuel production
Water purification
Solvent or heavy metal recovery
Sensors
Membranes.
MOFs can be used to develop materials that:
Store gases in a way that is safer and more portable
Separate gases or liquids from each other with greater performance and longevity than existing methods
Protect biomolecules in harsh conditions
Sense and capture substances at concentrations well below those previously possible
Purify water, removing heavy metal, oil or toxins.
We're open to organisations interested in collaborating with us on further research and applications for MOFs, or companies licensing the technology for use in their own business.
MOFs are an advanced structure that is extremely ordered, porous and customisable. They grow in a crystal form and are extremely flexible, especially when combined with nanoparticles for additional functionality or attributes. Recent technological advances now allow large scale production of MOFs at a commercially relevant purity, quality, efficiency and price.
Interested in applying or licensing this innovation?
We seek partners who can apply our solutions to their business or industry.