Strategic foresight is an evidence-based approach to understanding long-term trends. Find out how strategic foresight can help you.
How we work
We are a team of experienced strategists and consultants who are passionate about the role that science, technology and innovation play in creating comparative advantage and economic sustainability. We:
build on the deep expertise of over 5000 CSIRO science professionals
bring scientific discipline to strategic advisory work by relying on evidence-based methodologies and analysis
are an independent, objective trusted advisor to Australia and the world.
CSIRO Futures methodology
Our foresight toolkit predicts megatrends, megashocks and scenarios derived from our evidence-based analysis methodology which involves:
horizon scanning and trend identification
trend analysis
narrative development
strategic planning and decision making.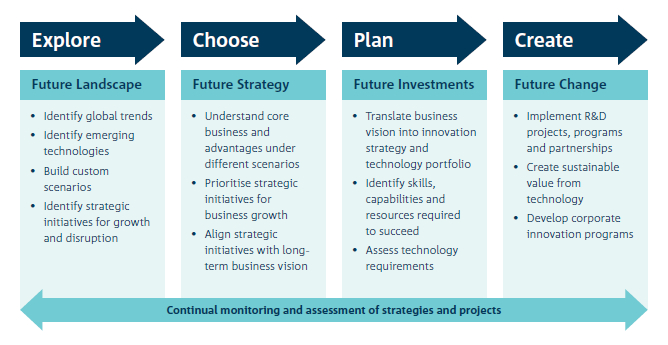 The CSIRO Futures scenario planning framework can be used in both top-down strategic planning and exploratory 'bottom-up' development to assist in developing or strengthening a comparative advantage in the market.
The framework involves four steps – Explore, Choose, Plan and Create. There are key questions, considerations and tools available for implementing each of these steps.
Following this framework and asking the right questions will allow organisations to better understand the allocation of scarce resources (labour, capital), the underlying assumptions that underpin existing business decisions, and the role that innovation can play in helping businesses strengthen their future.
Interested in this solution for your organisation?
We offer services and contract-based research to clients in business, industry and government.