CSIRO's food innovation centre has significant and extensive expertise, facilities, know-how and support in food and ingredient innovation for industry. Find out about our newest breakthrough food processing technologies.
Shockwave
Based on pressure pulses, shockwave disrupts the structure of foods, which can, for instance, tenderise low-value meat cuts. We have the only commercial-scale machine outside Germany.
Forward osmosis
A significantly more cost-effective and gentle concentration technology than evaporation. We have the only system in Australia for food processing.
Antenna microwave
CSIRO-patented technology that heats evenly, unlike conventional microwave systems.
Megasonics
CSIRO-patented technology that uses sound waves to extract more oil from oil processing.
High pressure thermal processing
We have invented a ground-breaking innovation that will allow industry to adopt this technology on a commercial scale using existing high pressure processing machines.
Extrusion porosification technology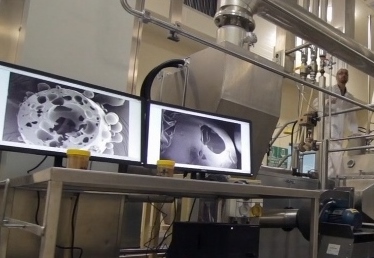 Energy efficient drying technology that retains more flavour and functionality in high value powdered foods, enabling creation of brand new food ingredients. We have the world's first and only platform outside France.
CSEP (Continuous SEParation) technology
Simulated moving bed chromatography to recover proteins and other bioactives from co-product streams as functional ingredients.
Find out about our food innovation centre for industry.
Do business with us to help your organisation thrive
We partner with small and large companies, government and industry in Australia and around the world.