We are developing a real-time alert for the presence and location of fruit flies, which allows agronomists and biosecurity agents to respond rapidly and control the pest. Our RapidAIM technology removes the need for costly and time consuming manual monitoring.
The challenge
The world's top food biosecurity threat
Fruit flies cause approximately $40 billion of damage to fruit and vegetable production globally each year. A further $25 billion of produce is threatened by the pests. In Australia, most of the damage is caused by the native Queensland fruit fly (Bactrocera tryoni) and exotic Mediterranean fruit fly (Ceratitis capitata).
Impacting commercial producers and home gardeners alike, fruit fly attack occurs when a female fruit fly lays eggs in the flesh of fruit or vegetables. The hatched larvae eat the flesh, causing it to ripen prematurely and rot.
Worldwide, fruit fly monitoring efforts are mandated under trade agreements. The annual cost of monitoring in Australia is in excess of $22 million each year. This is predominantly done by setting fruit fly traps over vast distances that need to be manually checked every seven to 14 days. Millions of these traps are usually empty, making it a long, laborious process. However, fruit flies caught in a trap may be a sign of an outbreak, and the time taken between checks may delay vital containment responses by authorities.
Our response
A new era in biosecurity
CSIRO researchers have combined their knowledge of insect behaviour with a proprietary hardware and software to detect fruit fly in traps. The patented technology uses an ultra-low power sensor to firstly detect the presence of an insect, and secondly to classify whether the insect is a fruit fly.
Unlike other high-tech competitors who typically use camera-based traps which have high power needs and require expensive hardware, RapidAIM's low-cost sensors identify the unique patterns of fruit fly behaviour as they enter a trap.
The results
Detection on the fly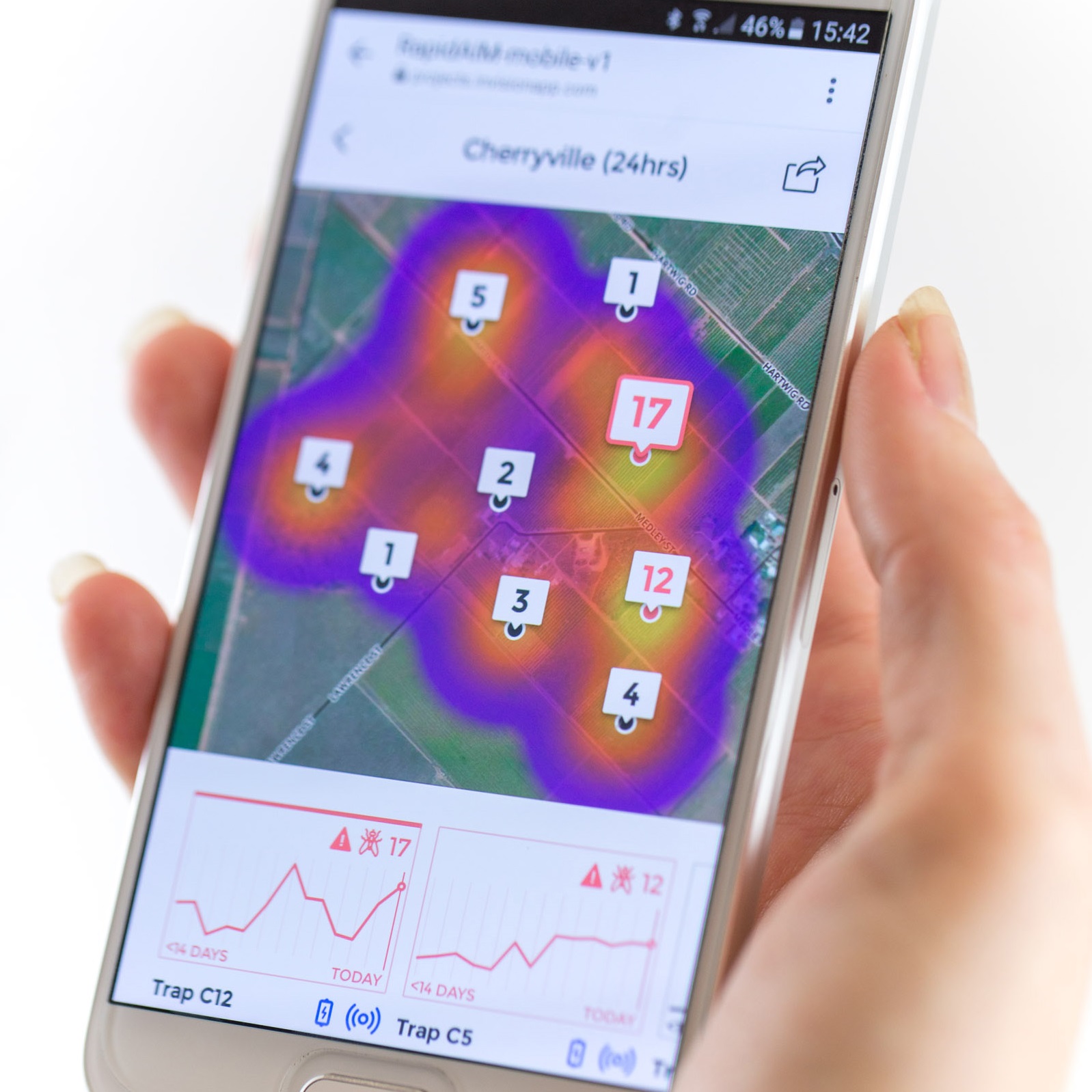 A network of instrumented and wirelessly connected RapidAIM traps automatically detect fruit flies, and send alerts wirelessly in real-time to a cloud-based analytics and storage platform.
End-users such as agronomists and biosecurity agents receive real-time alerts on their smartphones, and early warning forecasts are instantly created for fruit fly hot-spots.
When no fruit flies are detected, there is no need to visit empty traps. This then allows more time and resources to be spent managing fruit fly populations, resulting in reduced losses of valuable fruit and vegetable crops to fruit fly attacks.
Do business with us to help your organisation thrive
We partner with small and large companies, government and industry in Australia and around the world.