Our scientists, in collaboration with international and local partners, are implementing a new approach to disease control by studying the behaviour of male Aedes aegypti mosquitoes in Far North Queensland. This will help identify ways to reduce the wild population of mosquitoes to prevent transmission of diseases.
The challenge
Global response to a global problem
Mosquitoes are a global problem that requires a global collaborative response. CSIRO has been studying mosquitoes for many years, considering new methods to reduce populations.
CSIRO is excited to start working with Verily (a Google affiliate) and James Cook University to expand our studies in Innisfail to confirm that new technologies will reduce mosquito populations in large urban landscapes.
Our multi-disciplinary team of international biologists, entomologists and social scientists are partnering together to provide a collaborative approach to tackling mosquito-borne viruses.
Our response
Mark, Release, Recapture study
CSIRO's mission is to use science to deliver innovative solutions that benefit Australia and the world.
Working with Verily through its 'Debug Project' and James Cook University, Cairns, the project is developing a Sterile Insect Technique (SIT) for mosquito control and looking to progress research from the lab to the field to confirm that new technologies will reduce mosquito populations in large urban landscapes.
The results
Results of the Mark Release Recapture Study
With support from all residents in the study site we released approximately 1000 marked male mosquitoes on a stretch of Mourilyan Road in East Innisfail, on 16th and 25th November and 5th December.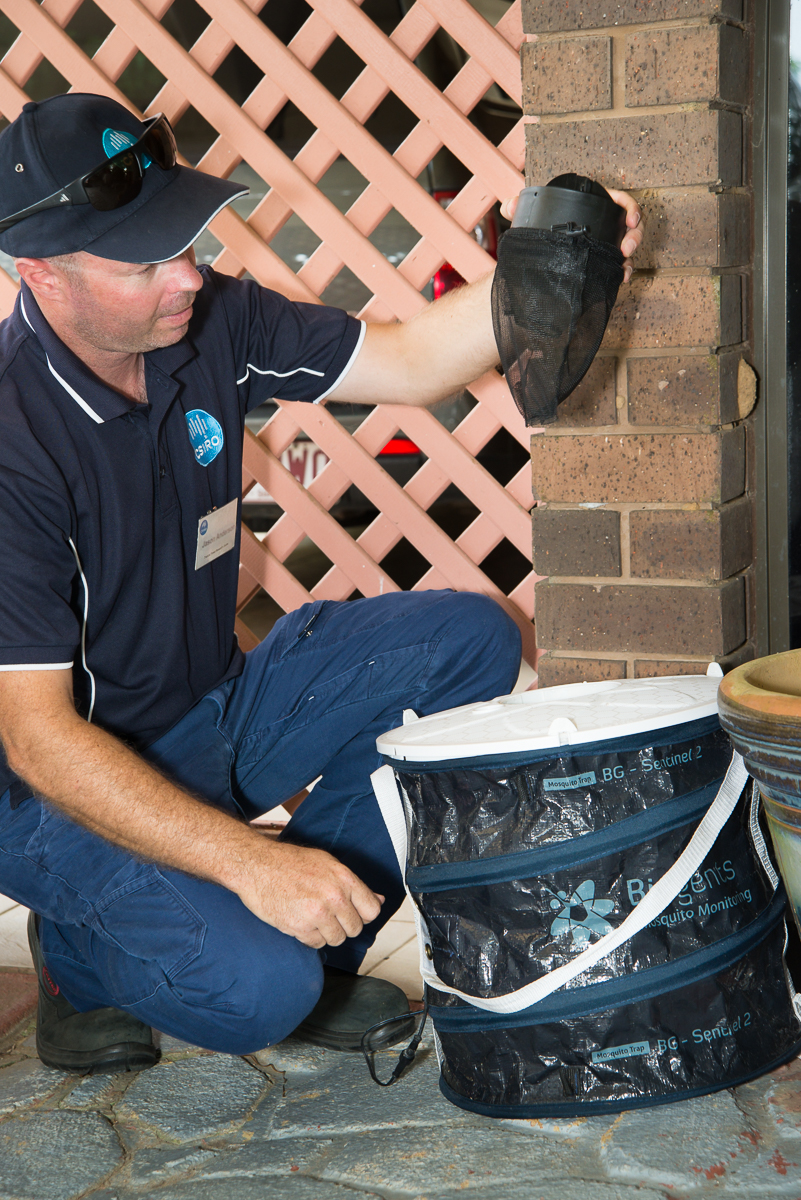 The community was supportive of our research – and very keen to help. A network of over 70 traps was set up across the study site in resident's yards.
Initial results from the study showed us that;

On average the male mosquitoes mostly flew less than 100m (and they did cross the road, but preferred not to) while the occasional male flew up to twice that distance.
The males released mated quickly (in the first two days after release) as females marked with the dye (which is transferred from the males when they mate) were found right across the trap network over the following week.

We are continuing to analyse the data to better understand the behaviour of male and female mosquitoes and will share the full results when finalised.
There will be no more releases for the MRR study and all BG traps have now been removed. We appreciate the support of residents and may return to East Innisfail to conduct further studies in 2017.
Proposed studies in 2017
The long-term goal of our research in Innisfail is to show that we can suppress and even remove the invasive Aedes aegypti mosquito from the urban landscape. In 2017, we hope to carry out studies in Innisfail that will involve releasing sterile male mosquitoes and testing tools. We're helped in our ability to do this by the science conducted at James Cook University, Cairns and the tools that Verily's engineers are developing in their labs in the USA. These studies would only proceed following extensive engagement with and support from the Innisfail community and with government regulatory approval. See FAQs – Releasing sterile males.
Do business with us to help your organisation thrive
We partner with small and large companies, government and industry in Australia and around the world.