Australians are now able to measure the quality of their eating habits using a simple online assessment tool, the CSIRO Healthy Diet Score.
The CSIRO Healthy Diet Score is a scientifically validated survey that assesses a person's diet against Australia's healthy eating guidelines, providing a single dietary quality score on a 100-point scale.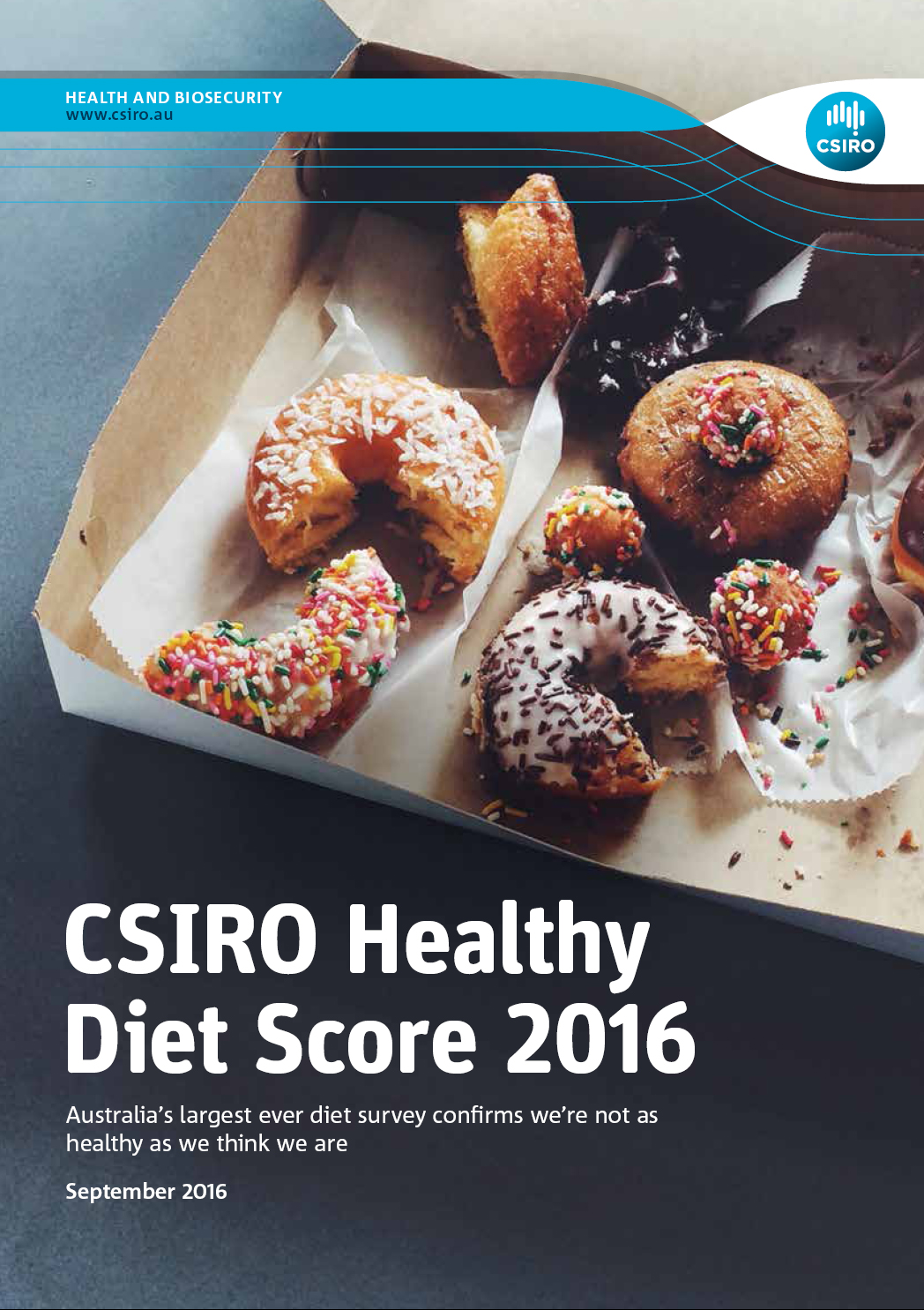 An individual's score is based on food variety, frequency, quantity as well as attributes such as age and gender. In addition to their overall score, people who complete the online assessment will receive feedback on how they can improve their diet.
Since its launch in May 2015, more than 86,000 people have taken the survey. In September 2016, we released the CSIRO Healthy Diet Score report, giving Australians a C, and a score of 59 out of 100. Other key findings from the report include:
women have better diets than men
older Australians have better diets
diet quality is similar nationwide (state scores vary from 57 to 60)
construction workers had the poorest quality diets
intake of discretionary foods is too high.
Further results can be found in the CSIRO Healthy Diet Score 2016 report .
The Healthy Diet Score follows more than three years of research by CSIRO and University of South Australia and is capable of providing a similar evaluation to other more complex diet assessment methods such as weekly tracking of food intake.
The Healthy Diet Score is free and can be completed in about 20 minutes.
CSIRO's lead researcher, Professor Manny Noakes, has been heavily invested in the development of the Healthy Diet Score and says most people overestimate how healthy their food intake is. The online assessment aims to provide guidance on how to improve eating habits and to serve as a reminder that there is always room for improvement when it comes to making healthy food choices.
"With no existing benchmarks for people to quickly assess their eating behaviour, we developed the Healthy Diet Score to provide a simple and reliable measurement for people to better understand the quality of their diet," said Professor Manny Noakes, CSIRO Research Director and co-author of the CSIRO Total Wellbeing Diet.
"A nutritious diet means eating a wide range of foods associated with a healthy lifestyle, however too often people will focus on a single food type or nutrient when looking to improve their diet. We know from previous research conducted that on average people are not eating enough fruit, vegetables and dairy and are eating too much junk food.
"What the Healthy Diet Score does is provide individuals with an assessment that is relevant only to them, taking into consideration other people of the same age and gender, to let them know how their diet quality is measuring up," said Professor Noakes.
Key features of the Health Diet Score include:
An individual assessment of your diet quality
Personalised feedback on how you can improve your diet quality
A free report which reveals how your diet quality measures up compared to others of the same age, gender, generation, profession as well as people from the same State and across the country.
To see how your eating habits measure up, complete the CSIRO Healthy Diet Score online assessment.