CSIRO's TraNSIT tool analyses transport and logistics options for agriculture to identify potential cost savings.
The challenge
Agricultural transport costs are high
Agriculture supply chains in Australia are often characterised by transport distances of over 1000 km between production, processing and markets, with transport costs accounting for up to 40 per cent of the market price.
While infrastructure investment and policy changes can reduce costs across agricultural enterprises, it has not been possible to evaluate the whole system to ensure that infrastructure investment maximises whole of industry productivity.
Our response
Modelling the most cost-effective transport options
CSIRO developed TraNSIT to analyse both small and large scale investments in the agriculture supply chain, with current applications covering almost all Australian agricultural logistics.
CSIRO recently applied TraNSIT to inform the Federal Government's $100 million Northern Australia Beef Roads Programme and maximise transport cost savings in beef supply chains across the north.
We are currently applying TraNSIT to broader Australia-wide agriculture transport, comprising more than 25 commodities, as part of the Government's Agricultural Competitiveness White Paper.
The tool currently accommodates 142 million tonnes of agricultural transport and over 5 million vehicle movements and 15,000 rail trips per year. This includes the transportation of cattle as well as grains, dairy, poultry, rice, cotton, pigs, sugar, horticulture crops and stock feed. Forestry and sheep will be added in the near future. The tool considers transport from farms to storage, feedlots, processing, export ports, as well as domestic supply chains to distribution centers and retailers.
TraNSIT works by analysing every possible combination of transport routes and modes (road and rail) and determining those that optimise vehicle movements between enterprises in the agriculture supply chain.
It incorporates factors such as road/rail condition, temporary closures and diversions and the availability of supporting facilities such as truck stops and holding yards. It can be used to manage logistics costs for individual enterprises or whole industries.
The results
Applying TraNSIT to improve infrastructure
TraNSIT has been used to analyse various possible infrastructure projects for the beef industry, including the ones described below:
Upgrading the entire Buntine Highway and Duncan Road from the Victoria Highway to Halls Creek in the Northern Territory
A number of cattle properties are situated in this area and the road is a popular cattle route to Darwin. If upgraded this current rough road would save $183,584 per year or $5.39 per head. In this case, the upgrade of the Buntine Highway would also reduce cattle truck movements along the Great Northern Highway-the only sealed road link between the Northern Territory and northern Western Australia.
Upgrade corridor between Roma to Toowoomba to allow triple road train access
Triple road train or Type 2 access from Roma to Toowoomba is estimated to save a total of $4.9 million per year in transport costs or $1.24 per head.
The Warrego Highway between Roma and Toowoomba (See map below) is approximately 340 km in length and currently limited to Type 1 vehicle access, excluding a small section of the highway at Macalister which is B-Double access. This section is expected to take five hours to travel over with a Type 1 vehicle, costing $1,224. This segment of highway is a critical section in the broader cattle transport network, used to transport nearly 4 million cattle per year, or about 35,000 trailers. For optimal movements based on the current vehicle access limitations, each route requires the use of more than one class of vehicle. Upgrading this section of highway to Type 2 class would save thousands of hours in travel time and distance per annum.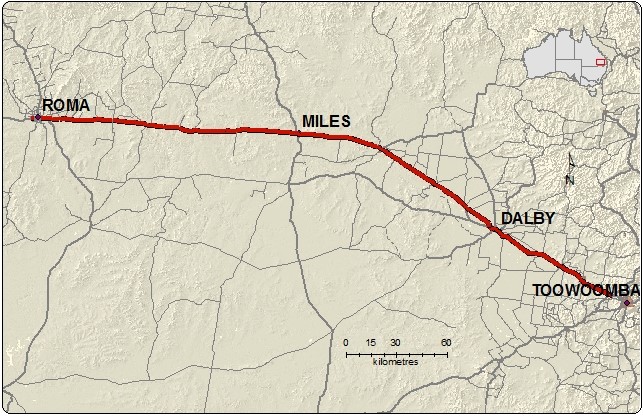 Further applications of TraNSIT include:
testing potential outcomes for changes in regulation: driver fatigue, animal regulation, biosecurity
upgrading of transport infrastructure to increase accessibility towards the wet season
optimising transport routes across supply chains for plantation harvests
upgrade of road sections and bridges to allow higher productivity vehicles
sealing or widening of roads segments
improvements to rail track infrastructure
new road links, bypasses or freight hubs
capacity for industry organisations to optimise their own supply chains
using TraNSIT as a predicative tool in regard to road conditions and weather forecasts
forecasting future freight flows under different production and climate scenarios
agriculture logistics in developing countries.
Application to Northern Australia Beef Roads Programme report April 2016
Download the final reports
Do business with us to help your organisation thrive
We partner with small and large companies, government and industry in Australia and around the world.