Rainwater tanks can reduce urban runoff and take a significant load off mains water demands in metropolitan areas, if they are installed and maintained correctly, and used to their fullest potential.
The challenge
Rainwater tanks could boost urban water supplies
With steady population growth in Australian cities, water demand is on the rise despite a drop in per-capita water use. Because water supplies from dams are highly susceptible to drought and climatic changes, urban rainwater tanks have the potential to complement existing supplies and help meet the changing water needs of our growing population.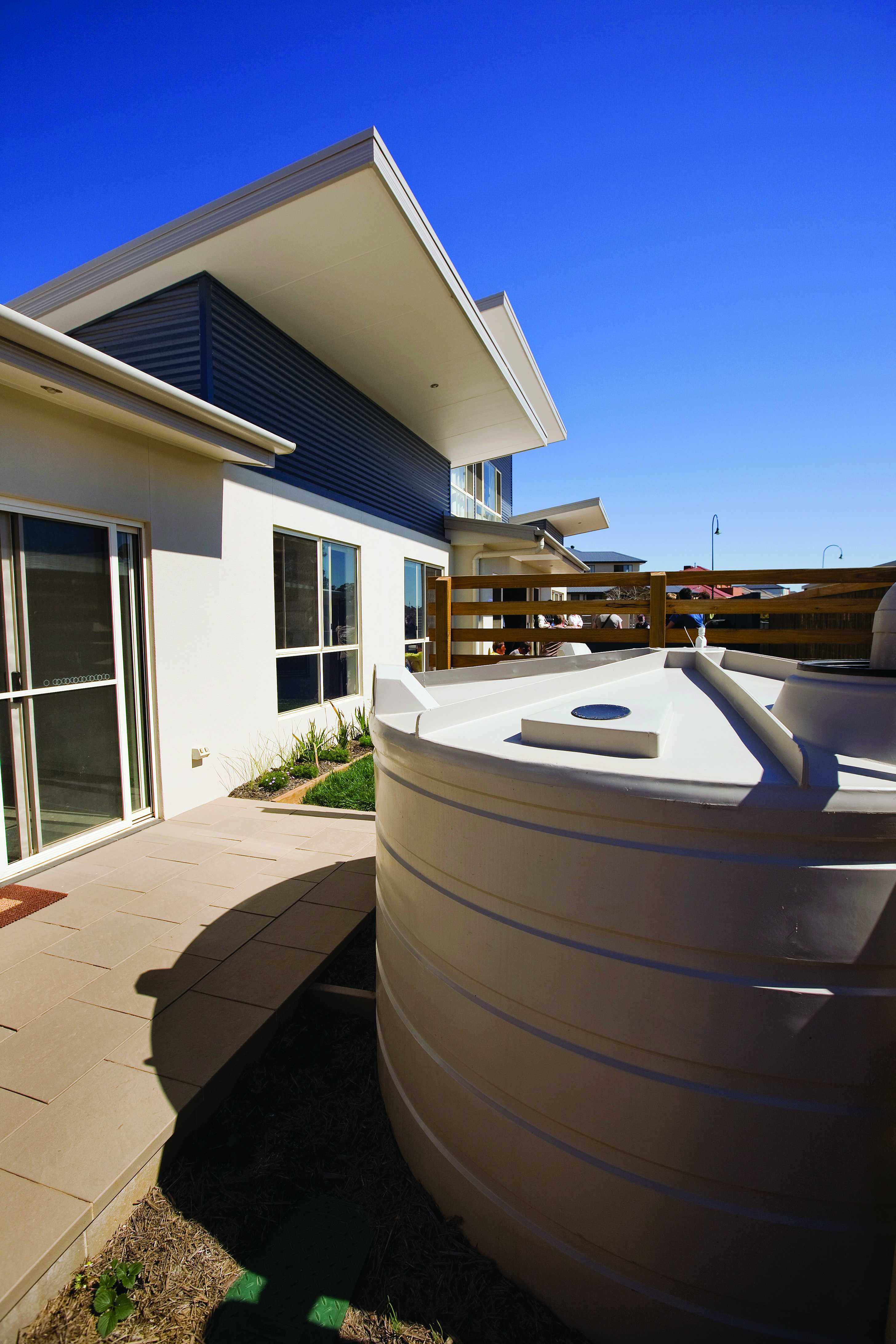 The number of rainwater tanks installed in Australian households has significantly increased over the past decade, to a large extent in response to the Millennium Drought. In the six years before 2013, the number of capital city dwellings with rainwater tanks increased from 15 per cent to 28 per cent.
While the numbers are much lower outside capital cities, in 2013 a total of 8.9 million Australian houses (34 per cent) had rainwater tanks attached. Many have been built in response to financial incentives such as rebates, but also from changes to residential building codes that effectively made rainwater tanks compulsory in new dwellings.
Rainwater tanks are usually on private property and therefore, despite their widespread use, it is to some extent unclear how rainwater tanks are being used, what contribution they are making to Australia's urban water supply, and how this contribution could be safer and more effective.
The Australian community needs support to be able to better manage this infrastructure and CSIRO have attempted to provide some guidance and answers.
Our response
A survey of water tank use
To answer these questions, CSIRO and the Smart Water Fund combined resources to conduct a study that involved onsite inspections and qualitative householder surveys relating to 417 rainwater tank systems across the Melbourne Metropolitan region. They also measured tank water use in 21 households. This was done to estimate the water savings that can be attributed to water tank use.
The results
Tank benefits reduced by poor installation
The results from the metering study showed that on average, households that used rainwater for indoor purposes, such as toilet flushing and washing clothes, used 31 kilolitres (31,000 litres) per year. When rainwater was only used outdoors, households used an average of 11 kilolitres a year, but households that used rainwater both indoors and outdoors used an average of 42 kilolitres per year.
These numbers are consistent with results in other similar studies. In total, only 29 per cent of households used rainwater for indoor purposes, but 14 per cent used it for hot water, and nine per cent for drinking water.
The study also found that many rainwater tanks were incorrectly installed, not functioning efficiently, or in some cases, not functioning at all. Nearly one in ten tanks had faulty automatic switches, which meant the system only ever drew from mains water rather than the tank. Five per cent of tanks had pumps that weren't working properly, because of uneven foundations; 13 per cent of tanks were leaning against walls, fences and/or other structures. This situation can eventually lead to the structural problems or even catastrophic collapse.
One-quarter of all tanks surveyed did not have properly fitted mosquito mesh, and 12 per cent had mosquito larvae in the water or mosquitos in the tank itself. Rainwater tanks can be a breeding ground for mosquitos, which can then contribute to the spread of mosquito-borne diseases.
Despite this, there is significant goodwill in the community and 96 per cent of rainwater tank owners saw benefits from having a rainwater tank installed; chief among them being the ability to water during restrictions, a reduction in water consumption, and the benefits to the environment.
The study highlighted a number of areas for improvement to increase the use and effectiveness of rainwater tanks in Melbourne; for one, the development and promotion of educational materials for rainwater harvesting distributed to tank owners.
The issue of failing automatic switches could be addressed by working with manufacturers to understand why the switches fail and investigate alternatives or set up warning systems. Similar, the issue of poor foundations could be resolved with professional training, regulations, accreditation and/or inspections.
Rainwater tank owners could also benefit from more support and education on maintenance but research needs to be done to determine what strategies will provide the greatest impact.
Do business with us to help your organisation thrive
We partner with small and large companies, government and industry in Australia and around the world.