The aims of the project and a map of the areas assessed.
The Tasmania Sustainable Yields Project has developed an assessment of the current and likely future extent and variability of surface water and groundwater resources in Tasmania.
Results from this project will help governments, industry and communities consider the environmental, social and economic aspects of the sustainable use and management of the precious water assets of Tasmania based on the best available information.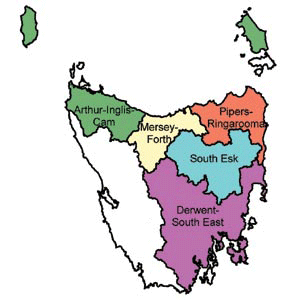 Tasmania was divided into five project regions for which assessments were undertaken:
Arthur-Inglis-Cam (including Flinders and King islands)
Mersey-Forth
Pipers-Ringarooma
South Esk
Derwent-South East
This project was funded by the Australian Government Department of Sustainability, Environment, Water, Population and Communities under the Water for the Future initiative.
Do business with us to help your organisation thrive
We partner with small and large companies, government and industry in Australia and around the world.