"While income inequality between countries may have been reduced, inequality within countries has risen. Inequality still persists and large disparities remain in access to health and education services and other assets. There is growing consensus that economic growth is not sufficient to reduce poverty if it is not inclusive and if it does not involve the three dimensions of sustainable development – economic, social and environmental." - United Nations
How does our work align with the Goals?
Everything we do at CSIRO is designed to deliver triple-bottom-line benefits to Australia: economic, environmental and social. We tackle big national challenges in partnership with government, industry, universities and the community. So it's no surprise our work aligns very closely with the world's biggest challenges.
The 17 Sustainable Development Goals (SDGs) cover a broad range of ways to improve our world, each with specific targets to aim for over the next 15 years to 2030. More detail on these is available on the UN's Sustainable Development Goals website .
While the Goals are broad, the need is imperative and the potential for change high – provided we all play a role. We're always looking for new partners to deliver on these and explore new projects.
How can we help you achieve progress against the Goals?
We work with business, government and the community to solve big challenges and deliver unique solutions by bringing together the best minds in the world.
The Sustainable Development Goals call on every business, government and citizen to form partnerships for the future of our world. Collaborating with us is a powerful way to make progress on the goals most important to you, as well as creating opportunities to increase competitiveness, reduce risk, expand markets, and develop new industries.
We are Australia's national science agency, one of the most multi-disciplinary organisations in the world. We work to benefit our economy, environment and our community – this mission includes your business, your impact in the world, and your prosperity.
The following examples are just a taste of the work we do to help deliver on the Sustainable Development Goals. Find out more about how you can work with us.
Goal 10: Reduced Inequalities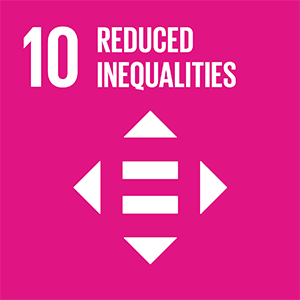 Case study: Drought management in Peru
The impacts from drought across the Caplina-Locumba Basin region in Peru have significant impacts across all sectors, but most notably agriculture. In Tacna, many households do not have 24/7 access to water under 'normal' conditions.
Without the capacity to adequately prepare for fluctuating climate conditions, those who rely on the basin for water are more susceptible to the socioeconomic impacts that arise in drought.
We're currently working with Southern Peru Copper Company and the Regional Government and National Water Authority (ANA) to develop a drought management plan for the region.
More information is available on: Drought management systems in southern Peru.
Case study: Mapping inequality
Income inequality is an important issue to track and analyse. In order to fill the gap on income inequality measures across the country, we've developed a method to approximate Gini coefficients for different Australian regions, including states and local councils.
More information is available on Rich and poor: which areas of Australia are most unequal?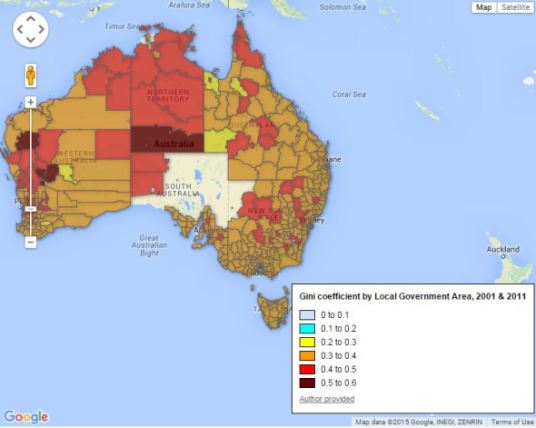 Do business with us to help your organisation thrive
We partner with small and large companies, government and industry in Australia and around the world.