"Deforestation and desertification – caused by human activities and climate change – pose major challenges to sustainable development and have affected the lives and livelihoods of millions of people in the fight against poverty. Efforts are being made to manage forests and combat desertification." - United Nations
How does our work align with the Goals?
Everything we do at CSIRO is designed to deliver triple-bottom-line benefits to Australia: economic, environmental and social. We tackle big national challenges in partnership with government, industry, universities and the community. So it's no surprise our work aligns very closely with the world's biggest challenges.
The 17 Sustainable Development Goals (SDGs) cover a broad range of ways to improve our world, each with specific targets to aim for over the next 15 years to 2030. More detail on these is available on the UN's Sustainable Development Goals website .
While the Goals are broad, the need is imperative and the potential for change high – provided we all play a role. We're always looking for new partners to deliver on these and explore new projects.
How can we help you achieve progress against the Goals?
We work with business, government and the community to solve big challenges and deliver unique solutions by bringing together the best minds in the world.
The Sustainable Development Goals call on every business, government and citizen to form partnerships for the future of our world. Collaborating with us is a powerful way to make progress on the goals most important to you, as well as creating opportunities to increase competitiveness, reduce risk, expand markets, and develop new industries.
We are Australia's national science agency, one of the most multi-disciplinary organisations in the world. We work to benefit our economy, environment and our community – this mission includes your business, your impact in the world, and your prosperity.
The following examples are just a taste of the work we do to help deliver on the Sustainable Development Goals. Find out more about how you can work with us.
Goal 15: Life On Land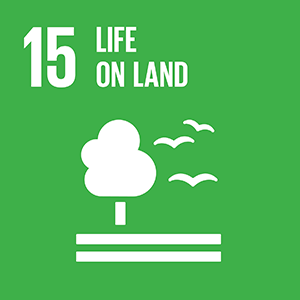 Case study: Atlas of Living Australia
The Atlas of Living Australia is Australia's national biodiversity database. It provides free, online access to information about Australia's amazing biodiversity.
It supports research, environmental monitoring, conservation planning, education, and biosecurity activities, and is a great way to learn more about the biodiversity in your area.
Founded on the principle of data sharing – collect it once, share it, use it many times – the ALA provides free, online access to more than 67 million occurrence records1, based on specimens from natural history collections, field observations and surveys.
More information is available on: The Atlas of Living Australia.
Case study: Indigenous natural resource management
Indigenous people have a major stake in the sustainable management of northern Australia's terrestrial, freshwater and marine ecosystems. We are engaged in strong partnerships with a number of Indigenous communities across the north.
In these project collaborations that span research topics as diverse as fire management, biodiversity monitoring, aquatic conservation, and marine planning; researchers, Land Councils, local Aboriginal Ranger groups and government partners are exchanging knowledge and developing innovative solutions to identified environmental problems.
More information is available on: Indigenous natural resource management in northern Australia.
Case study: Disaster management
We've developed software known as Emergency Response Intelligence Capability (or ERIC) to automate situation reporting during large-scale emergency events.
ERIC integrates data from a range of state and federal agency sources (including state emergency services, the Australian Bureau of Statistics, Bureau of Meteorology, and state road authorities) into a single web-based map interface. This allows department staff to view where and how conditions are affecting the area, in real time.
More information is available on ERIC: Improving disaster response effectiveness.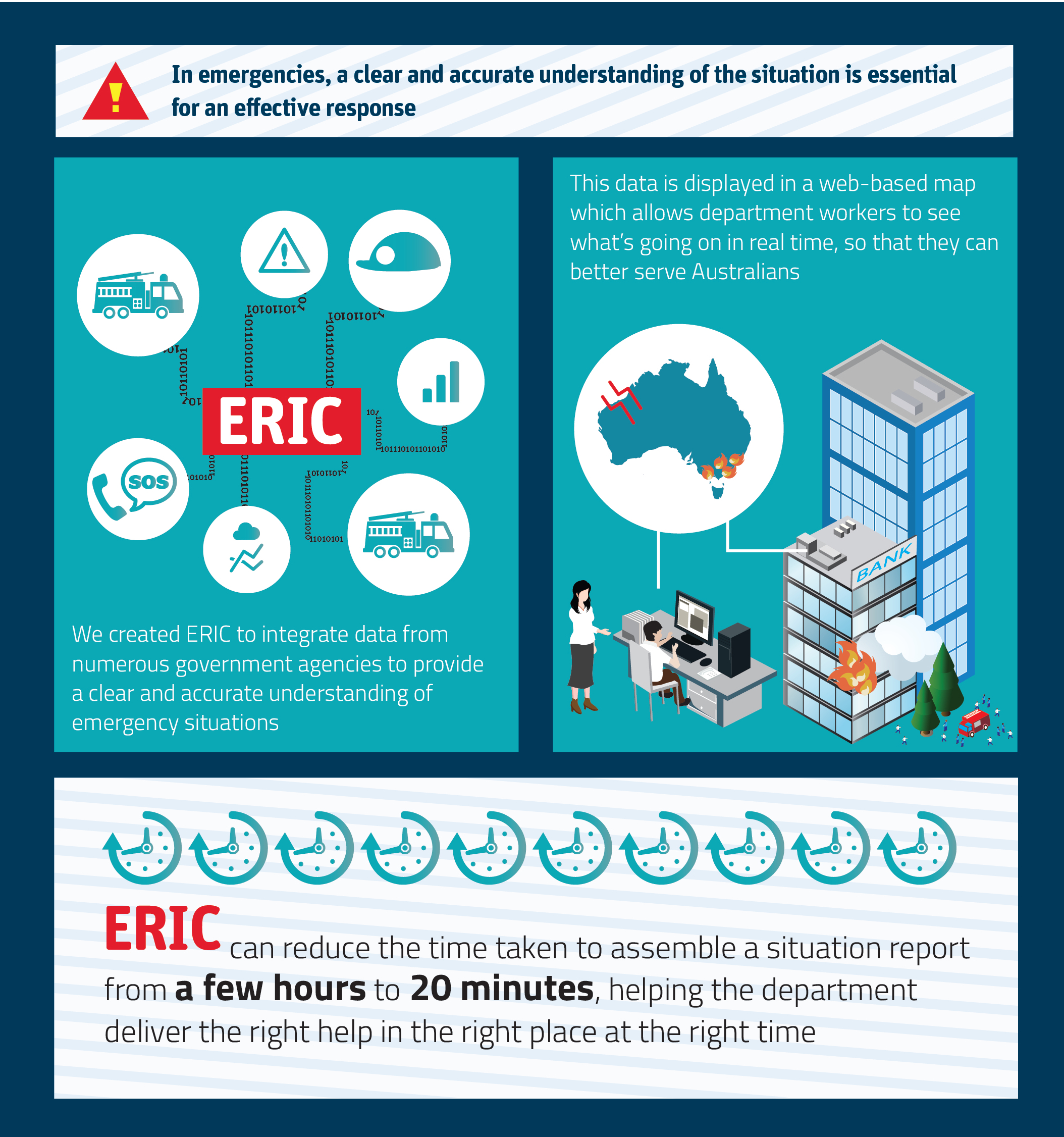 In emergencies, a clear and accurate understanding of the situations is essential for an effective response.
We created ERIC to integrate data from numerous government agencies to provide a clear and accurate understating of emergency situations for Department of Human Services workers.
The data is displayed in a web-based map which allows department workers to see what's going on in real time, so that they can better serve Australians.
ERIC can reduce the time take to assemble a situation report from a few hours to 20 minutes, helping the department deliver the right help in the right place at the right time.
Do business with us to help your organisation thrive
We partner with small and large companies, government and industry in Australia and around the world.