"It is time to rethink how we grow, share and consume our food. If done right, agriculture, forestry and fisheries can provide nutritious food for all and generate decent incomes, while supporting people-centred rural development and protecting the environment. A profound change of the global food and agriculture system is needed if we are to nourish today's 795 million hungry and the additional 2 billion people expected by 2050." - United Nations
How does our work align with the Goals?
Everything we do at CSIRO is designed to deliver triple-bottom-line benefits to Australia: economic, environmental and social. We tackle big national challenges in partnership with government, industry, universities and the community. So it's no surprise our work aligns very closely with the world's biggest challenges.
The 17 Sustainable Development Goals (SDGs) cover a broad range of ways to improve our world, each with specific targets to aim for over the next 15 years to 2030. More detail on these is available on the UN's Sustainable Development Goals website .
While the Goals are broad, the need is imperative and the potential for change high – provided we all play a role. We're always looking for new partners to deliver on these and explore new projects.
How can we help you achieve progress against the Goals?
We work with business, government and the community to solve big challenges and deliver unique solutions by bringing together the best minds in the world.
The Sustainable Development Goals call on every business, government and citizen to form partnerships for the future of our world. Collaborating with us is a powerful way to make progress on the goals most important to you, as well as creating opportunities to increase competitiveness, reduce risk, expand markets, and develop new industries.
We are Australia's national science agency, one of the most multi-disciplinary organisations in the world. We work to benefit our economy, environment and our community – this mission includes your business, your impact in the world, and your prosperity.
The following examples are just a taste of the work we do to help deliver on the Sustainable Development Goals. Find out more about how you can work with us.
Goal 2: Zero Hunger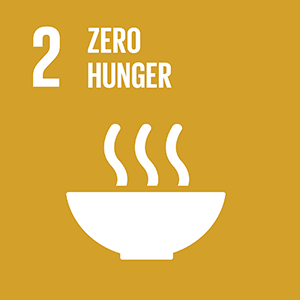 Case study: Mapping child malnutrition in Africa
We are involved in work that maps child stunting, wasting, and underweight in Africa. For a study published in Nature in 2018 , we contributed key data maps of agricultural production and nutrient diversity that, together with other data, were used to explain child stunting, wasting, and underweight - the core components of child growth failure. The addition of our data helped to achieve a more complete and robust analysis.
This work provided the first comprehensive geospatial analysis of child growth failure in 51 African countries from 2000 to 2015, offering highly relevant subnational information on key nutrition indicators for policymakers and health practitioners at all administrative subdivisions. This can facilitate targeted interventions to those populations with the greatest need, in order to reduce health disparities and accelerate progress.
More information is available on: Mapping child malnutrition in Africa.
Case study: Food security for West Africa
The project team is working with governments in West Africa to develop a set of national policy options, based on scientific evidence, designed to improve future food security.
This pilot project has begun working with the Government of Burkina Faso and is designed to test rapid assessment methods that pull together diverse scientific expertise to support ongoing policy development.
It brings in the capability of researchers who do not normally work on food security to apply their knowledge and skills to this issue.
More information is available on: Developing new country level policy options to enable West Africa's food security
Case study: Aquaculture
Food from the sea is an important source of protein for a large part of the world's population. Through industry partnerships and detailed studies in the field, we're making aquaculture more productive and sustainable.
Our research aims to boost the value, competitiveness and sustainability of aquaculture industries. Focused on farmed finfish, crustaceans and molluscs, we're improving food production from aquaculture species through integrated studies of genetics, physiology, health, aquafeeds, environments and food science.
More information is available on: Aquaculture.
Case study: Humane pest deterence
Crop-destroying animal pests cause many millions of dollars' worth of damage to farmers and agriculture business every year. In Africa, elephants can destroy an entire season's worth of crops in one night, devastating farming communities and villages' foodstocks and wellbeing.
Our scientists have developed a new technology to save crops from being destroyed by pest animals, and have successfully trialled it in Gabon, Africa. The technology identifies approaching animals and selects appropriate deterrents to scare the animals away. We're also looking at longer-term aspects, such as analysing deterrent effectiveness and animal movements over seasons.
More information is available on: New technology deterring crop-destroying pest animals.
Case study: EAT-Lancet Commission of Food, Planet, Health
We contribute to the EAT-Lancet Commission on Food, Planet, Health , which brings together world-leading scientists from around the world to reach a scientific consensus that defines a healthy and sustainable diet. We use spatially-explicit global datasets of greenhouse gas emissions from agriculture, land use, agricultural and nutrient production to provide input to the Food, Planet, Health Report. The Commission performs a comprehensive scientific review of knowledge about what constitutes a healthy diet, what is a sustainable food system and how we can provide a healthy and sustainable diet to a growing population.
More information is available on: The EAT-Lancet Commission on Food, Planet, Health.
Case study: Global Nutrition Report
We contributed spatially-explicit global datasets of agricultural and nutrient production to the Global Nutrition Report 2017 . The Global Nutrition Report is the only independent and comprehensive annual review of the state of the world's nutrition. The report is a multi-partner initiative that provides an understanding of our ability to meet intergovernmental nutrition targets.
More information is available on: The Global Nutrition Report.
Case study: Nutritional diversity
We develop spatially-explicit global datasets to estimate agricultural and nutrient production by farm size, and also study the associations between farm size, agricultural diversity, and nutrient production. This work incorporates the latest spatial and statistical data on crops, livestock, and fish products. This work is crucial to design interventions that might be appropriately targeted to meet multiple Sustainable Development Goals and promote healthy diets and ecosystems in the face of population growth, urbanisation, and climate change.
More information is available on: Nutritional diversity.
Case study: Biological collections
CSIRO is the custodian of a number of collections of animal and plant specimens that contribute to national and international biological knowledge. Together, they constitute a vast storehouse of information about Australia's biodiversity and underpin a significant part of the country's taxonomic, genetic, agricultural and ecological research - making these vital resources for conservation and the development of sustainable land and marine management systems.
More information is available on: National Research Collections Australia.
Case study: Insect protected cowpeas
Cowpeas are an important food crop in Sub-Saharan Africa but yields are often reduced by more than 80 per cent due to pests and diseases.
We are part of a global project to improve cowpea production in Africa and are making progress towards incorporating 'built-in' insect pest protection that could help to reduce food shortages in the region.
More information is available on: Insect protected cowpeas.
Do business with us to help your organisation thrive
We partner with small and large companies, government and industry in Australia and around the world.