"In too many places, having a job doesn't guarantee the ability to escape from poverty. This slow and uneven progress requires us to rethink and retool our economic and social policies aimed at eradicating poverty. Sustainable economic growth will require societies to create the conditions that allow people to have quality jobs that stimulate the economy while not harming the environment. Job opportunities and decent working conditions are also required for the whole working age population." - United Nations
How does our work align with the Goals?
Everything we do at CSIRO is designed to deliver triple-bottom-line benefits to Australia: economic, environmental and social. We tackle big national challenges in partnership with government, industry, universities and the community. So it's no surprise our work aligns very closely with the world's biggest challenges.
The 17 Sustainable Development Goals (SDGs) cover a broad range of ways to improve our world, each with specific targets to aim for over the next 15 years to 2030. More detail on these is available on the UN's Sustainable Development Goals website .
While the Goals are broad, the need is imperative and the potential for change high – provided we all play a role. We're always looking for new partners to deliver on these and explore new projects.
How can we help you achieve progress against the Goals?
We work with business, government and the community to solve big challenges and deliver unique solutions by bringing together the best minds in the world.
The Sustainable Development Goals call on every business, government and citizen to form partnerships for the future of our world. Collaborating with us is a powerful way to make progress on the goals most important to you, as well as creating opportunities to increase competitiveness, reduce risk, expand markets, and develop new industries.
We are Australia's national science agency, one of the most multi-disciplinary organisations in the world. We work to benefit our economy, environment and our community – this mission includes your business, your impact in the world, and your prosperity.
The following examples are just a taste of the work we do to help deliver on the Sustainable Development Goals. Find out more about how you can work with us.
Goal 8: Decent Work and Economic Growth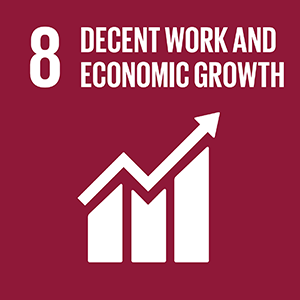 Case study: CSIRO Futures
CSIRO Futures is the strategic advisory arm of CSIRO. We draw on our vast network of 5,000 science and technology experts, and 3,000 industry partners, to help Australian businesses and government organisations prepare for the future.
From peak industry bodies to state and national governments, many clients have benefited from our services identifying trends and possible future scenarios allowing them to develop plans and roadmaps.
More information is available on: Our expertise in action.
Case study: Global material flows
In partnership with the United Nations Environment Programme (UNEP), we've created a global natural resource database to help guide and monitor environmental and sustainability policies.
The Global Materials Flows database encompasses 40 years (1970–2010) of data from every country in the world. It's now being used by many countries for policy planning and to monitor SDG objectives, enabling countries to assess their resource demand over time and their performance in resource productivity.
More information is available on: Global material flows.
Case study: Digital service delivery
We're helping the public and private sectors take a proactive approach to transforming service delivery in the digital era, improving the customer experience and boosting productivity.
Over the past five years, the Department of Human Services has adopted a leading position in digitally transforming its services for better citizen outcomes. Supporting this transformation has been our partnership with the department, under the Human Services Delivery Research Alliance.
More information is available on: Improving digital service delivery.
Over the past five years the Department of Human Services has adopted a leading position in digitally transforming its services for better citizen outcomes. Supporting this transformation has been our partnership with the department, under the Human Services Delivery Research Alliance (HSDRA).
The HSDRA includes the following solutions:
The Online referral model - We're exploring automated systems that can help recognise customers who should be offered referrals for additional support.
Emergency response – We created a software tool that integrates data from numerous government agencies during an emergency. The data is displayed in a web-based map that lets department staff see what's happening in real time.
Call centre dovetail – Sharing data from social media channels, face-to-face enquires and call centres allows for consistent and accurate responses to emerging issues.
Tailored documents – We examined how asking customers a few questions can help tailor information to fit their specific needs, so they spend less time reading through relevant information.
Social media – Vizie is a tool that uses natural language processing to organise social media based on its content. The department's social media managers use Vizie to respond to questions, tackle potential rumours and track trending issues faster and more comprehensively.
Channel optimisation – By analysing the way people respond to how messages are framed, customers can be encourage to use digital self-service channels like the department's Express Plus mobile app, which frees up staff to spend more face-to-face time with those most in need.
Web optimisation – We developed a tool called LATTE to identify if people are struggling to find what they need on the department's website. This information has guided website improvements, leading to a better experience for customers.
Planning for the future – Our research into the complex ecosystem of human services – from finding the most efficient debt waiver limit, to predicting vulnerable individuals, is helping the department improve service delivery.
Online communities – We created an online forum, moderated by department staff, where customers with less complex needs can get support by sharing their experiences with other customers in a similar situation.
Do business with us to help your organisation thrive
We partner with small and large companies, government and industry in Australia and around the world.