CSIRO scientists recently deployed 125 archival tags into juvenile southern bluefin tuna in the Great Australian Bight. We rely on the cooperation of commercial and recreational fishers to return any tags found. The data from these tags will contribute to a larger dataset spanning 30 years.
The challenge
Understanding the movement and behaviour of SBT
Little is known about the response of SBT, or on highly mobile fish in general, to noise caused by oil and gas operations. This means that the potential impact on SBT, which inhabit shelf and shelf slope areas of the Bight earmarked as the focus of oil and gas exploration, are unclear.
Possible impacts on SBT by exploration and extraction activities could include shifts in their distributions or changes in their diving or feeding behaviour while they are in the Bight. Such changes could in turn affect the annual aerial surveys that contribute abundance estimates to support SBT management and the efficiency of fishing operations in the Bight.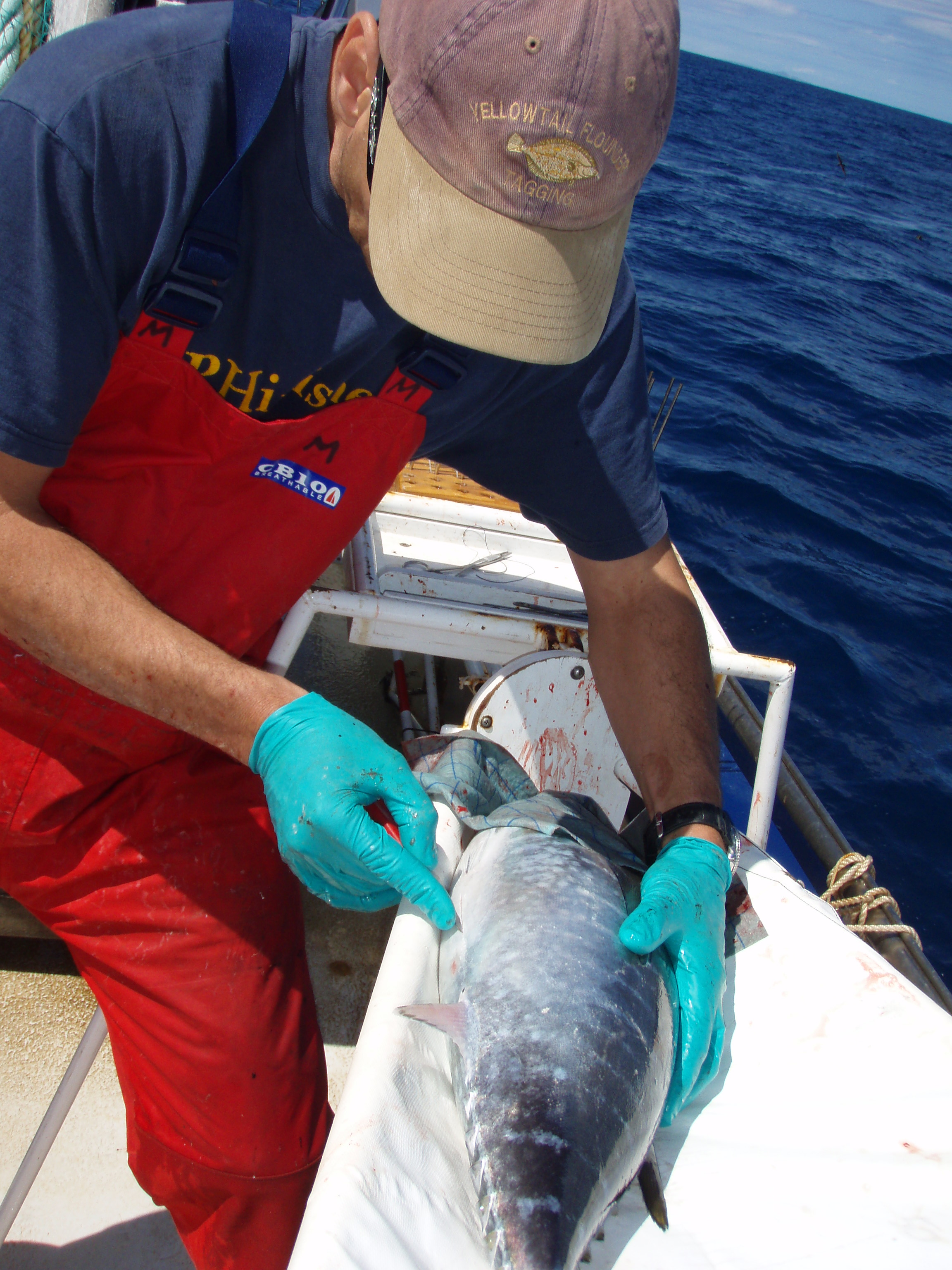 This project will investigate potential changes in the movement and behaviour of young SBT in the Bight that may be associated with increased noise.
It will analyse data held by CSIRO on the movement, migration and behaviour of SBT collected in 1994−2009 (before exploration activities), and data from archival tags deployed during the period of exploration (2013−2016).
If changes in the movement and behaviour of young SBT are detected, they will be examined for potential flow-on impacts on monitoring, assessment and management of the SBT population. The quantification of any behavioural changes will guide develop of any measures required for mitigating such impacts.
Our response
Electronic tagging of SBT
CSIRO will develop novel statistical methods for estimating positions, behaviours, and feeding patterns in individual SBT from electronic tag data.
The estimates will contribute to models of juvenile SBT dynamics in the Bight that will highlight patterns of change across three decades, including the period before and during current oil and gas exploration.
The research will involve:
deploying a mixture of different types of electronic tags to collect data on juvenile SBT over the short (less than one year) and long (one to four years) term)
improving statistical methods for estimating fish positions from tag data
developing new methods for investigating variability in diving behaviour and environmental influences on this behaviour
analysing feeding behaviour in relation to prey availability and environmental conditions
using sea temperature, productivity measurements and SBT aerial survey data in habitat models to provide estimates of where SBT and human activities such as development and exploration are likely to overlap
a review of historical exploratory activity and other noise generating activities (such as commercial shipping) to provide an indicative noise profile for the region.
CSIRO scientists recently deployed 125 archival tags into juvenile SBT in the Great Australian Bight. The data from these tags rely on tagged fish being re-caught and the tags being returned to CSIRO where the data can then be downloaded from the tags. The return of these tags, and associated data, therefore relies on the cooperation of the commercial and recreational fishing sectors targeting SBT in returning any tags found.
Once retrieved, the data from these tags will contribute to a much larger tagging dataset from SBT, spanning 30 years and will be used to investigate feeding, diving, migratory behaviour and habitats of juvenile SBT, and associated environmental factors across the time period. The information will provide a basis for establishing the spatial dynamics and ecological role of juvenile SBT as an apex predator in the Bight, in the context of oil and gas exploration and extraction.
What to do if you catch a tagged fish:
We offer rewards for the return of tags and information about the fish and its capture. Please contact us at tags@csiro.au as soon as possible after the catch. The return of tags as well as information about the recapture of the fish is important to our research. (NOTE: most tags are on the outside of the fish but some are inserted inside the fish)
The results
Benefit to stakeholders
Results from this study will benefit all stakeholders interested in the region, such as Commonwealth and state regulators and governments, commercial users and academic, research and local communities.
Information on key habitats for SBT in the Bight, variability in those habitats and linkages with population dynamics will provide information on areas that are most important for the juvenile component of the population. Identification of overlaps with and impacts of human activities will be important for planning and managing human impacts to make sure these have no long-term impacts on SBT population.
This will have long-term benefits for the fishing and aquaculture industry, the Bight ecosystem, and the broader Australian community.
The Great Australian Bight Research Program is a collaboration between BP, CSIRO, the South Australian Research and Development Institute (SARDI), the University of Adelaide, and Flinders University.
Do business with us to help your organisation thrive
We partner with small and large companies, government and industry in Australia and around the world.