Bluelink is a global ocean forecasting system that provides information on oceanic conditions to help manage Australia's diverse area of maritime operations. Delivered in partnership by CSIRO, the Bureau of Meteorology and the Royal Australian Navy.
The challenge
Ocean conditions can be unpredictable
Unpredictable ocean conditions create risk and uncertainty for industries and sectors that rely on the ocean, especially our maritime and naval industries.
Our response
Ocean forecasts to increase marine and maritime safety
Bluelink addresses this challenge by using complex data streams from a number of different sources to create a comprehensive suite of ocean forecasts that predict all types of marine weather scenarios, from local beach conditions to oceanic interactions on a global scale.
The major forecasting component of Bluelink is a global ocean modelling and assimilation system, OceanMAPS - jointly developed by CSIRO and the Bureau of Meteorology (BoM). This model forms the backbone of the operational ocean forecasting system operated by CSIRO and BoM and produces daily forecasts of up to seven days.
A range of other oceanic observations are utilised by the Bluelink forecasting system to enable accurate predictions of the physical state of the ocean. Observations taken from the sea and the sky (via satellite) are processed and interpreted to create accurate, near-real time models and forecasts.
This information is then shared with the Royal Australian Navy, marine planners, and maritime industry and safety authorities, to help guide their activities at sea and near shore.
By learning more about our oceans and beaches, we can create innovative approaches to understanding the marine environment and supporting its sustainability, as well as boosting the efficiency and profitability of ocean-based industries and services.
The results
A new capability for all marine users
Beach and ocean forecasting adds an additional predictive tool to Australia's already sophisticated meteorological capabilities.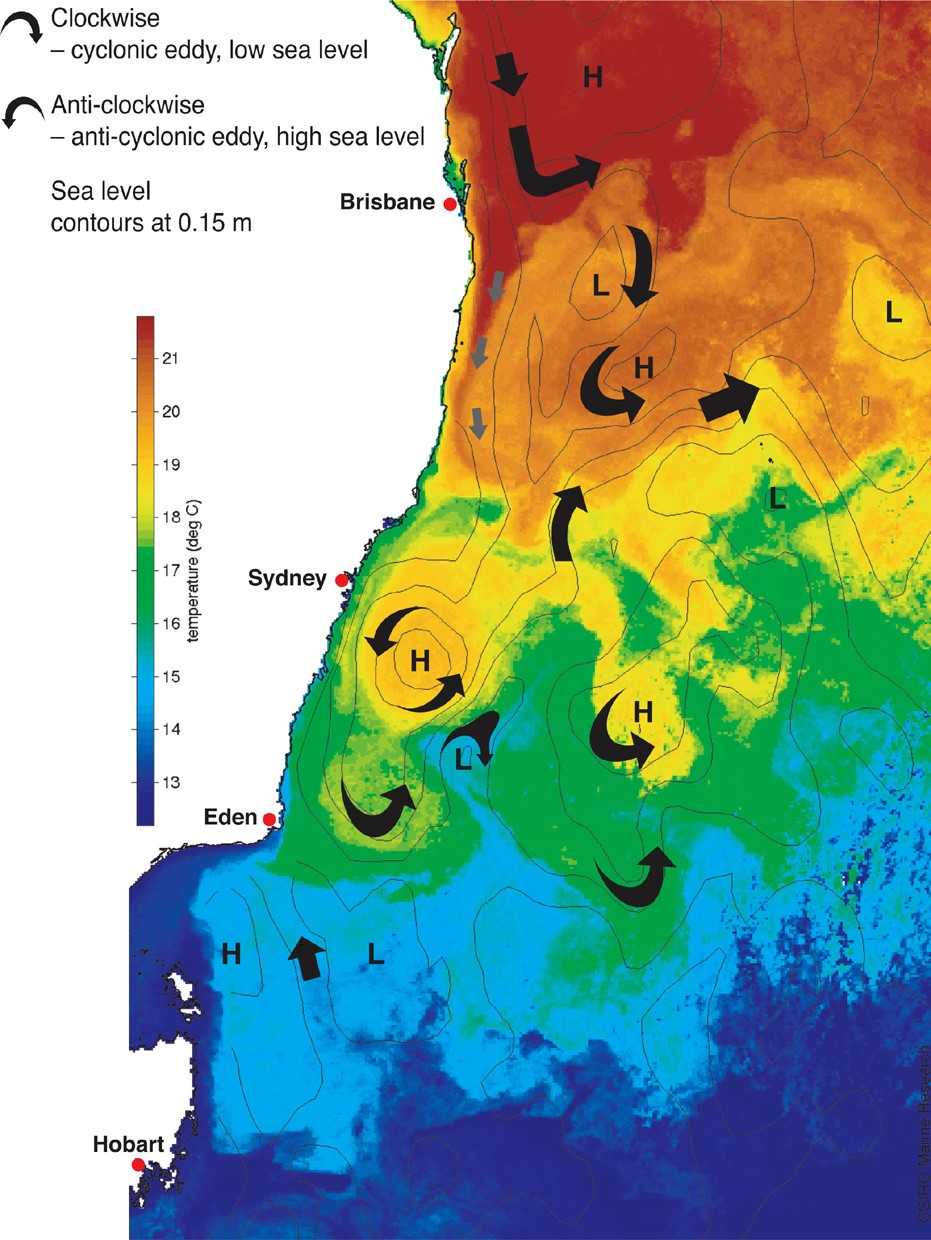 Bluelink ocean forecasts can show eddies, high and low sea levels and ocean temperatures. This is an example of a Bluelink forecast for Eastern Australia from Tasmania to just North or Brisbane.
A number of anti-clockwise and clockwise eddies can be seen along the coast from Tasmania (cooler waters, 13 degrees) up to Brisbane (warmer waters, 21 degrees). These eddies form around high and low pressure weather systems.
Locations are marked on the map for Hobart, Eden, Sydney and Brisbane.
Water temperature ranges on a scale from dark blue (13 degrees Celcius) to red (21 degrees Celcius).
The key to eddies shows:
Clockwise: cyclonic eddy, low sea level
Anticlockwise: anti-cyclonic eddy, high sea level.
Sea level contours are shown at 0.15 m
Bluelink forecasts are available to all marine users, including:
the Royal Australian Navy (RAN)
maritime transport providers
the fishing industry
tourism operators
marine managers.
Bluelink provides a critical capability to Australia's naval tactical operations, supporting RAN intelligence for tactical decision making and operational exercises; helping to locate and map historical shipwrecks and hazardous areas; and supporting search and rescue efforts between Australia and other countries.
The oil and gas industry has used ocean-forecasting techniques developed in Bluelink to assist with structural design, operational safety and oil spill management.
The same techniques provided predictions of the spread of the Montara oil spill off Western Australia in 2009, and companies have used surface-current forecasts to minimise down-time in drilling operations off Australia's North West.
Managers of Australia's western rock lobster fishery and Eastern Tuna and Billfish Fishery have used environmental information from Bluelink to determine how changes in currents, water temperature and salinity influence fisheries resources.
With all levels of government, science, industry, business and the community having access to Bluelink's products, the partnership is creating economic and social benefits on a broad scale.
Do business with us to help your organisation thrive
We partner with small and large companies, government and industry in Australia and around the world.