There is archaeological evidence that lupin beans have been part of the human diet for thousands of years. Early varieties were bitter and needed washing or soaking prior to consumption but a 'sweet' lupin variety was developed last century. Now, Western Australia grows over 80 per cent of the world's lupins and is a leading exporter of Australian Sweet Lupin.
Lupins are rich in protein and fibre and have a low (or no recordable) glycaemic index. A legume, lupin is traditionally a common livestock feed. And it makes for pretty flowers, too.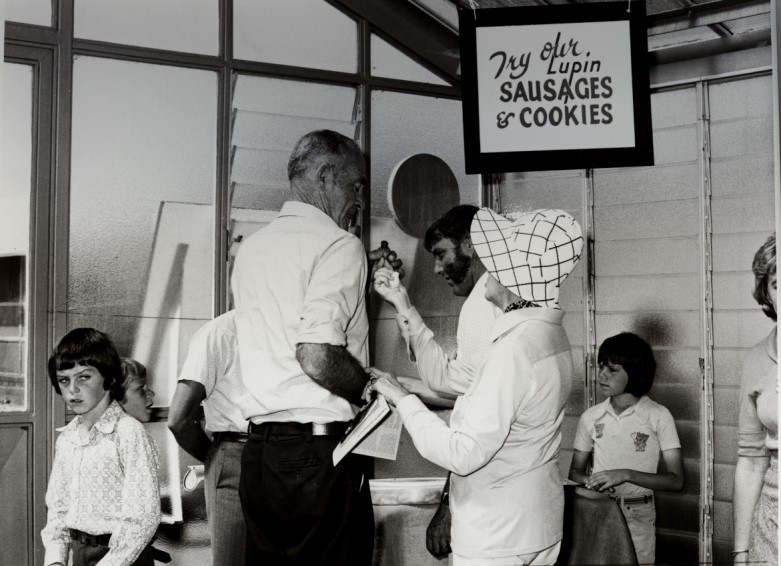 We don't know what form of the bean was used in Dr Arnold's original CSIRO lupin sausages and cookies, pictured. But fast forward 45 years and we do know that now there's a lot more interest in developing legume-based foods. Although there hasn't been wide market uptake in lupin because of its texture and lack of ability to process into a useful food ingredient, perhaps now it's time has come.
Finally, a way to harness lupin protein
Advanced food manufacturing research has now given us a novel technique that, for the first time, can modify the structure of the protein derived from the seed of lupin and enable it to form a gel.
This 'gelation' is a key feature and means the protein can form a stable network and entrap water, flavours and other important components required for modern day food products. It makes the lupin ingredient potentially suitable in a wide range of food products that have not been explored before.
The prototype process was developed and patented by Curtin University. We at CSIRO translated the process to pilot-scale in our Food Innovation Centre to produce kilogram quantities of food-grade samples for market testing across a wide range of food sectors. This marks an important milestone as it demonstrates it's possible to produce larger quantities that can be sent as samples to ingredient and food companies in Australia and globally.
Wide Open Agriculture, Western Australia-based ASX listed regenerative food and farming company, came on board as commercial partner and exclusive global licensee. With the recent breakthroughs addressing the processing limitations of lupin, Wide Open Agriculture is creating prototype plant protein meats, eggs, dairy, gluten-free products and supplements.
Preliminary taste testing has also found the samples to have a neutral taste, which helps with its potential use as a plant-based protein source across a wide spectrum of food products.
Environmentally friendly, high-value protein
Wide Open Agriculture Managing Director Dr Ben Cole explained that lupin works well as a crop in regenerative farming systems and the company sources their lupins from regenerative farmers in Western Australia.
"Our lupin protein product comes into its own with its environmental credentials," Dr Cole said.
"With plant-based products continuing to grow rapidly, we believe these eco-credentials will be important to consumers. That is a key strategy for our company."
Protein on a mission
New sources of plant-based protein are highly sought after to make consumer food alternatives in the meat, dairy, beverage and egg sectors as well as others. Demand is booming globally as well as here.
Currently, Australia has minimal capacity to meet this rapidly growing demand and manufacture and supply specialist, high value protein ingredients locally. Food companies largely have to rely on imports, although this is slowly changing.
To support bridging this gap, build sovereign manufacturing capability and help feed the world, CSIRO is developing the Future Protein Mission, which aims to grow Australia's protein industry by $10 billion by 2027.
Food manufacturing, like lupins, has indeed come a long way to helping meet consumer eating trends and unlocking opportunities for the Australian food industry.