The McArthur Forest Fire Danger Meter (FFDM) first appeared in operational use in 1967 as the Mk 4 FFDM.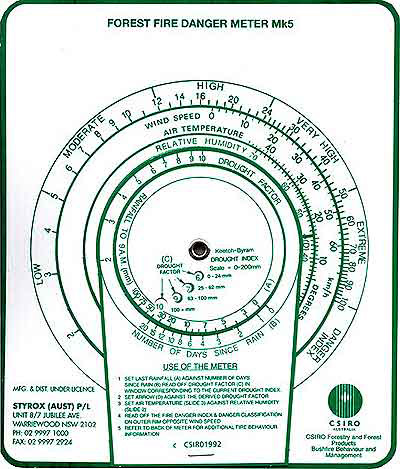 This meter, for the first time, brought together the results of over 800 experimental fires and wildfire observations into an easy-to-use system to determine the fire danger in forested areas of Australia.
It was designed for general forecasting purposes and is based on the expected behaviour of fires burning for an extended period in high eucalypt forest carrying a fine fuel load of 12.5 tonnes/hectare and travelling over level to undulating topography.
Fire danger index
The FFDM gives a fire danger index that is related to the chances of a fire starting, its rate of spread, its intensity, and its difficulty of suppression, according to various combinations of air temperature, relative humidity, wind speed and both the long and short-term drought effects.
An index of 1 means that a fire will not burn, or will burn so slowly that control presents little difficulty. An index of 100 means that fires will burn so fast and hot that control is virtually impossible.
The index is divided into five fire danger ratings (Low, Moderate, High, Very High, and Extreme) that represent the degree of difficulty of suppression.
In 1973, a metrified version of the FFDM was produced. Since that time the FFDM has been widely accepted and is used by all rural fire authorities in Australia (except WA) and the Bureau of Meteorology.
The fire behaviour table on the back of the meter is currently under revision due to the results of Project Vesta.
Obtain a fire danger meter
All fire danger meters produced by CSIRO are available from:
Sandleford Holdings Pty Ltd
T + 61 3 9786 0055
F + 61 3 9786 0077