Assessment aims
The Flinders and Gilbert Agricultural Resource Assessment provides a comprehensive and integrated evaluation of the feasibility, economic viability and sustainability of water resource development.
The techniques and approaches developed through this Assessment can now be applied elsewhere in northern Australia.
The Assessment aimed to:
identify and evaluate water capture and storage options
identify and test the commercial viability of irrigated agricultural opportunities
assess potential environmental, social and economic impacts and risks.
Why was the Assessment necessary?
Further development of northern Australia's agricultural industries will be assisted by identifying land and water resources that can be harnessed for irrigated agricultural production.
The results from the project will be used to:
Address local development needs and aspirations, such as those identified by Gulf Savannah Development and the Mount Isa to Townsville Economic Development Zone planning group, to grow irrigated agriculture and intensify beef production in north Queensland.
Meet the information needs of governments as they assess sustainable and equitable management of public resources with due consideration of environmental and cultural issues.
Meet the due diligence requirements of private investors, by addressing questions of profitability and income reliability of agricultural and other developments.
Location
The Flinders and Gilbert catchments were identified as appropriate for this Assessment because of interest from local stakeholders and the opportunity to build on past work in the region.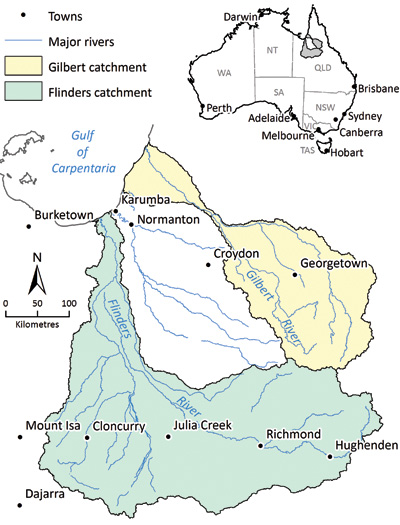 Because it was not possible to assess all areas at the same level of detail, field work and modelling focused on strategic locations.
Key activities
This is a complex project, drawing on the capabilities of scientists across Australia. Key activities include:
On-ground research, development and demonstration to establish the value, costs and risks of production, and to benchmark new production methods.
Regional-scale geochemical and geophysical surveys to map salinity risks and the connectivity between surface and groundwater.
Mapping land and soil suitability and production risks (floods and salinity) across agricultural, horticultural and pastoral systems.
Topographic mapping and automated terrain analysis to identify and evaluate water storage and development options.
Hydrodynamic and river modelling to assess the extent, magnitude and duration of floods; land suitability; and the connectivity between surface water and groundwater.
Assess potential environmental impacts under a range of climate and development scenarios and identify Indigenous water values.
Socio-economic cost–benefit analysis, including demands placed on key resources under a range of development scenarios.
Information and data distribution through web-based information products, reports and regular community-based information sessions.
Project methods
Related to this page