The challenge
Understanding molecular dynamics
In order to design new molecular systems to perform new functions, we need to understand how molecules move and interact over time.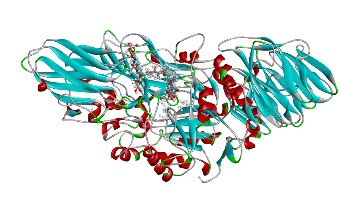 For example, information about how substrates and inhibitors fit into enzymes' active sites in a dynamic system is essential when developing new drugs, or when modifying enzymes to carry out particular functions that they may not have originally been designed to do. Performing these lengthy calculations requires enormous computing power, and hence, time.
Our response
State-of-the-art modelling
We're running the latest and fastest molecular dynamics models on our supercomputers to gain insights into how enzymes work. The modelling gives us detailed insight of enzyme mechanisms and physical behaviours, giving us the tools we need to go back and tailor them to our specific needs.
We can examine a broad range of systems using molecular dynamics, from enzyme-substrate interactions, to interactions of molecules with membranes and protein-protein interactions.
Molecular modelling is not restricted to biological systems; we are able to investigate materials such as polymers, ionic liquids and metals, as well as how they interact with biological molecules.
We also take a macroscopic approach to model large systems by using agent-based modelling (ABM, also known as cellular automata) – an approach whereby each 'agent' has rules of thumb by which it interacts with its environment and other agents. We have used ABM to examine the breakdown of cellulose into sugars by a family of enzymes known as cellulases.
The results
Insights to molecular mechanisms
We have used molecular modelling to:
look at the mechanisms by which herbicides and pesticides are degraded
predict polymer properties
determine how surfactants stabilise silk protein structures and
understand how ionic liquids interact with carbon dioxide.
We have also used modelling insights to engineer salt tolerance into proteins through surface engineering. This opens new avenues for the rational design of proteins for specific industrial purposes.
Related to this page