We developed PipeAssure™ technology in partnership with industry to reduce the significant cost and safety issues associated with repair of ageing subsea assets.
The challenge
Reducing production downtime
Corroding, ageing and damaged pipelines cause major problems for the oil and gas industry. Downtime to repair offshore pipelines can be particularly costly. Hydrocarbon production must be suspended while new sections of pipe are ordered, delivered and installed via complex, dangerous sub-sea welding procedures. Every day that a pipeline is out of service, the companies lose money, so each repair may represent millions (or tens of millions) of dollars in lost profits.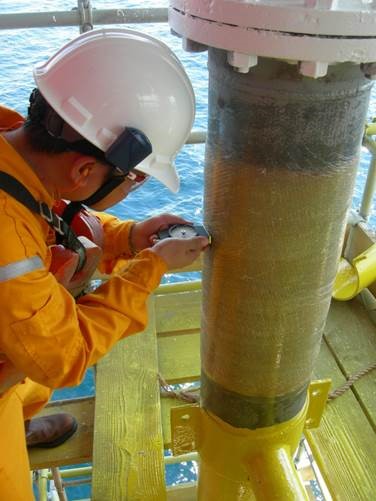 Our response
New technology for efficient pipeline repair
We worked with PETRONAS, Malaysia's international oil and gas corporation, to develop PipeAssure™, an adhesive composite wrap that can be applied with minimal interruption to production.
PipeAssure™ effectively protects pipelines against corrosion while also providing structural reinforcement. It can be applied to live pipelines without the need for complete shutdown. Application of the wrap increases the lifespan of damaged pipelines, so operators can schedule installation of a replacement section when operationally convenient, minimising downtime.
The technology
PipeAssure™ is a composite material consisting of a plain woven E-glass fibre fabric that is pre-impregnated with a proprietary epoxy resin that cures in dry, wet and subsea conditions. It bonds to steel pipelines even when applied under water, and remains bonded to a pipeline at high temperature and pressure. It is lightweight and flexible, so it can be applied to structures of different sizes and shapes.
The results
Economic, environmental and safety benefits
The PipeAssure™ technology overcomes some of the significant health and safety concerns associated with the repair of subsea pipelines, through:
a potential reduction of organic pollutants in the marine environment as a result of improved pipeline repair and maintenance methods
eliminating the need for underwater welding, creating a less hazardous method of pipeline repair.
While PipeAssure™ was specifically designed for application to subsea pipelines, it is suitable for repair of other submerged structures such as risers and for marine vessels. PipeAssure™ is also effective for land-based, buried pipelines, bridges and other units in refineries and process plants.
Evaluation of new applications for the PipeAssure™ technology in a wide range of industries is ongoing.