Background
Amaero Engineering specializes in additively manufactured, high performance metal parts. The business collaborated with researchers at CSIRO's Lab22 Innovation Centre in Melbourne, one of Australia's leading centres for additive manufacturing with metals, to develop an innovative solution for improved cooling of die casting tools using some clever simulations.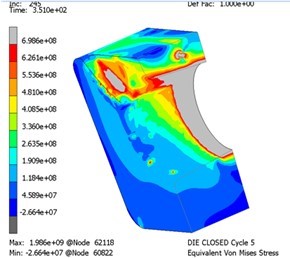 Program Manager, Mr Sam Tartaglia, said the company saw an opportunity to improve cooling in high-pressure die casting (HPDC) tools using computational modelling.
"We were looking to find a solution to a stubborn problem that was challenging one of our clients - the sprue assembly running too hot," Mr Tartaglia said.
"This issue was causing prolonged cycle times, with the tool taking longer to cool between shots, and frequent line stoppages."
Challenge
Using the Finite Element Method (FEM), the partners explored optimisation of the geometry of cooling channels in H13 grade steel tools in the sprue area where hot molten metal is injected into the tool cavity to form the casting. The simulations investigated stresses in the steel which could cause failure, as well as the temperature distribution.
A liquid, usually water, is circulated through cooling channels to remove the heat. The problem, however, is that traditional machining methods used to drill out these channels can only produce straight holes in limited locations, and this diminishes the effectiveness of the heat removal strategy.
Conformal cooling, by contrast, uses coolant channels that follow the twists and turns of intricate part designs, offering much better cooling efficiency.
Additive manufacturing, or 3D printing, makes it possible to build tools with highly optimised, complex geometries, including conformal cooling channels.
Principal Research Engineer at CSIRO, Dr Dayalan Gunasegaram, said "We used the modelling to assess the effectiveness of conformal cooling, compared to traditional tooling."
Mr Tartaglia said conformal cooling can translate to significant productivity improvements along with improved product quality.
"This capability has potential applications in both plastic injection moulding and metal die casting tools," he said.
Outcome
Amaero intends to diversify into additively manufactured tooling as a new business area and already has significant interest from die casting clients.
Dr Gunasegaram said the project, partly funded by an Innovation Connections grant through the Australian Government's Entrepreneurs' Programme for Small and Medium Enterprises (SMEs), is an example of how CSIRO can add commercial value to businesses working in the advanced manufacturing space. Amaero Engineering were supported by CSIRO's SME Connect Innovation Connections facilitator Kevin Thomson.