The challenge
Understanding consumer dietary choices
Hunter Heritage Gourmet Foods is an Australian food manufacturer and supplier of premium brands of gourmet foods from the Hunter Valley.
Renowned for their traditional handmade Christmas puddings, the business identified that intolerance and allergies have meant traditional Christmas puddings have been out of reach for some. This presented a growth opportunity, with the development of a new range of food product to supplement its traditional Christmas pudding range.
A key focus of their research and development needs was to diversify and develop a new range of products that would provide an additional revenue stream whilst meeting market demands and evolving consumer dietary choices.
Our response
Engaging research expertise
With limited scientific and technical resources available to focus on new food product developments, the business was unsure of the next step in product research.
Through the Australian Government's Entrepreneurs' Programme Innovation Connections service, Hunter Heritage Gourmet Foods connected with their local Innovation Connections Facilitator, Dave Fleming from CSIRO SME Connect. Dave assessed the business' needs and recommended an Innovation Connections Graduate Placement Grant to support the employment of a food science and human nutrition graduate. Dave also linked the business with capabilities in the Innovative Food Technologies section at the Department of Agriculture and Fisheries, Queensland, and the Food Innovation Laboratories at The University of Newcastle.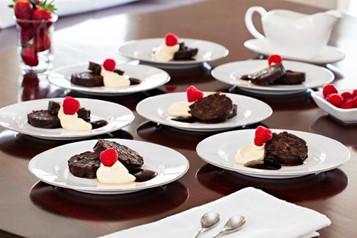 The results
Expanding product range
The graduate completed three significant innovations for the business. These include a vegan Christmas product that was taken up by a large Australian supermarket chain, a new flavour variant for a current customer and development of two additional products which were launched in 2020. The graduate also undertook the task of developing the supporting documentation to get the products to market.
Based on the successful product development work undertaken by the graduate, a professional food science researcher was employed by Hunter Heritage Foods to undertake further development work of the new products including shelf life, texture, nutrition and related product optimisation requirements.
The development of the projects will expand the total business sales across the year. This will move us into new markets with existing customers and new customers.

—Ben Crennan, Managing Director, Hunter Heritage Gourmet Foods
Related to this page