The challenge
More resilient, better and wiser
The journey from Zimbabwe, via Oman to Paddy's Green in Queensland in 1987 resulted in Ian and Marion MacLaughlin establishing Skybury, a coffee and papaya plantation just outside of Mareeba. Today the farm is home to three generations of the MacLaughlin family and is Australia's largest papaya grower, satisfying 50 per cent of the market. With a passion for growing things, the family also understands the science that underpins their success and innovation to mitigate disease and to add value to Skyburynew products.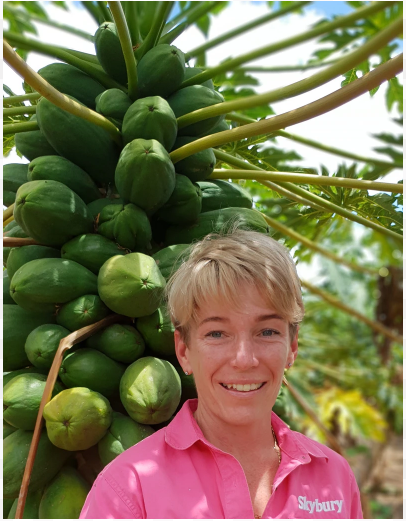 When it comes to future-proofing their business, Skybury likes to think of itself as a fruitful innovator. Having your own papaya variety can be a challenge due to the risk of disease and finding ways to mitigate this risk is top of mind for the business. Skybury relies on robust and well-resourced research and development capability for their success supported by highly experienced and qualified staff covering, genetics, plant biology, horticulture, and agriculture. Through this knowledge, the team are also able to develop new market offerings, a cornerstone of the business' success.
Our response
Two heads, better than one
Skybury were looking to better explore their research options to mitigate plant disease, a constant risk for any grower. They connected with their local CSIRO-based Innovation Connections facilitator, Mario Martini from CSIRO SME Connect. Mario supported Skybury to access two Innovation Connections grants, a service offered by the Entrepreneurs' Programme, an Australian Government initiative which is funded and supported by the Australian Government.
The grant supported Skybury to undertake two research projects that have since added to their already impressive arsenal of technical capabilities. These projects focused on building a capability to identify potential disease, as well as creating value-add opportunities from waste products arising from food production, such as jam.
When it came to their research strategy, the support of the Innovation Connections program proved invaluable beyond the grant itself. The facilitation service provided for a richer engagement with their chosen researchers at RMIT University and the Queensland Department of Agriculture and Fisheries, to help refine the scope of the project, navigate technical conversations and keep track of their project milestones throughout the COVID-19 pandemic.
The results
The sweetest papaya
As a result of these projects, Skybury is now better equipped to identify potential risk from disease and have reason to continue exploring value-add opportunities from waste products.
Armed with new knowledge, potential new products, and better technology, Skybury is now able to go to new markets with an enhanced value proposition, for a world ready to switch the bitter experiences of recent times for the sweet taste of Skybury's own Papaya.
Risk of disease and waste from excess fruit led to our Innovation Connections research projects with RMIT and QDAF, resulting in improved biosecurity, opportunities to expand to a new market, all of which has been highly rewarding for the family."

— Candy MacLaughlin, General Manager, Skybury