The challenge
Supporting software for better patient management
Canberra based ToukanLabs is a specialist software systems IT integrator focusing on digital solutions in healthcare. With a focus on innovation in healthcare, the company's mission is to utilise digital technologies to help people live longer and better lives. Through the company's OpenEyes platform for electronic ophthalmology patient records management, clinicians are supported for patient record workflow in relation to eye exams, operations, discharge and monitoring.
Acknowledging that many ophthalmologists are also involved in scientific research on the causes and cures for eye disease and vision disorders, ToukanLabs saw an opportunity for enhanced decision support functionality and sought to collaborate with the Centre for Eye Research Australia (CERA).
Our response
Collaborating with research expertise
Assisted by CSIRO SME Connect Innovation Facilitator James Robinson, ToukanLabs accessed funding support through the Australian Government's Entrepreneurs' Programme Innovation Connections service, capitalising on three research project grants to undertake the collaboration with CERA.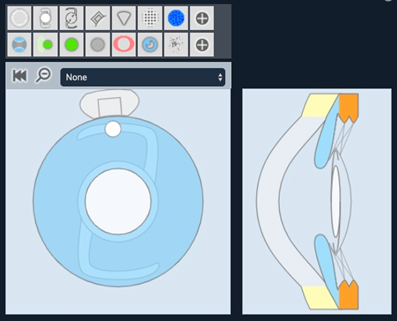 The research collaboration between ToukanLabs and CERA has helped to serve streamlining of clinicians' work and support better outcomes for patients such as facilitating preventive care and expedite early detection of eye defects, including post-surgery. Nicole Tindill, CERA Research Technology Manager comments "it has been a positive outcome to work with a leading technology partner and share our clinical research expertise in eye disease in a way that can benefit others, in particular, eye care in less developed countries such as Vanuatu."
Meanwhile, through a continual refinement loop, nominated representatives from ToukanLabs engaged with clinicians, acting as a conduit/proxy for in-field eye specialists to translate functional requirements for development and optimisation from a scientific, technical and user interface perspective, enabling researchers to upskill in graphing and software analytics within the domain of eye research and clinical practice.
The results
Accessing new markets
Following the successful collaborations with CERA, ToukanLabs has been successful in adoption of OpenEyes several notable health organisations including National Health Services in Scotland (NHS Scotland) and Wales (NHS Wales) as part of national eye care digitisation initiatives.
The OpenEyes platform has now been enhanced to interface with complementary technologies relevant to management and processing of optical coherence tomography (OCT) imagery/data sets, with potential for development of an eye disorder early stage detection application that leverages artificial intelligence based on OCT image libraries, bringing benefits to both clinical practice and research.
Future enhancements to better serve eye care practitioners include leveraging computer vision and machine learning capabilities for improved decision support in relation to early detection of eye defects, post-surgery vision rehabilitation and personalised treatments.
With potential to access markets in other countries, ToukanLabs are planning multilingual functionality into the platform in its efforts towards a truly global-centric digital eye care platform.
There are also longer-term opportunities to embed a distributed ledger (blockchain) framework for numerous stakeholders working in eye care and treatment.
Claton Blake, Director at ToukanLabs commented that the Innovation Connections programme "helped with growth and development, enabling concept development to deployment in the field".
The Innovation Connections program has helped accelerate entry to new markets.

— Claton Blake, Director, ToukanLabs
Related to this page