The challenge
Byeond lifesaving
Ripper Corporation is a pioneer in utilising unmanned aerial vehicles (UAVs) for search and rescue. Their Little Ripper drone led the world's first recorded drone surf rescue in 2018. Since that rescue, Ripper Corporation have collaborated with the University of Technology Sydney (UTS) on additional applications for their technology. The collaboration developed the Little Ripper technology for other uses including designing and building prototypes for three different uses.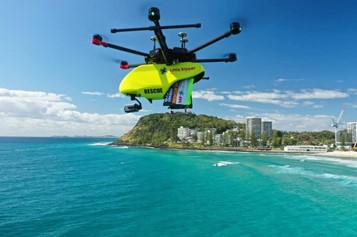 Our response
Accessing research expertise
Ripper Corporation identified a need for expertise in Video-based Object Detection coupled with AI to further develop their technology. Through the Australian Government's Entrepreneurs' Programme, Ripper Corporation connected with their Innovation Connections Facilitator from CSIRO SME Connect for advice and funding options and accessed two Researcher Placement Grants to support their continued research and collaboration with UTS.
The results
The Spotter Suite
The two projects have been extremely successful with the development of an AI system to detect a range of marine threats and human life with high accuracy and in real time. Two of the applications developed through the projects, SharkSpotter© and CrocSpotter© are now part of the Little Ripper's applications, with a third, PeopleSpotter© in final development. These are collectively known as the Spotter-AI Suite.
The collaboration resulted in the development of world-best, ultra-low latency capability for the transmission of High-Definition video – this has very wide applications beyond drones; and was an outcome well beyond the initial remit of the project.
Ripper Corporation and UTS received the AAUS (Australian Association for Unmanned Systems) Innovation Award 2020 for the Spotter-AI Suite.
UTS Computer Science and Engineering has been ranked #1 in Australia and #13 in the world. Since AI is at the core of this joint program, it was essential we work with the best.

—Dr Paul Scully-Power, Co-Founder, Ripper Corporation
Related to this page