Unlocking Australia's resource potential: Innovation in the energy and mineral resources sector
Energy and mineral resources have long been a significant contributor to Australia's growth and prosperity. However, the environment in which resources businesses operate is changing rapidly and future success is no longer guaranteed. While the sector has a strong history of innovation, future success will hinge on the sector's ability to adapt and improve its innovation performance in the context of long-term opportunities and challenges.
In partnership with our Energy and Mineral Resources business units, CSIRO Futures developed this report of industry perceptions and analysis of the innovation performance, barriers and opportunities for Australia's energy and resources sector.
We interviewed 26 industry leaders, including chief executives, board members and general managers from research and development, across Australia's largest minerals and energy companies.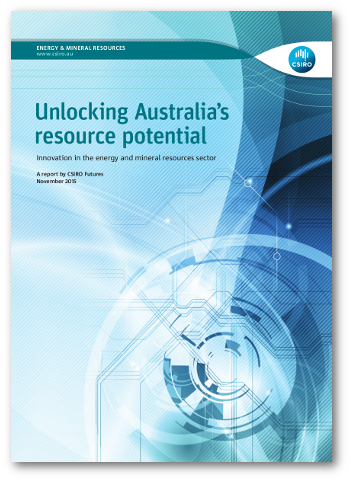 These interviews were supported by our extensive literature review and analysis of historic innovations in the resources sector, which identified common characteristics of past innovation success such as:
strong collaboration
a non-linear journey
perseverance
visionary leadership
measured risk taking
government participation.
The CSIRO Futures team drew insights into past or existing barriers to innovation and, through analysis, identified opportunities to improve innovation performance in the resources sector.
Ten major innovation barriers across four broad categories are identified though the research along with approaches and strategies to successfully overcome those barriers.
The report maps out a way forward for innovation success - not through a 'one size fits all' approach but through innovation tailored to the needs of individual companies and challenges.
Key findings
The most successful innovators have a clear innovation strategy that supports their business strategy and prioritises innovation investments across a portfolio.
Innovations in the resources sector can have long incubation periods and achieving breakthrough often requires early engagement and more than a decade of continuous investment.
Our interviews and case study analysis showed that both people and culture are vital to successful innovation.
Collaboration plays an important role in sharing risk across stakeholders, gaining access to all requisite capabilities, crossing conventional technology boundaries, and improving outcomes.
Download the report
Report text versions
Related to this page