UROP Annual Conference 2023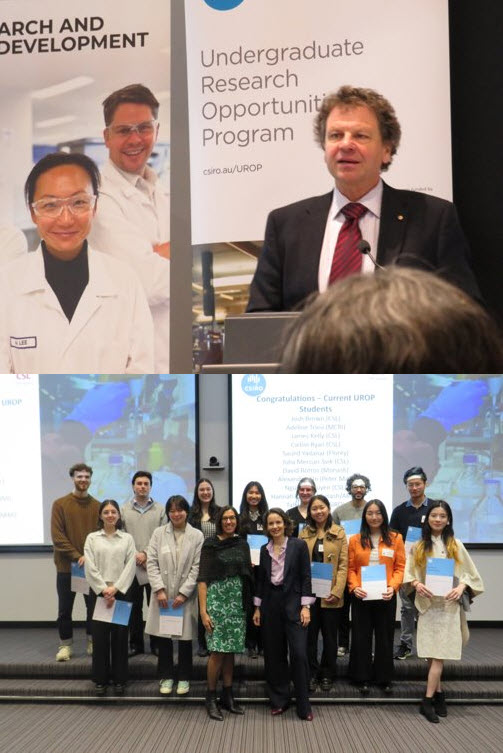 The annual UROP conference was held on Thursday 20 July at CSIRO Clayton Ian Wark Theatre. This year the conference was well attended with over 40 attendees, including distinguished guests, Mr Simon McKeon AO (UROP patron, current chancellor of Monash University and 2011 Australian of the year), Dr Milica Ng (Head of data Science, CSL) and Ms Julia Siddiqui (Executive Manager, CSIRO Education and Outreach). The importance of STEM education and bilingual training (biology and computational) for future biomedical research careers were the emphasis of these addresses. The important role UROP plays in enhancing the future biomedical research industry's workforce capability and thereby the Australian health sector capability was highlighted.
Former UROP Student Ms Serena Kane, now a third year PhD student was the keynote speaker and shared her current work and the positive influence UROP had for what she is pursuing now.
Twelve UROP students presented their UROP placement work in three sessions chaired by UROP supervisors Dr Renee Chow (ARMI), Dr Christopher Draper-Joyce (The Florey) and Dr Mitchell Lawrence (Monash University). A panel of judges consisting of UROP supervisors Dr Adam Quek (CSL), Dr Gulrez Chahal (MCRI) and Dr Marina Alexander (CSIRO) had the difficult task of selecting the best three student presentations. Our congratulations to Adeline Trieu (MCRI) who was the winner this year, with Nguyen Nguyen (CSL) placed second and David Botros (ARMI) placed third. Our congratulations to their supervisors as well as to all the supervisors on the exceptional presentations each of their students presented on the day.