What is water banking?
It involves storing water underground using managed aquifer recharge (MAR) techniques.
Excess water resources are stored when available and allocated for future use during dry years or a drought.
This water is managed within an entitlement framework to meet competing demands.
Water can be sourced from rainwater, rivers, dam releases or alternative sources, such as recycled wastewater and urban stormwater.
Why bank water?
Regional Australian communities and industries, like agriculture, need greater water security. Banking allows water to be stored long-term for supply during a drought.
Advantages are that underground aquifers can hold a large water capacity and there's no evaporation. There's also no risk of mosquitoes or algae.
Towns can also avoid costly water cartage when regular water sources dry up to avoid approaching 'day zero'.
A range of MAR techniques have been developed to manage subsurface water storage safely and to reduce impacts to the environment.
Are there examples of water banking or MAR in Australia?
Australia has traditionally relied on surface water reservoirs for supply.
However, forms of underground storage or MAR have been successfully used in parts of South Australia and Western Australia for over 20 years.
Right now, just 8.3 per cent of Australia's yearly groundwater extraction is replenished through MAR.
There are no water banking initiatives (i.e. MAR systems operating under a water entitlement framework) currently in Australia. Yet there are successful examples of water banking overseas, such as in California, USA.
What are the opportunities for water banking in Australia?

Our assessments show that water banking is suitable for a range of Australian locations.
Water banking is suitable for a range of geographical settings.
We identified 4km3 of potential storage opportunities in the Murray-Darling Basin.
We are also working with the National Water Grid Authority to identify other regional areas where water banking could support irrigated agriculture.
What locations are suitable for water banking?
Geographical assessments are used to determine suitable aquifers and their capacity to store water.
It's important to factor in an aquifer's proximity to both the source of water for recharge and demand for water supply.
This has implications for costs and the economic viability of a scheme.
What's needed to enable uptake?
Research is needed to inform policy. For example, how surface water and groundwater resources can be conjunctively managed.
Demonstration sites are also needed to show that water banking can be sustainably operated and scaled.
We are undertaking research to understand key enablers to water banking in the Murray Darling Basin and other regions.
How much does it cost?
Water banking can be very cost effective, although costs vary depending on the system applied.
There are a range of MAR systems and the type applied depends on the geographic context and intended end water use, such as for drinking water or irrigation purposes.
In our 2022 study, we modelled a range of scenarios to bank surface water and the costs involved, as pictured below. Average costs are based on two to three different scenarios.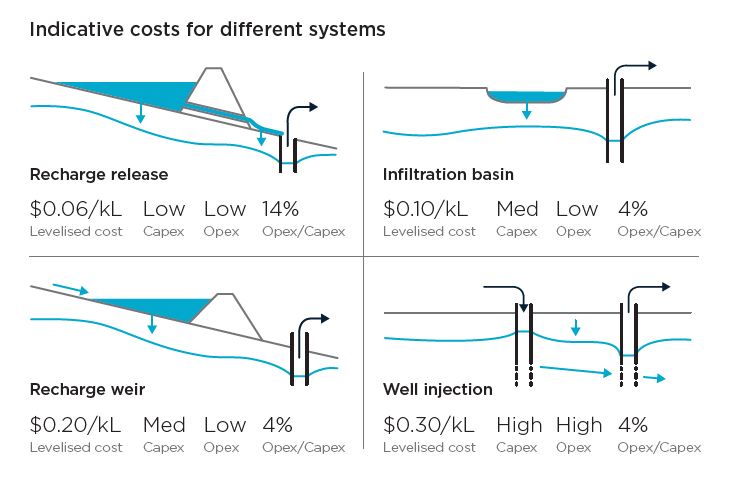 What is our Drought Resilience Mission focused on?
Our groundwater experts are:
Looking at how best to store water underground
Understanding and mitigating risks so water is safe for people and the environment
Tailored solution to the need and location
Securing demonstration sites.
Downloads
Related to this page