Mission overview
Monitoring the health of inland and coastal waters
Together with our partners we aim to co-design and build an extensive network of purpose-designed Earth observation satellites and ground-based sensors to monitor the quality of Australia's rivers and coastal and inland waterways with real-time data and predictive analysis.
AquaWatch Australia will support water managers to monitor natural events such as toxic algal blooms, the contamination of drinking water, and excess runoff from irrigation and will increase the resilience of rural and regional communities that depend on water for agriculture and improve environmental outcomes.
As well as monitoring the health of our inland rivers, dams and waterways, the AquaWatch system will also have potential application to monitor coastal wetlands, aquaculture farms, riparian vegetation and terrestrial biodiversity, mine sites, mangroves and coral reef environments.
Water - Our most precious resource
The health and quality of our inland and coastal waterways are under profound threat due to increasing human activity, and stressors including urbanisation, population growth, land use changes, deforestation, competition for the resource with irrigation and farming needs, and contamination from industrial processing.
Water quality is also under pressure from the effects of climate change. As variations become more marked, the environmental impact from drought, bush fire sediment, storm events, toxic algal blooms and contamination is growing.
Potential impact
Supporting better water quality management and early warning of harmful events
As well as improved management of our inland waterways to provide vital, safe drinking water, the AquaWatch Australia system will monitor the health of our coastal ecosystems including the Great Barrier Reef.
It will enhance urban, remote and regional water resource management by water agencies, agricultural producers, industrial and commercial water users and will enable decision makers across all levels of government to be to access real-time data to inform policy, planning and management.
AquaWatch Australia will provide an early warning system to improve management of harmful algae blooms and contaminants. This timely data will support communities to better manage human and animal health impacts from toxic water quality events.
It will also assist with monitoring and managing our aquatic eco-systems and reducing the economic impact on industries that rely on safe healthy marine environments, such as aquaculture, fishing, tourism and recreation.
In addition to monitoring environmental challenges, it is expected the development, design, build and roll-out of the AquaWatch Australia infrastructure will directly stimulate growth in Australia's domestic space capability, and drive expertise in remote sensing, advanced manufacturing and engineering.
Longer term, it is expected the data from the AquaWatch system will foster the development of bespoke data services and new export opportunities in the geo-spatial services sector, with the development of data analytics platforms, programs and data value-adding jobs that integrate prediction modelling, data analysis and environmental monitoring.
Plan
Project roadmap
June 2020 to June 2021 -Initial Scoping Phase
In collaboration with our foundation partner SmartSat CRC, we conducted initial rounds of user consultation with input from water quality managers, water utility operators, primary industries, aquaculture industry, extractive industries and government agencies at federal, state and local level.
We conducted market analysis to ensure a comprehensive understanding of end-user requirements from across Australia. This initial stage provided engineering options for space technologies and ground-based monitoring capabilities as part of a full mission concept of operation and design.
July 2021 to 2025 - Refining our Mission concept design
In this phase, we are focused on developing and refining the design parameters of our in-situ ground-based sensor system. We have commenced implementation of a series of pilot trials across various sites in Australia and with international pilot countries.
We continue to develop the cloud-based data analytics platform and information system, integrating data from Earth observation satellites and in-situ sensor network with predictive analytics, weather data, algal growth and hydro-dynamic modelling to provide analysis ready data to users across Australia.
Our space segment of our program encompasses designing and testing of a range of satellite technology that will inform the design and build parameters of the next generation of linked Earth observation satellites to deliver a global footprint.
From 2026 onwards
AquaWatch Australia data information service is made available.
We continue with the design, build and integration of the Earth observation program.
Towards 2028, we commence full-operational scale service of the AquaWatch Australia system.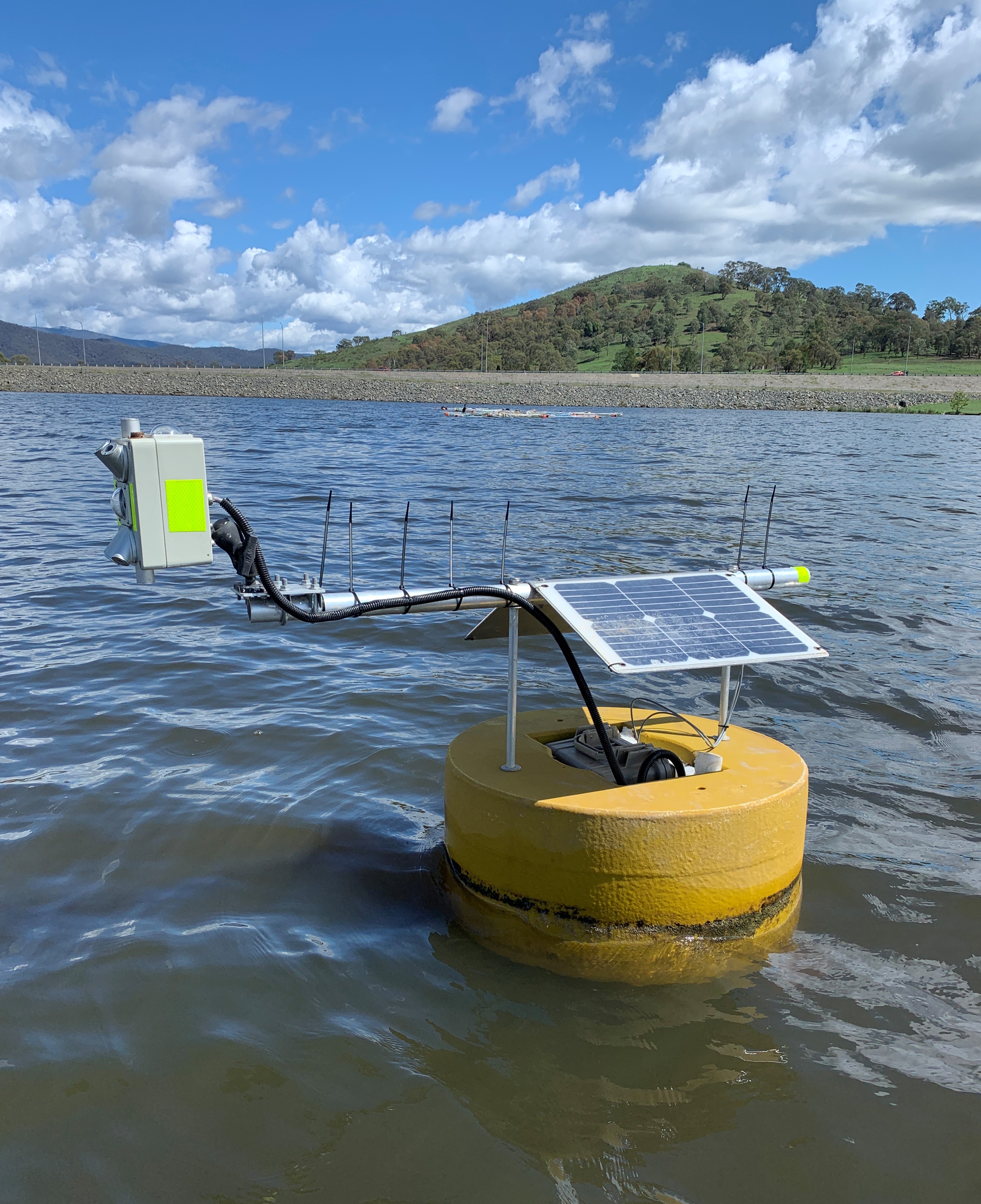 Proposed focus
Key areas include:
Infrastructure and data services
Earth observation satellites
Network of ground-based or aquatic sensors
Predictive data modelling for real-time decisions
Collaboration
Working together for a more resilient environment
Our aim is to deliver real-time data for monitoring and managing our valuable freshwater and coastal environments.
Success depends on strong collaboration across industry, research and governments. Together we can leverage existing knowledge and capabilities and develop new solutions for a more resilient Australia.
As such, we continue to seek input from industry on end-user requirements. We welcome feedback from water quality managers, water utility operators, primary industries, aquaculture industry, extractive industries and government agencies at federal, state and local level.
Our foundation partner is the SmartSat Cooperative Research Centre and early research collaborators including the University of Queensland, UNSW Canberra, Curtin University, Australian National University, Swinburne University, Frontier SI, Water Research Australia and SatDek.
We are seeking additional partners to help us reach our goal of a safeguarding water quality across Australia.
International partners are welcome to connect on this opportunity.