The ANWC is the official Commonwealth collection of Australia's land vertebrates and covers birds, mammals, reptiles and amphibians.
It aims to be a scientifically up-to-date repository of biological specimens representing Australia's terrestrial vertebrate biodiversity, including as many species as possible and their geographical ranges.
This information is crucial for:
wildlife management
conservation
biological research
public information.
A vital resource for wildlife conservation
The Collection underpins significant amounts of research by Australian and overseas scientists on vertebrate evolution, taxonomy, population genetics, biogeography and ecology. It is therefore a vital resource for conservation.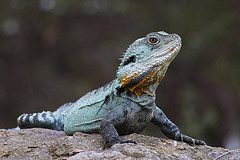 Our research continues to refine our understanding of the origins and maintenance of the diversity that evolution has produced in Australia and how it is distributed onto the landscape.
Through exploring new methodologies, our research provides fine-scale resolution of how genetic diversity within vertebrate species, especially birds, has evolved.
This is in turn constantly refining our understanding of the species that are present in our fauna and what defines one species as different from another.
Our research has played an important role in demonstrating the role of Australia and its songbirds in the evolution of many birds elsewhere in the world, especially Northern Hemisphere songbirds.
The collection has also played key roles in many major environmental fauna impact surveys for government and industry. ANWC Director Leo Joseph is currently Deputy Chair of the Night Parrot Recovery Team.