Worshipped by Hindus as the goddess Ganga, India's 2500 km long Ganga River (also known as the Ganges) is one of the most polluted rivers in the world.
And this is just one of India's major rivers with problems. India's Central Pollution Control Board reported earlier this year that the number of polluted rivers had increased by nearly a third in just five years.
Pressure on water resources from India's large population is substantial, and is made worse from increased water use and pollution accompanying rapid economic growth and industrialisation.
The future of the Asian economic powerhouses China and India is in the balance. The demand for increased living standards by the booming middle-classes could be challenged by environmental crises as pressure from population growth and rapid development take their toll.
In China, water demand is projected to outstrip supply by 2030, when there will be a predicted 234 million new middle class consumers in China's urban areas. In India, wealth per adult has been growing at eight per cent a year and there are already more than 30 million middle-class households.
A partnership based on Australian science and local knowledge
A new initiative to help India and Pacific nations access Australian expertise in water management was launched in September 2015 by Secretary of the Australian Department of Foreign Affairs and Trade (DFAT), Peter Varghese at the International Riversymposium in Brisbane.
The Australian Water Partnership (AWP) aims to provide more efficient access to Australian water sector experience and expertise in response to growing demand for collaboration from governments and multilateral agencies in the region.
AWP's vision is to: "manage water resources effectively and equitably in the Indo-Pacific region to support sustainable economic development, improve water security for all, and reduce environmental and social impacts and regional tensions".
CSIRO project leader, Dr Simon Toze, is working with the National Mission for Clean Ganga and India's water and other pollution control agencies, as part of the AWP, to look at ways to improve the quality of water entering the Ganga River.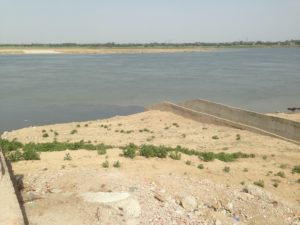 "India is planning new infrastructure to improve water quality and prevent untreated wastewater being discharged into rivers like the Ganga. The partnership will assist with that process," Simon says.
"The initial aim of the project is to assess the current water quality data that India has for the drains flowing into the Ganga, and the sections of the Ganga River where drains enter.
"By developing reliable methods to analyse and report on the levels of pollutants in the river, we will put a system in place that can track sources of pollution, identify contaminants of concern and recommend targeted and efficient treatment processes. This can then be used to assist the measurement of improvements, and that can be applied elsewhere in India."
The CSIRO team is partnering with Indian colleagues and agencies to set up an ongoing score card system that will demonstrate to the community and governments ongoing improvements to water quality in the Ganga River and the drains that feed into it from the improved sewerage networks that India is planning.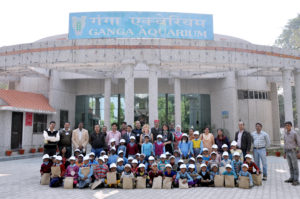 CSIRO's Dr Anu Kumar, who is working on another DFAT-funded project, points out that this framework can also be applied to other rivers in India. Anu is training Indian scientists to measure water pollution, but she also recognises the need to involve the general public.
"Connecting with the general public, especially the younger generation, is very important," she says.
"We invited 50 school-aged children to visit the Ganga Aquarium in Lucknow. The visit encouraged children to recognise the importance of safe water for human health and protecting aquatic animals."
Common goals for science and religion
Nitin Kaushal from WWF India spoke at the Brisbane's International Riversymposium about an opportunity created by the religious festival Kumbh Mela - a mass Hindu pilgrimage to bathe in one of India's sacred rivers. The festival is held every three years, at one of four locations, and in 2013 attracted around 88 million worshippers to the banks of Ganga. Natural flows in the Ganga at the festival site are threatened by competing water uses such as agriculture.
Nitin says WWF were able to negotiate with government to increase the natural water flow in the Ganga during the festival because the condition of the river was important to worshippers.
"While this took water away from irrigators, many expressed gratification that they were able to contribute to the success of Kumbh," he says.
A global view of river health
At the Riversymposium, water experts from around the world reported escalating declines in the health and extent of rivers and wetlands worldwide.
'Hotspots' in Asia like India and China, have the highest risk of developing a water crisis. But Riversymposium speakers also discussed opportunities for implementing innovative solutions that avoid the mistakes of first world economies.
Dr Charles Vörösmarty from the City University of New York says industrialised nations typically try to fix pollution and water scarcity through a massive investment in infrastructure.
"Not only is this out of reach for some Asian economies but it wastes the economic benefits that that rivers can naturally provide," he says.
"Managed landscapes have the potential to provide water security without destroying the environment. A managed floodplain, for example, can handle more flow in a flood than a constructed river channel and can be used for food, recreation and to maintain biodiversity."
While economic growth may increase Asian nations' budget sheets, the extent that governments and private enterprise are prepared to implement policies that balance increased affluence with environmental risks will determine the ultimate quality of life that the people of such nations can expect and enjoy.
---
More information