**Update 29 September: The 2015 Antarctic ozone hole likely to be 3rd or 4th largest ever in area due to a very cold upper atmosphere, but reduced chlorine levels (thanks to the Montreal Protocol) may prevent near-record ozone losses.**
Yesterday (16 September) was the International Day for the Preservation of the Ozone Layer, which commemorates the date the Montreal Protocol[Link will open in a new window] was signed in 1987.
This year, by the time mid-August rolled around the ozone hole was still yet to start, making it the latest onset of the ozone hole that has been seen since the 1980s. By 18 August the 2015 ozone hole had begun, and by the beginning of September its area had increased rapidly. The ozone hole area reached 21.5 million square kilometres in the past week - an area almost three times the land mass of Australia (including Tasmania) - and the ozone deficit reached 11.7 million tonnes, which is below the long-term 1979-2014 average for this time of year.
This analysis comes from constant monitoring of ozone levels by NASA. From August to December each year, about 2.5 trillion kilograms of ozone is broken down in the stratosphere above the Antarctic, with losses peaking in late September or early October. Ozone depletion is caused by the effects of chlorines and bromines, which are released in summer when sunlight acts on CFCs, solvents, HCFCs, halons, methyl bromide, carbon tetrachloride, and methyl chloroform, all of which are emitted from human activities.
CSIRO has been monitoring the hole over Antarctica since the late 1970s. The ozone hole first appeared in spring over Antarctica and subsequently over the Arctic, as the ozone-destroying chemical processes require very cold conditions and the onset of sunlight (following the polar winter).
The atmospheric concentration of ozone-depleting substances began declining around 2000. However, repairing the ozone hole is a long-term process because, due to their long lifetime, ozone depleting gases remain in the Earth's upper atmosphere for about 50 years.
The theme for this year's International Day for the Preservation of the Ozone Layer is "30 years of healing the ozone together," supported by the slogan, "Ozone: All there is between you and UV."
CSIRO will tweet regular updates of the ozone hole's progress until the end of spring.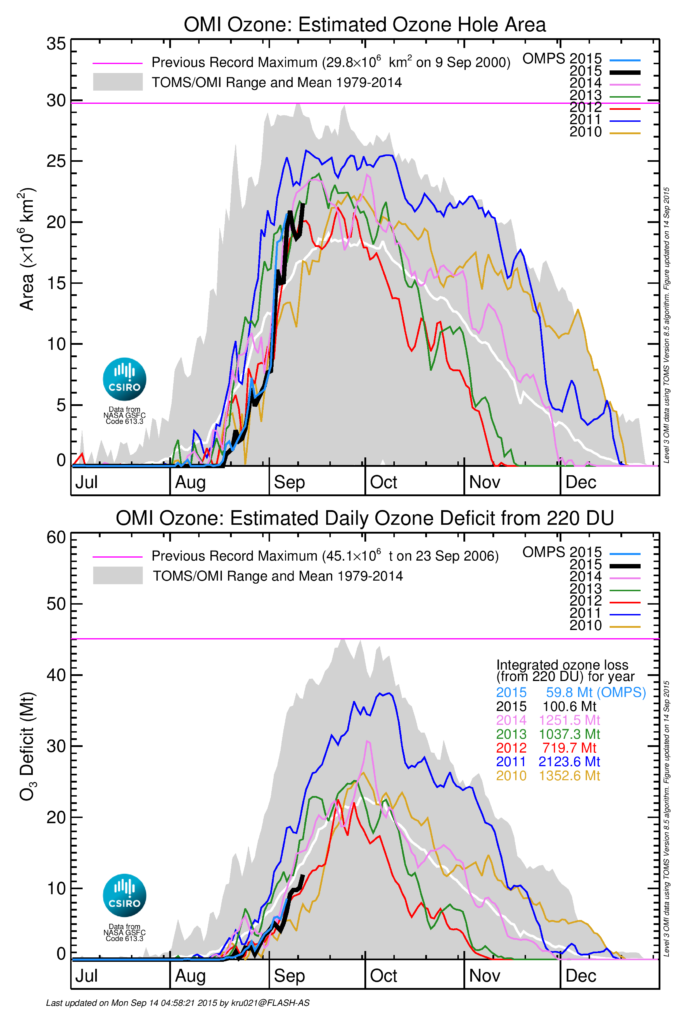 More information